Downtown Brooklyn's newest Korean restaurant Atti is bringing the royal treatment to the barbecue experience.
Opened late 2022 at 294 Livingston St., Atti was born from its owners' desire to bring elevated Korean BBQ to Brooklyn, which they felt was rare to find in the borough. It's the latest offering from wife and husband team Ju Young Oh and Min Sung Kang, the designers and restaurateurs behind Brooklyn interior design firm studiOH, Greenpoint's MS. OHHO cafe and restaurant Kuun, which is next door to Atti.
"We are not too traditional in terms of the meat we serve," Atti server Mina Kim explained to BK Reader while sparking up the grill this past Wednesday. "We have USDA prime-grade meat, it's top-notch."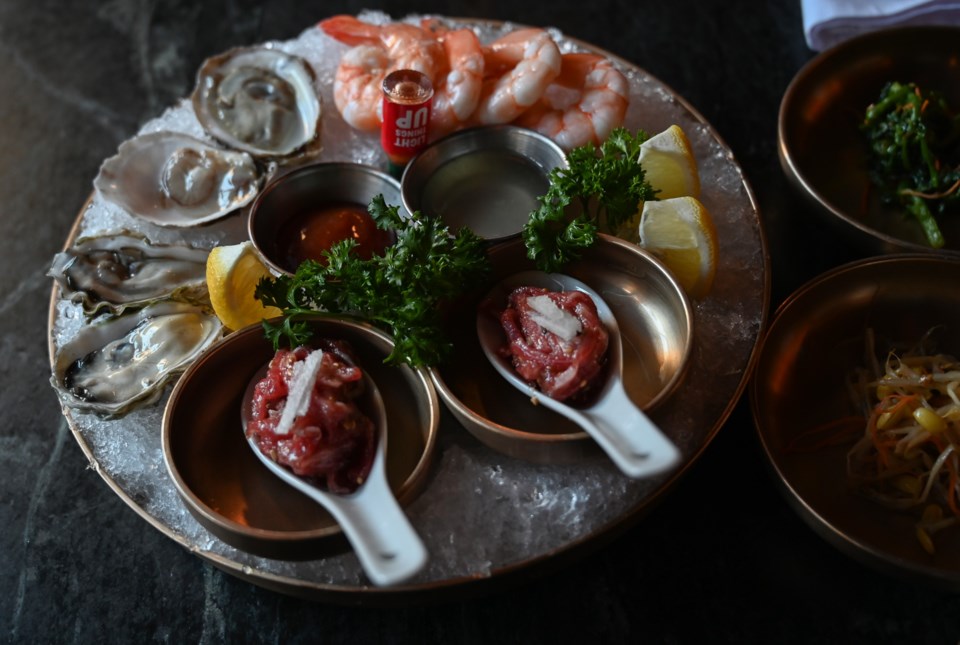 Indeed, for those of you who may have done a quick-and-smokey Koreatown BBQ dinner before, the experience at Atti immediately feels different.
Step off busy Livingston Street and you'll find yourself in a dimly lit sanctuary from the bustling downtown. The space is designed by Oh — a Pratt Institute alum— and has a sophisticated industrial vibe with high ceilings, light wood booths separated by glass arcs and black soapstone tables, each beset with a gleaming gold grill.
In the background, a case displays prime rib eye, which is being dry-aged in-house for 45 to 60 days.
The centerpiece of the menu is the Atti Han Sang feast ($69 per person), an enormous, colorful spread that covers the whole table "Bansang-style," referencing the traditional style of serving a communal Korean meal, which dates back centuries to the Joseon royal court.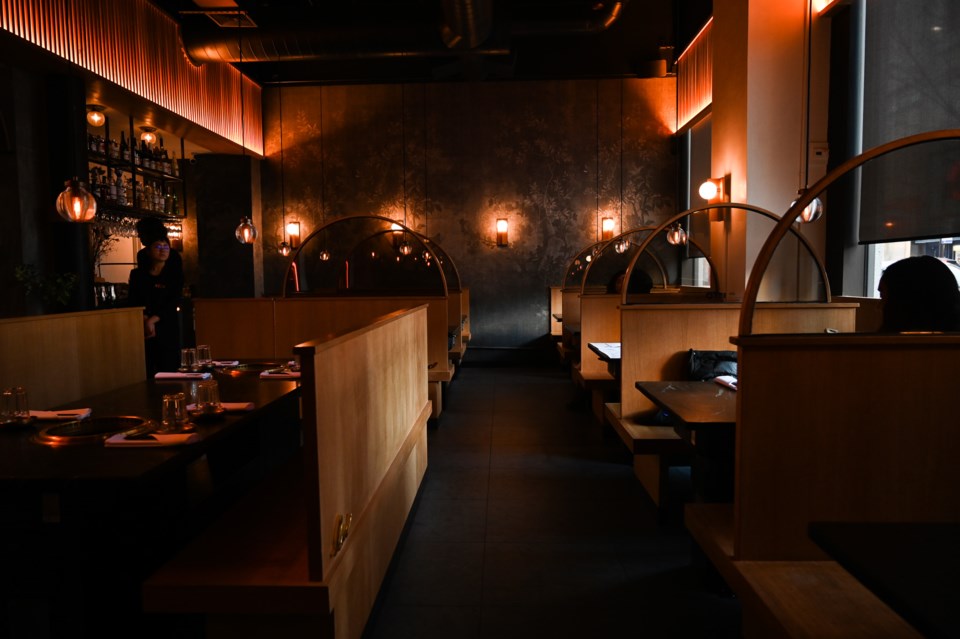 The feast features four select cuts of beef, with more than a dozen side dishes arranged circularly in gold, bell-like bowls on the table. It is cooked in front of your eyes by a dedicated server.
"I actually do everything for you," Kim said, poised with tongs in hand, when asked for instructions on how to cook the meat. "Tell me how you like your meat."
The delightful Kim, a computer science graduate, was Atti's first server to be hired in October 2022. She interviewed as a bartender but was soon asked if she could cook meat.
"Yes," she laughed. "I'm the token Korean friend at the BBQ who is, like, give me the tongs, I'll do everything."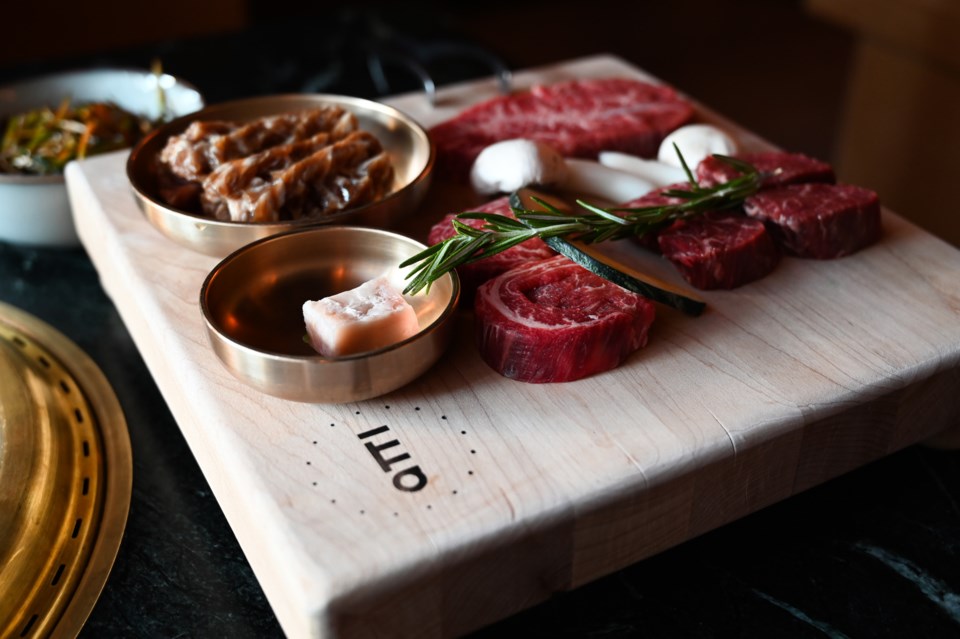 Kim seasoned the cuts — prime hangar steak, dry aged rib eye, American wagyu flat iron and Korean marinated short rib — before grilling them in that order (leanest to fattiest) at medium-rare, or to your liking. Since working at Atti, Kim has developed an internal clock for cooking the meat, she said, and was even able to move around the room while seamlessly returning to flip the cuts at just the right time.
BK Reader recommends eating these high-grade pieces of meat hot off the grill, wrapped in a lettuce leaf and garnished with sliced serrano pepper, garlic and lashings of ssamjang, a spicy Korean sauce made of fermented soybean paste sauce.
Particularly delicious is the sweet and succulent short rib, or kalbi, one of the more traditional Korean barbecue meats you will see at Atti.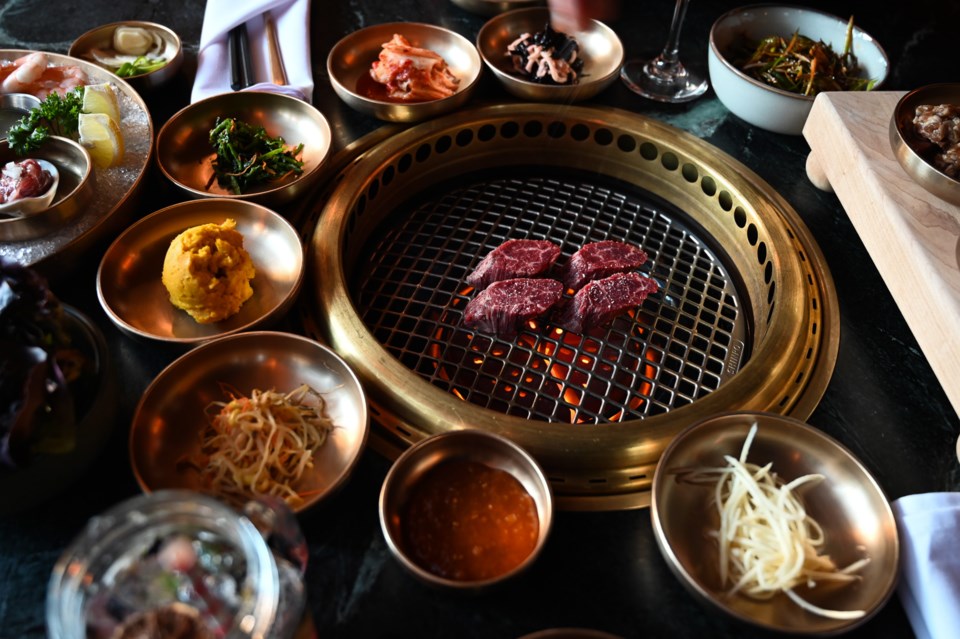 "Each household in Korea has its own recipe, and our chef has his," Kim said. The Atti grill is also unique in that it sucks the smoke from within, so not a lot escapes, she said.
Meanwhile, the extravagant array of sides includes pillowy egg souffle, doenjang (fermented soybean) stew, house-made kimchi, a refreshing scallion salad, mushrooms, rice cakes, rice and more. Included in the feast is a dessert of Snowflake Bingsoo — Korean shaved ice — served with condensed milk and red beans. The milky ice is flash-frozen to make it melt-in-your-mouth soft and fluffy.
BK Reader recommends Atti for a second date with someone you want to impress without breaking the bank.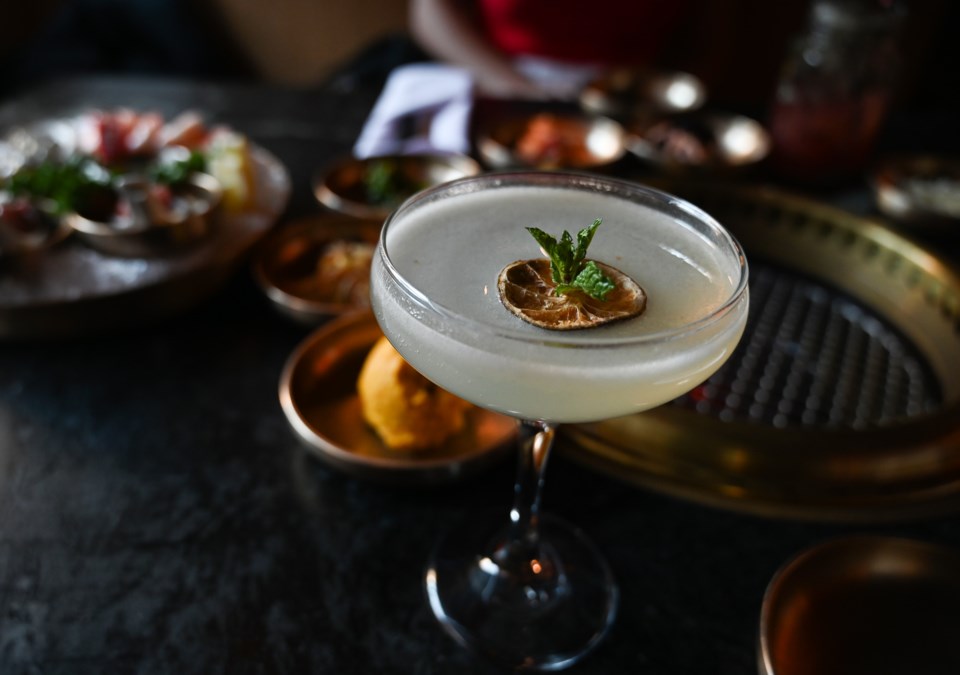 "Not because I work here, but the price for the quality is very fair," Kim said. "People should know about it."
It seems the great value is catching on. By 7:00pm, the restaurant was full to the brim with families grabbing a midweek dinner and groups of friends sharing a meal and shots.
Wash your feast down with one of Atti's signature cocktails. BK Reader recommends the minty and refreshing Plum Mojito, or the Ginger atti Pear, with house-made ginger syrup.