When Carolina Wang met Benny Emeri eight years ago on a dating app, they had no idea they'd be a match made in food-art-heaven.
After a first date at a trendy East Village eatery, the couple soon discovered they shared a love of fashion, art and ... baking!
Fast forward to 2023, and the couple are now the busy owners of their own trendy food business, EATGOODNYC, creating custom edible art that speaks and relates to everyday pop culture. They're also the owners of Saint Michel Cafe and Bakery, a space for their dessert business, located on the corner of Irving and Jefferson avenues in Bushwick near their home.
The concept for EATGOODNYC was first seeded during the streetwear boom of 2013, said Emeri, when he started an apparel brand featuring images of food on the clothes.To set himself apart, he started baking cupcakes to supplement the brand's marketing.
So when he and Wang got together, they realized they could combine their shared skills of baking, marketing and design. Their first big project came when a friend had a party with a guest DJ: Queens star Awkwafina, back when she was a DJ and rapper. Wang and Emeri made cupcakes with her face on them, and she loved them.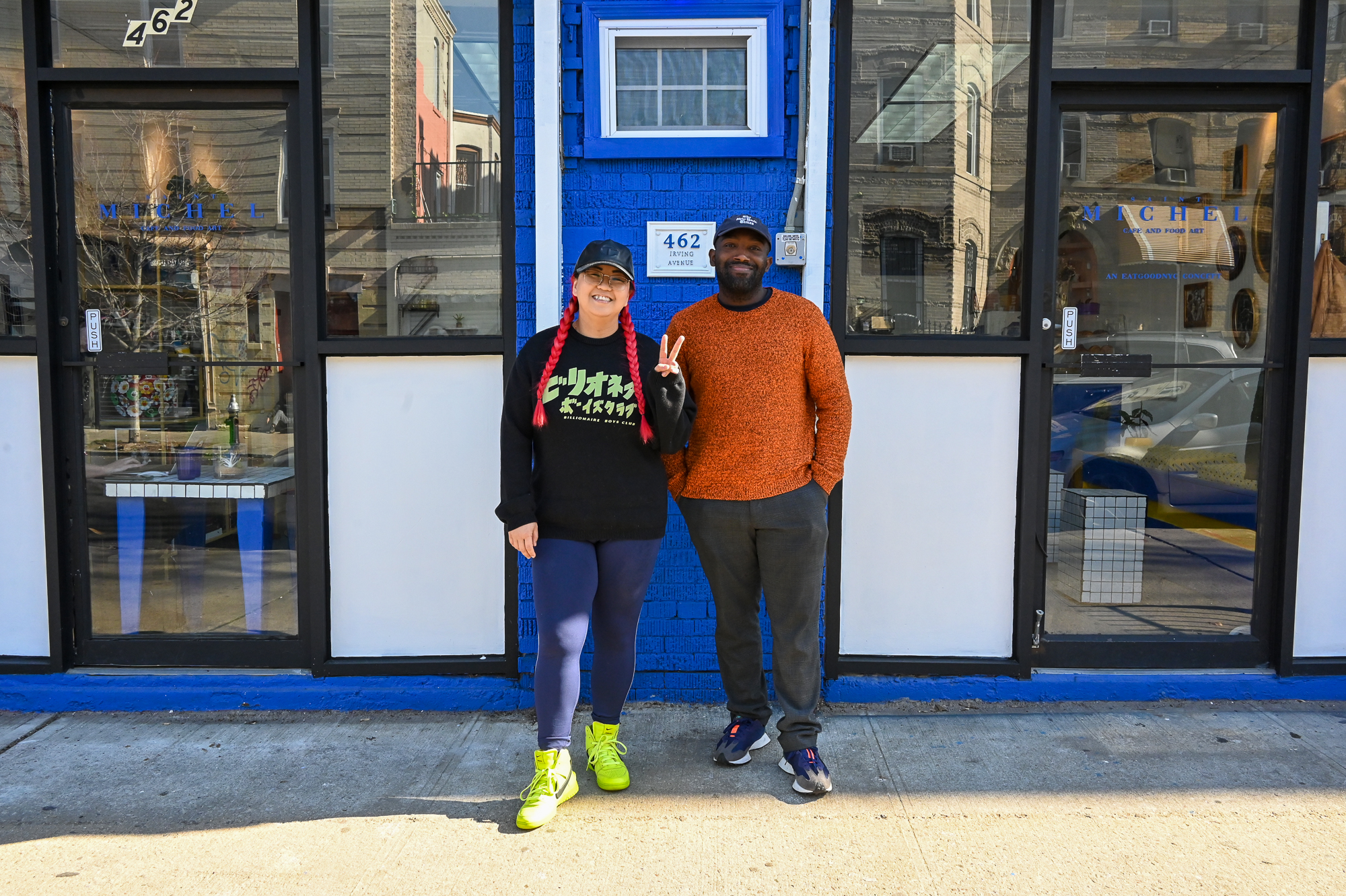 "So Benny had the idea to keep doing this, not just for celebrities but for people who influenced the community and people we look up to," Wang said.
Their next big break came when Emeri decided to make cupcakes for DKNY then-spokesperson, Cara Delevingne, featuring her face wearing a DKNY cap.He recounts how he waited for nearly two hours in the cold outside a makeup store in the hopes of delivering them to her in person. Somehow she saw him holding up a cupcake through the paparazzi melee and posted them to social media.
"From then on, people were like, 'Who made this? What is this cupcake?' And that's when things started spiralling for us, just from word of mouth. And after that we've been doing our thing; we started working with all our favorite brands," Emeri said.
That has included content creation for Nike, Puma, Telfar and custom cookies and cupcakes for A-list clients including Beyoncé, Cardi B, Gigi Hadid, KAWS and more celebrities than the couple can name in one breath.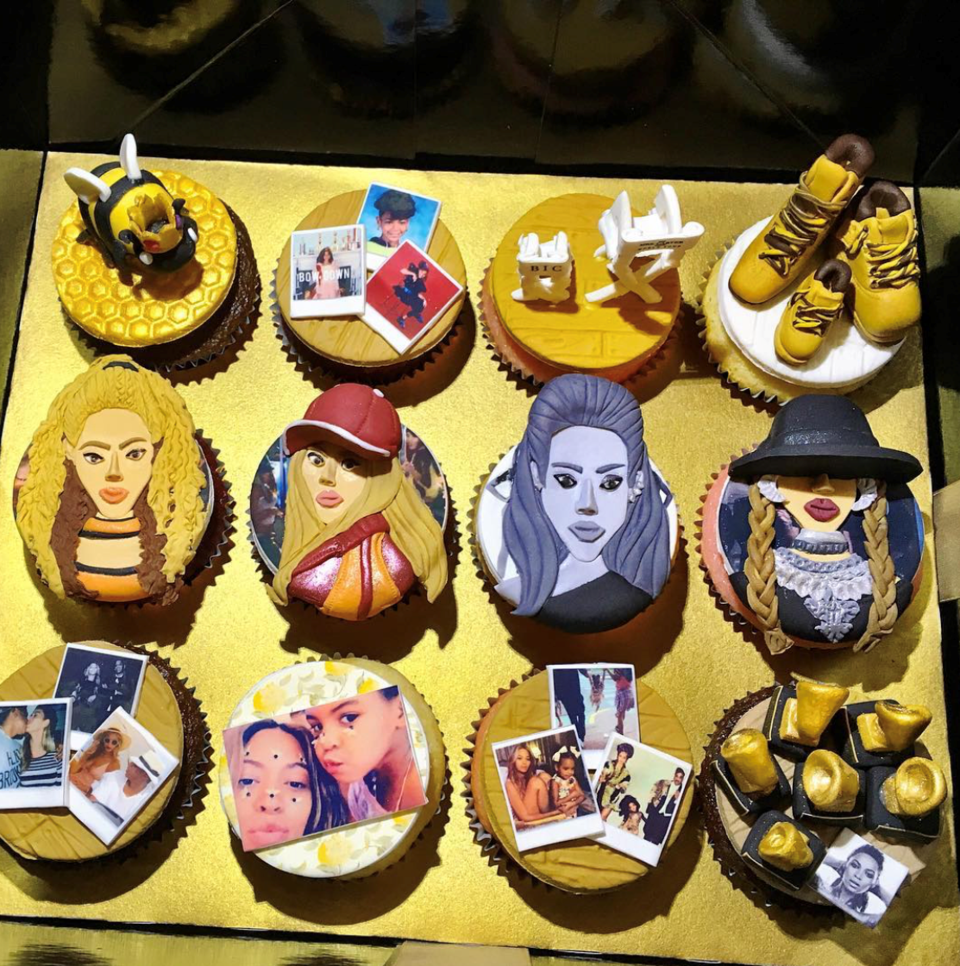 "It's been a wild ride, just from a Tinder date, and we both don't remember swiping for each other," Wang laughed. "We joke about it all the time."
And despite the couple's proximity to celebrity culture, they are all about bringing the community with them to experience everything they love about NYC's rich art and fashion culture.
With their cafe Saint Michel — named for the late Brooklyn artist Jean-Michel Basquiat and which also doubles as a gallery and community space-- they've created their own little sanctuary in Brooklyn to inspire the next generation of hustlers the way they've been inspired themselves.
From "The Daily Saint News" newsstand, featuring collectibles like Janet Jackson's '93 cover of VIBE Magazine; to a case of books celebrating the likes of Virgil Abloh and Keith Haring; from a record player with a collection of classics like TLC's CrazySexyCool; to cookie-art of Wang and Emeri's favorite artists, the cafe is lovingly curated with a New York 90s pop culture state of mind.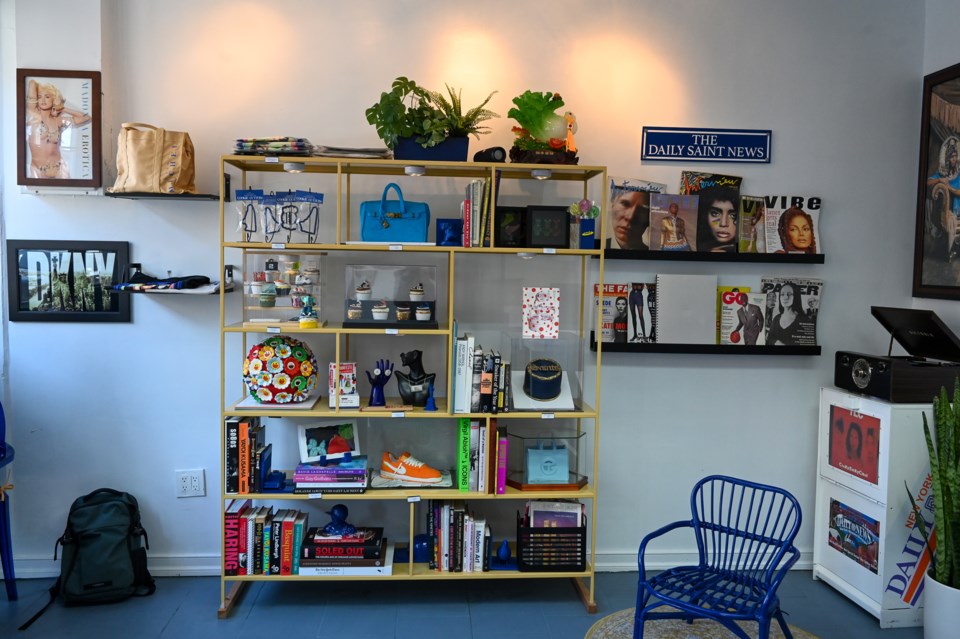 Wang and Emeri have a knack for turning people's lives or brands into art: Saint Michel also operates as a showroom for bakery customers to come in and consult with the bakers about their creative vision.
"Our friend designed this book 'ABCs for little Gs,'" Wang said, holding up a small picture book. "It's all about community and starting young; we want to inspire the future generation of creatives."
And talk about inspiring... Imagine the surprise it was when Wang and Emeri presented me, the journalist, with a box of personalized cookies made using special memories shared from my Instagram, as well as a sugar cookie make into a BK Reader business card topped with a delicious fondant icing!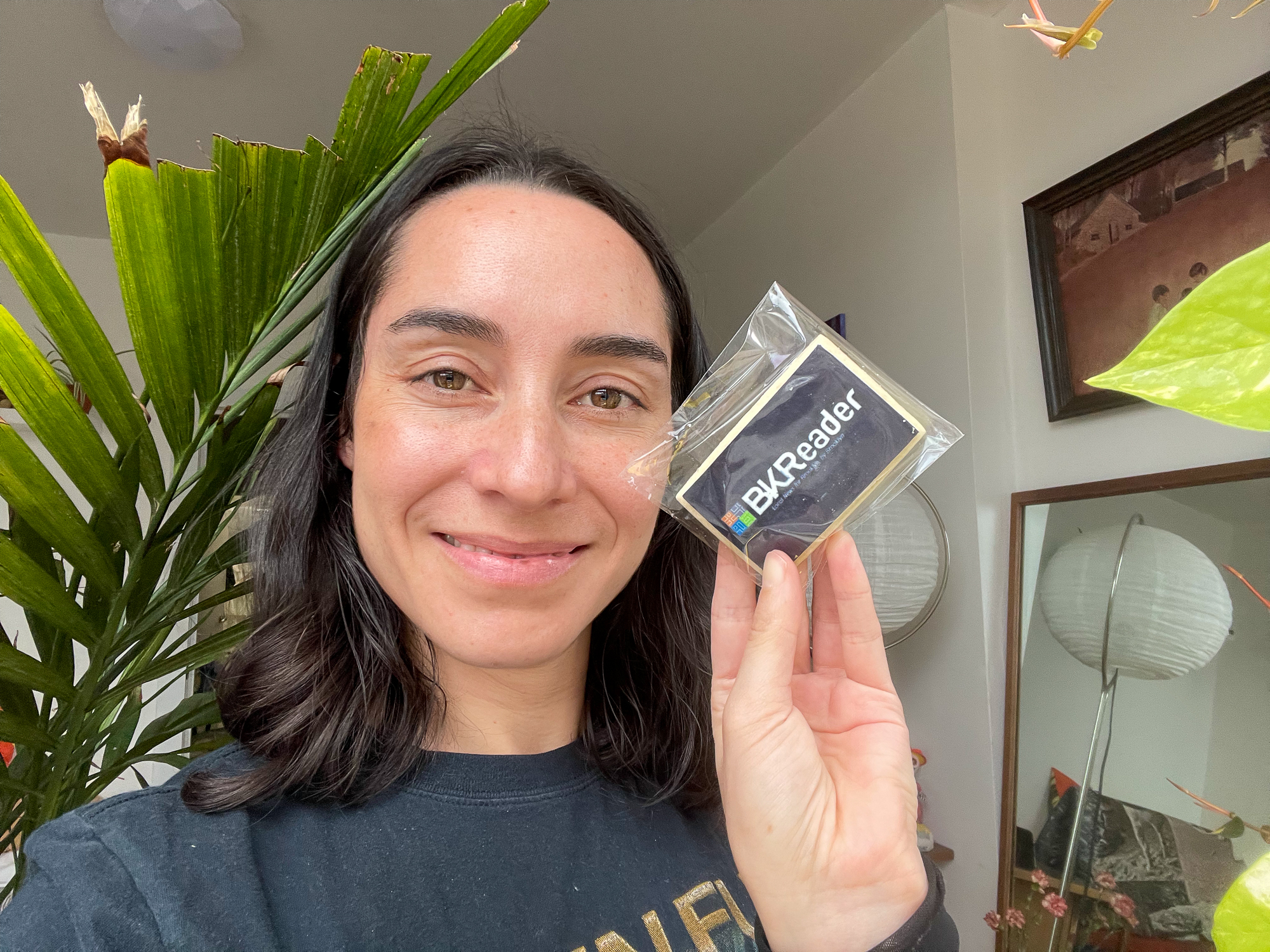 These thoughtful and special touches are exactly the kind of thing the pair are known for doing for their celebrity clients, which is the reason their work stands out.
"Our busiest time is not the holidays; it's Fashion Week and Grammy Week," Wang explained.
And now Wang — a sneaker-head — is creating sneaker cookie cutters, and the pair is making ring pops "cool again" with branded candy jewelry.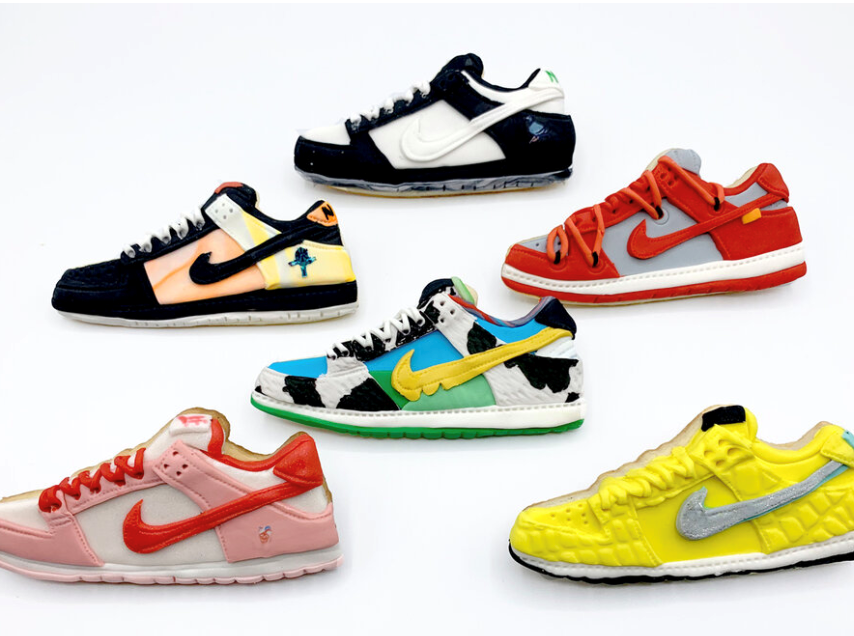 If you pop into Saint Michel while the couple is there (Sundays are best), ask them to tell you about the time they were asked to make cupcakes for Beyoncé or Gigi Hadid or even the iconic NYC photographer Bill Cunningham.
"We did cupcakes for Bill [Cunningham], and he asked us to come back the next day, like, 'I have to meet these kids,'" Wang recalled. "He wrote us a note in his book, told us to not give up. He said kids like us give him hope for the future.
"It meant a lot from someone like him."