When Malai ice cream company Founder Pooja Bavishi first started adding Indian spices to ice cream, it didn't feel like anything out of the ordinary to her.
As a child of Indian immigrants to the United States, she grew up cooking and eating flavors like masala chai, rose and fennel seeds. Grabbing from her "arsenal of spices" while cooking or baking was part of her daily routine.
But, when she realized how well the South Asian flavors bonded with the milk and butter fats of ice cream, Bavishi knew she could be onto something great.
"I didn't think much of it, but once the end result came out, I was like, 'This is really special.' And what set it apart is that it felt like me."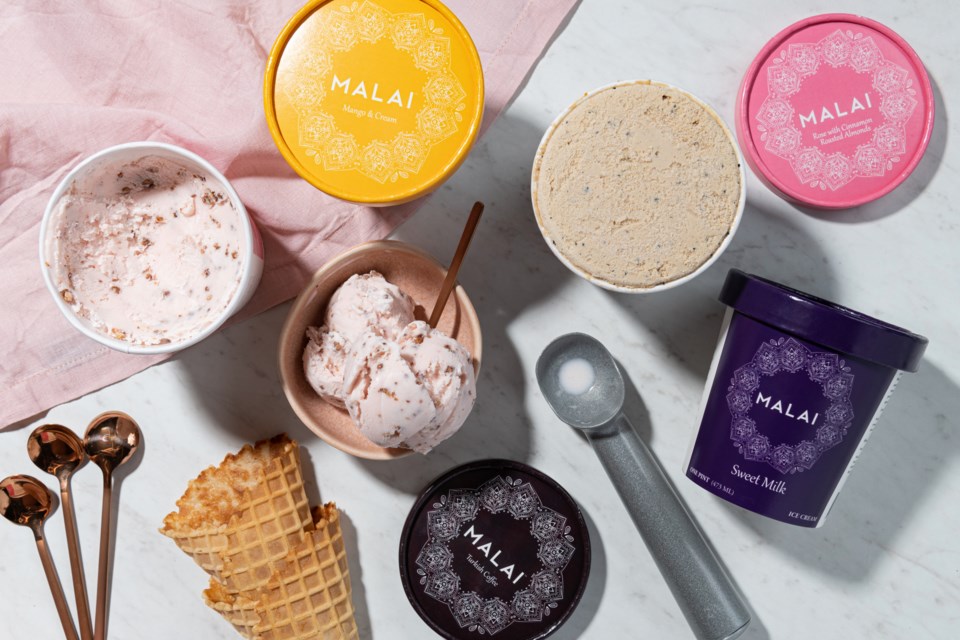 Bavishi founded Malai ice cream while graduating from business school in 2015. Four years later, she opened a store at 268 Smith Street in Carroll Gardens. On March 2, 2023, Bavishi will celebrate four years in the store.
Over the years, Malai has grown from being sold at ice cream stalls at fairs, to moving into a shared kitchen in Brooklyn, to becoming a Smorgasburg staple, to opening the Brooklyn storefront, to selling online and nationwide.
"With the exception of 2020, we've consistently grown in every aspect," Bavishi said.
The entrepreneur has created more than 50 flavors of ice cream in this time. One of the first flavors Bavishi made — Rose with Cinnamon Roasted Almonds — has been the most popular since day one.
Looking back, Bavishi remembers wondering if the mainstream New York market was ready for rose ice cream. It's typical in India and the Middle East, something she had grown up eating — "as common to see as vanilla in our freezer" — but she wasn't sure if it would be welcomed.
She shouldn't have worried. Today, it is the only flavor that has never come off the menu, due to popular demand. Bavishi said she was right to follow her gut — literally — in knowing that the ice cream industry was ready to expand.
"It felt like this was a product that didn't really exist in the mainstream market, but it had to be out there," she said. "It should feel as typical and normal to see a Masala Chai in the freezer as it is Cookies-and-Cream. It shouldn't feel out of the ordinary, there are billions of people who enjoy these flavors every day."
The ice creams are made with New York milk and feature spices and ingredients sourced ethically from around the world, Bavishi said.
The Masala Chai flavor has a sweet story, having been inspired by the chai recipe that Bavishi and her sister make every day, a recipe that has been passed down through her mother's family for generations. The sweet and spicy ice cream is the most unique of the four BK Reader sampled. With its hints of ginger, cinnamon and black pepper, the ice cream was reminiscent of a creamy rice pudding.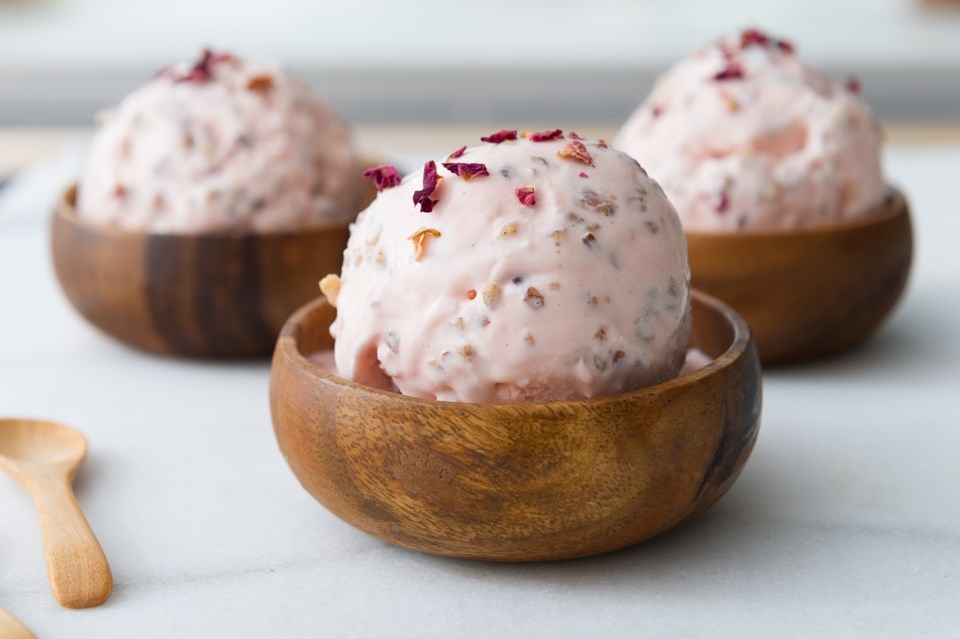 As expected, the Rose with Cinnamon Roasted Almonds was a fan-favorite. Sweet, floral and spiced, the crunchy toasted almonds added another sensory delight.
The Mango Cream should be a summer go-to, with sweet milk and a tangy swirl of mango puree. The cereal-milk lovers should try the Sweet Milk flavor. As Bavishi describes it, it's "essentially condensed milk in ice cream form." It's also her father's favorite.
Holi, the early-spring Hindu festival known for its colorful celebrations in India, is on March 8 this year. To celebrate the holiday, Bavishi is releasing special flavors including Holi Sweet Milk; a colorful take on the classic, Thandai; named after a fragrant, spicy-sweet holiday drink and Shahi Toast; Malai's anniversary flavor which has notes of saffron, Ghee-soaked caramelized bread bits and cardamom.
Malai ice cream is available for purchase at the Brooklyn store, available for nationwide shipping via Goldbelly, and in grocery stores including Whole Foods, Westside Market and more. It is also set to open in a Manhattan food hall in several weeks. Follow the Malai Instagram for the latest flavor drops.