A woman steps inside rapper Gorilla NEMS' clothing store on Coney Island this past Easter Sunday. His music videos are playing on a big screen. Holographic photos of the rapper line the walls, and a glowing neon sign reads: "Coney Island Jesus."
"Bing bong!" the woman greets the rapper.
"F**k your life!" the towering artist returns, with a grin.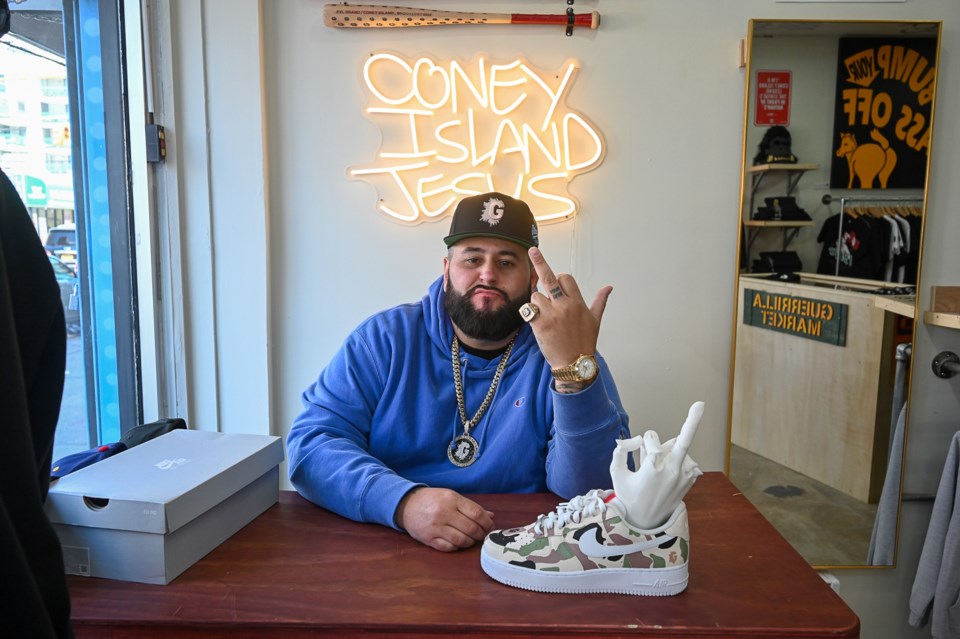 It may sound like an obscure code, but the phrases are world-renowned — thanks to social media — and are central to Gorilla NEMS' fame and subsequent success in business.
In 2021, after decades of hustling, Travis Doyle (Gorilla NEMS' real name) went viral with a one-minute video clip that has since been viewed hundreds of millions of times. Since then, the rapper has jumped on the opportunity, parlaying it into a clothing store, a rebooted music career, and multiple brand collaborations.
NEMS is one of a handful of highly successful Brooklyn small business owners who have built their brands by harnessing the power of social media, demonstrating the power of creative digital marketing.
For our latest series on Brooklyn small businesses, BK Reader investigated a number of these businesses' social media strategies to find out what is taking them into the realms of celebrity renown.
When opportunity knocks, be ready
Two years ago, NEMS was "just a rapper" with a cult fan base of about 50,000 on social media, proudly representing Coney Island. As a younger man, he got signed by Shady Records, but said he blew his chance, due to drug addiction, and being in and out of jail.
But NEMS kept at it. While working for the NYC Department of Sanitation, he couldn't sell drugs, but was still broke and had to work out what to do. So, he made a hat. It sold out. He started selling merchandise out the back of his Honda Accord, then got another Accord, and the orders kept coming.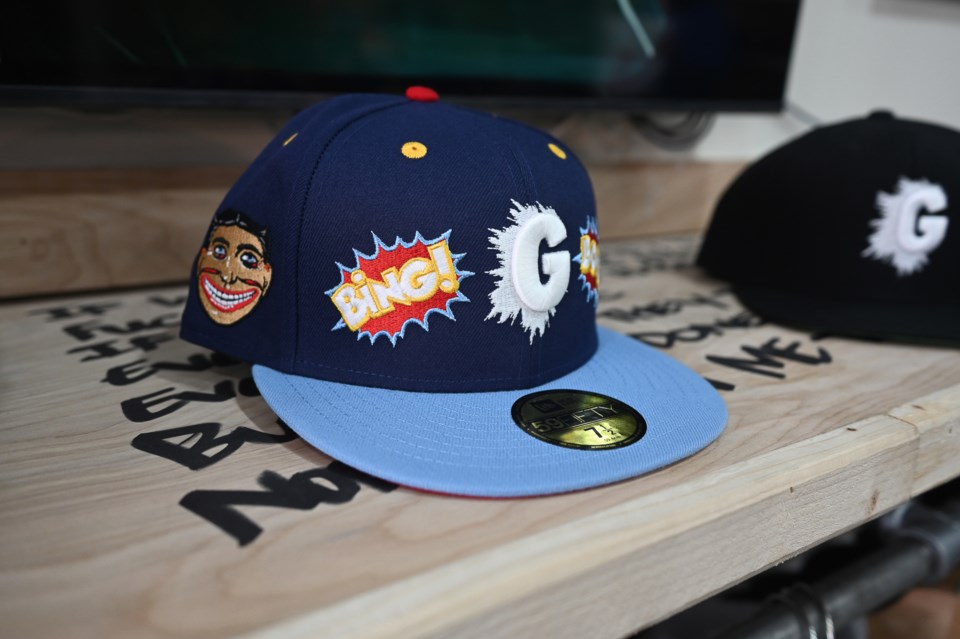 At the same time, NEMS was being NEMS: making music, promoting himself online through humorous videos and coming up with "funny, stupid" phrases that would often catch on, he said.
One of those phrases was "bing bong." It started when he would show off merch in videos.
"I would be like, 'Yo, this is what we got for the week, bing — check this bomber, bong — I was like, bing, bong, bing, bong, and I saw people started laughing, and I just kept saying it and it just went from there."
In April 2021, NEMS recorded a clip for an episode of Sidetalk titled "Coney Island's Finest," with a couple of local characters, a comedic mispronunciation of Joe Biden's name and, of course, his catchphrase.
By November, the video and the quotes within it were going viral. In December 2021, the video was quoted by stars like Lil Nas X, Olivia Rodrigo, Avril Lavigne and Normani in a video with over 70 million views; "bing bong" had become a rallying cry for the New York Knicks; and it even made it to the White House with a Jonas brothers video featuring President Joe Biden himself.
"You can't get more viral than the president," NEMS said, telling BK Reader that the catchphrase has since been used over 2 billion times on TikTok. The rapper's social media account blew up, climbing from 50,000 to 100,000 to over 400,000 followers today.
"I just ran with it," NEMS said.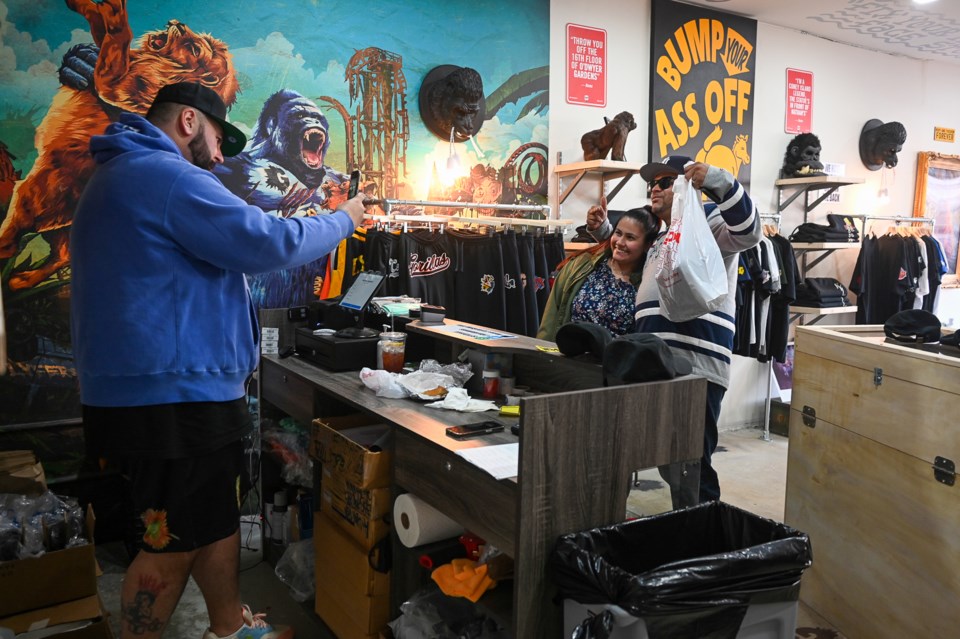 NEMS had been working all his life for a break. A big part of his success was his ability to take advantage of the moment. He quickly put out his single, Bing Bong, a music video, and went into overdrive with merchandise drops for his brand FYL. In December 2021 he made $180,000 just on sales. By January 2023, had opened his brick-and-mortar store.
"It was validation. Validation for years of just trusting in myself and not giving up," he said.
Looking back, NEMS never stopped making content, he never stopped being his authentic self, he never stopped hustling — just one thing happened to stick, in a big way, and when it did, he was ready. Even now, there's not a day that he rests on his laurels when it comes to self-promotion on social media — and that's his advice to Brooklyn's small business owners.
"It's a no-brainer," he said. "If you open a business you have to be familiar with social media. That's your number one commercial.
"The first thing I do every morning — every single morning when I wake up — is post to my [brand pages]."
Enlisting influencers, building hype
When it comes to business, almost every owner knows the power of getting your product into the right hands. If they have a large network, that's even better.
Influencer marketing is the collaboration between popular social media users and brands to promote products or services, and it's one of the techniques in a business' social media toolbox.
In NEMS' case, he is the influencer. But others in Brooklyn are plugging into some of the nation's most popular people to advance their brands — for free.
Take Cuts & Slices for example. Since 2018, the Bed-Stuy pizzeria has grown from a neighborhood hole-in-the-wall to one of Brooklyn's hottest eateries through its innovative social media marketing strategy and support from some of TikTok's most highly-followed food bloggers — including "TikTok's favorite food reviewer" Keith Lee.
On a recent 70-degree spring day, BK Reader waited in line for more than two hours outside in hopes of scoring an interview with husband-and-wife owners Ashlee and Randy McLaren. The Cuts & Slices line has proven to be the great equalizer: Recently, Questlove waited his turn somewhat anonymously for a chance to grab a slice.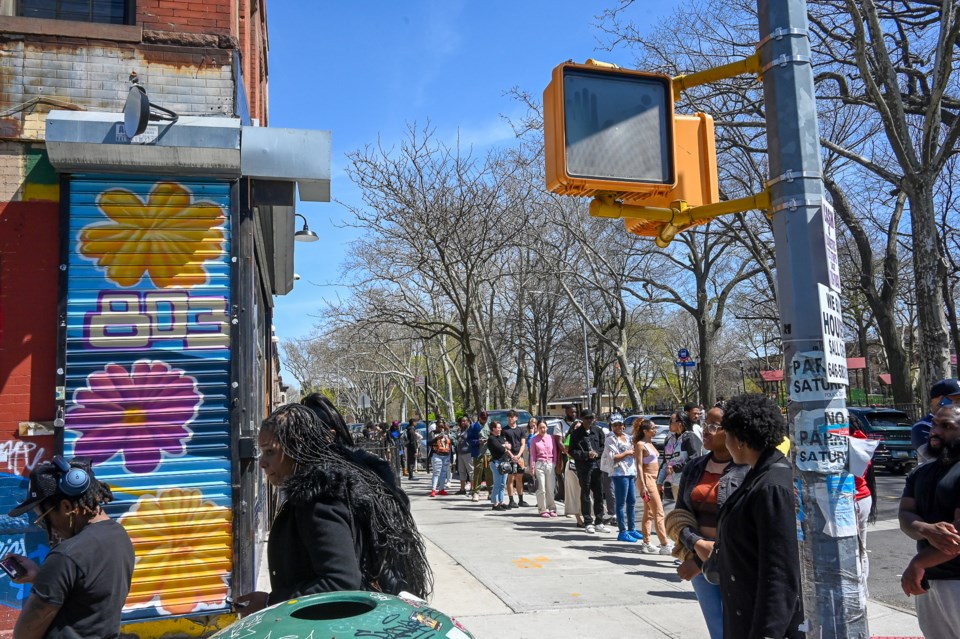 While waiting, Ashanti Kuykendall, told BK Reader she found Cuts & Slices on TikTok and then made a trip to New York City to eat, along with other Black-owned favorites: Footprints and Peppas Jerk Chicken.
"I looked up the best food in NYC and then this popped up," Kuykendall said. "They talked about the oxtail pizza, so that's what I want to try."
When the store first opened, the McLarens weren't sure how long they'd be in business. Then they started applying their marketing and customer service skills: Randy with a background running an exclusive sneaker concierge service frequented by celebrities, and Ashlee as a flight attendant for major airlines.
As they tell it, when they started doing limited releases of pizzas like sneaker drops, that's when the store blew up. They took the hype that's behind sneakers and did it with pies.
The couple uses Instagram and TikTok to "drop" their creative and delicious pies (think curry oxtail, shrimp and lobster), and also record the reactions of customers who have waited for a slice. People see it, the hype spreads and others come to make their own videos. If it's a food reviewer like Lee, who has more than 10 million followers, the organic marketing impact can be enormous.
Today, Cuts & Slices has more than 218,000 followers on Instagram and 123,000 followers on TikTok. The Lee video has more than 4.2 million views on TikTok at time of publishing.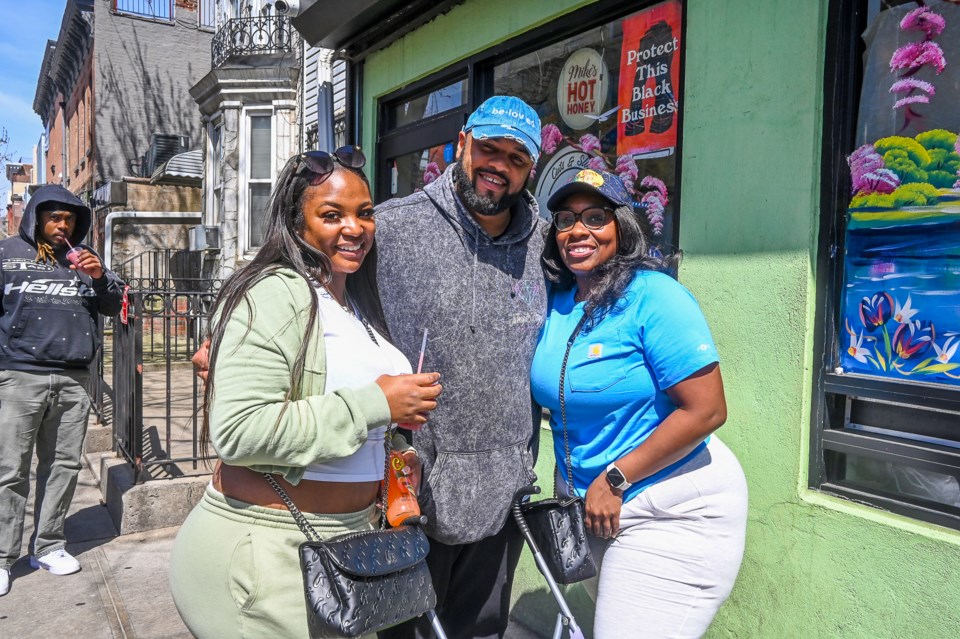 "Nothing would be possible without our community and the support from our community, that is the biggest takeaway," Ashlee told BK Reader. "In this day and age, anyone who doesn't use social media as a platform is missing out on a lot of free marketing, and I would advise everyone to do it."
However, she cautioned businesses to make sure the service and the quality match the hype. Ultimately, that is why they are so successful, she said. Randy gave BK Reader's new friends the royal treatment, taking pictures with the out-of-state visitors and hooking them up with free slices.
"When you come to our restaurant it isn't just about social media, we're not just a viral restaurant, we really do serve delicious food," Ashlee said. "Some might use it for hype, but we don't want to be that."
Building a community of like-minded people
Just up the road in Bushwick, Carolina Wang and Benny Emeri are another creative couple killing it with their food-art business EATGOODNYC, which counts Beyonce and Gigi Hadid as some of its celebrity customers.
Today, the premise of EATGOODNYC is baked goods that look beautiful and reference the coolest in pop culture, art and streetwear. Think edible limited-release sneakers, Chanel ring pops, and elaborate selfie cupcakes.
But eight years ago, when Wang and Emeri met on a dating app, it was just an idea waiting for its moment. When the pair got together, they realized they could combine their shared skills of baking, marketing and design into something special.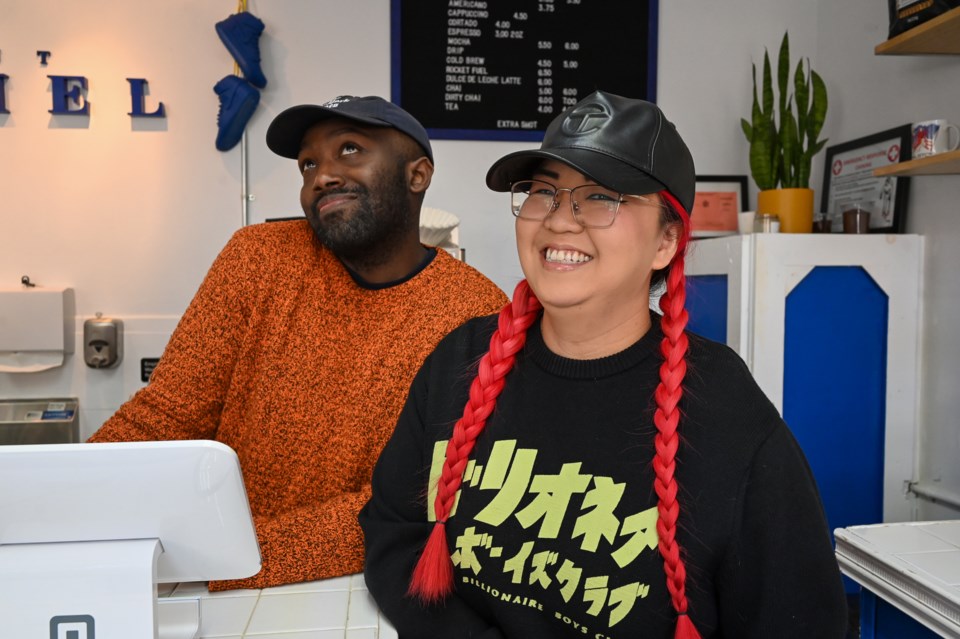 Their first big project came when a friend had a party with a guest: Queens star Awkwafina, back when she was a DJ and rapper. Wang and Emeri made cupcakes with her face on them, and she loved them.
Their big break came when Emeri decided to make cupcakes for fashion-brand DKNY's then-spokesperson, Cara Delevingne, featuring her face wearing a DKNY cap. Emeri waited for nearly two hours in the cold outside a makeup store in the hopes of delivering them to her in person. Somehow she saw him holding up a cupcake through the paparazzi melee and posted them to social media.
That celebrity "co-sign" caused a chain reaction for EATGOODNYC — the brand quickly received press from the Daily Mail and Vogue. And like NEMS, the couple was not going to miss the opportunity.
"We've taken it and run with it ever since," Emeri said. "That's when things started spiraling for us, just from word of mouth. And after that, we've been doing our thing; we started working with all our favorite brands."
Since then, the couple has not stopped hustling, with work including content creation for Nike, Puma, Telfar and custom cookies and cupcakes for A-list clients including Beyoncé, Cardi B, Gigi Hadid, KAWS and more celebrities than they can name in one breath.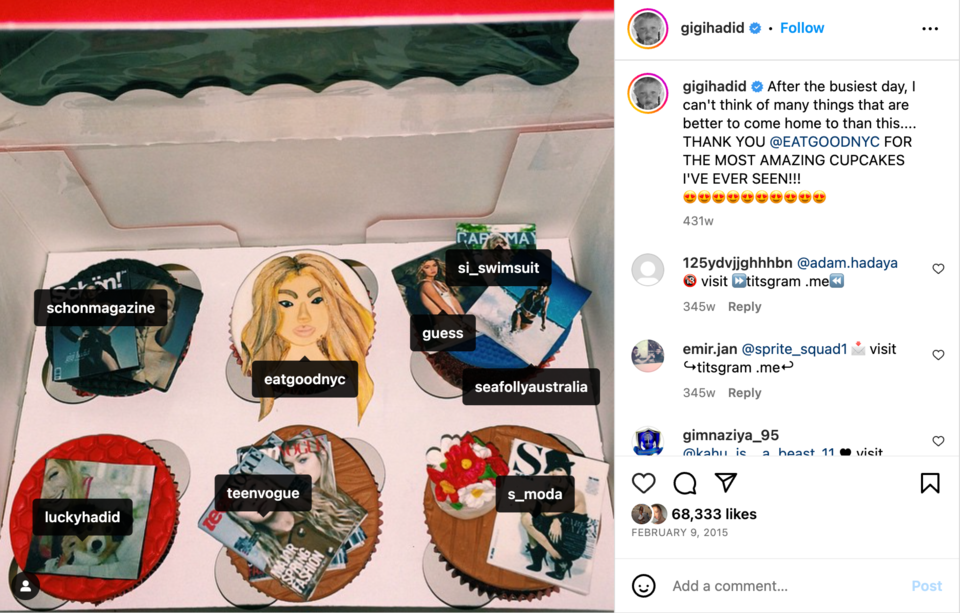 How important has Instagram been to the company's story? "It's the reason we're here today," Emeri said.
Like Cuts & Slices, all of EATGOODNYC's marketing has been organic. Organic marketing is a digital marketing strategy that helps businesses generate a customer base, without paid advertisements. The strategy focuses on simple actions for gaining more traffic by creating value for an audience.
For example: If you give someone a delicious cupcake with their own face and things they love on it, they are likely to post it to their social media. It's essentially free marketing, and your only cost is the labor and the cost of making the cupcake.
Instagram also makes it easier to show your product to a wider audience. For example, if EATGOODNYC wanted to work with a certain brand, they might make a piece of food art that would align with the brand, and send it to a relevant person via their direct messages.
Once the brand knows you, they might keep coming back. EATGOODNYC was recently invited to bake some sneaker cookies for rapper Action Bronson's New Balance collaboration, which he showed off in a recent episode of his television show.
"You can literally reach out to anyone you want to if that's what you want," Emeri said. "People all over the world can see your product. Fifteen or 20 years ago, there was just no way. The world's your oyster, if you really want it to be."
Today, EATGOODNYC has more than 23,000 followers on Instagram. However, Emeri stressed that it's not about numbers.
His advice for other small businesses in Brooklyn is to create an authentic community online that you would want in your store.
"It's not always about just getting anybody into the store. It's about creating community, creating a vibe. And if you do that, you'll be fine on social media."
---
Part two of this series on social media strategies for local small businesses features insights from professional marketers and local voices on successful strategies for businesses of any size or audience.
---