Dozens of art lovers braved the rain Wednesday to catch the opening night of two exciting new contemporary art exhibitions at BRIC: One exploring myths of the "American dream" and the other a deeply personal film and collection of drawings based on old photographs.
Artist Buzz Slutzky's solo show "For Example" and the group show "When I Am Empty Please Dispose of Me Properly" are now open and free to the public at BRIC House Project Room and BRIC House Gallery, respectively, for the next three months.
For Slutzky, the night was a "big deal" as it is their first solo exhibition, they told BK Reader in the upstairs gallery while holding a bunch of congratulatory flowers.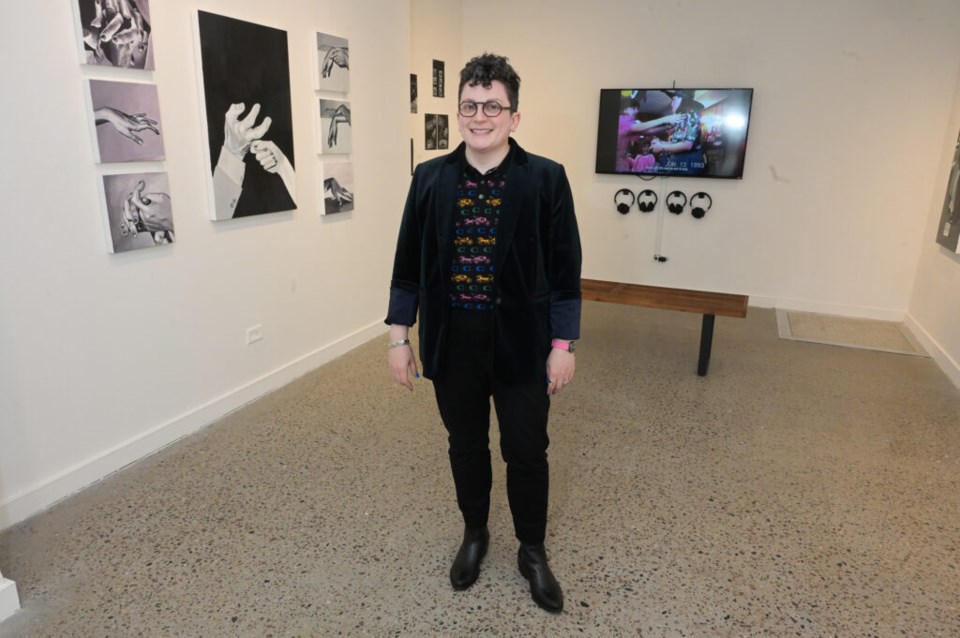 Slutzky's show features a range of drawings and paintings based on old photos from everything from instructional manuals to family scrapbooks, as well as a film, "One Shorter than the Other," in which they share the story of their grandmother and her life with an injury resulting from possible child abuse.
"The most stressful thing was definitely making a documentary about my family. With any nonfiction practice there's always, 'I know I'm going to upset someone, how can I mitigate that and also be happy with the product,' and also just to honor my grandma who I made the documentary about," Slutzky said.
Downstairs in the 3,000-square-foot, 18-foot-high ceilinged BRIC House Gallery, artists Ayanna Dozier, Ilana Harris-Babou, Meena Hasan, Lucia Hierro, Catherine Opie, Chuck Ramirez and Pacifico Silano use photography, video, collage, paint — and even an old mattress — to talk about the myths of the American dream that shape their narratives.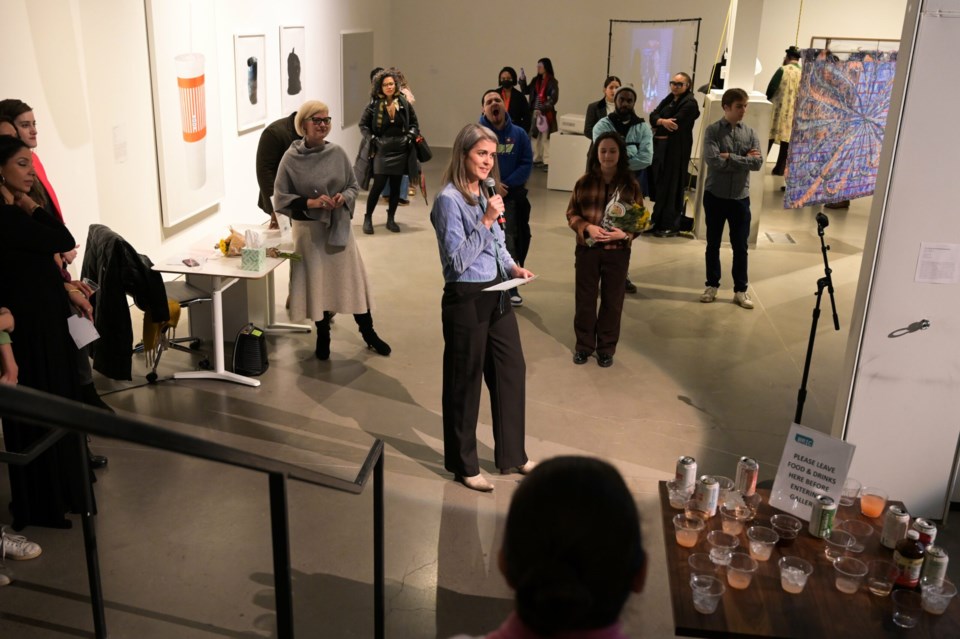 Wearing a dress made of tiny mirrors, Brooklyn writer and artist Ayanna Dozier threw sparkles on the wall as she spoke in the light of the projection of her video "Forever Your Girl," which explores the desire for control and soft femininity.
"I'm really excited about what [BRIC Curator Jenny Gerow] was able to do with crafting a very cohesive narrative," she told BK Reader.
"And specifically being able to tap into the ways that advertising culture — broadly across the 20 and 21st centuries — caused all sorts of existential crises for how we see ourselves."
Her work sits in conversation with repurposed images from an archive of gay men's magazines by Silano, photos of sprawling swamps by Opie, larger-than-life photos of disposable consumer items by the late Chuck Ramirez and a video about wellness narratives and purported healer Dr. Sebi by Harris-Babou.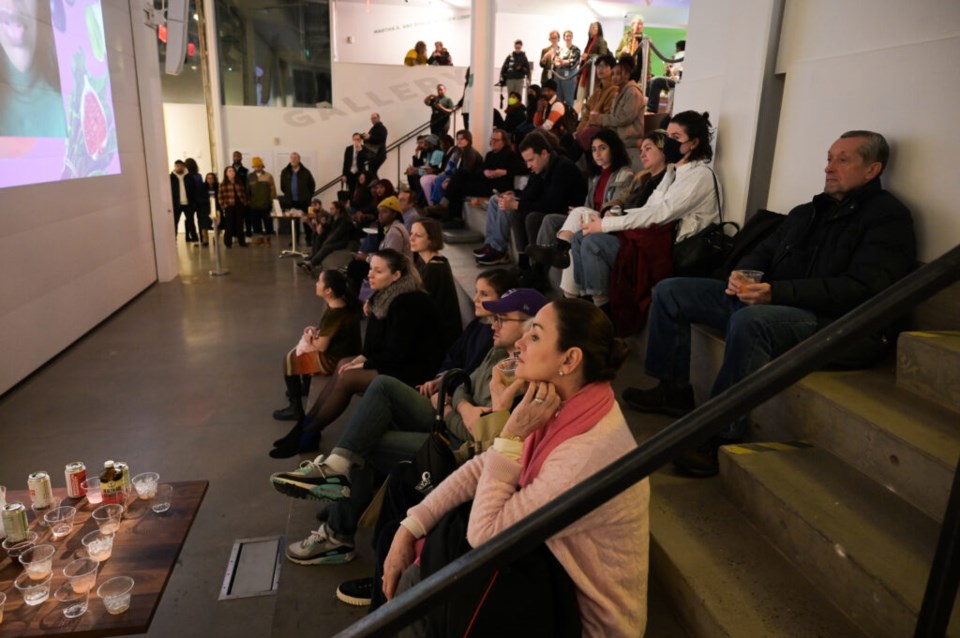 "So much of what I'm always working with is the iconography of signifiers of American identity," Silano said.
"To be put in conversation with artists also making work around those themes is really gratifying for me, because a lot of the time its like, 'You're a queer artist, so we're going to put you in a queer show,' but my work isn't quite queer in the traditional sense, I'm looking at darker themes."
The show also features a piece from Hierro's upholstered sculpture series, in which a photograph of New York delivery drivers is printed on an old mattress that becomes a "window to the street."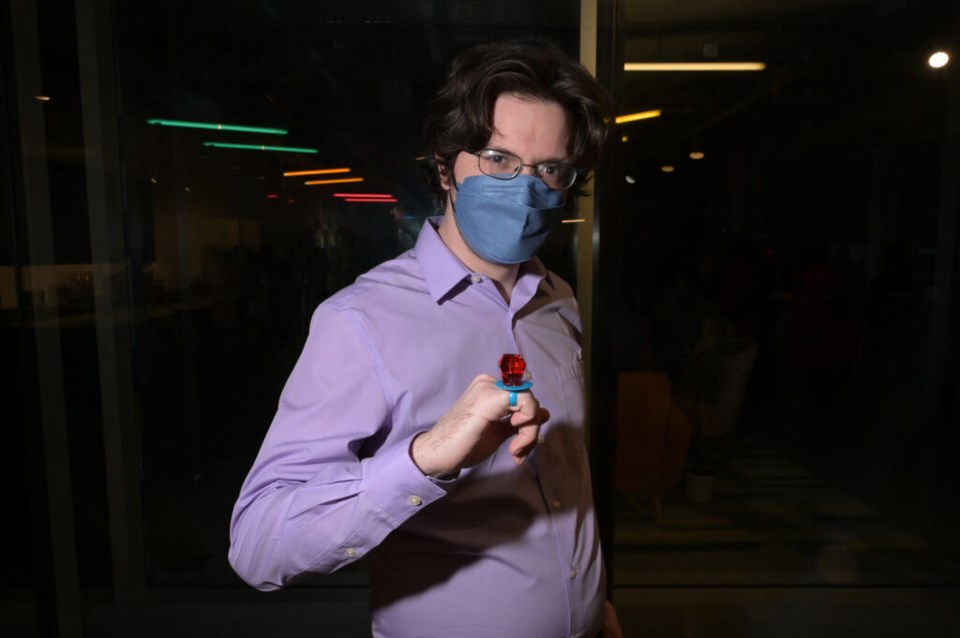 "The photo was taken during the pandemic, I went around New York photographing a lot of the folks who were working," Hierro told BK Reader.
"So the title is 'Essencialmente Essencial' — essentially, essential — because hearing that word over and over again just got a bit depressing when I was seeing who was out there."
Meanwhile, Hasan's large, colorful textile sculptures are flags "loosely based on the American flag," which tell stories based on her research into the history of the East India Company, whose flag inspired the U.S. flag, and South Asian snakes and ladders board games.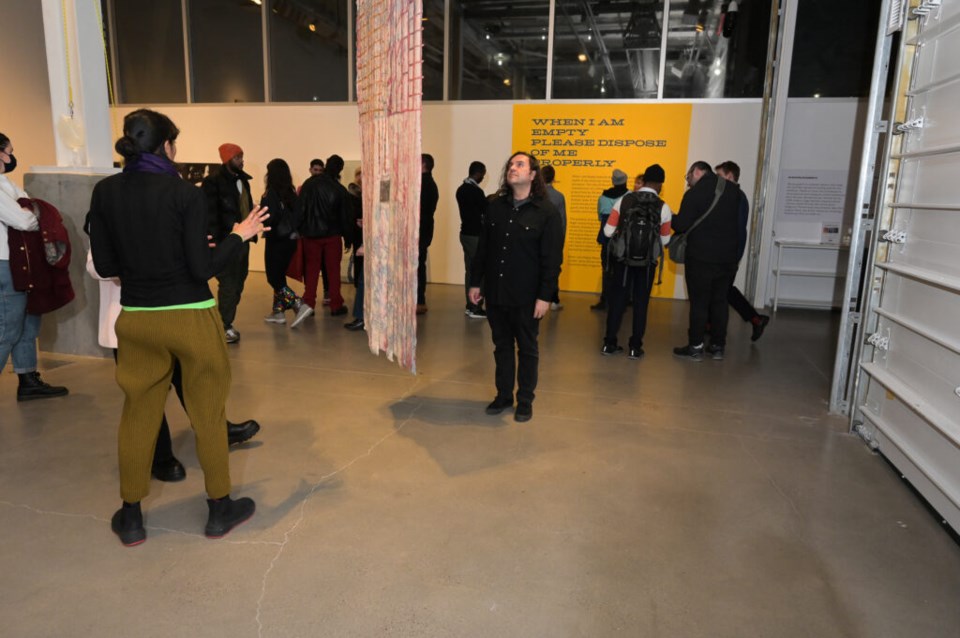 "These are the most politically iconographic works I've made directly addressing issues of American nationality," Hasan said.
The public was welcomed to the space by the new BRIC President Wes Jackson, who took the helm of the organization in July.
Both exhibitions are open from now through April 30, and both are free, with no RSVP necessary.