By Richard Estime, a senior at Medgar Evers College and intern at Bedford Stuyvesant Restoration Corporation.
Recently, Citi Bike expanded in Bed-Stuy, adding 26 docking stations. The bike share system is a unique and convenient transportation option that is quickly expanding across Brooklyn.
Bedford Stuyvesant Restoration Corporation is among a half dozen organizations across the country working to increase membership and use of bike share among people of color in low-income communities around the country.
Meet 62-year-old Sherman Jones. A native New Yorker, Sherman Jones has lived in Bed-Stuy for over 20 years and is currently the supervisor of adult education instructors at CAMBA, a non-profit that connects people with opportunities and services like economic development, education and youth development, family support, health, housing, and legal services. In August, when Citi Bike expanded in Bed-Stuy, Sherman became a member of the bike share system.
Here's how Citi Bike has benefited him:
Q: What made you decide to become a member?
A: I'm a lifelong bike rider and longtime resident of Bed Stuy. I was always curious about Citi Bike. When Citi Bike expanded this past August, there was bike station close to me prompting me to join.
I've always owned bikes but they always get stolen even when they're chained. With Citi Bike, I can leave the bike at a port without having to fear that someone may steal it.
Q: How long is your average ride?
A: On average, I ride for about 20 minutes to the supermarket from Bedstuy to Downtown Brooklyn. Usually I use it on weekends or days when I'm not working. I would say two to three times a week.
Q: Does the Citi Bike system meet your transportation needs?
A: It does. One day, I drove to the pharmacy to pick up some medication and had a hard time finding parking. I ended up parking my car near a port and used one of the bikes to travel instead. It saves me the cost of public transportation and gas and it is a great alternative to driving.
In fact, my twin brother lives in the Bronx and joined Citi Bike too a month after I did even though it is not located where he lives. He uses it when he comes to Brooklyn, particularly in downtown Brooklyn when he is visiting my mother.
I really hoped Citi Bike stations would be near my job in Flatbush, because I still drive to work. I'd much rather ride the Citi Bike.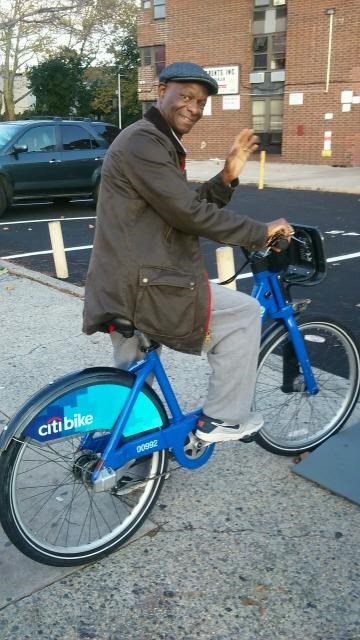 Q: What do you like most about Citi Bike?
A: Bike riding is important to me because it encourages good health. And, as an African-American, I'm aware of the many chronic health issues in our community and Citi Bike makes it affordable to get to my destination while also exercising.
Q: How do you think Citi Bike can get more people involved in bike riding?
A: I think making more bike ports available and promoting the benefits of exercise through biking is key. Also, informing non-members about the affordability of Citi Bike and educating people about bike safety in busy streets would help people become more comfortable with riding.
Are you or someone you know a Bed Stuy resident who would be interested in sharing their Citi Bike story? Restoration wants to hear it and celebrate you! Feel free to reach out to: citibike@restorationplaza.org.