Bushwick staple Archie's Bar & Pizza has closed amid a wave of sexual misconduct allegations made on social media about one of its owners, with many saying its founders knew about cases of misconduct for years.
The popular pizza joint at 128 Central Avenue and its Williamsburg location both closed abruptly last Thursday.
Some staff found out just before work on Thursday the shift would be their last. The business then erased its social media accounts.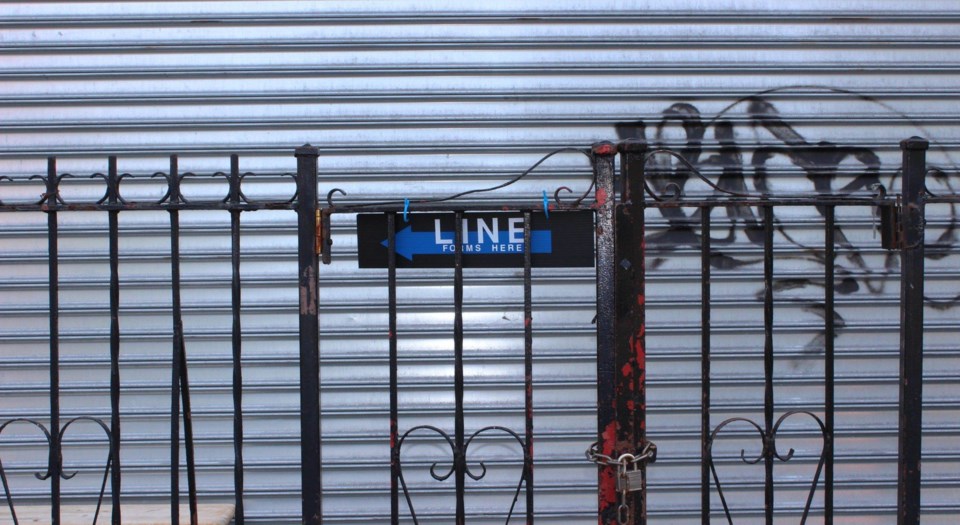 The allegations
The surprise closure comes after a former colleague of Archie's co-owner Diego Macias approached Archie's owners on July 7 to report alleged sexual violence she had experienced at his hands in 2013, while working at another establishment. The pizzeria was founded by husband and wife team Dimitri and Gerelyn Blackstone-Karapanos in 2014. However, Macias was made a part-owner in recent years.
In a July 18 Instagram post, the woman detailed a relationship with Macias alleging sexual violence that started when she was 19 and he was 31. Both were working in hospitality, he as her boss.


She states Macias groomed her for sex, before advancing to non-consensual sexual actions like slapping her hard in the face, forced anal sex under the premise of "accidents" and taking off the condom without her knowing -- otherwise known as stealthing.
While stealthing is not a crime in New York, an anti-stealthing law has been drafted in the state. Stealthing is considered sexual assault by sexual violence prevention experts because it essentially turns a consensual sexual encounter -- protected sex -- into a nonconsensual one.
After the woman posted her story to Instagram July 18, she was met with an outpouring of strikingly similar stories of alleged grooming and assault from as many as 26 other women. Over the last nine days, she has used her Instagram account to share many of these stories. The BK Reader has reached out to many of those women who have spoken out publicly. Would you like to share your story about working with Diego Macias at Archie's or Dos Toros? Please email jessyedwards@me.com.
It is not clear whether any criminal complaints have been filed. The NYPD said it does not comment explicitly on the possible or current status of investigations, however a spokesperson said she urged anyone who has been a victim of sexual assault to file a police report so detectives can perform a comprehensive investigation, and offer support and services to survivors
Macias did not immediately respond to request for comment.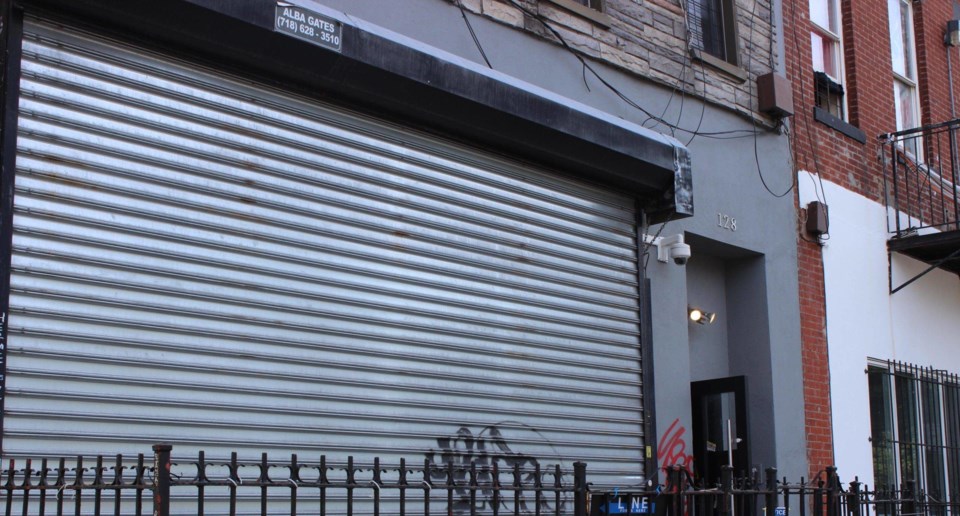 The backlash
Macias was terminated by Archie's July 14, with the pizzeria's owners issuing a statement last Tuesday stating Macias would not receive future benefits from the business. However, it did not elaborate on the allegations. "At Archie's we have a policy not to comment on any investigation dealing with harassment or discrimination."
Archie's former bartender Roarke Menzies said many felt this statement did not address the shock moving through the Archie's hospitality community that owners would often call a "family." "I was among the many who felt that was a total cop out, and a way of silencing the stories," he said.
Menzies worked as a bartender at Archie's from August 2017 to March this year, and said in that time he knew of two women who had reported Macias to management. He said while Archie's never made a managerial statement to staff about it, he and other employees were lead to believe appropriate remedial action had been taken. "The work should have been done then," he said. "The fact that some of us were aware of what then seemed like isolated cases adds an extra sting to our current feelings of betrayal. Like others, I trusted that the right steps would be taken, but I was wrong. That's part of the reason I'm being so vocal now."
He said the allegations spoke to systems where abuse was able to go unchecked within hospitality and other industries. "And how a lot of these survivors continued to work for this person while bearing the pain of this abuse because, at the end of the day, we all need to pay rent."
Recently, two women have came forward on Instagram to say they raised sexual misconduct allegations against Macias to Archie's owners and lawyers in 2018, but he had been allowed to continue working in the Williamsburg location.
"We were promised there would be action taken," the two women wrote in a statement. "It was a slap on the wrist that no one took seriously. We felt like clowns." The women said it was a shame they weren't heard earlier. "It's been painful seeing the support flowing now, when in Oct 2018 we rang the alarm only for it to fall on deaf ears."
As a chorus grew criticizing Archie's response to the allegations on social media, the pizzeria issued another statement. It said it recognized its initial statement was inadequate, and offered to set up a donation for victims of sexual abuse, as a first step.
However the very next day, it put up what felt like a final step -- that the restaurants were shuttering.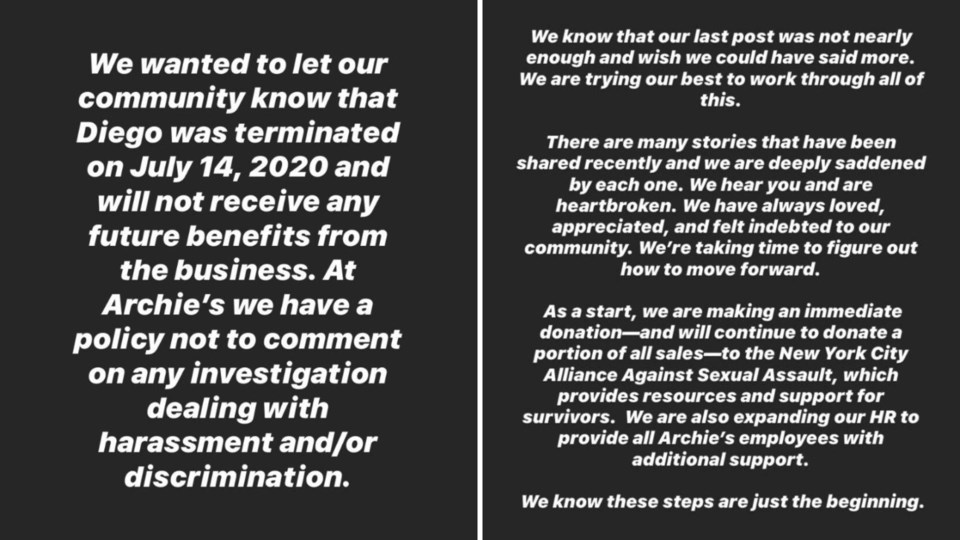 Archie's statement
In a statement given to the BK Reader Sunday night, an Archie's spokesperson said closing was a difficult but necessary decision.
"With any investigation, there are legalities, and we are bound by them, which [prevent] us from saying more. We are required to uphold the confidentiality of the whole process—from the original complaint, through the investigation, through the resolution," it said.
"Due to complex, personal circumstances, on top of the current global pandemic, we had no other choice. Closing was not an easy decision. We're heartbroken by this."
It did not respond to a question about what support would be provided for laid-off staff.
Former Archie's staff members are setting up a GoFundMe for laid-off workers. That link will be posted here when available.
Timeline of Archie's closure
July 7: Woman raises sexual misconduct allegations about Diego Macias with Archie's owners
July 14: Diego Macias is terminated by Archie's. No statement is made.
July 18: Archie's staff is introduced to a new general manager, with no explanation of Macias' absence.
July 21: Archie's issues a statement that Macias was fired, offering no comment. Faces backlash as dozens of women come forward with allegations.
July 22: Archie's issues another statement saying "we hear you;" offers to expand its HR department.
July 23: Archie's closes.