The family of Sha-Asia Semple now have a permanent place to remember her on Lewis Avenue -- with the Bed-Stuy community pitching in to make her memorial an oasis of peace and healing.
A large mural of the 26-year-old was unveiled Saturday afternoon at a celebration attended by about 100 people, including family, friends, Bed-Stuy locals and those fighting for racial equality in maternal health.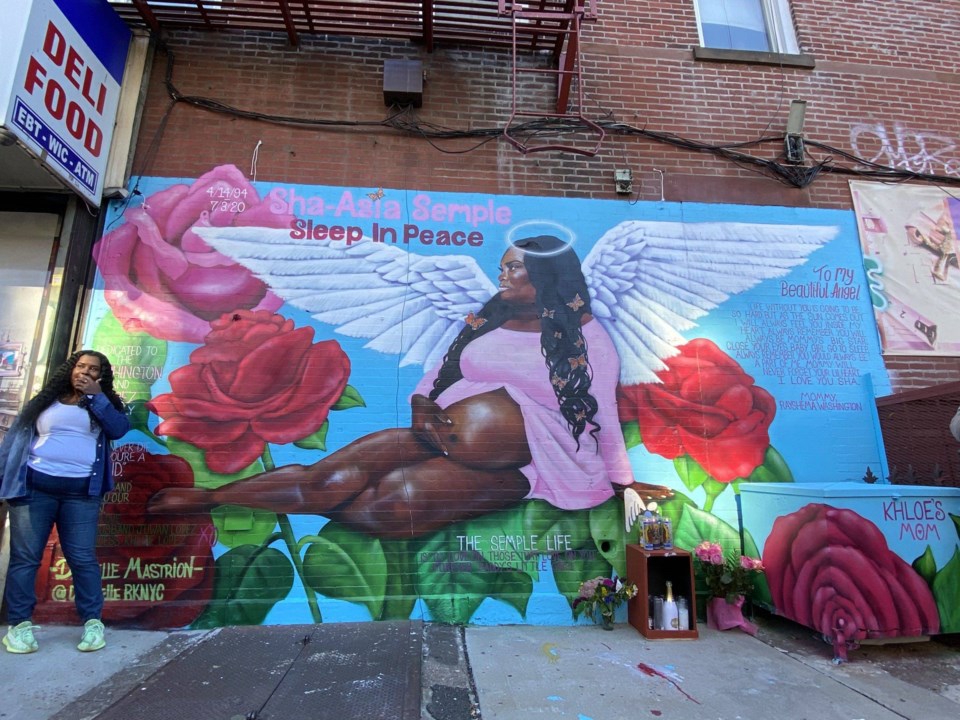 Semple, a Black woman, died in childbirth at Woodhull Medical Center July 3 after going in for a routine test a few days after her due date. She was induced and given an epidural. Her healthy baby Khloe was delivered via C-section, but Semple passed away when she went into cardiac arrest.
The mural was commissioned by Semple's father Dennis Semple and godfather B.T Williams, and painted by Danielle Mastrion, a Brooklyn artist known for her powerful portrait work.
Williams said much of Semple's family live on the block, and the mural meant they'd get to see her every day. "That was our intent, that the family could have a place where they could sit and feel she's still with them."
He said he was overwhelmed with emotion ahead of the unveiling, which felt like a celebration of Semple's life. Williams had organized a DJ, purple-and-white spotted balloons lined the street and extended family brought hot food to share afterwards.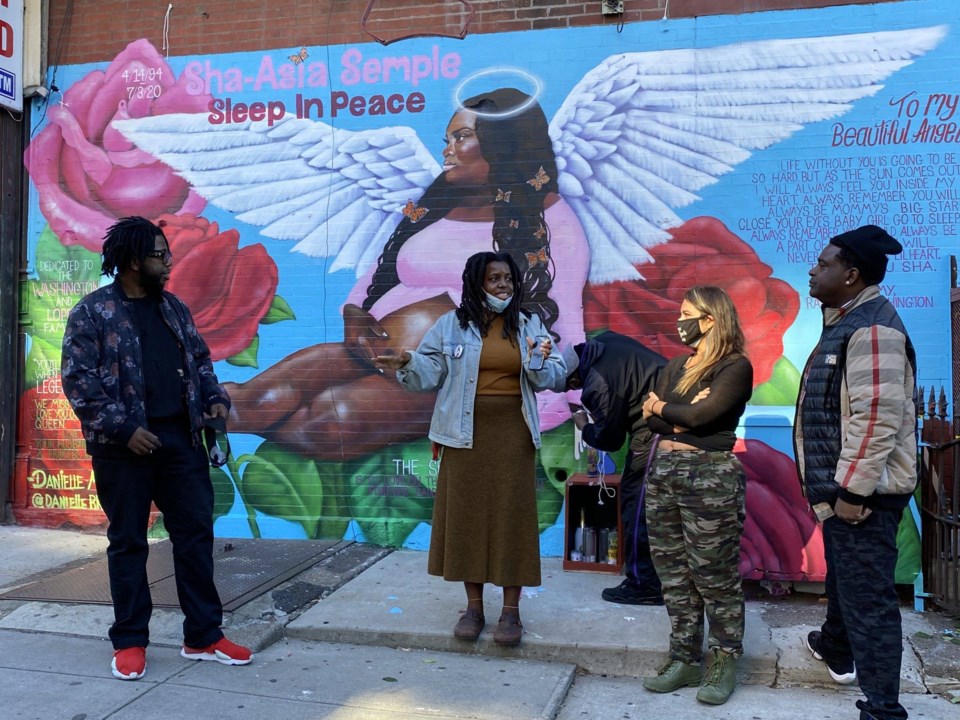 At the moment of the unveiling, cops closed the road so the crowd could take a moment to remember the Bed-Stuy native affectionately known as "Stink."
"What kind of person was Stink?" Williams asked the street. "Beautiful, loving, caring, loud, crazy, smart, successful," the crowd called back, before the sheet was pulled down. In the mural, a pregnant Sha-Asia Semple is depicted with the wings of an angel, surrounded by butterflies, pink and red roses and messages of enduring love from her family.
Mastrion said it was an honor to work on the piece she painted over about four days, with family stopping in throughout for sometimes emotional visits.
"I felt so much joy and happiness being able to create it, but there were definitely moments where all of us were just breaking down and crying… I think they just wanted to see her come home," she said.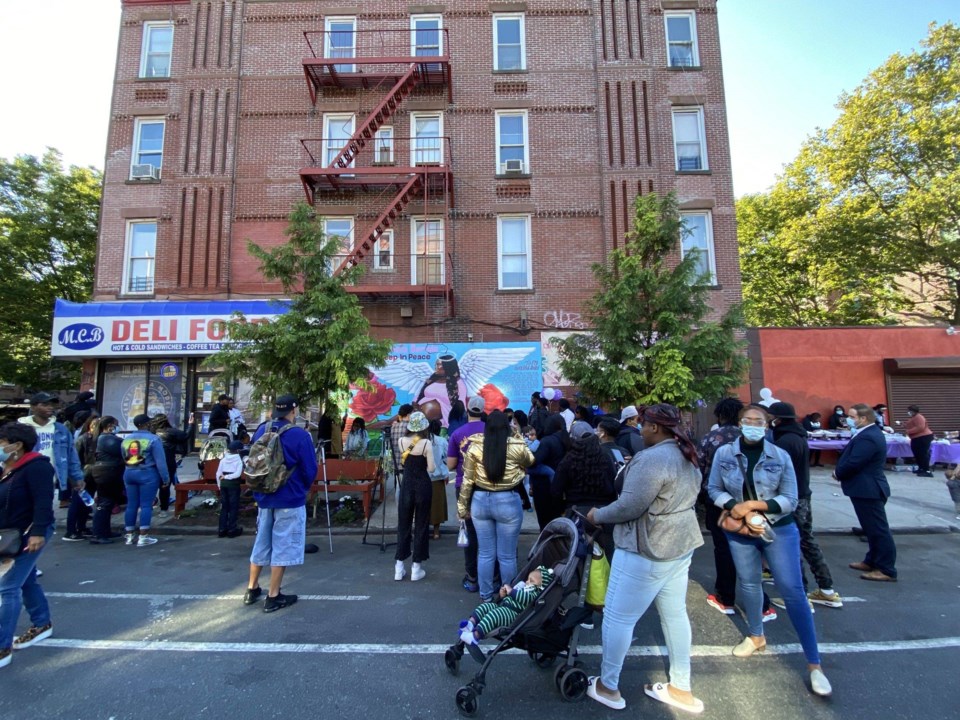 Days ahead of the unveiling, the Bed-Stuy community came together to beautify the space in front of the mural by building seating and an area nicknamed "Stink's garden".
The beautification was organized by Efe Osaren, who lives nearby and stopped in to see how she could help. She put a call out to the Bed-Stuy community and said about 40 people turned up last Wednesday to pick up trash, dig up roots, build seating and a raised garden.
The space is now an oasis for those who want to sit in Semple's memory, with flowers, raised beds of planter boxes full of medicinal herbs and an angel hanging from the tree above. "We also have wind chimes so you can communicate with Sha-Asia," Osaren said.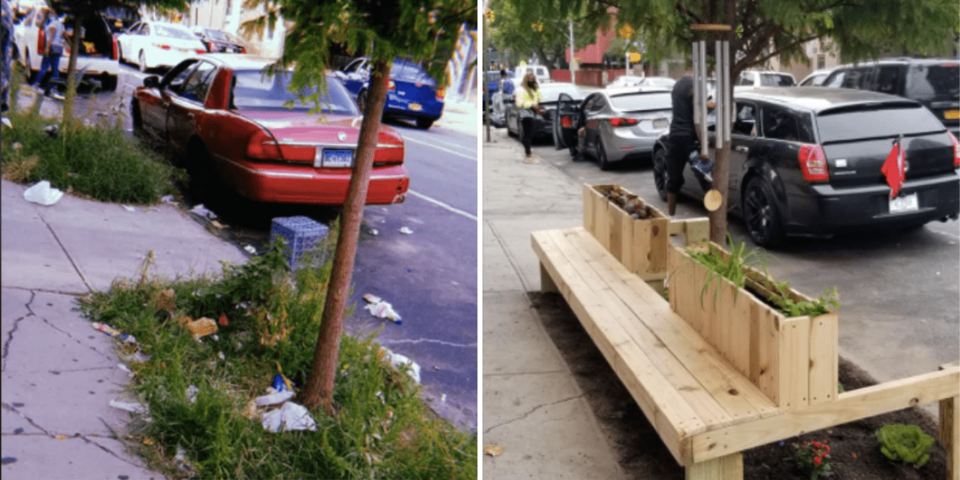 Osaren runs Doula Chronicles, which focuses on reproductive and pregnancy education for people of color. "All of this is preventable," she said. Black women in the United States are more than three times more likely to die due to pregnancy or childbirth than white women, and about 60% of those deaths are preventable, according to CDC data.
"Yes I'm a doula but I'm also a Black woman," she said. "That could be me up there, that could be any of us up there, and I would like my community to show up for me in the same way we're showing up for Sha-Asia. Letting her know, your death is not in vain."
Semple's fiancee Juwan Lopez was supported by family and friends at the event, including Bruce McIntyre, who lost his pregnant partner Amber Isaac in April after she was given an emergency C-section at Montefiore Medical Center.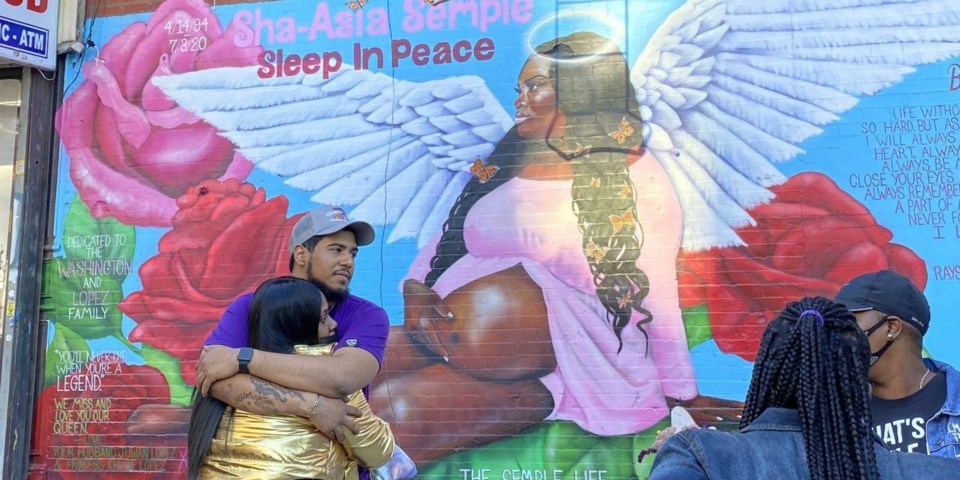 "This pain is so unbearable, to lose a spouse, and I wanted to come out to show my love to Juwan and be a sign for fathers that we need to be here for each other."
After the unveiling, Sha-Asia's father stood proudly by his daughter's mural, where he greeted family and friends with smiles and tearful hugs.
On the mural, a message to his baby: "The Semple life is to love on those that love on you. Forever daddy's little girl."