Around this time of the year, our neighborhoods change, classrooms are adorned with scary decorations and shops are fully stocked with costumes and treats.
Halloween tends to dominate this season, but we're excited about something a little different. It's Gede, a celebration popular in Haiti that embraces and celebrates both death and life. The celebration focuses on the Gede, or family of spirits, that rule the space between life and death, with Papa Gede at the helm of the group.
If you know anything about Day of the Dead or All Souls Day in the Catholic religion, this celebration is in many ways aligned with these religious holidays. But there are some major differences, including the act of becoming possessed.
During the festivities, dancing and drumming are common, along with several rituals and feasts, calling upon the Gede to enjoy the pleasures of life. Dances for the Gede, like Maskawon and Banda are suggestive and sexual, because this family is associated with fertility, death and mysteries between worlds.
Julio Jean, Haitian singer, dancer and instructor at Cumbe: Center for African and Diaspora Dance, is leading a special celebration on Sunday, November 4, to introduce people to this sacred and fun holiday.
"Besides that the Gede have healing power," Julio says. "You can get protection. If someone is sick, you pray to Gede for healing. They are a very powerful family. They can give health and remove bad spirits."

The Gede are part of the pantheon of Vodou, an ancient African spiritual and religious practice with roots in Benin. Haitians are often most associated with the practice.
Chita Tann Bon Mambo, researcher, author of "Haitian Vodou: An Introduction to Haiti's Indigenous Spiritual Tradition" and Vodou practitioner, explains that the practice is widely spread, yet misunderstood.
"Most of what we hear about Haitian Vodou today is negative and can be traced directly to anti-Haitian and anti-Vodou sentiments expressed during the U.S. Marine occupation of Haiti (1915-1934), including the obsession with zombie tropes and a continuation of racist commentary raised against African revolutionaries during the Haitian Revolution. It is undeserved. Vodou is an ancient and vibrant tradition that affirms life and provides healing to millions."
Revelers often wear black, white and purple. They powder their faces in white, carry canes, wear dark shades and top hats. There's plenty of liquor, specifically clairin (a Haitian rum sometimes infused with hot peppers), passed around.
It's during this time, that the dead, those who have no grave, the forgotten or lost, ancestors and the keepers of the dead are honored. It is this celebration, that reminds people of life as a gift and a joy.
Cumbe: Center for African and Diaspora Dance embraces the various cultural celebrations shared across the Diaspora and provides space for everyone to learn and enjoy the beauty and complexity of African and African Diaspora culture through dance.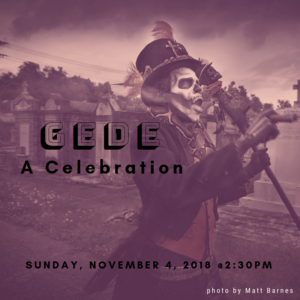 On November 4, 2018, Cumbe is opening its space to share a beautiful, colorful and fun Gede workshop experience, led by our Afro-Haitian Dance instructor, Julio Jean, a renowned master Haitian dance teacher and choreographer. He blends traditional Haitian forms with modern and contemporary dance to create compelling movement narratives.
Julio will be joined by Nadia Dieudonné, a choreographer, dancer and teacher. As part of her commitment to preserving her culture, she founded Nadia Dieudonné & Feet of Rhythm, a Haitian Folkloric Dance Company that fuses traditional Vodou dances with her unique contemporary style.
Join Cumbe for this dynamic dance workshop and celebration from 2:30-5:30pm. Attendees will learn dances sacred to the celebration and enjoy refreshments and mingling afterward.
Cumbe is located within the Bed-Stuy Restoration Plaza at 1368 Fulton St. in Brooklyn. Learn more at www.cumbedance.org.