Sponsored
Flowers are like Mother Nature's trophies, living testaments to nature's beauty and power, which is why flowers have always been the go-to choice for someone desiring to show appreciation, reward success or... express love.
Although Valentine's Day has never been la raison d'être for floral shops, it is the biggest day of the year for the flower industry. And whether you're sending flowers to a boyfriend in Boston or a crush in Crown Heights, flower delivery is a great option to deliver your romantic bouquets.
Launched in 2012, Ode à la Rose is the lovechild of two Brooklynites, Olivier Plusquellec, 39 and Louis Brunet, 32. Both originally from France, Plusquellec and Brunet met while working in the finance industry in New York City.
They decided to leave their jobs working for the French investment bank Natixis following the financial crisis of 2008. The atmosphere had become stressful and heavy, and they wanted to do something completely different-- something that would help others to let go of stress. They decided to open up a shop to sell beautiful floral arrangements, the quality of flowers that were everywhere in France but hard to find in New York City.
The partners created the flower delivery service Ode à la Rose around a model of efficiency that is state-of-the-art in the way it leverages technology while saving the customer money and time! Ode à la Rose has brought the flower gifting experience into the 21st century for both senders and receivers by giving patrons a sneak-peak look at the bouquet before it is sent out, offering patrons a video message for their loved one and providing next-day delivery in 13 of the northeastern United States.
The current floral shop model online, with its hodgepodge of different flower shops, creates an inherently uneven experience, as each shop in its local delivery network can have entirely different flowers with entirely different levels of expertise. The quality of flowers and arrangements can vary widely across floral designers, so "what you see" in pictures isn't always "what you get."
At Ode à la Rose, the sender knows exactly what the recipient will receive every time. All flowers are fresh and handpicked the same day the bouquet is made, perfect if short on time and you're looking for a last-minute gift.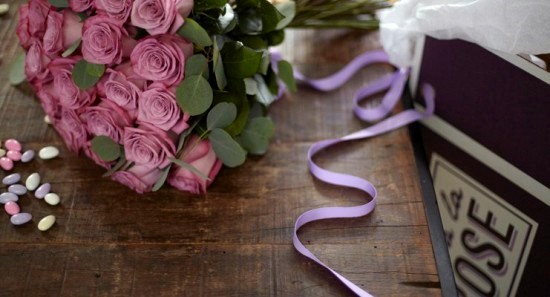 Packaging is also a big part of the consumer experience for many products and especially for roses and beautiful floral bouquets. Ode à la Rose has created handsome delivery boxes in anti-spill containers that allow for delivery without the fear of leakage.
Patrons are emailed a full color image of the bouquet, prior to shipping. And a proprietary app allows senders to record a video message. Recipients then are provided a QR code they can scan on their smartphone and then also send a video message back.
The fast delivery and quality bouquets, combined with the enhanced customer experience along with great pricing make Ode à la Rose a no-brainer for Valentine's Day bouquet delivery.
Check out their website here, where you'll see examples of bouquets and also learn about the different types of flowers, bouquets and delivery options.