Every Sunday beginning in June through October, from 12:00pm - 6:00pm, thousands of people from across Brooklyn and beyond flock to the Open Streets festival on Tompkins Avenue in Bed-Stuy to dance to live music, play games and patronize the numerous Black-owned restaurants and boutiques that dot the six-block stretch of the festival between Gates Avenue and Halsey Street.
The event, which is managed by nonprofit Bridge Street Development Corporation (BSDC) and Tompkins Avenue Merchants Association (TAMA), started in 2021 to create a safe, socially distanced environment for neighbors to gather during the pandemic while supporting the small businesses impacted by the shutdown.
Since its start, the event — TAMA Open Streets — has become a popular destination for tourists, out-of-towners and local residents looking to catch a Brooklyn vibe.
Now, in addition to the 42 brick-and-mortar businesses that line the corridor dubbed "Black Girl Magic Street" for the significant presence of Black woman-owned businesses, dozens of approved vendors set up tables along the street, selling vintage clothes, handmade accessories, paintings, healthy juices and more.
Twenty of those 42 businesses are members of TAMA.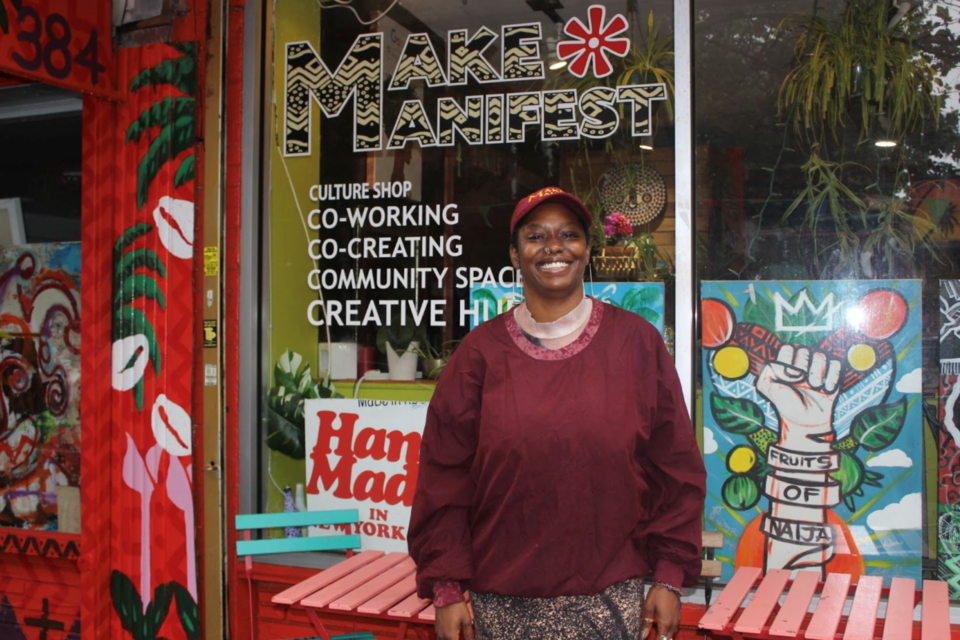 "Bed-Stuy is ever-changing and extremely gentrified right now," Isha Maat, owner and curator of retail shop and art gallery Make Manifest, said. "But what's very special is the stronghold of Black business and Black ownership here… [The event is] a beautiful investment in the community."
"We love just leaving the apartment, turning the corner, and seeing everything going on," said Austin Billing, a local resident at the event.
Amber Walden, who was walking with him, added it was their fourth or fifth time attending the event.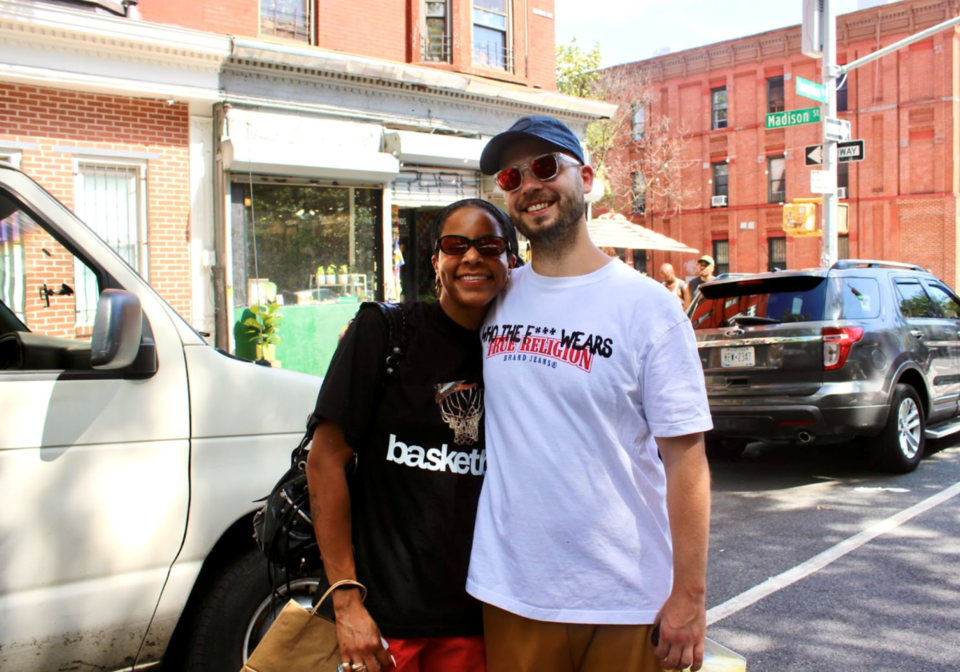 "This event is what's been helping us," said Bed-Stuy local Carmella Charrington, a curbside vendor at Doc's Cake Shop. "As an entrepreneur, being here helps us learn what we are doing and what we can do better. We get one-on-one feedback — it's almost like an election for our business."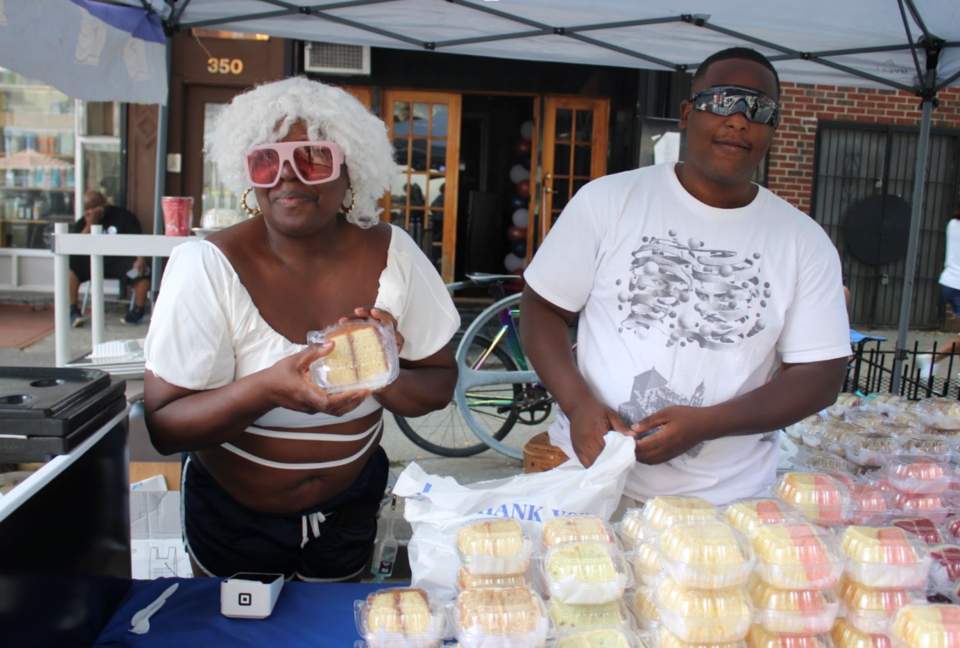 In addition to vendors, this summer featured special events including a sound bowl meditation class, a fashion show, a theater performance of August Wilson's "Ma Rainey's Black Bottom," and a variety of local music groups, family-friendly activities and several DJs.
Dueling petitions
However, not everyone's experience with the festival has been positive. A sizable number of residents (and some of the merchants) told BK Reader they feel the event is negatively impacting their quality of life and not helping their business at all. They feel their voices have been ignored.
During the three years the Tompkins Avenue Open Streets has existed, several homeowners in and around the area have said they experience excessive litter, public urination and vomit, double parking and trespassers who sit on their stoops to eat and smoke — particularly during the second half of the event and after the event ends.
In June 2022, when the event was canceled twice for different reasons, close to 1,000 people still showed up and hung out in the street, reported Patch. In fact, one Putnam Avenue block near Tompkins turned into a parking lot, bottlenecking traffic and forcing neighbors to wait hours to use their own cars.
BK Reader spoke to four homeowners on Putnam Avenue who said they don't think their concerns have been taken seriously, adding that while they're not against the idea of an outdoor event, they disagree with BSDC's management of the event. Several of the group's concerns were outlined in a video published last month.
So far, more than 200 people — including homeowners and their allies — have signed a petition calling for the end of the program.
Two months after the homeowners launched the petition in June 2023, another petition in favor of the program popped up, which has been signed by more than 1,300 people so far.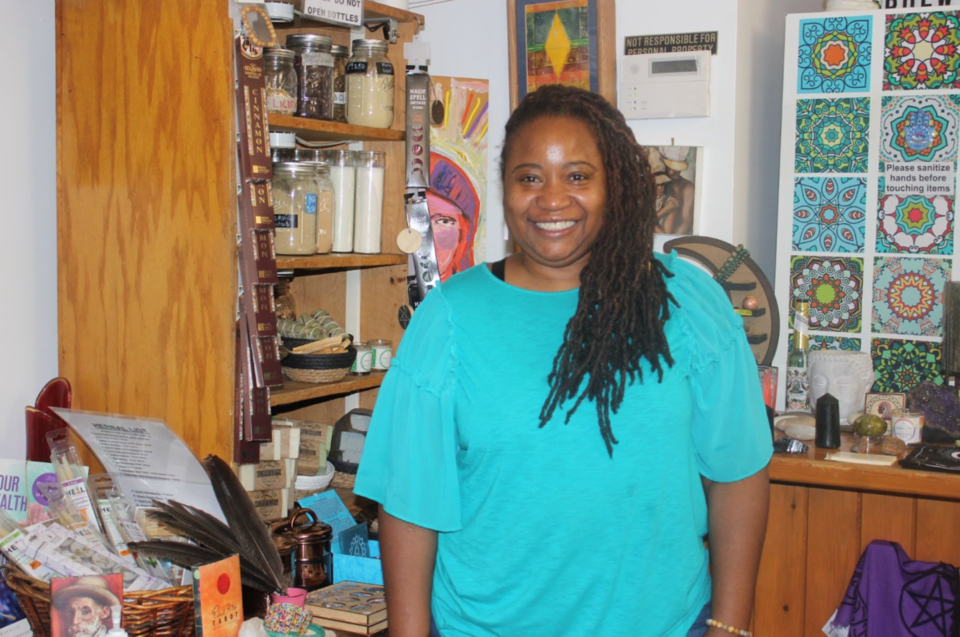 "There are people who do not like Open Streets," Tiecha Merrit, TAMA president and owner of Bush Doctor Juice Bar, said. "But there are people who love it. And those people outweigh the small group of people who don't like it… Our slogan is 'TAMA puts community first.'"
However, many of the signees of the Open Streets petition are participants who do not own homes nor live near the festival.
Who is responsible for the aftermath of the event?
BSDC and TAMA estimate that between 1,000-5,000 people attend each event. But, after the program ends on Sunday evenings, patrons stay later to continue partying, homeowners said.
"On Sundays, we have to police our property," Yolanda Johnson, a homeowner on Putnam Avenue, said. "They come, they sit on your stoop. You ask them to leave, and they get an attitude."
Jared Hassan Foles, a Putnam Avenue homeowner, said he sees drunk people urinating on his property, in tree pits and in between cars on Sundays, during and after the event. He said he's seen people come to the event with liquor and treat his stoop as an extension of the bars in the area. He also said the trash bins overflow and bikes get locked to his property, which creates a liability issue for him.
He runs a music studio in his brownstone, and he said he loses business on Sundays because his clients can't park near his office, since so many other cars are parked — and sometimes double parked — on the side streets near the event.
"We witness people that drive here to the location; they get out of their cars with hard liquor," Foles said. "They hang out in front of our yards, getting liquored up and getting into fights… For two years, Bridge Street and TAMA swore they had no responsibility in that. But obviously, it was the marketing that brought these people."
Foles, who has a professional background in event management, said BSDC should add more trash cans, bike racks and port-a-potties at each intersection to the stretch, so the event's attendees have proper places to use the restroom, lock their bikes and toss their trash.
"Instead, they're throwing the police in the middle of this," Foles said.
When BK Reader attended the event on Aug. 13, 2023, there were four port-a-potties on the six-block stretch and trash receptacles at every intersection. Some of the trash bins were donated by Council Member Chi Ossé.
"Bridge Street and TAMA have tried their best to meet all the issues," Merrit said. "We also have some issues that we can't handle, and they can just call 311 for. After a certain time, Open Streets is over. We have the police there who are there all the time."
BSDC COO Oma Holloway said police from the 79th Precinct are present every Sunday until 10:00pm.
"For the most part, the majority of the people that attend are actually having a wonderful time and they are very respectful and they are very compliant," Holloway said. "We also definitely have our staff out there informing the police of anything we see, or activity that is not acceptable on our corridor."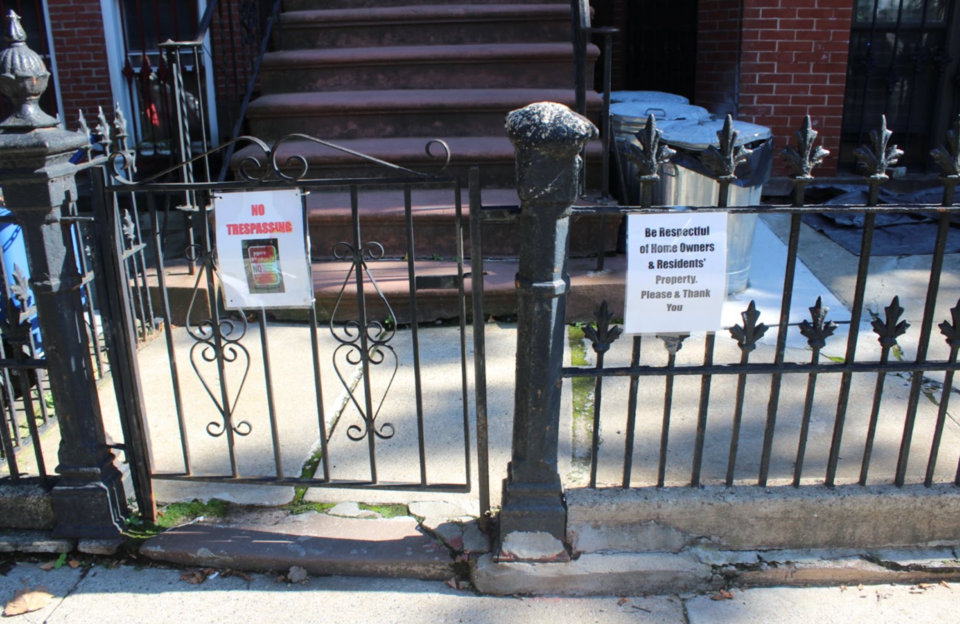 Some homeowners look forward to the open streets event. Thomas Brathwaite, who has lived on Putnam and Tompkins for more than 50 years, said he loves the weekly event.
"It brings people together; it's supporting businesses. I just hang out and enjoy the view," Brathwaite said. "I heard about people that disagree with it, but that's how it is with everything. I'm 'pro-TAMA.' They got port-a-potties and they changed the music so they took care of everything."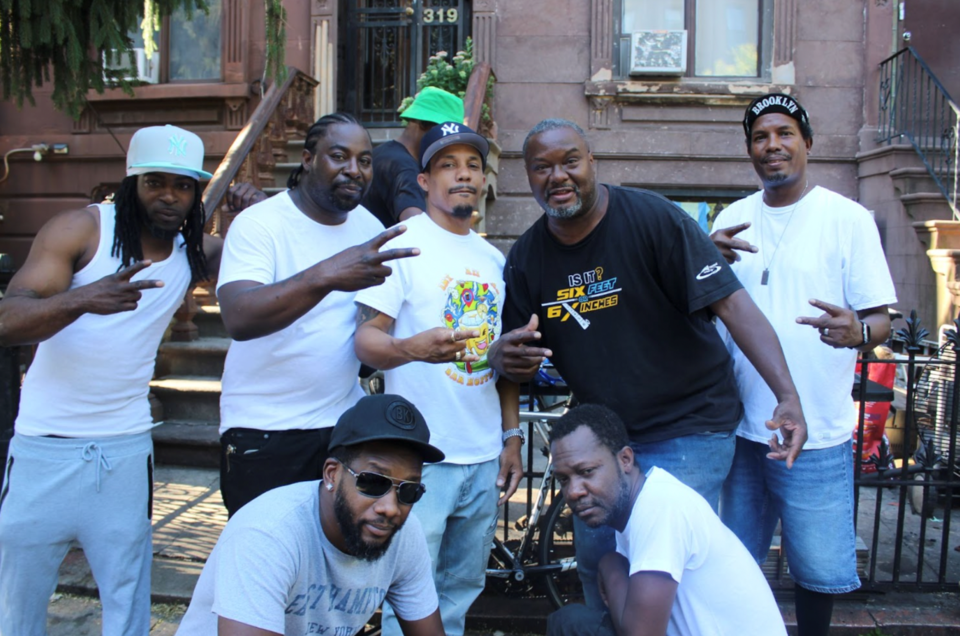 The event's impact on local businesses
This year, 14 businesses along the corridor responded to a survey put out by BSDC. Of those 14 businesses, two reported no noticeable increase in revenue during TAMA Open Streets. Three reported a 1%-10% increase, four reported a 10%-25% increase, four reported a 25%-50% increase and one business reported a more than 50% increase.
Michael Brooks, vice president of TAMA and owner of Bed-Vyne Wine and Bed-Vyne Brew said his businesses are thriving because of the street fair, but that when the crowd on Putnam and Tompkins avenues seems unsafe, he closes his bar early.
"When we feel things are no longer safe, the best thing to do is close down and make sure there are no incidents so that this can continue. This year, we closed a couple times really early. Sometimes, you have to take some short-term pain for long-term gain," Brooks said.
"There's always good with the bad. But overall, the good outweighs the bad. This situation with Open Streets has tremendously helped increase awareness of the thriving area of Tompkins Avenue."
---
In part 2 of this series on TAMA Open Streets Program, BK Reader will take a closer look at the impact of the program on the small businesses along the corridor.