"We don't want to take ourselves too seriously, but we're serious about what we do," Kenta Goto, the owner of Downtown Brooklyn's Bar Goto Niban tells BK Reader one recent Saturday.
He reaches under the bar and pulls out a stainless steel tool for measuring by the teaspoon.
Measuring by portions of an ounce, typical at most bars, only gives a mixologist eight measurement options, Kenta explained. The teaspoon — used at Bar Goto Niban — increases the precision to 24, smaller measurement options.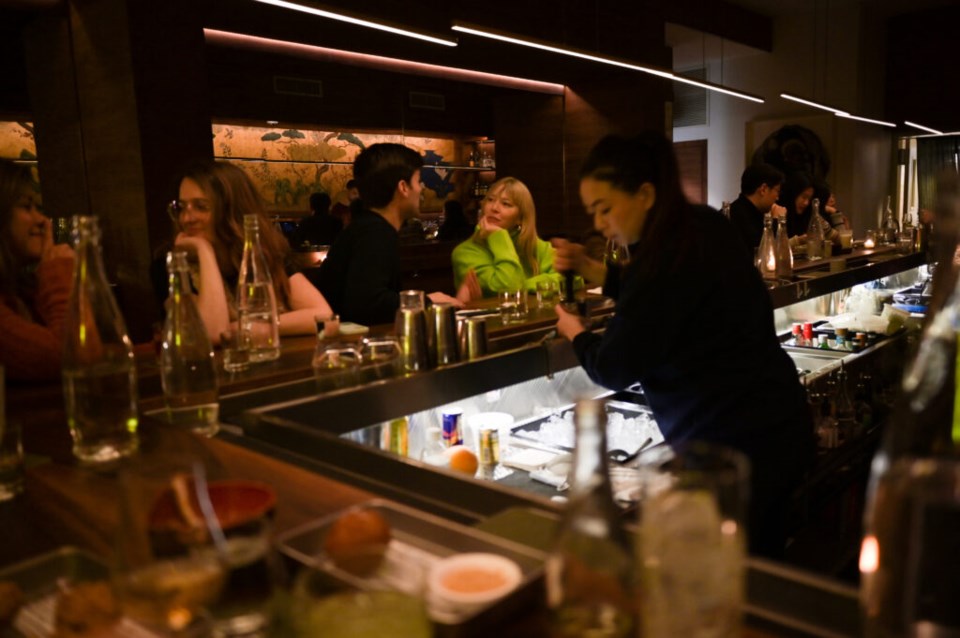 "We're not in the Prohibition era anymore, our palettes are more educated," Kenta explained.
Indeed, the cocktails at Bar Goto Niban are unique in their delicacy. The menu introduces Japanese ingredients and flavor to classic American cocktails, and — in my humble opinion — elevates them across the board.
Expect your tastebuds to set new standards of engagement for cocktails after visiting Niban, the new sister spot to the always-packed Bar Goto on the Lower East Side.
The original Bar Goto has been described by New York Magazine as being one of the best cocktail bars in the city, with multiple food writers praising its chicken wings as some of the best available in NYC.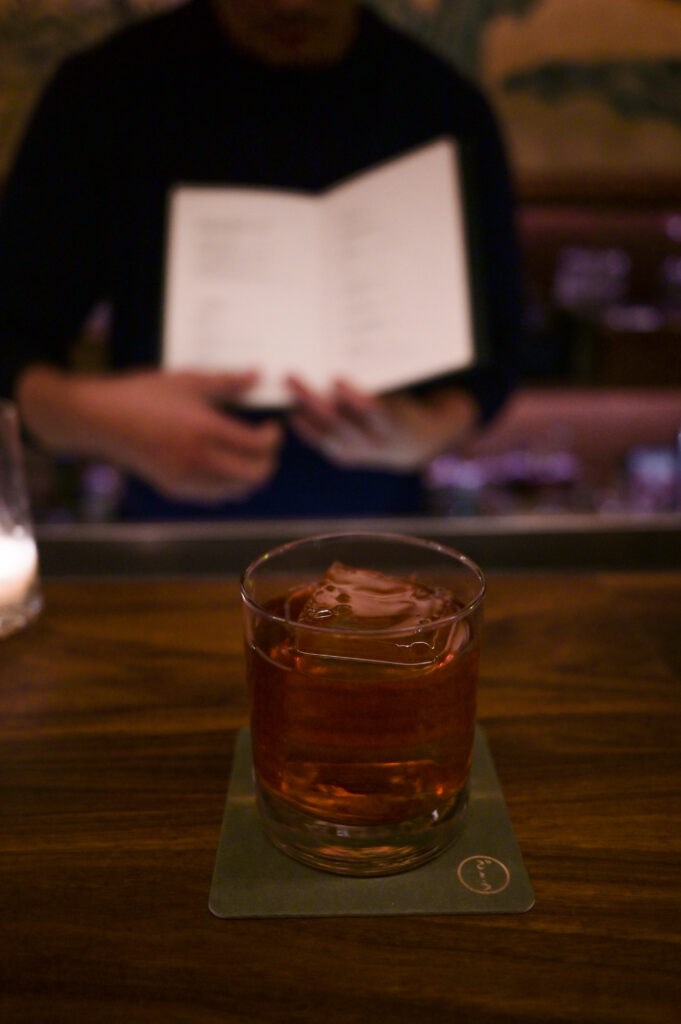 Thankfully for Brooklynites, the wings and many of the cocktails have been brought over to Bar Goto Niban (niban means second, in Japanese), located at 474 Bergen St., in Park Slope.
Negroni-lovers should try the Plum Boulevardier ($17), a mix of bourbon, vermouth, aperitivo and Japanese plum that BK Reader heard called, "one of the most well-balanced Negronis I've ever tasted."
Other must-try cocktails include the Oolong Sazerac ($17), featuring Mugi shochu, cognac, oolong tea and absinthe, served in a tulip glass, and the popular Koji-San, Bar Goto Niban's take on the margarita.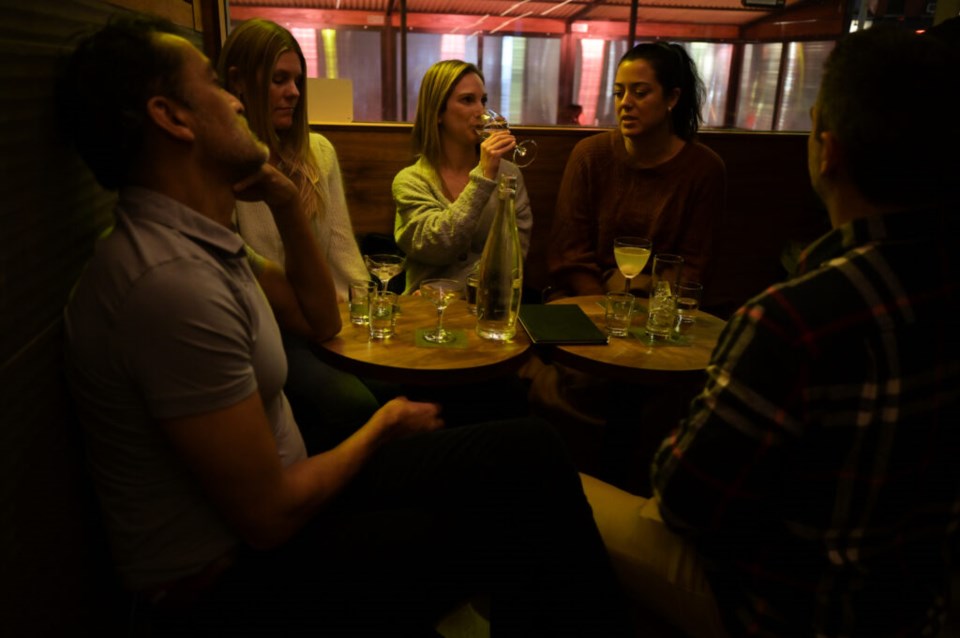 The Koji-San features Mugi Shochu, mezcal, lime and celery, and is rimmed with a dusting of dashi salt creating a combination so delicious you will want to lick it all off at first sip. Be warned: this drink might also ruin your appetite for other margaritas.
Whiskey fans should try Niban's refreshing Highball, made simply with Japanese Suntory whiskey and soda. During the pandemic, Niban started carbonating the soda itself, mixing it with the whiskey and packaging it in single, yellow-capped glass bottles to go.
The move to carbonate their own soda was by necessity. Still, it led to an even better drink with tighter bubbles all made at the same pressure level, bartender Koharu Usui told BK Reader: "We realized it made the drinks more consistent, and it's a cool way to serve it."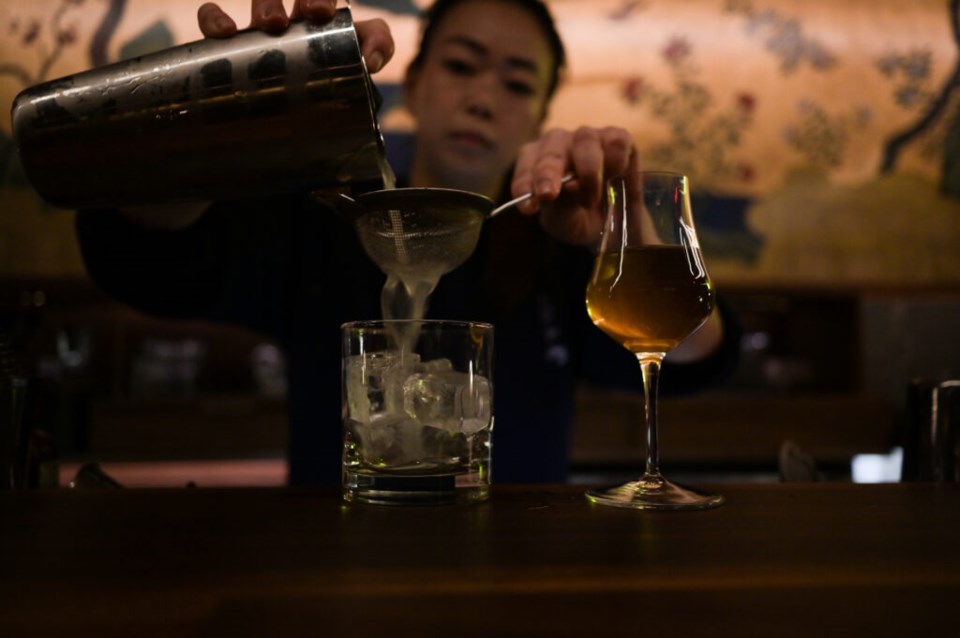 Everything from the ice, to the number of stirs per drink, is calculated at Niban, for precision and consistency.
For example, bartenders use a stirring guideline. Cocktails containing low-alcohol volume drinks like shochu are stirred 40-50 times, while spirits of 40-50% proof are stirred 60-70 times for the perfect dilution and coldness, in relation to the size of the ice cubes the bar uses.
In other words, don't distract your bartender while they're stirring.
Whatever you drink, do yourself a favor and order the wings and celery. The wings are done in miso, garlic, ginger, soy sauce and sesame oil, and Goto gives celery a "new identity" by peeling the skin and seasoning it with sesame oil, white sesame, red shiso flakes and salted kelp. The result is refreshing, crunchy and savory — a must-try.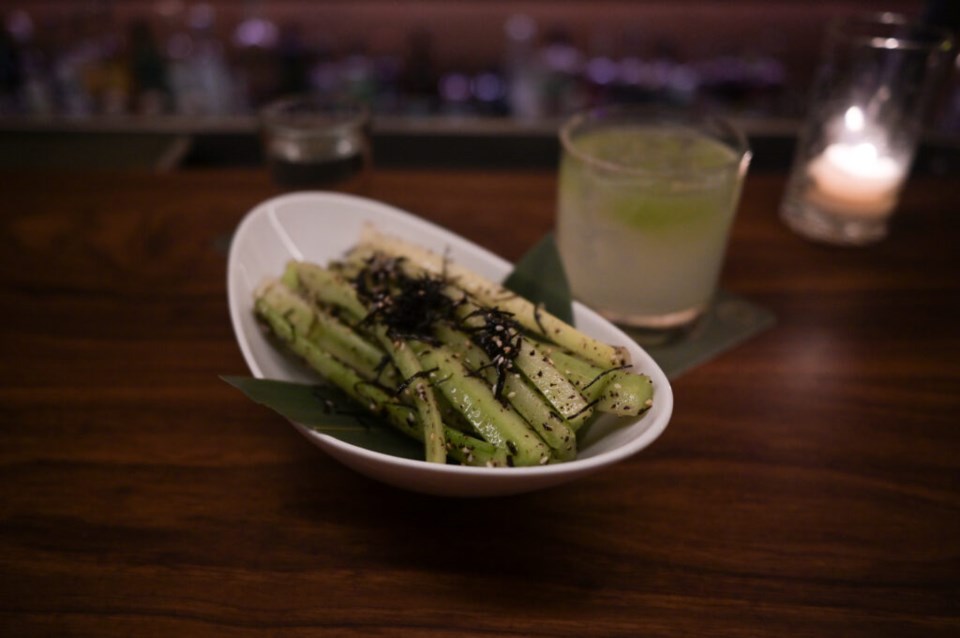 Niban also serves a range of korokke, a kind of croquette everyone grew up eating in Japan, Goto said. The cheese version cracks open to a gooey, melty interior, perfect for the Instagram-savvy.
Speaking of Instagram, the interior of Niban is a visual delight. After converting the space from a fast food joint and covering a large exhaust pipe, the Gotos decided to cover the low, long remaining wall behind the bar with hand-painted wallpaper of a Japanese landscape that casts a golden glow across the space.
Apart from this centerpiece, the bar is unassuming from the outside (look out for a glowing neon martini glass to lead the way), and the interior is dimly lit with pencil-thin strip lights. From 5:00pm, the bar begins to fill with couples and friends coming to line the bar with $10 happy hour martinis.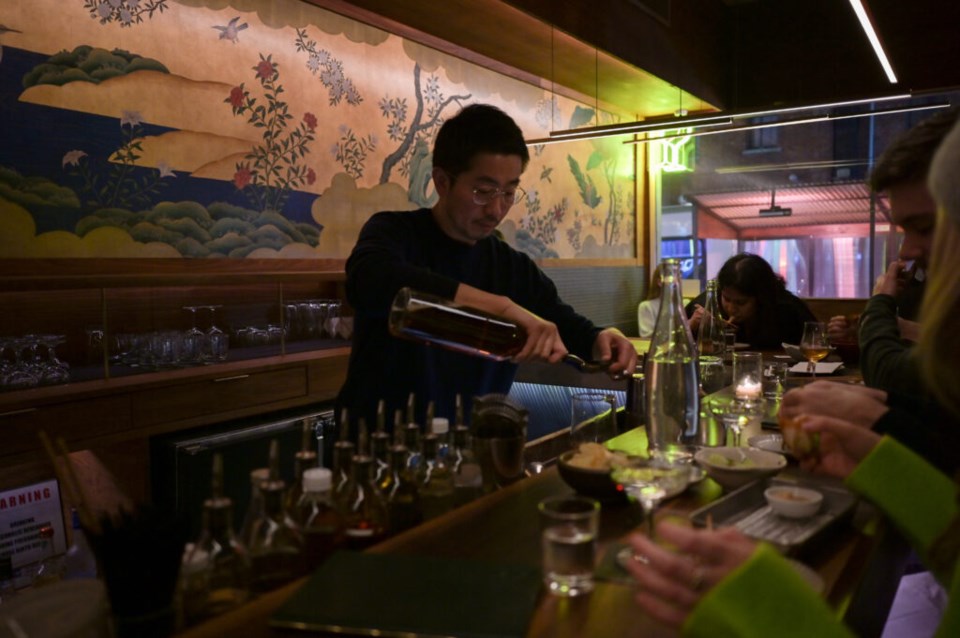 Niban was started by Kenta and his wife, Sarah Goto. The pair met while Kenta was a bartender at Soho's Pegu Club where Sarah became a regular. The pair later married in Prospect Park, where another regular-turned-friend was Kenta's best man.
Other regulars from that time have become investors and "great friends," and Kenta said Pegu Club is where he learned everything about cocktail-making and the business-side of running a bar.
"Without Pegu Club, I wouldn't have become who I am today," he said.
Kenta moved to New York City from Tokyo in 1997, as a 23-year-old. He comes from a foodie family: Kenta's mother had an okonomiyaki restaurant in the suburb of Chiba, and he helped her prep, serve and clean as a teenager.
His father is in the kimono business, and Kenta said his dad was often talking about the nuances of color and materials.
"I think this also had some influence on my attention to detail."
Kenta's sister is also a chef and has a tempura restaurant in Tokyo that opened months apart from Bar Goto in 2015.
Niban opened in Brooklyn in February 2020, and only had about a month of business before it was forced to close due to the pandemic.
"It took a year for us to open this location, and then we just had to close," Kenta said.
Thankfully, 2022 has seen the city's eateries start to refill, and Bar Goto Niban has enjoyed some packed evenings lately, particularly thanks to its proximity to the Barclays Center — the bar was packed after both the Kendrick Lamar and Elton John shows.
"We are very fortunate that we are busy every day at the Manhattan location, and I want to see that happen here too," Kenta said.
"We want more people to know about this place."
By 7:00pm, BK Reader had managed to sample seven of the 11 cocktails on the concise menu --all exciting and complex in their own right — before gracefully tapping out in the name of journalistic clarity.
"Welcome to cocktail boot camp," Kenta laughed.
Bar Goto Niban is open for cocktails and bar snacks from 5:00pm Tuesday - Sunday; Happy hour is 5:00pm to 6:00pm.