Ramen lovers can now sip on three unique types of sake with their noodles, thanks to the introduction of a new sake flight at Ichiran Brooklyn.
The Tonkotsu ramen restaurant — known for catering to introverts, with individualized booths — recently introduced the flight to the menu of its Brooklyn location, giving the diners of Kings County a chance to dip their toes into the world of sake.
For those unfamiliar with sake (pronounced sah-keh), it is a Japanese alcoholic beverage made from fermented rice. Sake is light in color, is noncarbonated, has a sweet flavor, contains about 14% to 16% alcohol and is often served warm.
Ichiran Brooklyn serves more than a dozen varieties of sake, including some that have been in production in Japan for more than 325 years.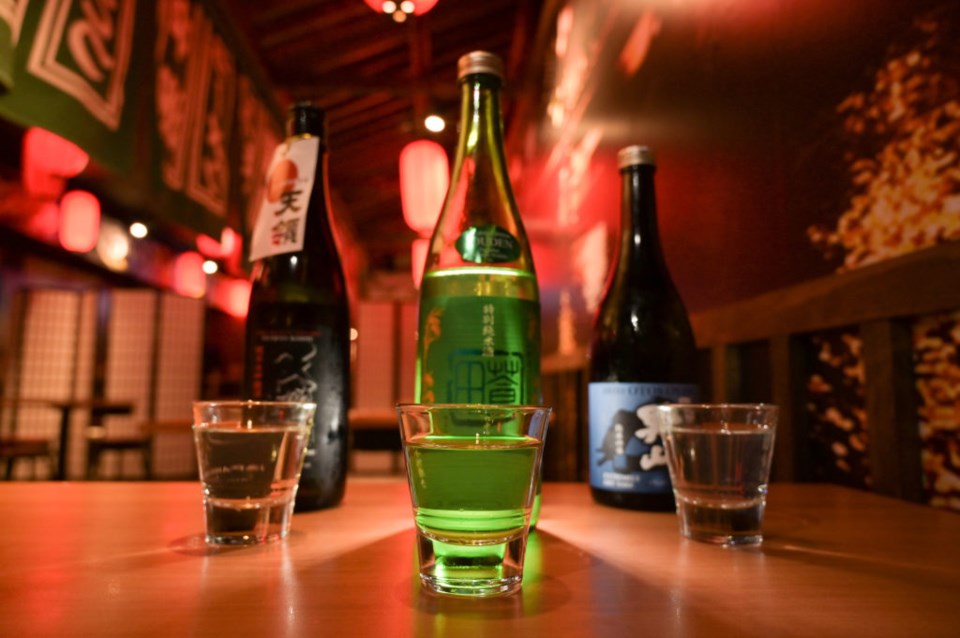 Despite the exciting variety and history of sake, many diners don't have the familiarity with the rice-based beverage to feel confident ordering a whole bottle. That's where the flight comes in: offering three 2.4-ounce servings of different sakes for $16.
"We want our diners to taste, so we were thinking, 'How can we get them to try it?'" Ichiran Brooklyn General Manager Michael Chu told BK Reader. "And if they do like it, they might want to order a bottle size."
The three sakes take connoisseurs on a journey from sweet to dry. The first sake, the Kitaya Souden, is brewed at a low-temperature fermentation over two months, resulting in a fruity flavor with some sweetness. The second sake, the Tenryo Koshu, uses "flower yeast" and is aged under strict temperature control to achieve its full-bodied flavor.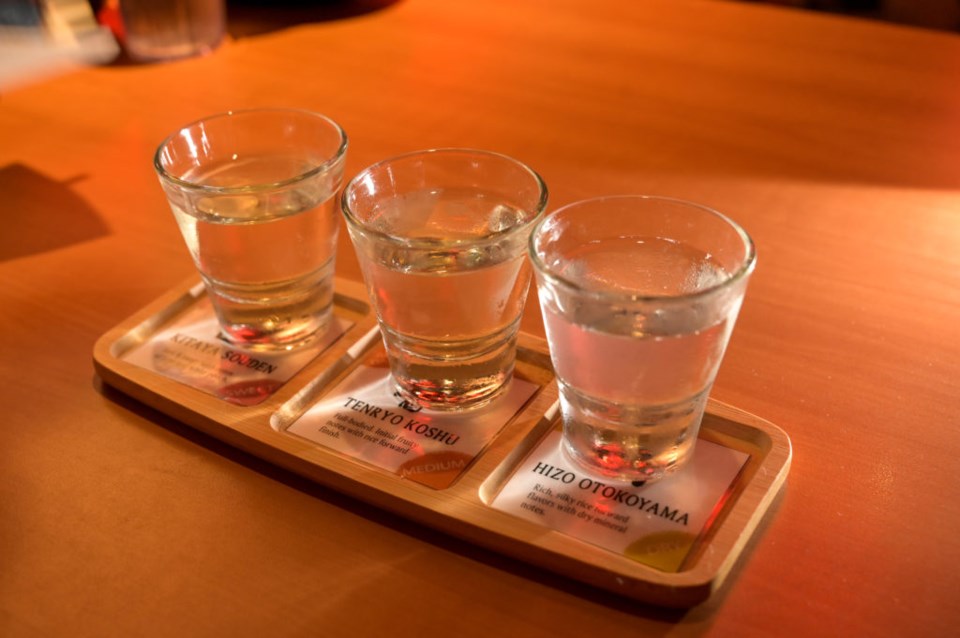 Finally, for those who prefer their liquor dry, the Hizo Otokoyama sake is the perfect finisher. Brewed from Gin no Sato sake brewing rice, this sake is smooth and "strikingly" dry.
For first-timers, Chu recommends trying the sakes before the food comes out. The flavors can be delicate and the aftertaste is an important part of the experience.
"After you swallow, you will get that grainy taste. Try it first without trying the food, and get used to the flavor," he said.
Then, depending on how salty one chooses to get their ramen, the flavor profile will be altered once again. Each of the chosen sakes in the flight go well with the ramen, he said.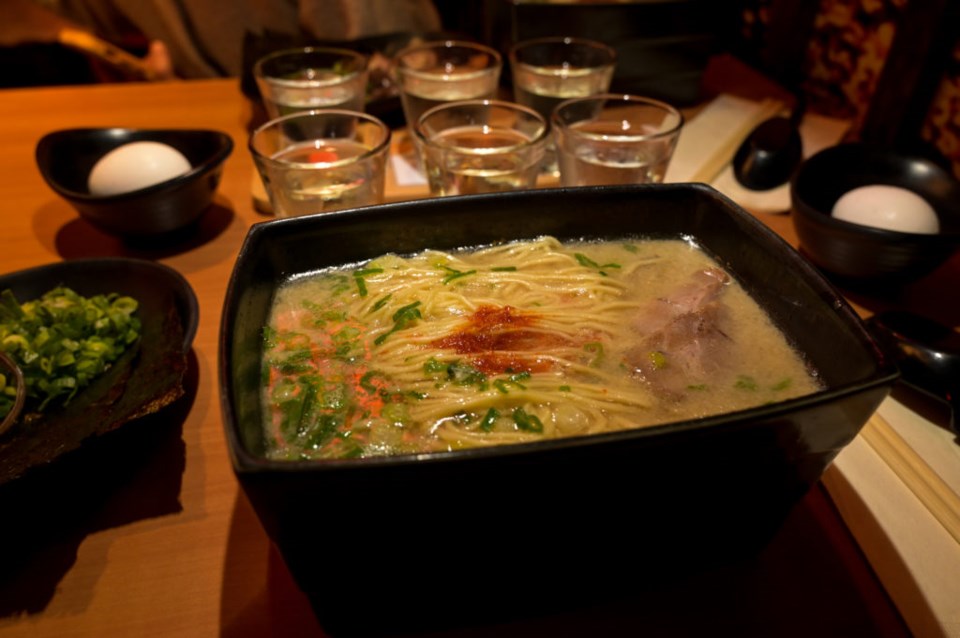 For those who haven't visited Ichiran before, it's almost a cult experience.
On a recent fall Monday, there was a line of about a dozen people willingly waiting in the rain for a table at Ichiran's Johnson Street location.
Inside, the group dining area is designed to feel like a Japanese outdoor market, with large decals of women in kimonos and market stands. Diners sit under awnings hung with white and green flags and glowing red lanterns. And, the spaces are divided with rice paper screens.
On a television screen, a black-and-white samurai film is playing, and the ambiance is punctuated by a near-constant pinging sound of new orders coming through.
In another room, through two heavy sets of curtains, is the dining area for solo customers.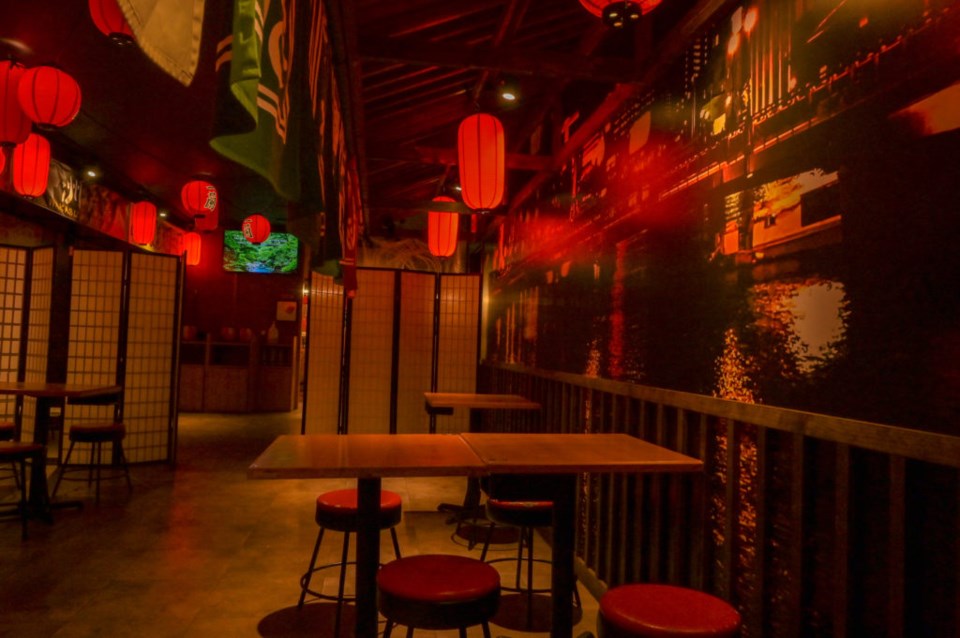 Diners sit in single-person booths, blocked off by dividing walls. They can order by ticking menu items on a piece of paper with one of Ichiran's signature red pencils, and simply slip it to the server when they're ready.
"We've tried to create an atmosphere where solo diners can come in and feel comfortable," Chu said. "Often, introverts will make food at home and stay in. This concept tries to give those people a reason to come out."
Ichiran is a family-owned business that started as a simple ramen stall in Fukuoka, Japan, in 1960, and now has three locations in New York and 83 throughout Asia.
At Ichiran, the owners said the "one and only star of the show" is its Tonkostu ramen. The complex, rich ramen is made with pork bones, handmade noodles and is accompanied by a spicy red sauce, which the owners said is its "greatest secret" — only four people have access to its recipe. The sauce, which uses more than 30 different types of spices, has a spicy and rich flavor blend.
While there is vegetarian ramen available, customers will have to ask for it, as it is considered a secret menu item.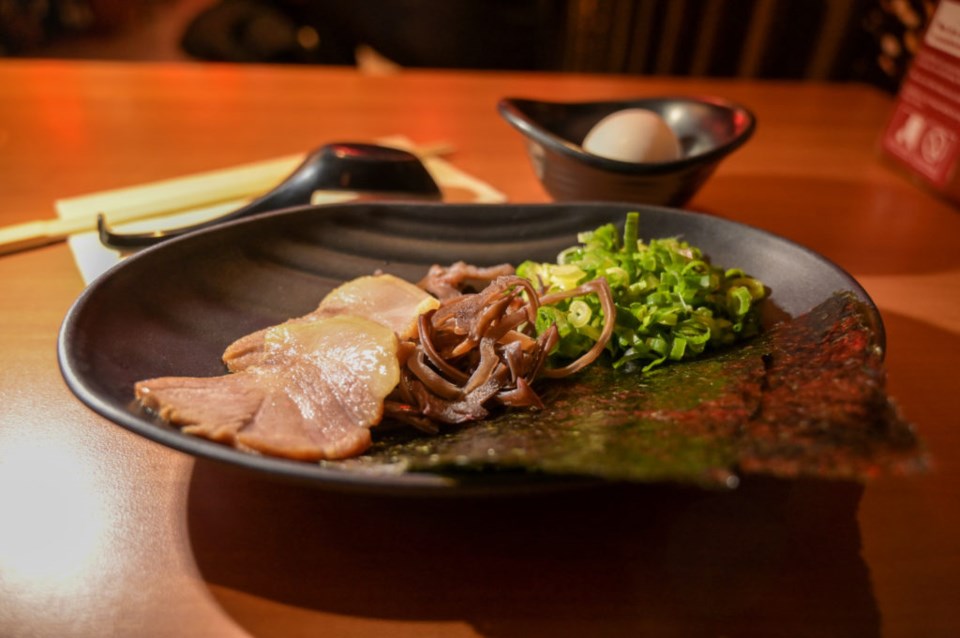 The restaurant offers a choose-your-own-adventure type of experience for diners with its order forms. Customers can select how salty, spicy or rich they want their ramen, as well as how much garlic, scallion and sliced pork they desire.
Noodle textures are also customizable, and diners can choose to have their ramen served with a soft-boiled egg, which is served in the shell for them to peel. The ramens arrive in deep, black ceramic dishes with lids.
BK Reader recommends getting a soft-boiled egg and extra chashu (pork), dried seaweed, scallion and kikurage mushroom on the side, and adding it all into the delicious complex umami-rich broth. The variety of textures and flavors will make sure each bite is different: from the creaminess of the egg, to the chewiness of the kikurages.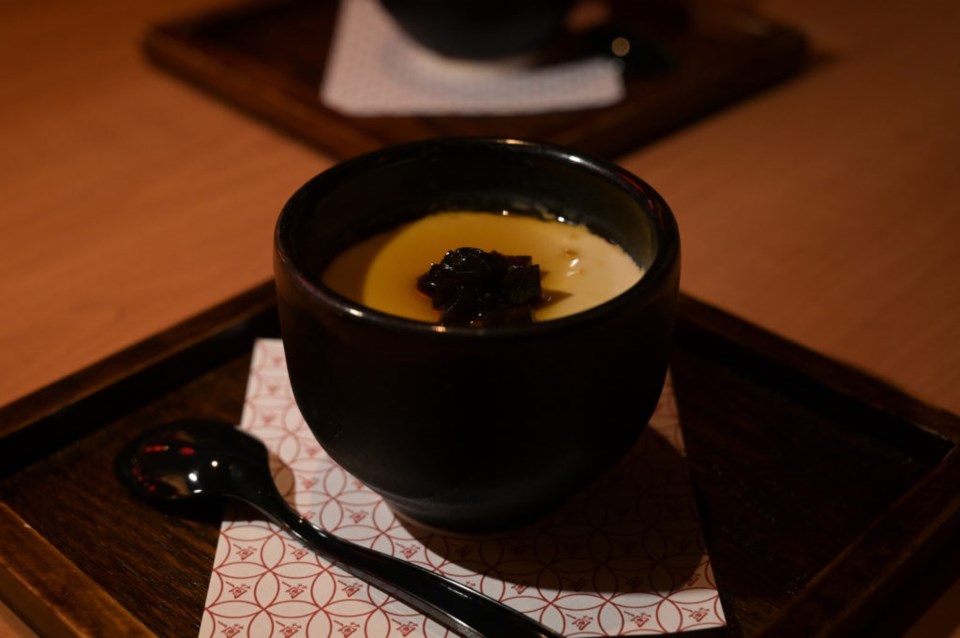 The sake flight and its flavors change the ramen experience, adding a layer of complexity. And, if diners have room for dessert, the matcha puddings, served with caramelized brown sugar and grass jelly, are highly recommended by BK Reader.
The sake flight is only being offered at the Ichiran Brooklyn location, and only as a promotion, at least until Christmas, Chu said. And, based on the price and portion, it's a good deal.