Romance bookstore The Ripped Bodice was feeling the love from Brooklyn readers this Saturday after being welcomed into the borough with grand opening and a line that wrapped around the block.
The popular Los Angeles-based bookstore known for its commitment to inclusive literature officially opened its first outpost in New York City, at 218 5th Ave. in Park Slope. Outside The Ripped Bodice's cotton candy-pink facade, lines began an hour before its 10:00am opening and, at some points, stretched down 5th Avenue and around the corner into President Street.
Anticipation for the bookstore's opening was high and intensified by the scheduled book signings of beloved local authors Casey McQuiston and Alexis Daria.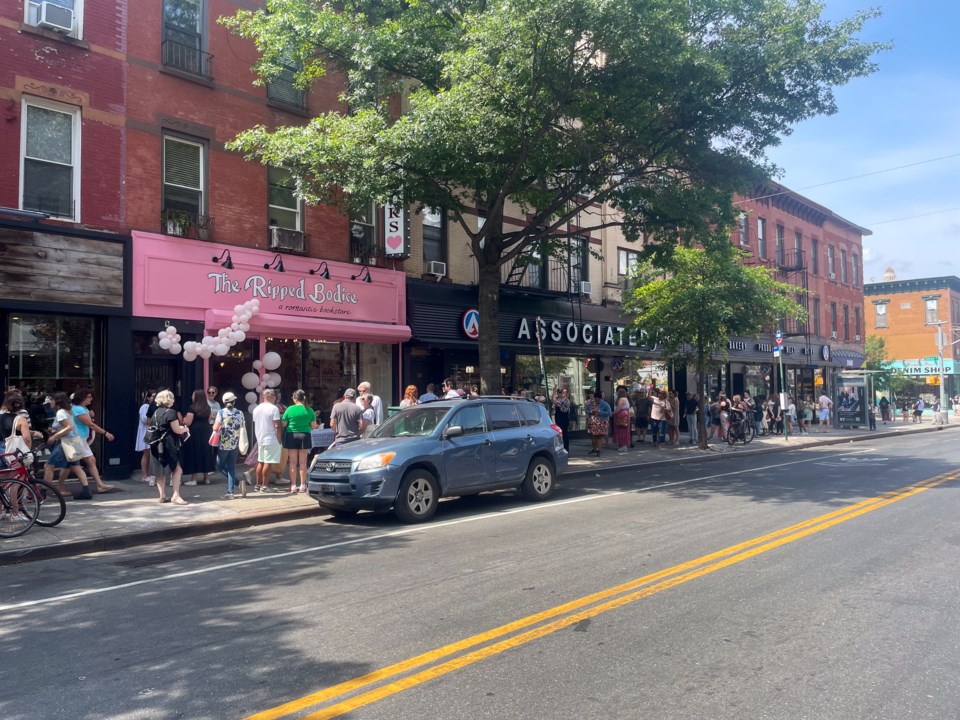 Once open, the store bustled with romance fans browsing the labeled shelves — LGBTQ+, Historical, Erotica, Paranormal, Contemporary and more — with books and merchandise for purchase stacked high in their hands.
Founded by sisters Leah and Bea Koch, The Ripped Bodice opened its flagship store in LA in 2016, and claims to be the first bookstore in the U.S. focused solely on the romance genre, Brownstoner reported in a recent profile. In their more than seven years of business, Leah said the romance novel industry has become more mainstream, more respected and has gained a huge following.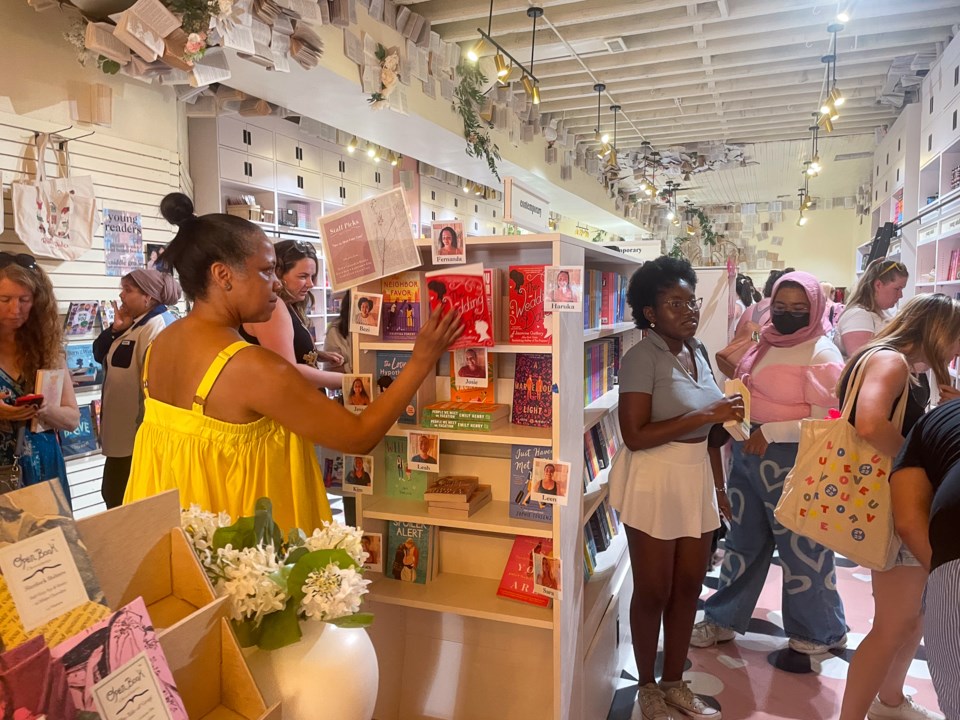 "When we opened in LA, nine out of 10 people that we spoke to were like, 'How could you possibly only sell this one genre and be successful? And why is this even, like, a necessary thing?' And now, in New York, it's literally the opposite. It's like, nine out of 10 people are super psyched," Leah said.
She attributes this, in part, to major adaptations of romance novels being made into TV shows and societal recognition that much of the historical dismissal of romance was rooted in misogyny and sexism. Over the years, the romance genre has become more inclusive and is now a place where a diverse community of readers are able to see themselves reflected in romance, explore their sexualities and experience non-traditional love stories, she said.
"The thing that is really special for me is when people are able to see themselves in a romance novel for the first time," Leah said, pointing to covers featuring women wearing hijabs and a cover featuring a protagonist who uses a wheelchair, kissing.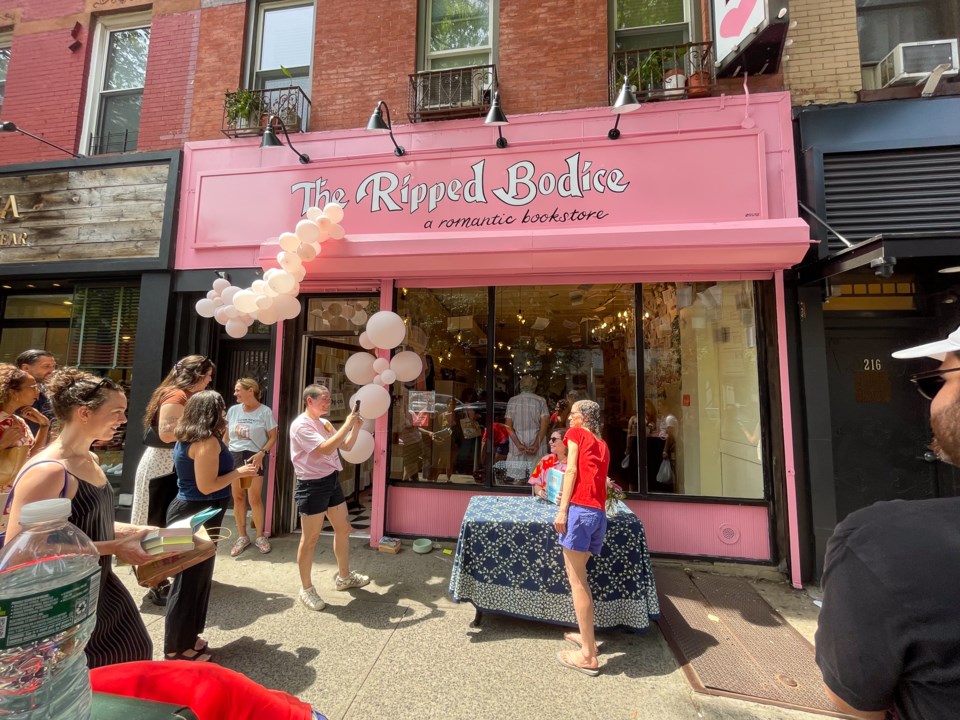 "And same for queer people, it's for anybody from whatever group or identity that is not traditionally represented very often, especially when people discover something new about themselves," she said.
The popularity of the genre can't be denied. While The Ripped Bodice does not release specific sales numbers, Leah told BK Reader the Park Slope opening was the bookstore's biggest single day of sales ever. She estimated at least 1,000 people came through the store that day.
"I've been reading a lot of queer romance recently," Courtney Woods, who was waiting in line, said. "It's so nice to see yourself in the books that you read, right? And kind of, see the way that the future could go."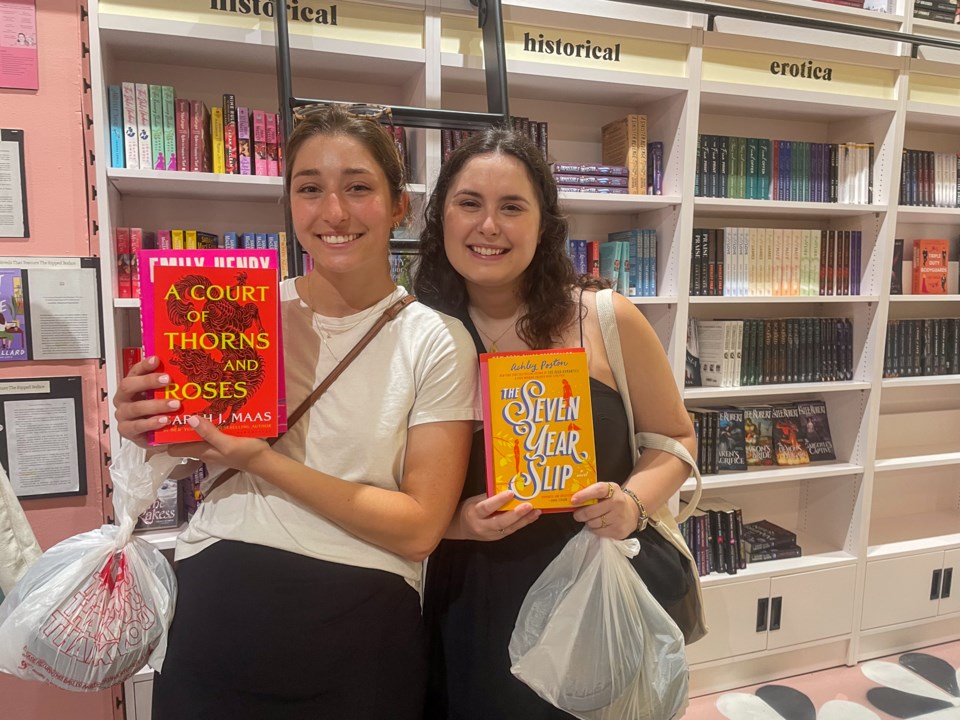 Sarah Gonzalez was also in line and said she used to mostly like non-fiction until she got into romance during the pandemic.
"I think people want to escape. We've been through so much," Gonzalez said.
Inside, the bookstore is delightfully pink and open books hang from the ceilings like paper birds.
"You walk in and it's like, one of the coolest bookstores I've ever stepped into," said Sarah Manning, who attended the opening.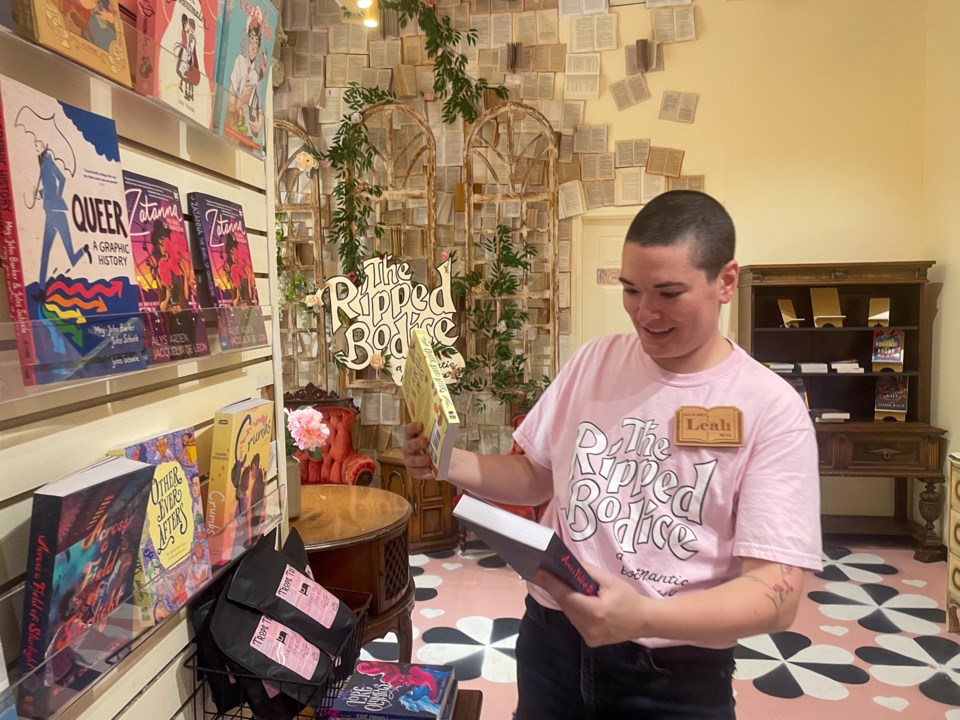 As BK Reader left the store on Saturday, Leah was up on a ladder, rapidly restocking the Paranormal section.
"At some point, I will get a moment and, like, actually process, but right now, it just feels really validating," she said. "Like this was not for nothing, people are excited and people are so hungry for it."
The Ripped Bodice is now open in Park Slope daily from 11:00am-7:00pm on weekdays and 10:00am-7:00pm on weekends.