The street where Richard Wright was living when he wrote his masterpiece Native Son will be named in his honor.
Last week the New York City Council voted to make Richard Wright Way the official co-name of Carlton Ave. between Myrtle Ave and Willoughby Street in Fort Greene, the Myrtle Avenue Brooklyn Partnership announced on Instagram Tuesday.
The decision was made in response to a co-naming proposal brought by the partnership in February during its #BlackArtstoryMonth celebrating the legacy of Black creativity and artistry in the area.
Myrtle Avenue Brooklyn BID Executive Director Chad Purkey said the partnership joined with locals on the block, including the Carlton-Willoughby Block Association and local writer Carl Hancock Rux to propose the co-naming to Council Member Laurie Cumbo and Community Board 2. "We're incredibly excited about the co-naming," he said.
"We hope this one of many more opportunities to come to bring the names of Black Fort Greene and Clinton Hill ancestors to our public spaces in order to more accurately represent our neighborhood's history and expand beyond the European names that dominate our streetscape," the partnership said on Instagram.
It said it was planning a ceremony for early 2021.
Wright lived in an apartment on the block in the 1930s while he was writing Native Son. It's said that he wrote much of the book on yellow legal pads while sitting on a park bench in Fort Greene Park.
His landlord and friend Jane Newton reportedly wrote that Wright would wake around sunrise every day to make the short walk to the park to write. Some days were gray, some days he returned after being caught in the rain.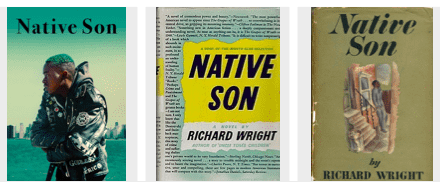 When Native Son was published in 1940, it became an immediate bestseller and the first national bestseller by a Black author. The book tells the story of 20-year-old Bigger Thomas, a Black man living in poverty in Chicago in the 1930s.
The book is credited with changing the conversation around the racial divide in America and the persistent systemic racism affecting African Americans in this country.
The day Native Son appeared, American culture was changed forever, American literary critic Irving Howe said in a 1963 essay. "No matter how much qualifying the book might later need, it made impossible a repetition of the old lies."
NYC Council Member for District 35 Laurie Cumbo posted the news to her Instagram story with the caption, "Richard Wright Way!". The council member, whose district includes Fort Greene and Clinton Hill, supported the proposal. Her office has been reached for comment.