What do you want Atlantic Avenue to look and feel like? What types of businesses do you want to see on the avenue? Are the housing options inclusive enough?
These are just a few of the questions New York City officials asked dozens of Brooklynites on April 16, at a walking tour of the area. The gathering was part of a community-based brainstorming process called the Atlantic Avenue Mixed-Use Plan.
AAMUP aims to create an "inclusive, mixed-use" area along Atlantic Avenue and nearby blocks in Crown Heights and Bed-Stuy.
The plan's objectives include facilitating the construction of affordable housing, providing additional space for jobs and services, improving pedestrian safety and investing in neighborhood enhancements, according to city documents.
The Sunday afternoon walking tour was guided by some of the leaders of the recent rezoning efforts of the industrial stretch, which spans 16 blocks between Vanderbilt and Nostrand avenues.
"The reason why we're doing this project and opening it up to make it a community-engaged and community-led rezoning process is to make sure that the demands are, you know, reflective of the needs of the community," said Council Member Crystal Hudson, who is one of the leaders behind AAMUP.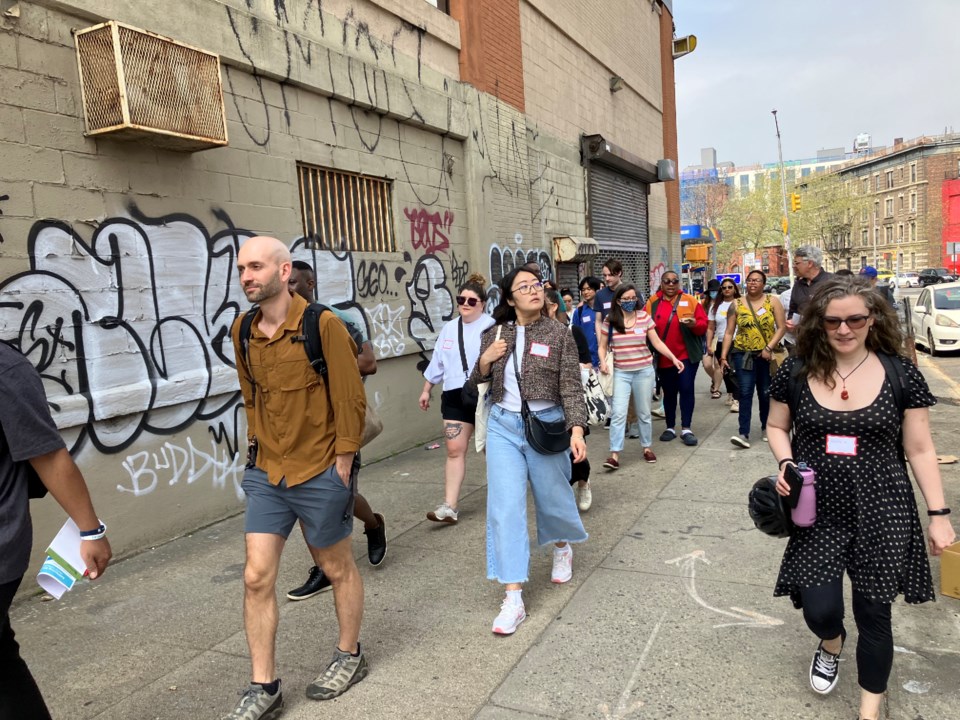 Once finalized and approved, the rezoning plan could transform an area once exclusively restricted to low-rise industrial buildings by a 1961 zoning law into a hub of residential and commercial development.
Individual rezonings, often in the form of luxury buildings, have been approved in recent years. However, the push to organize a neighborhood rezoning plan — which advocates for the needs of the neighborhood and is led by Brooklyn Community Board 8 — has been in the works for about a decade.
Sunday's walking tour was hosted by key engines behind the AAMUP — Hudson, New York City's Department of City Planning and independent consulting firm WXY.
The tour passed by newer developments — including a hulking storage facility and a residential building 29 stories high — as well as the active construction sites and dilapidated lots that characterize Atlantic Avenue.
Attendees were encouraged to note what they did or did not like about recent developments and what they would like changed as part of the new mixed-use plan.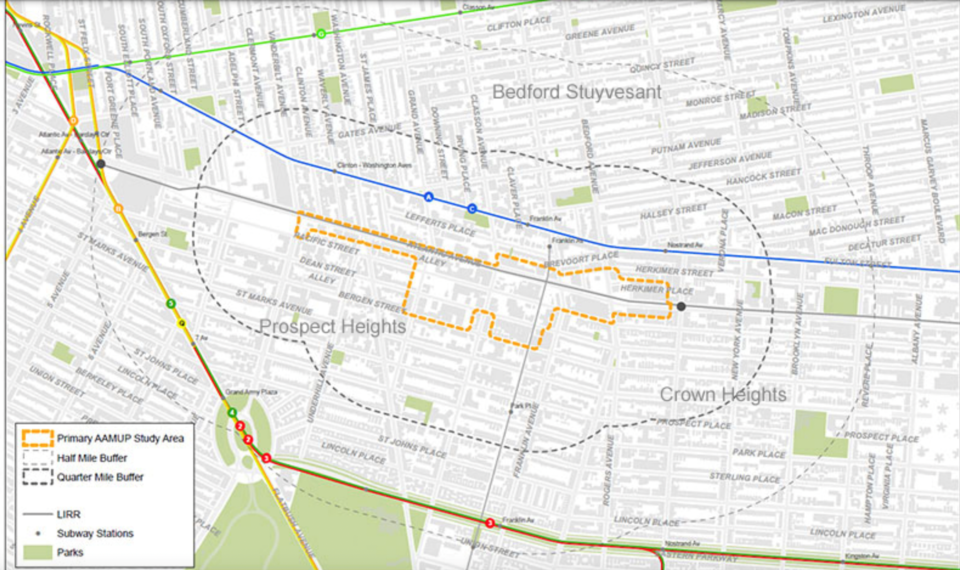 Affordability is a primary concern, some stakeholders say
On a stop of the tour that faced a luxury residence on Pacific Street, some participants asked what percentage of newer residential buildings contained affordable units. They also demanded clarity on what affordability looks like.
Mandatory Inclusionary Housing, which legally mandates that 20-30% of new developments are affordable, has been criticized by some for neglecting low-income New Yorkers and using sliding scale calculations that do not reflect what New Yorkers actually make, Hudson said.
"The challenge that we've seen historically is that the area median income is not reflective of the needs of the local community," Hudson said. Hudson represents District 35, which includes Prospect Heights, Fort Greene, Clinton Hill and parts of Crown Heights and Bed-Stuy.
The walking tours were followed by an open house at Fort Greene Council. At the open house, Hudson spoke to BK Reader about why the AAMUP aims to do things differently.
"I hear from people all the time who say, 'I see these buildings keep going up, and I don't know who they're meant for. I don't feel like they're meant for me, you know, I don't know how they came to be, who approved them,'" said Hudson.
"I think the number one goal really is to create an opportunity for community to be engaged in the land use process. So everything that we see come up on Atlantic Avenue in a few years, I will take pride in knowing that it was ideated. And, you know, I will ideate it by the community," she said.
At the open house, representatives of DCP and other city agencies including the Department of Housing Preservation and Development, the Department of Transportation and NYC Parks mingled with Brooklyn residents.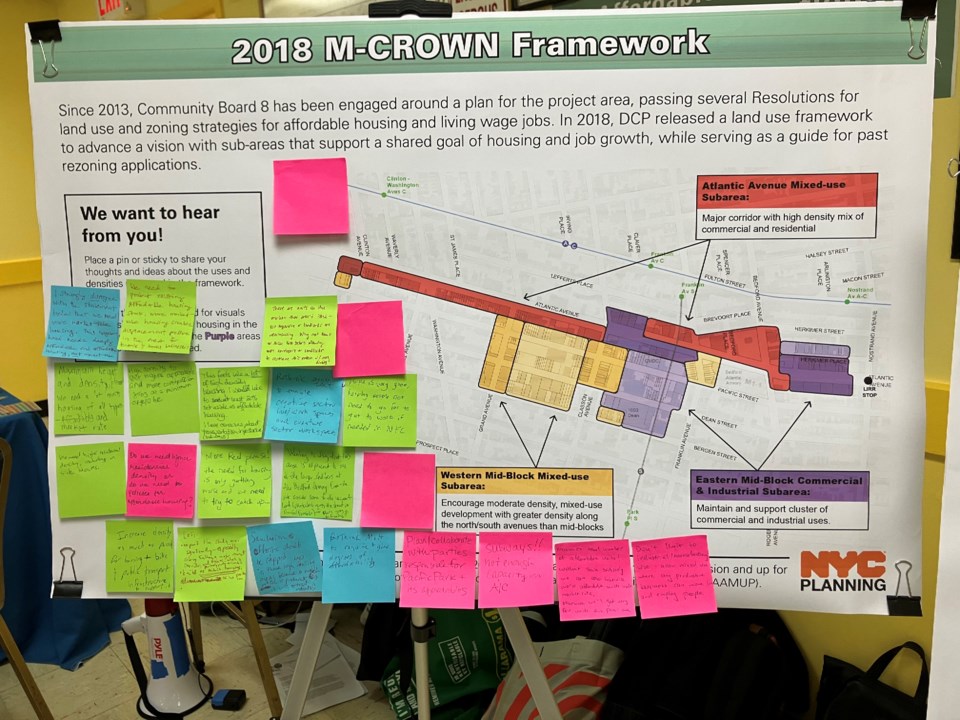 Members of the project's Steering Committee, which include representatives of Community Boards 2, 3 and 8 were also in attendance. Colorful workshop stations encouraged attendees to write down their ideas for the future of Atlantic Avenue.
Sarah Lazur, a tenant organizer and member of BKCB 8, said she is wary about what the future will look like on Atlantic Avenue.
"I think none of us are really going to know what the outcomes are going to be until we get further along," said Lazur.
"Because, yeah, people can talk about affordability levels, people can talk about the things that we need. People can talk about displacement risk. But I think that we just really don't know yet what is going to be done in terms of preventing displacement.
"We don't yet know what the council member and DCP and all of these different agencies are willing to do in order to make the affordability better today than it has been in the past," Lazur said.
A formal public review of the AAMUP is scheduled for 2024. Upcoming AAMUP events can be found on NYC's website.