When New Yorkers think Chicago-style pizza, most think deep-dish. But restaurant Patti Ann's has brought an underappreciated type of Chicago pizza to Brooklyn, with a new menu launched in late February.
Five Chicago "tavern-style" pizzas are now on offer at the casual neighborhood spot at 570 Vanderbilt Ave in Prospect Heights.
Chicago tavern-style pizzas are round with a thin, crispy crust. While there are no rules governing the recipe of a tavern-style pizza, one of the most defining aspects is how it is cut into small, uneven squares with fan shapes at the edges.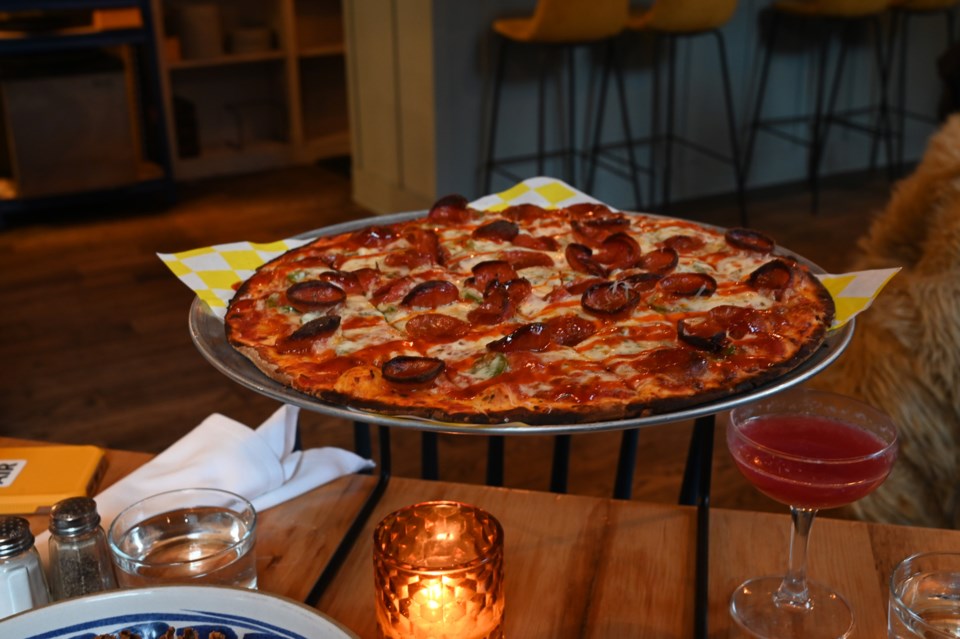 Don't be surprised — as BK Reader was — when you reach for a slice and pull off a piece about the size of a sticky note. The highly-shareable pizza style is traced back to the mid-20th century, and was named for the taverns where it was typically served to working-class immigrants with a pitcher of beer as a cheap snack before heading home.
At Patti Ann's, the pizzas are served hot atop yellow-and-white checked paper laid out on table stands. The new menu features three meat-topped pizzas and two vegetarian ones. For those who like a little spice, BK Reader recommends the Spud's: Pepperoni, jalapeño and Calabrian hot honey ($26). The bite-sized mouthfuls help manage the heat.
For vegetarians, the Lil Kev's is simple with classic mozzarella and marinara ($24), or try the Binks: Marinated artichokes, roasted red peppers, black olives and parmesan cheese ($26). The other pizzas come with fennel sausage or Italian beef.
Patti Ann's has a family-friendly vibe, with an open kitchen, brightly-colored paper menus, a large number of tables for four and distinctly Chicago-influenced decor, including Chicago street signs on the walls. Keep your eyes peeled for touches of the owner Chef Greg Baxtrom as a child, like a set of colorful blocks spelling out the name "Gregory."
The pizzas join dishes inspired by Baxtrom's Midwestern upbringing, like The Blooming Onion, Chips N' Goop (potato chips with onion dip), and Baked Mostaccioli, (Chicago baked Ziti).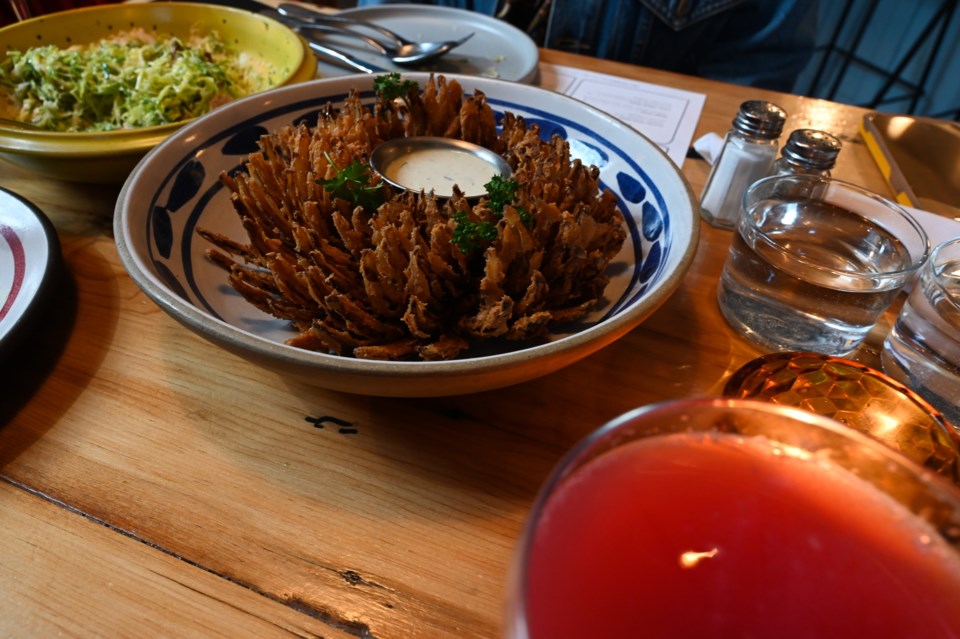 The Blooming Onion ($18) is a great sharing dish, and fun for kids and adults alike. The breaded and fried giant onion is cut to resemble a flower, and its crispy segments are served with a creamy and herby ranch dipping sauce.
For something fresh, try the Lemon Caesar Salad ($18): A mountain of shaved brussel sprouts, crispy toasted croutons and lovely, vinegary anchovies in a lemon dressing.
To drink, there's a 10-item wine list, five beers, including a Moody Tongue Chicago pilsner ($9), seven cocktails and non-alcoholic options. BK Reader recommends the refreshing Summer Break cocktail with St. Agrestis Paradiso, prosecco and soda ($15).
Patti Ann's is one of three restaurants Baxtrom owns on Vanderbilt Avenue, the others being Olmsted and the newly launched Petite Patate. Just a few months ago, Baxtrom also made his first move into Manhattan where he debuted the fine-dining restaurant Five Acres in Rockefeller Center.