It may not be happening on the streets, but immigrant and Asian-American workers say they're experiencing another type of violence in home care jobs where they are forced to work 24 hours without rest, at less than minimum wage.
Home care workers — many who work in Brooklyn — took to the streets of Chinatown Wednesday morning to protest inhumane working hours and wage theft in jobs through their employer the Chinese-American Planning Council (CPC).
Lai Yee Chan, 66, was one of more than 50 home workers at the protest that kicked off 11 a.m. at the CPC headquarters on 150 Elizabeth Street.
"It's violence against us women of color," she told the BK Reader through a translator. "Now we are talking about anti-Asian violence. What we have seen here is not violence directly in the street, but it's still a slow torture from this agency."
Deteriorating health
Chan said the Chinese-American Planning Council used to have her working 24-hour shifts as a home carer for a patient on Brooklyn's Newkirk Avenue, just below Flatbush.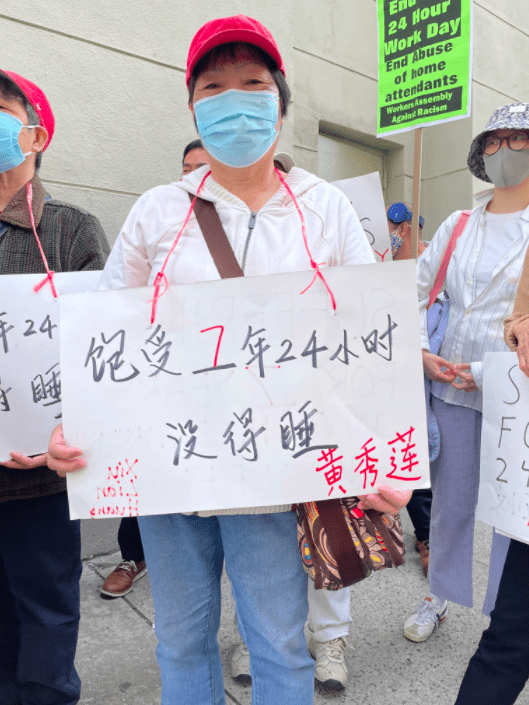 During that time, her health deteriorated to the point she was spending $600 per month on medicine for nervous system issues.
"Many of us have developed serious health issues," she said.
Chan spoke of a colleague whose hand was now paralyzed after years of working lifting a patient. That colleague had, like many others, worked 24-hour shifts continuously over days and weeks, not seeing family for extended periods of time.
While she has now managed to secure shorter shifts for herself, Chan was protesting for others.
"It's worse than direct violence," she said. "Thats why we come out, there is a lot of calls now to end the violence, and we want to end the violence."
24 hours work for 13 hours pay
As well as working gruelling shifts, the workers say many were only paid 13 hours for the work.
A New York State labor law provision allows employers to only pay home attendants for 13 hours of work, as long as they get eight hours of sleep — five of which must be uninterrupted — and three hours for meals.
However, the reality is that the work is often near-constant, and without the state enforcing this reality through legal measures, the CPC has got away with the minimal pay, the workers say.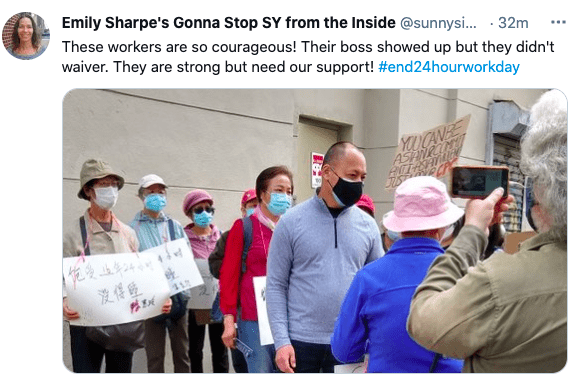 Instead of taking initiative to change or split shifts between workers as in other states, they have pushed the blame back on the state, they say.
Chan said if workers refused the 24 hour shifts, they would stop being assigned shifts, or get shifts that were far from their homes. "Many of us feel if we don't take it, we have no income," she said. "Governor Cuomo doesn't care."
Their protest comes as the city is rising up against anti-Asian violence.
Hypocrisy
While CPC has been making public statements against anti-Asian hate crime, and getting more city funding and grants, it has been normalizing illegal workplace conditions behind closed doors for years, workers said.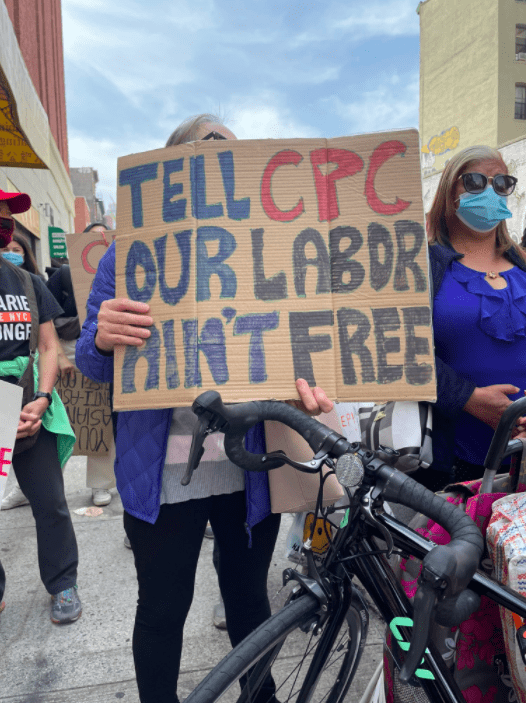 "Rather than pay back the stolen wages to workers, the CPC continues to impose inhumane conditions and even claims workers want to work 24-hour shifts," they said in a press release.
"This not only hurts Chinese workers but also perpetuates the stereotype of "industrious" Asian workers, which pits workers of all races against one another through competition."
In its 2020 Annual Report, the CPC lists $220 million in government grants and contracts. It lists expenses of $184 million for its Home Attendant Program.
CPC responds
In a statement on its website, the CPC said it was in full support of home care workers calling for the end of the 24-hour workday, but saying the power for change was in the hands of the state.
"The State must immediately end the 24-hour rule in favor of two 12-hour split shifts where home care workers are fully compensated for each hour worked," it said.
"The 24-hour rule is set and enforced by the State of New York, and nonprofit home care agencies like [CPC's home assistance program] are limited by the pay rates and requirements laid out by the State and collective bargaining agreements."
Lawsuits drag on
The protest was organized by the Ain't I a Woman?! Campaign and the Chinese Staff and Workers' Association (CSWA).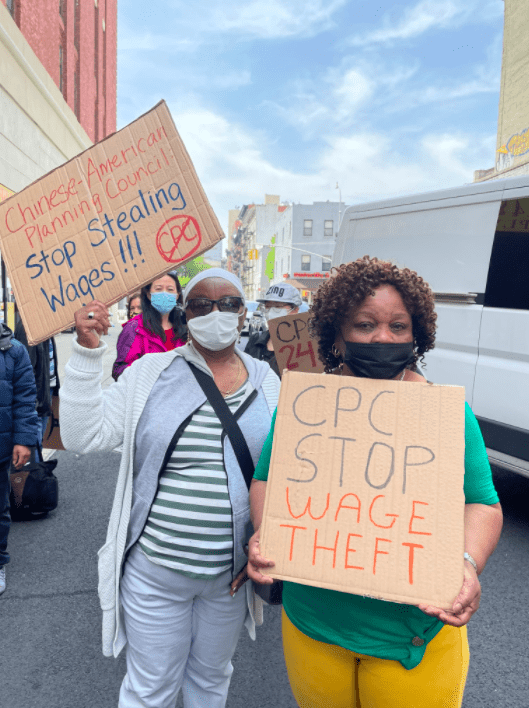 CSWA Organizer Zishun Ning said the CPC had been forcing home care workers to work 24-hour shifts for many years, some workers had been doing it for more than a decade.
Ning said there are at least two lawsuits out against the CPC. These are some of the 145 class-action lawsuits that have been filed against home care agencies, The Nation reported.
Workers filed a lawsuit against the CPC over unpaid backpay in 2014, however they feel the agency is "dragging it out."
"Workers feel the injustice is lasting too long, and call on the city to right its wrongs, especially during recent months during discussion about anti-Asian violence," Ning said.