The Brooklyn Children's Museum rooftop has just transformed into a prehistoric wonderland, and it's thrilling kids of all ages.
Now in its second year, the nine-hole Jurassic Mini Golf course is guarded by a variety of larger-than-life dinosaurs baring their teeth, spikes and claws. This rooftop adventure, which opened July 8, is a reimagining of last year's popular course, with several new additions on the scene.
"Dinosaurs are awesome, and kids love them in all of their iterations," said Gennadyi Gurman, the director of exhibits for the museum.
"You should see how the kids ran to [the dinosaurs] even before the exhibit opened — faces plastered on the windows," Gurman said. "We had a mini opening, with just the dinosaurs, no mini golf, last weekend. People were lined up. It was like a wave of children, crashing onto the beach of moving dinosaurs."
The current lineup includes important classics, like a Tyrannosaurus rex and a Velociraptor, as well as some more obscure dinosaurs, like a Maiasaura, which is known for its long tail and pudgy snout. More additions to the crew will appear over the course of the summer, Gurman said.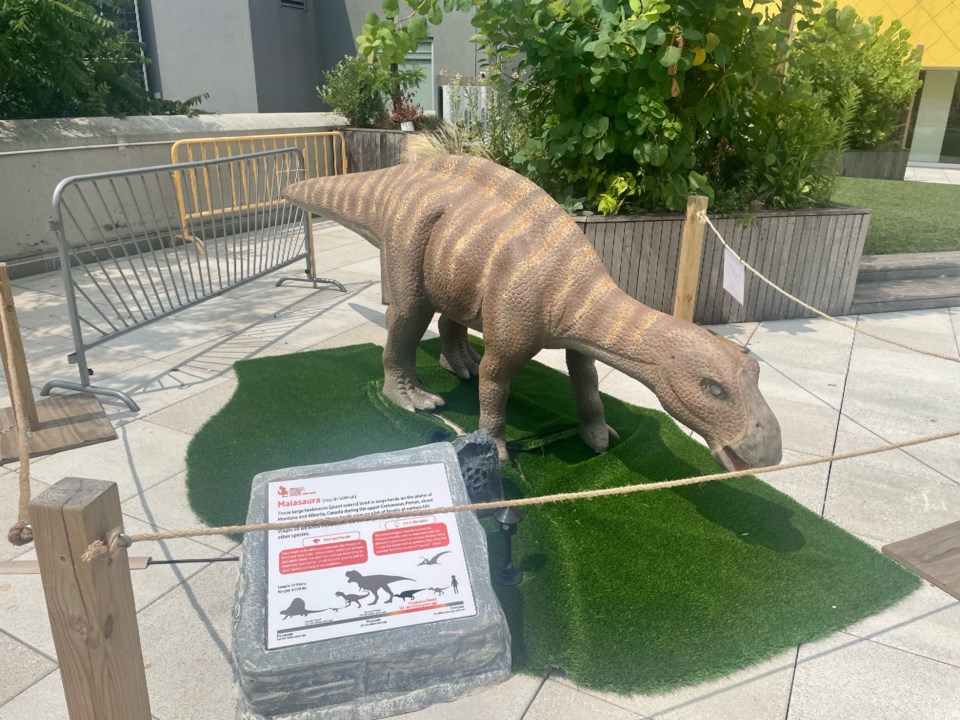 These dinosaurs aren't just sculptures: They are animatronic versions of their historic counterparts, made by Gengu Dinosaur Technologies in China, and they move as you walk past, jutting out necks and batting eyelids. Some even grunt and roar.
"It's fascinating to watch how the kids are teetering between total excitement and a bit of terror," Gurman said.
The exhibit's opening drew the attention of some serious dinosaur aficionados. Local dinosaur expert Harry, 6, ran around the enclosure, pointing out the name of every single dinosaur on display, without reading any signs, and sharing facts about each one.
When Harry stopped in front of the Velociraptor, he explained, "A cool fact is they have foot claws on them. They always eat meat. They eat other dinosaurs."
"I have learned more from him about dinosaurs than I have in my entire existence," said his mother Candace, laughing.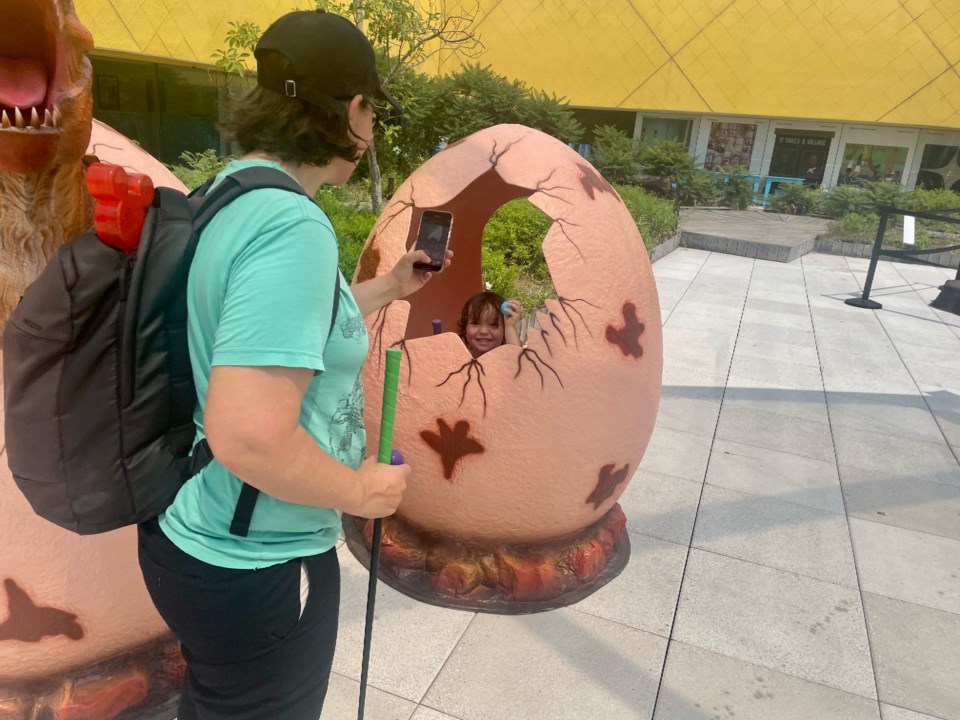 "I think they're super cool," Rafi, 3, told BK Reader. He smiled out at his mother Inge from inside a dinosaur egg, and when she asked if he was a baby dinosaur, he responded, "No. I am a big dinosaur."
"I am a dinosaur fan," Liam, 5, said. "I like that one because it has spikes," he said, pointing at the Dimetrodon.
His sister Nora, 4, said, "I am sweating."
She had a point — the museum rooftop definitely gets toasty in the summer sun — but between swinging golf clubs, the sun shade and running from dino to dino, most of the children in attendance were too overjoyed by their Jurassic adventure to even notice the heat. But thankfully for parents in tow, there are also cold beverages available for purchase.
Jurassic Mini Golf is open from July 8 – Oct. 1, Wednesday through Sunday, from 10:00am-5:00pm. Tickets are $5 for non-members and $3 for members, plus the cost of admission to the museum.