When South Brooklyn resident Iwen Chu first heard state legislators were considering creating a new senate district for her Asian-plurality area, she immediately started searching for a candidate she could get behind.
As club president of the Stars & Stripes Democratic Club of the 49th Assembly District, part of her role was to find and help elect quality Democratic candidates in the district.
"They were talking about an Asian district, and I started to look: Who can be my candidate?," she told BK Reader in an interview at South Brooklyn's McKinley Park Library on Tuesday.
"I would like to see an Asian representative for South Brooklyn at the state level, we've never had one."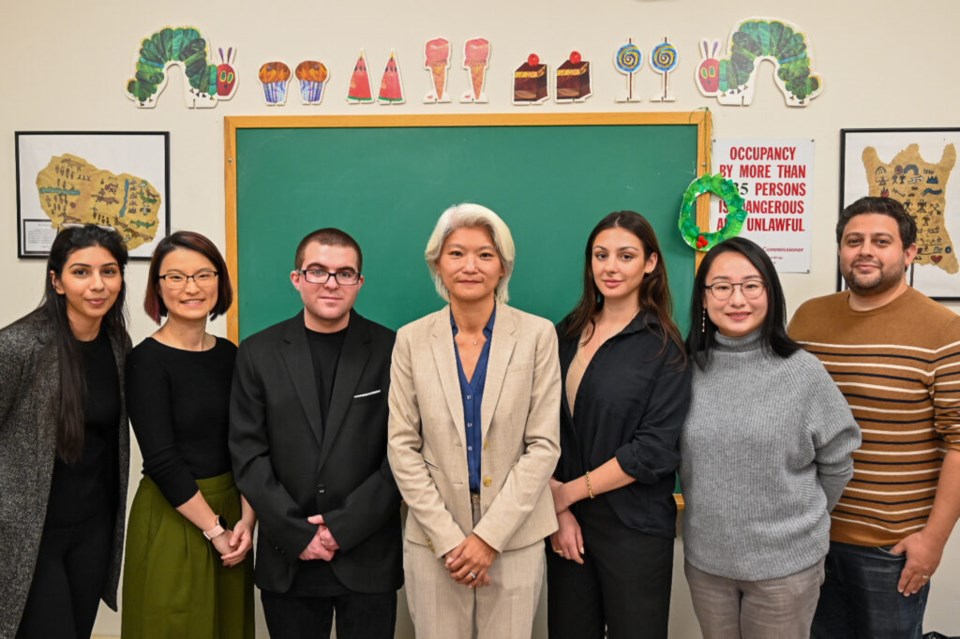 The new district includes Kensington, Sunset Park, Bay Ridge, Dyker Heights, Bensonhurst, and Bath Beach, and has a larger population than the city of Buffalo with about 320,000 residents. About 46%of the population is Asian.
Chu—a Brooklyn Community Board 11 member since 2016 and Community Education Council District 20 council member since 2017—started chatting with her networks.
Speaking with a friend one day in 2022, the friend pointed out to Chu who she felt was the obvious candidate: "You!"
17 years of public service in South Brooklyn
Chu has a 17-year track record of public service in South Brooklyn. Born in Taiwan, Chu moved to Brooklyn with just two pieces of luggage as a 27-year-old to do her masters degree at CUNY's Brooklyn College. South Brooklyn was the first place she stayed, she fell in love with it, and never left, she told BK Reader.
Soon, Chu began discovering all the ways to be politically engaged in New York City. She began building a name for herself as chief of staff for southern Brooklyn Assemblymember Peter Abbate, and became deeply involved in the local community board, education council and as a community partner for the NYPD 68th precinct.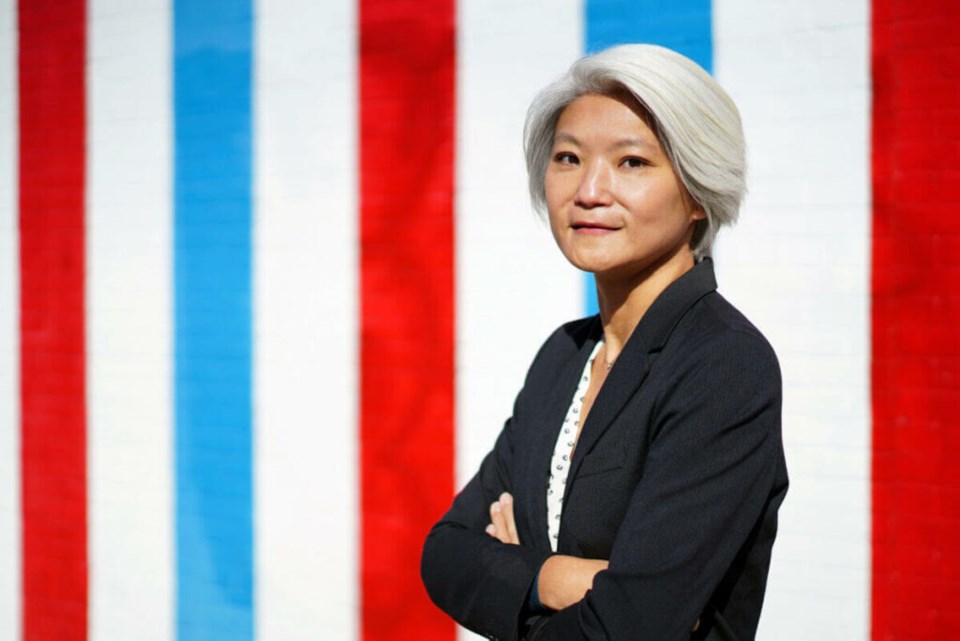 Chu's friend's suggestion that she run for office was a lightbulb moment for her, she said. She thought hard about the prospect of running for the newly-created 17th Senate District before deciding to throw herself in 100%.
"I knew it was going to be a big jump and you need a lot of courage to do it," Chu said. The role requires spending the half the year in Albany, away from her 14-year-old daughter.
"It means a lot for my family to adjust, but I put a lot of thought to it and for the better good this is what I want. I said I've got to give it a shot."
Iwen Chu is New York's first Asian woman state senator
On Wednesday, January 4, 2023, Iwen Chu made history in Brooklyn as she was sworn in as the first-ever Asian woman New York State Senator.
The moment came after Chu claimed a hard-won, 534-vote victory over Republican Vito LaBella in a part of Brooklyn that leans more Republican than the rest of the city, and has been getting redder in past years.
In a recent column for the NY Daily News, she noted that, "after the polls closed on Election Night, it was clear Southern Brooklyn had largely voted Republican."
Frustrated local Democrats pointed to the party as having put in minimal effort in South Brooklyn. When BK Reader asked how Chu managed to hold off the "red wave," she said it came down to a lot of groundwork and "hard work" earning residents' trust.
Building trust to buck the 'red wave' in South Brooklyn
Soon after announcing her candidacy, Chu started securing endorsements, including from local unions. Dozens of volunteers gathered for her to secure 18-times the required signatures to make it on the onto the election's ballot, per state election laws.
"I've been working for this community for 17 years... people do know me, people do trust me," she said. "And my hair," she laughed, swinging her white bob.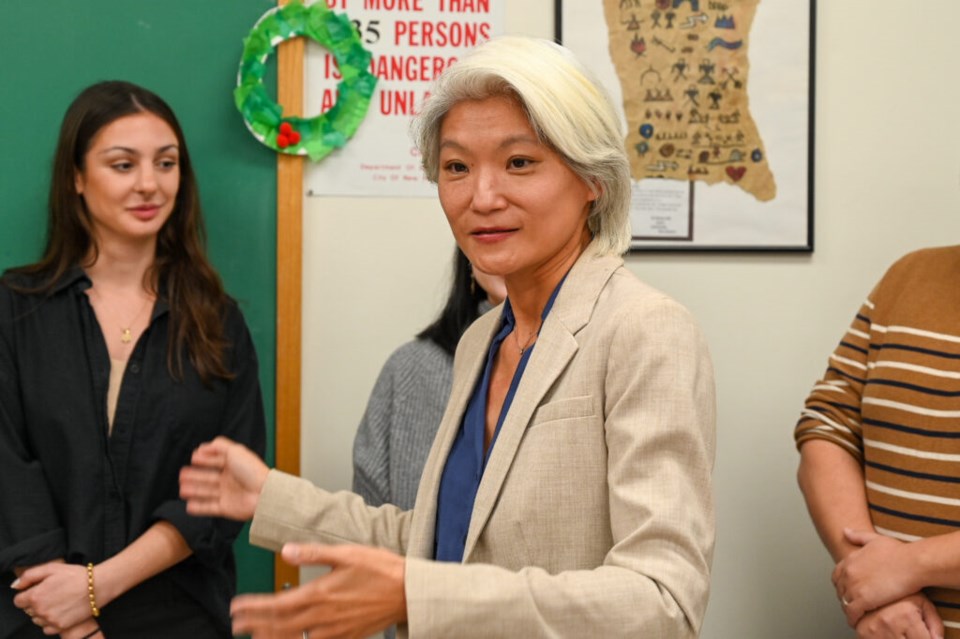 "They recognize me even if they don't know my name, they know I provide service, when they go into the assemblymember's office I'm saying, 'How can I help you? In multiple languages."
As a district that has low voter turnout, Chu said she put in the work, knocking on doors and doing phone banks in multiple languages, and educating people about how to vote for her.
"Southern Brooklyn is really about the service and the trust."
Resources for constituents
On Tuesday, Chu was at McKinley Park Library just before the after-school rush to introduce her new team, office hours and locations (Chu is still looking for a permanent office).
Outside, local residents braved the rain to run errands at an adjacent Chinese supermarket and hardware store, and two teens in uniform shared a cheese slice from local pizzeria, Maria's.
Inside, Chu—wearing the signature grey pantsuit she wore the night she declared victory over LaBella—was organizing the details of a livestream with her team, before heading back to Albany.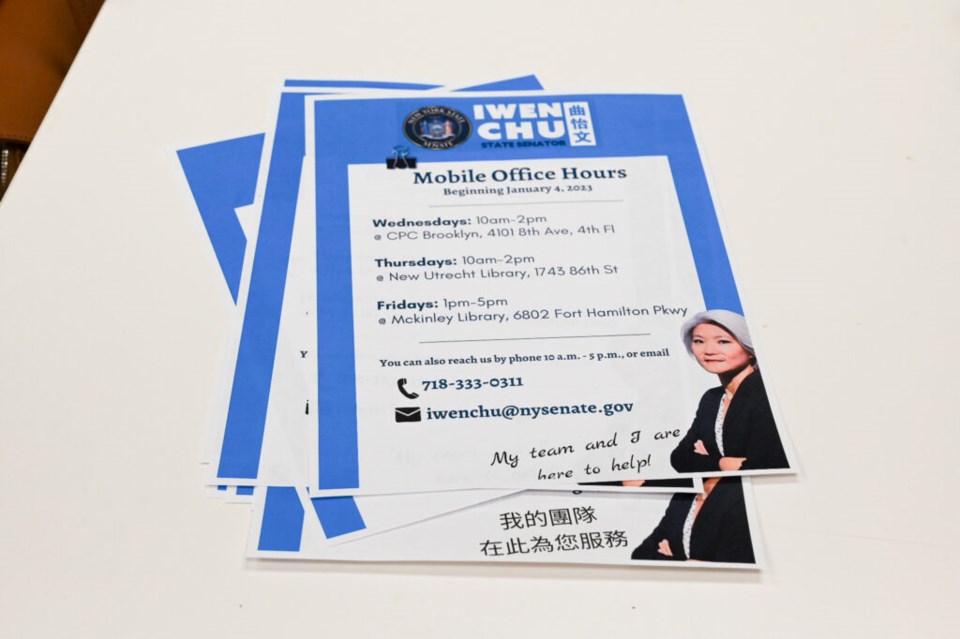 There, she told BK Reader her most urgent priority this year is to access resources for her district, whether that be in the form of programs for small businesses, funds from the state budget or legislation.
Chu's platform centers improving public safety (promoting gun control and mental health services), as many of her constituents faced anti-Asian hate crimes and the recent Sunset Park subway shooting.
She opposes efforts to replace gifted and talented programs in city schools, and supports building more specialized high schools in NYC, as well as investing more in the public school system.
Chu also advocated for greater support for small businesses, including loans, grants, and language assistance programs. She told BK Reader that, working in Abbate's office, she often helped immigrants facing unnecessary fines or summonses for not meeting local business regulations.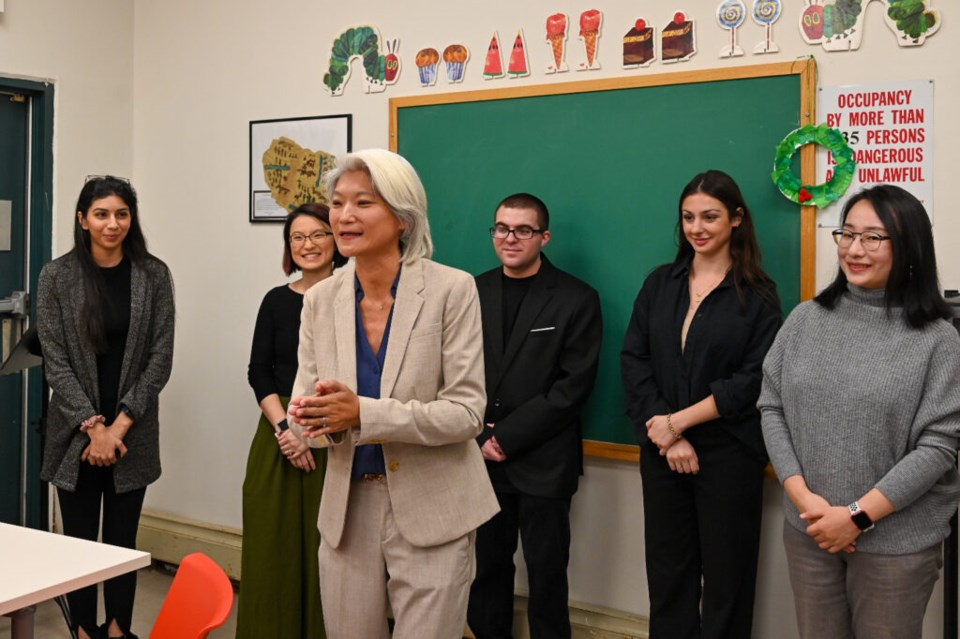 On top of that, she wants to help her district bounce back from the setbacks its faced during the pandemic.
"Since the pandemic the economy has become a big issue, the Asian hate crime, the public safety and the quality of life going down. There's a lot of issues, and people are not happy about the status quo," she said.
"People want to see more change done so they can have their life back. We're trying to help them find a new balance, see their needs and address their concerns."