Williamsburg residents are demanding a full investigation into how a beloved, 40-yr-old street sign marking the area's Puerto Rican heritage was removed last week.
On Friday morning, lifelong Williamsburg resident Gyvis Santos saw the NYC Department of Transportation (DOT) taking down the 'Graham Av./Av. of Puerto Rico' sign at the Moore St. intersection and replacing it with a sign that simply reads 'Graham Av.'.
The incident follows the quiet removal of at least two other Ave. of Puerto Rico signs in Williamsburg, without any community consultation.
Santos posted the sign removal to Instagram and it went viral, shared by New York's Puerto Rican diaspora and amplified by voices such as @NuevaYorkinos and Council Member Jennifer Gutiérrez.
Thousands commented in a massive backlash against the move, many accusing the city of intentionally erasing Puerto Rican contribution and culture from the street.
By afternoon, the sign had been replaced.
DOT issued two statements in response to the backlash. In one, it said the sign had been "mistakenly removed" and that it would be replaced and "will remain."
In another, it said, "Generally, DOT's overhead signage does not reflect the co-namings of streets – which are usually found only on street pole signage.
"However, the signage on Graham Avenue/Avenue of Puerto Rico was an important exception to that practice and is rightfully being restored."
The statements did not address exactly why the decision was made to take down the sign in the first place, or who signed off on it. When BK Reader reached out for answers, a spokesperson referred us back to its tweets, and did not respond to further questions.
On Saturday, about 50 concerned community members met on Grand St. and Ave. of Puerto Rico at midday as it began to snow, demanding accountability. The group slowed traffic as it marched down the avenue to Moore St, but garnered only honks of support on its journey.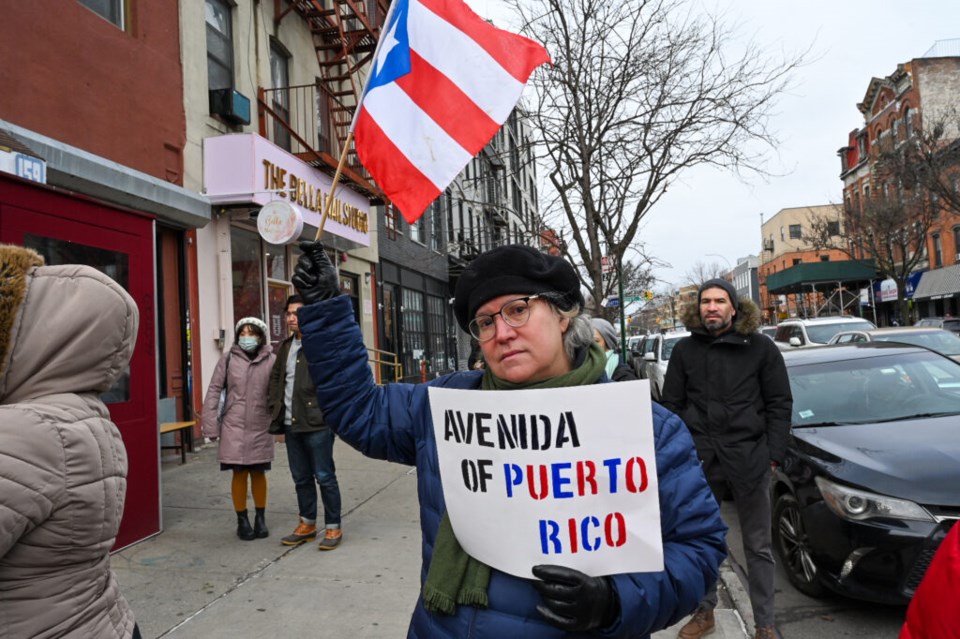 "This was done intentionally," Maisha Morales, who was born and raised in the area, said to the crowd. "It's BS... It's beyond just these signs, they've been trying to erase our community; they've been trying to erase us politically; they're displacing us... It's time that this sign activated everyone."
CM Gutiérrez attended the rally and told BK Reader the DOT's response was "a bunch of crap."
"We're calling for accountability and an investigation. You can't just tell us it was a mistake," she said, adding that she believed someone from DOT decided that the sign should not read "Av. of Puerto Rico" anymore.
"In this community especially it feels like a smack to the face to try to take something like that, because we've experienced so much trauma."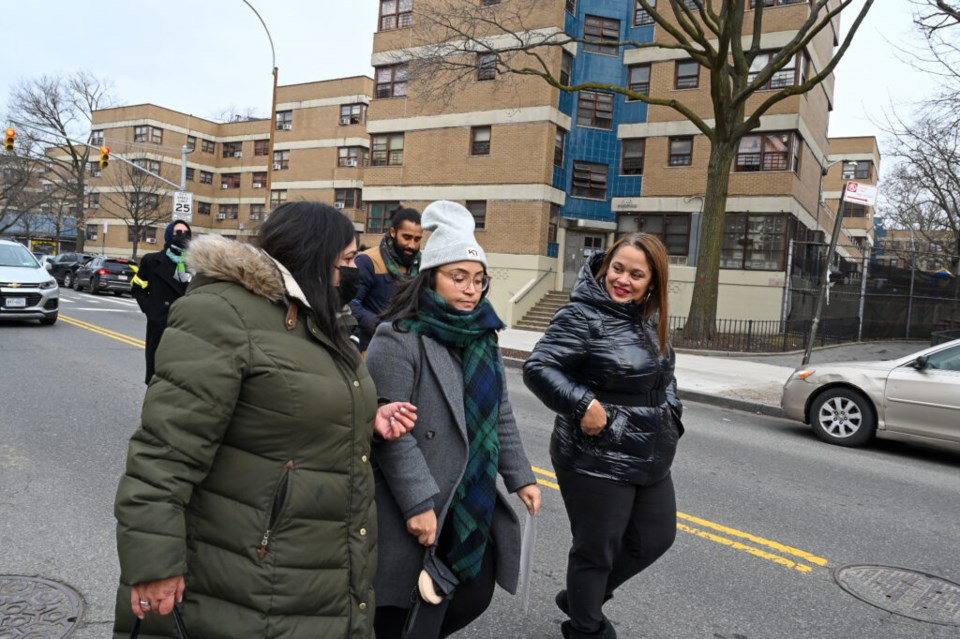 Graham Av. from Grand St. to Broadway was first designated 'Av. of Puerto Rico' by the city in 1982. While the DOT says the removal of the sign Friday was a mistake, the community says it has been fending off attempts to have the Av. of Puerto Rico signs removed for the past decade, as gentrification intensifies.
On Saturday, Williamsburg resident Steven Crespo showed BK Reader a video of another Av. of Puerto Rico sign—at Grand St.—being removed on Oct. 14, 2022 at 10am. He says the sign was not replaced until this Saturday morning. A sign on the "Italian side" of the avenue, reading "Graham Av.-Via Vespucci" was also removed and replaced.
At Boerum St., protestors also noticed a missing Av. of Puerto Rico street sign (not an overhead sign). Google Maps records reveal the sign disappeared some point after Nov. 2019.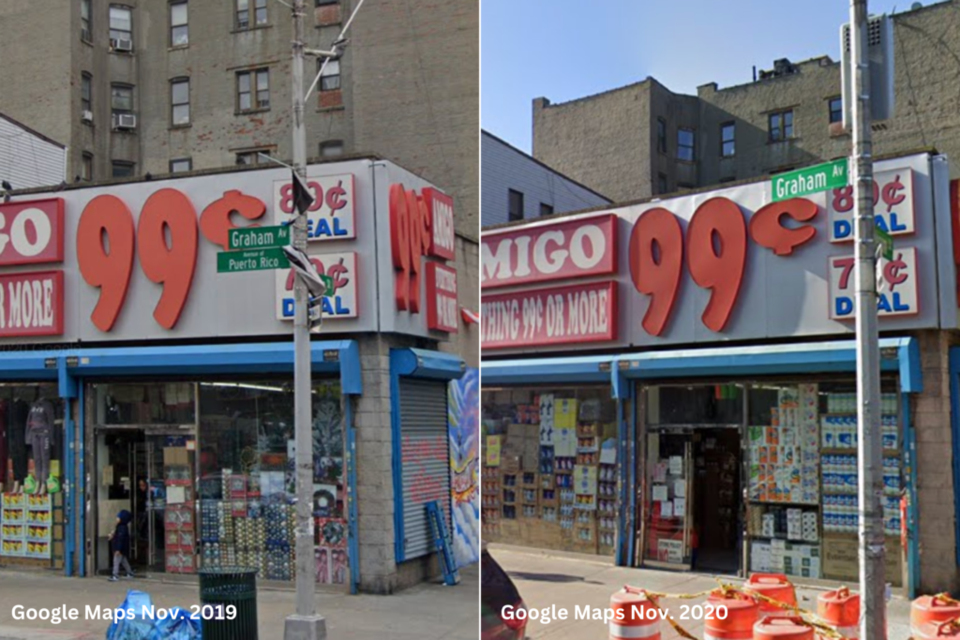 But the removal of the Moore St. sign hits hardest, Crespo said. His grandmother immigrated from Puerto Rico to Williamsburg in 1947, and his mother grew up at 68 Moore St.
"Moore St. is like little Puerto Rico for us, for the last south Williamsburg folks. When that happened, it gave me a knot, I felt like I was going to cry. I'm 46 years old and I felt like a little girl... like, wow, they're really doing this."
Two residents also spoke of petitions to remove Av. of Puerto Rico signs that they knew to be circulated in South Williamsburg. One was 10 years ago, one was recent.
In 2013, the Gothamist wrote a story on rumors that "someone or someones" were trying to have the signs removed. It interviewed Brooklyn-based developer Michael Schlegel, who said removing the signs would help the area's "image."
"It's becoming a very hot area, and the people from Williamsburg are moving further out, and they don't want it to be known as a Puerto Rican or Spanish area anymore," he said.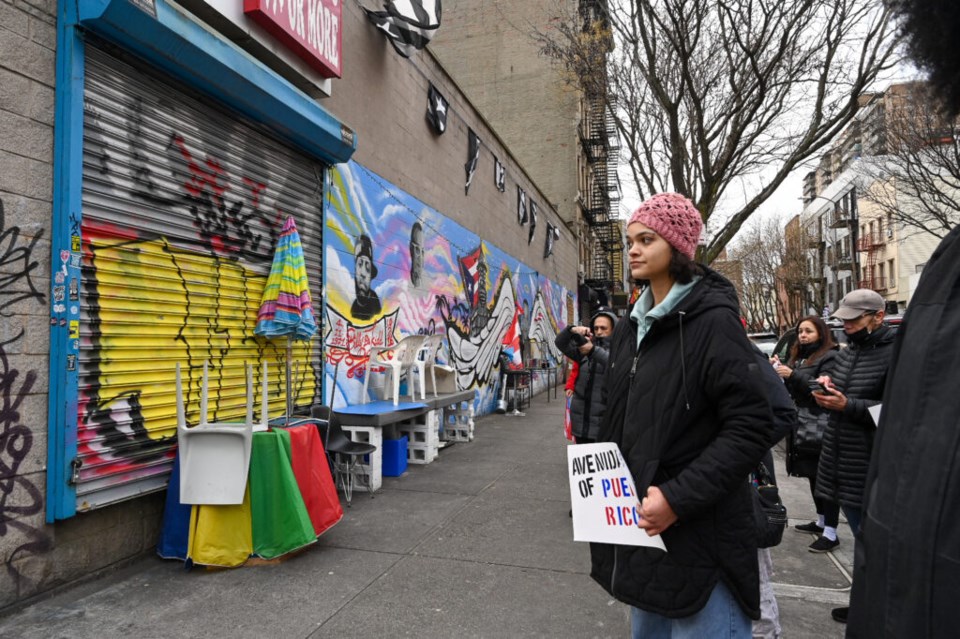 On Saturday, protestors stopped at streets along the half-mile route from Grand to Moore to speak about Puerto Rican history and contributions to New York City, and Williamsburg in particular.
They spoke of the waves of Puerto Rican immigration to New York since the early 1900s, and how Puerto Ricans settled in south Williamsburg, creating a vibrant community and cultural hub for the Boricua community.
The southside area inhabited by Puerto Ricans became known as "Los Sures," and is the birthplace of cultural institutions like Moore Street's "San German" record store, Puerto Rican shops and vendors, and leading grassroots organization Southside United HDFC, which pioneered affordable housing models in the city.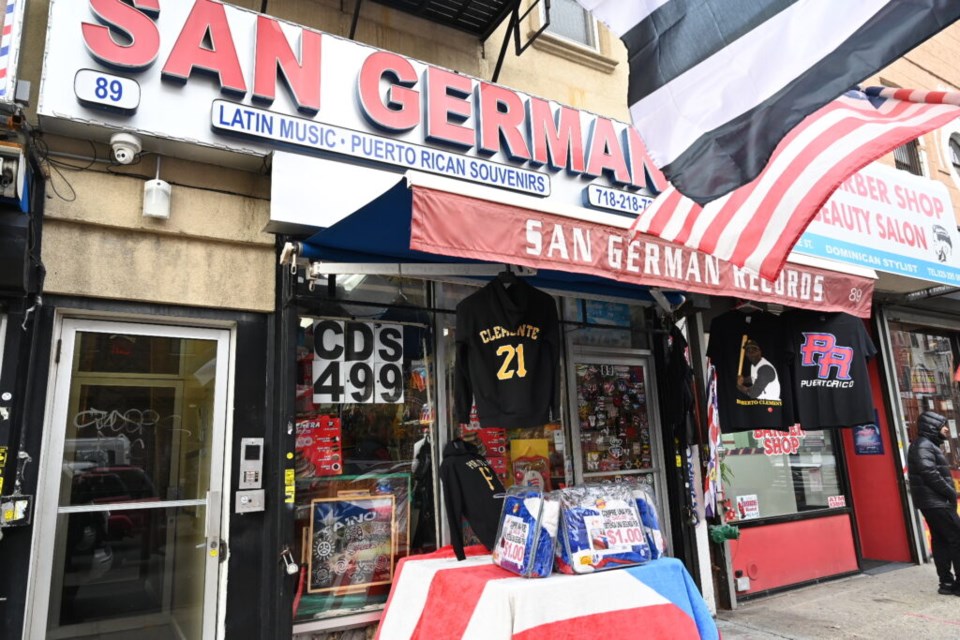 The protestors said they hope the incident will be a starting point for more conversations about how to preserve and celebrate Puerto Rican cultural heritage in New York City, and to address the big issues, such as affordable housing, displacement and racial profiling.
Meanwhile, San German record store owner Radamés Millán addressed the community in Spanish under the replaced sign Saturday, pointing to other signs of gentrification, including being policed for playing music too loud.
He said the community would stand united in the fight to keep the Moore St. sign up, and work to get the other signs restored as well.
"As long as the Hispanic community is here, we're going to push back," he said.
The DOT is set to appear at a Brooklyn Community Board 1 meeting Tuesday, where residents hope to have their voices heard on the issue.