Brooklyn is at the center of a debate around how to redraw NYC's city council district maps, with local leaders—including Speaker Adrienne Adams—concerned the first drafts of the new maps divide communities of color.
Now it's time for you to have your say—or even propose a map of your own.
New maps are drawn every ten years after the U.S. Census results are released, to accommodate any population changes and make sure districts are reflecting the "one-person one vote" doctrine of the Voting Rights Acts—but the process is often politicized. Click here to read more on why redistricting matters.
On July 15, the commission, charged with reshaping the 51 council district lines, released its first proposed set of maps, after the census revealed the city's population grew from 8.2 million in 2010 to 8.8 million in 2020.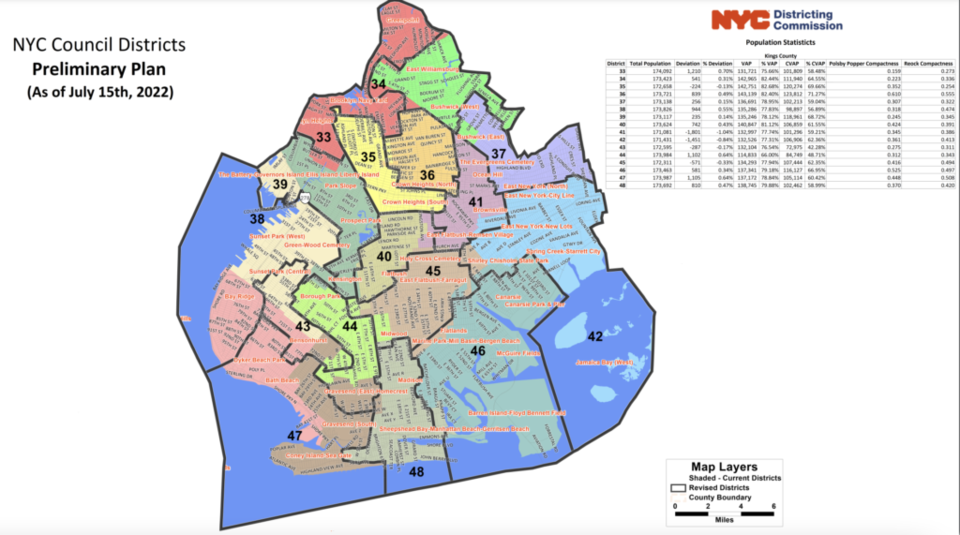 However, the maps did not sit right for some Brooklynites. The main contention was around the proposal to combine the western part of Brooklyn's Sunset Park with nearby Bay Ridge into one district, while creating a new district from the eastern part of Sunset Park, a piece of Dyker Heights, and parts of Bensonhurst.
The new district would draw together a majority of Chinese-speaking voters, however opponents say it splinters the Latinx vote in Red Hook and Sunset Park.
"It is perplexing that the creation of an AAPI-majority seat in southern Brooklyn would lead to the dissolution and division of Red Hook, Sunset Park - in addition to Dyker Heights - and it is certainly not necessary," Council Members Justin Brannan and Alexis Avilés said in a joint statement shortly after the maps were released.
The two council members would be pitted against each other if the current map went ahead.
"We look forward to seeing future proposals, because this ain't it," they said.
Michael Schnall, a Staten Island resident and member of the Districting Commission, also raised concerns about that aspect of the map, City and State NY reported.
"I think that cutting southern Brooklyn up into multiple pieces fixes a problem that doesn't exist," Schnall said at a July 15 hearing.
However, a February report by the nonprofit Citizens Union, noted that many neighborhoods with large Asian populations were currently divided across multiple Council seats.
"The fact that the area is split between three council districts (in fact, the neighborhood of Bensonhurst is split between four districts) means that this community of interest, largely Chinese-speaking, could be deprived of a voice in the City Council," the report stated.
On Wednesday, New York City Council Speaker Adrienne Adams issued a statement outlining her concern with the first maps.
"In particular, the preliminary maps break up historically Latino communities in Sunset Park and Red Hook, diluting their voices across multiple districts," she said.
Adams urged residents to have their say in the next steps of the redistricting process, which is a series of public hearings happening mid-August in each borough. The Brooklyn hearing will be held Sunday, Aug. 21 at Medgar Evers College School of Science Health & Technology Dining Hall.
Concerns have also been raised by about the division of Filipino and Tibetan communities in Western Queens, and the dilution of Black voters' voices in Southeast Queens by placing them in a new district as an overwhelming minority.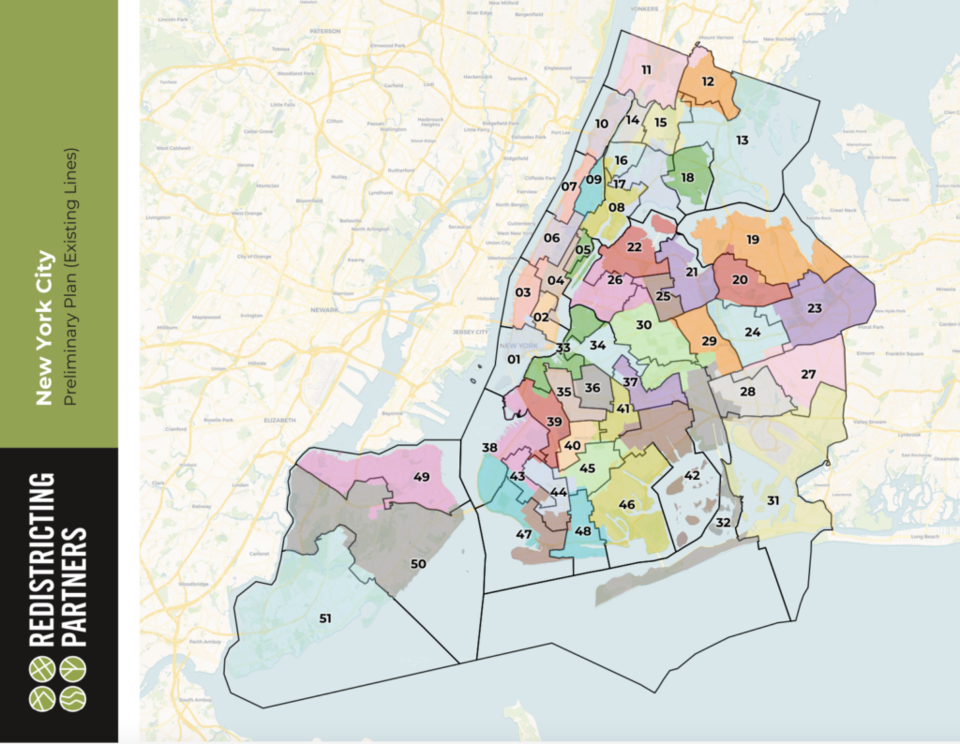 Adams said she thinks that Rochdale Village in Queens should be a singular district, and that South Asian communities in Southeast Queens are also "unfairly divided."
NYC Districting Commission Director of Communications Eddie Borges told BK Reader the commission was hoping to get as much input from New Yorkers as possible on the current draft maps, so the next set of maps can reflect the neighborhoods and communities that have expanded or contracted since the last census.
"Besides public hearings where residents can testify in person, they'll also be able to testify via Zoom and even regular mail or telephone.
He added that Brooklyn residents who have issues with the preliminary plan should show up and submit testimony at one of the public hearings, or email or mail the commission.
Residents who would like to submit their own maps for their testimony may draw them using DistrictR, a mapping tool available on the commission website.
"There's been a lot of interest from New Yorkers," Borges said. "Our website has had more than 60,000 visitors to view the preliminary maps," he said.
After this set of hearings, the commission will have another mapping session before submitting the next version to the City Council September 22.
If the City Council approves that plan, it would become final and go to the city clerk. However, if the City Council votes by a majority resolution to deny the proposed map, the process starts again—the map is redrawn and goes back to hearings.
See where your closest public hearing is below:
| | |
| --- | --- |
| DATE & TIME | VENUE & BOROUGH |
| Tues., Aug. 16 5:30 to 9 pm | Museum of the Moving Image, Sumner Redstone Theater, 36-01 35 Ave Astoria, Queens 11106 |
| Wed., Aug. 17 5:30 to 9 pm | Lehman College (CUNY), Gillet Auditorium, 250 Bedford Park Blvd West, The Bronx 10468 |
| Thurs., Aug. 18 5:30 to 9 pm | Staten Island Borough Hall, 10 Richmond Terrace Rm 125 |
| Sun., Aug 21 3:30 to 7 pm | Medgar Evers College (CUNY), School of Science Health & Technology, Dining Hall, 1638 Bedford Ave, Brooklyn.11225 |
| Mon., Aug. 22 5:30 to 9 pm | Schomburg Center for Research in Black Culture, 515 Malcolm Blvd., Harlem, Manhattan, 10037 |