Sweet Catch — the recently-opened seafood-with-soul spot from Brooklyn restaurateur Ka-wana Jefferson — is now doing brunch, just in time for summer.
Jefferson, who also co-owns and operates Sweet BK Bar and Lost Borough Ice Cream, said the inspiration behind Sweet Catch was the cuisine of the Gullah Geechee people — the descendants of enslaved Africans who settled in the coastal American South, which is where her family is from.
"Sweet Catch is about paying homage and really acknowledging the fingerprints of our ancestors on today's cuisine," she told BK Reader.
Located at 1222 Nostrand Ave. in Prospect Lefferts Gardens, the 50-seat restaurant with an outdoor patio is a cool, ocean-inspired oasis from the busy street outside.
BK Reader was seated this past Saturday in a blue vinyl-upholstered corner booth, with a view of the whole restaurant. Inside, the ceiling is hung with greenery and lampshades that look like crab traps. The bar is inlaid with fish scale-inspired tiles, giving a soothing, under-the-sea atmosphere.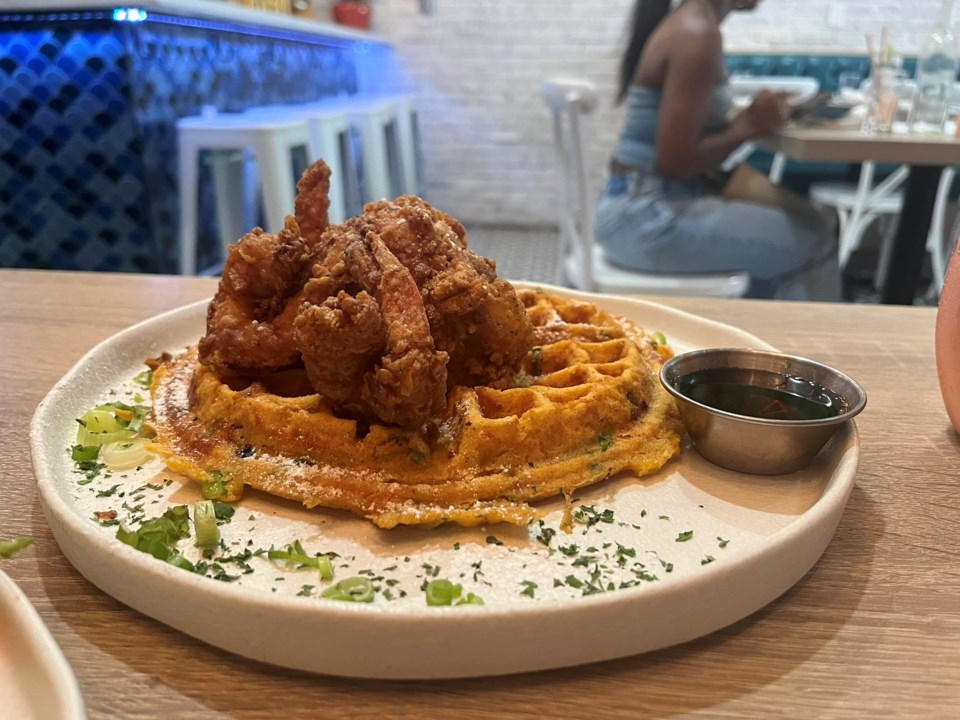 The menu aims to introduce the cuisine of the Gullah Geechee community to the Brooklyn community and features influences from the Lowcountry of South Carolina.
Typically, Gullah Geechee food is defined as a fusion of West and Central African cooking techniques and Lowcountry ingredients — like crab and collard greens — and has influenced classic Charleston dishes like shrimp and grits.
"With the Gullah Geechee community being so coastal, they ended up cooking a lot of one-pot meals from the sea with vegetables that were readily accessible to them," Jefferson said.
Jefferson told BK Reader she remembered growing up and watching as corn, potatoes and seafood were put into one pot and boiled, often during celebratory times.
"Having a celebration of food is essentially a celebration of culture and heritage," she said. "The boil in particular was one of those cuisines of celebration."
At Sweet Catch, this homage translates to a menu packed full of seasonal seafood — lobster, shrimp and oysters — as well as southern classics like cornbread and macaroni and cheese.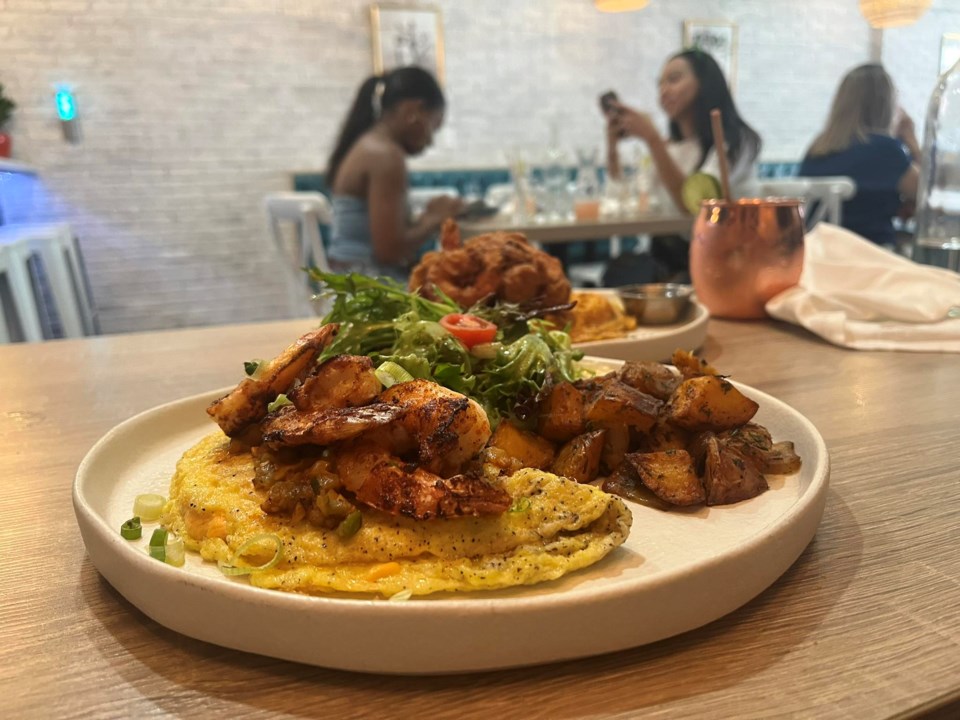 To start, order an oyster platter or try the Crab Deviled Eggs ($18), Chesapeake Crab Dip with plantain chips ($21) or Sweet Catch cornbread ($9). BK Reader recommends the cornbread, which is served warm with a side of Chipotle honey butter and a fresh swirl of herb oil.
While a mother-daughter duo enjoyed a spread of oysters ($18 for a half-dozen) this past Saturday, BK Reader tried the Sweet Catch signature menu item: Fried lobster and shrimp on a cornbread waffle with maple syrup, parsley and roast garlic butter ($36).
The shrimp and lobster came in a light, crunchy batter, the lobster in its shell, melt-in-the-mouth. Despite the decadence of the topping, the real hero of this dish is the cornbread waffle, a lovely mix of sweet and savory with fresh corn and scallion throughout.
For something more savory, try the Country Omelette ($24). It's soft and fluffy, oozing with pimento cheese and lashings of homemade salsa, and topped with three blackened shrimps barbecued to perfection in southern spices. The home fries are soft and well-seasoned with herbs, all served with a generous side salad.
The restaurant also serves southern classics like Shrimp and Grits, made with three cheese stone ground grits and truffle oil ($28), Biscuits and Gravy ($22) and Cornbread Avocado Toast topped with a fried oyster and whipped goat cheese ($24).
By midday, the room was filled with two-tops enjoying brunch — from families to couples and friends sharing carafes of mimosas or bellinis ($22 for a small, $40 for a large). There was also a 12-seat table reserved for a large group set to enjoy brunch and a workshop on taking care of their mental health.
Non-alcoholic options include the refreshing sorrel fruit punch, or the Sober Mule: A delicious gingery version of the alcoholic favorite served in a gold goblet and garnished with mint.
Sweet Catch BK is open for brunch every Saturday and Sunday from 11:00am-4:00pm.