A Brooklyn wellness club where you can meditate at a gong ceremony one day and rave to electronic music the next is settling into its Prospect-Lefferts Garden community and piquing the curiosity of its neighbors.
Opened in January 2022, Gaia NoMaya describes itself as a "social wellness, music and arts community."
So, what is that?
Not only is Gaia NoMaya a spa where you can get a massage, Reiki, various light treatments and use the sauna and ice plunge, but it also acts as an event space for healing and wellness sessions such as cacao ceremonies and breathwork, as well as for music events like jazz shows and raves.
But to truly understand it, you need to experience it yourself, its owners say.
"There've been moments where people were a little bit, like, questioning," Gaia NoMaya Founder Sara Ramirez Loaiza laughed.
"Like, yeah, you have wellness, but then you see alcohol, and then you have parties and I've never seen anything like it ... I would say come and open your heart to really be in this space and be touched and moved by people and things."
Gaia NoMaya was started by brothers Andrew and David Goldin, and Andrew's partner Ramirez Loaiza, who all worked on turning what was essentially an empty concrete box on Flatbush Avenue into a wellness sanctuary full of art, instruments and crystals.
Just a stone's throw from Prospect Park train station — on a busy truck throughway by a gas station, a parking garage and auto repair shops — Gaia NoMaya feels like a lush oasis from the outside. In the front, healthy Colombian food and drinks are served by Palenque among leafy rainforest vibes. There is also a full bar serving healthy cocktails and alcohol-free options.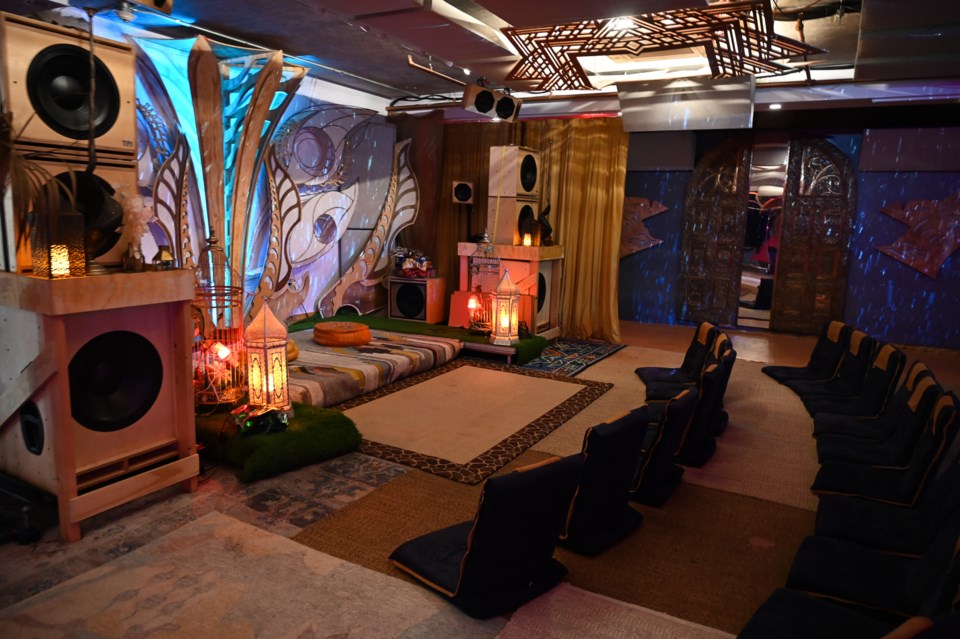 Step behind a heavy gold suede curtain, and find yourself in the wellness womb that is the labyrinthine Gaia NoMaya. In one room is the Gaia Event Space, a 7,000- sq-ft room with a stage and high-quality sound system, laden with heavy carpets, hanging plants and lighting that looks like falling snow.
In another room, the Desert Wellness Lounge is full of low-slung embroidered couches, installation art including macrame features made by Ramirez Loaiza, and an extraordinary Gamelatron gong by artist Aaron Kuffner. Andrew turned it on and it started chiming, its bells ringing a transcendent orchestra through the space.
Continue on through doors and you'll find yourself in a room full of giant amethyst and citrine crystals. Go past the ice plunge and sauna and find yourself in the center of the venue: The Salt Cave, made with pink Himalayan salt. The salt opens and cleanses the lungs, Andrew says, and they also have music events in this space.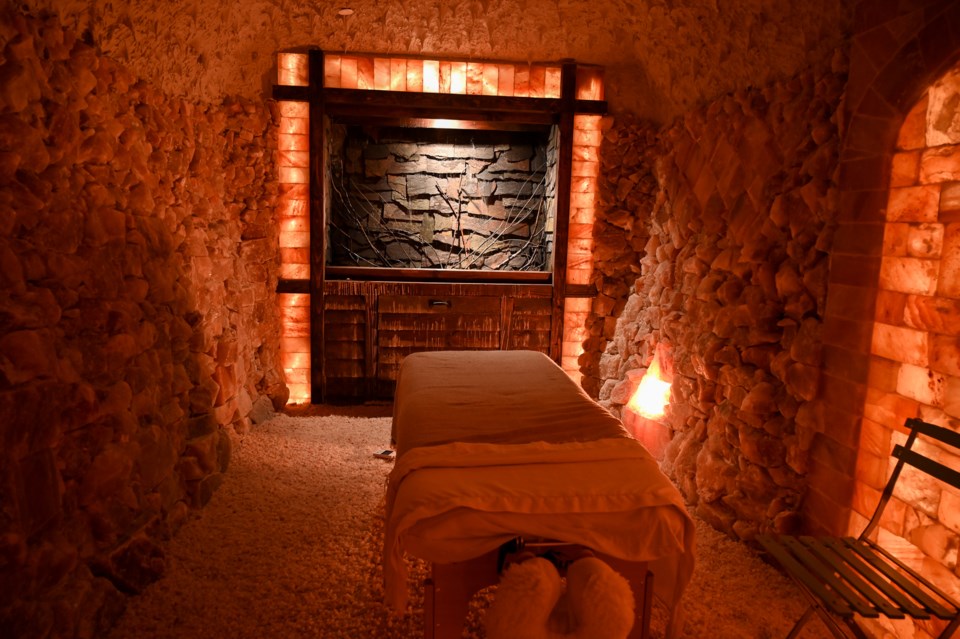 The name, Gaia NoMaya, combines Gaia — mother Earth to the ancient Greeks — and the Indian Sanskrit word for illusion, "Maya," which refers to Hindu philosophy around the concept of a magic power in which humans can be led to believe in things that turn out to be an illusion.
"It's the word that describes the illusion of society that takes you away from your happy inner-child self," Goldin explained.
The space is a dream-come-true for Andrew, who said his life and business experience so far culminated in the wellness project. The Goldins grew up in Queens to Ukrainian and Russian parents. Their mom owned a spa and their father was a real estate developer. Andrew said he and his brother grew up in the Russian spa culture. Later, the pair opened their own organic supermarket, which they ran for eight years.
Andrew was also involved in event production through his company Sonic Jungle, which hosted pop-up music events and parties, as well as series of raves in his mom's spa called "When in Robe," which Vice once described as combining "health and hedonism." The Sonic Jungle parties now continue on through the Gaia NoMaya space.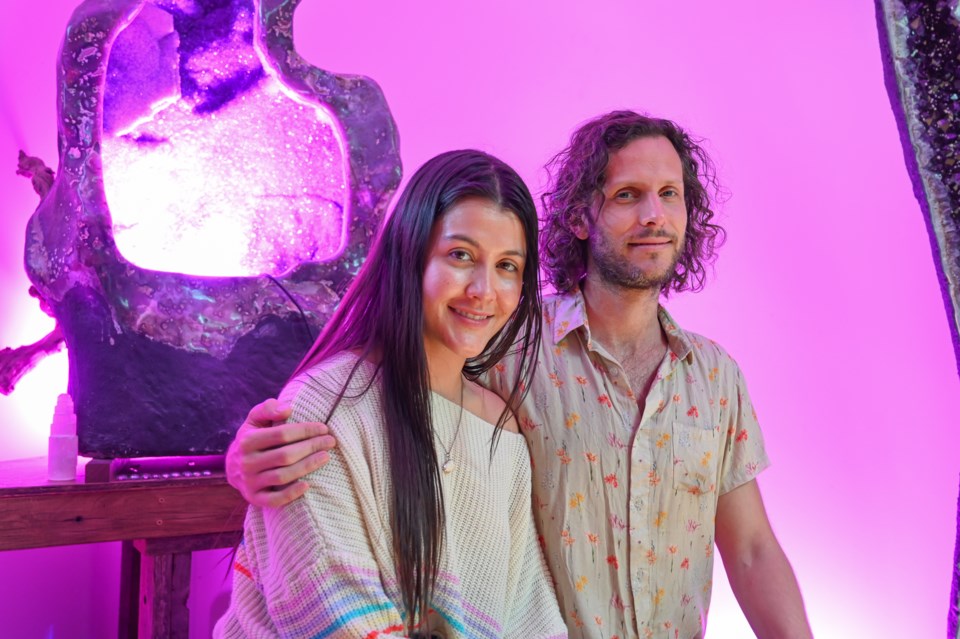 Andrew's passion for wellness is also driven by his own experience growing up with fibromyalgia, a chronic disorder that causes pain throughout the body, fatigue and trouble sleeping. While the disorder is long-lasting for many, Andrew said he was able to overcome it through his pursuit of wellness knowledge outside of the Western doctors who told him he would simply have to take pills his whole life.
"I didn't want to subscribe to that. So I started to explore different things," he said. That included seeing a Ukrainian couple who combined Eastern and Western medicine, yoga, acupuncture, Reiki, cupping, massages, healthy eating and exploring ancient practices. Many of these practices also made their way into the services that Gaia NoMaya offers.
It was that very quest for health that led Andrew to Ramirez Loaiza. They met at an event at the Williamsburg Hotel in the summer of 2019. The next day, Andrew came to Ramirez Loaiza's hot yoga class.
"From there on, we fell in love and we never looked back," she said. Within a week, Andrew asked her to be a part of Gaia NoMaya, where the pair are now spreading the love.
"Part of the mission is a rebirth after coronavirus," Andrew said.
"Just coming here and being able to enjoy all the different simple things that we've always loved as people, which is, like, music, dancing, wellness and connection."
To check out the space, visit 510 Flatbush Ave. from Wednesday-Sunday, 10:00am-10:00pm. A yoga session is about $20 and memberships are from $200 to $500 monthly.