Brooklynites can now enjoy free jazz this fall season on a one-of-a-kind Brownstone stoop, thanks to a new series celebrating the lives of people killed by the police.
The free Stoop Sessions, sponsored by the non-profit Worthless Studios, is kicking off on the evening of Oct. 14, in Bushwick, with a performance by Lathan Hardy. The series will continue running, rain-or-shine, most Fridays through Jan. 6, thanks to its unique indoor location in a warehouse at 7 Knickerbocker Ave.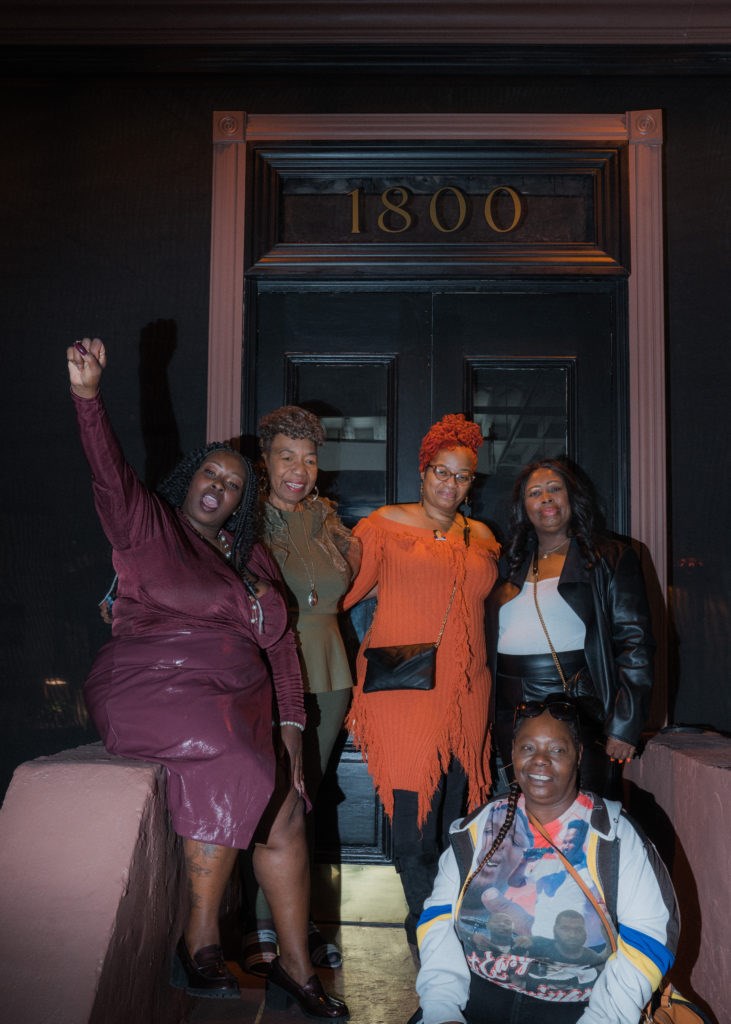 The stoop in question is in fact a recreation: lovingly designed to live as a part of the "1-800 Happy Birthday" exhibition, which celebrates the lives of 12 people killed by police or in police custody.
"It looks very real, I love it so much," Worthless Studios Curator Klaudia Ofwona Draber told BK Reader, adding that they spent a lot of time trying to find just the right "brownstone" paint color.
"You can walk on it, climb it, sit on the stoop or on the side of the stoop."
The series is the latest activation of "1-800 Happy Birthday"—the first major show for the non-profit—which saw filmmaker Mohammad Gorjestani collaborating with the families of 12 people killed by police violence.
It honors their lives in a public art piece bringing together pay-phones where people can share voicemail messages to the exhibition's subjects, a newsstand and a mural by artist Art1.
The 12 people the exhibition focuses on are Oscar Grant III, Eric Garner, Sandra Bland, Philando Castile, Dujuan Armstrong, Stephon Clark, Fred Cox, Xzavier Hill, Donovon Lynch, Sean Monterrosa, Tony Robinson and Mario Woods.
The exhibition refers to its subjects as celebrants, not victims, and the exhibition is designed as a remembrance of their lives.
"The exhibition is about supporting Black and Brown life and culture, and showing who these celebrants were—those who were killed by the police," Draber said.
The exhibition also features a recreated newsstand where people can purchase candy soda, balloons, flowers and birthday cards for the "celebrants" — all of the proceeds going to non-profit foundations chosen by their families.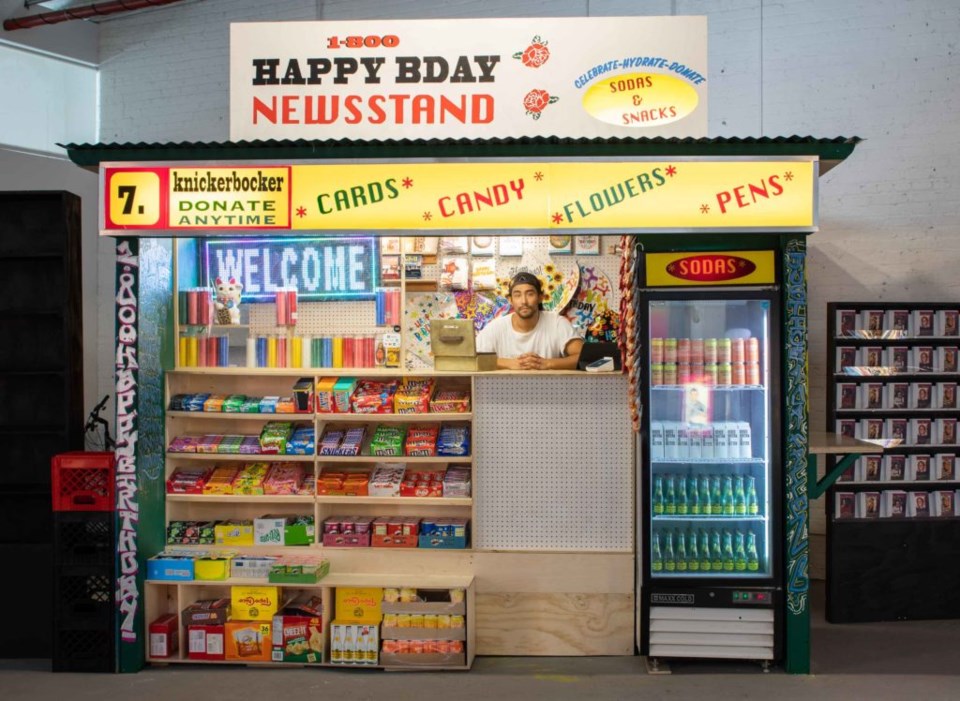 "A big part of this exhibition is reimagining an alternative world, a safe world, for Black and Brown people in America," Draber said.
To put it together, the curators traveled all over the country to meet the families of those who were killed and gather personal items and elements from the subjects' neighborhoods.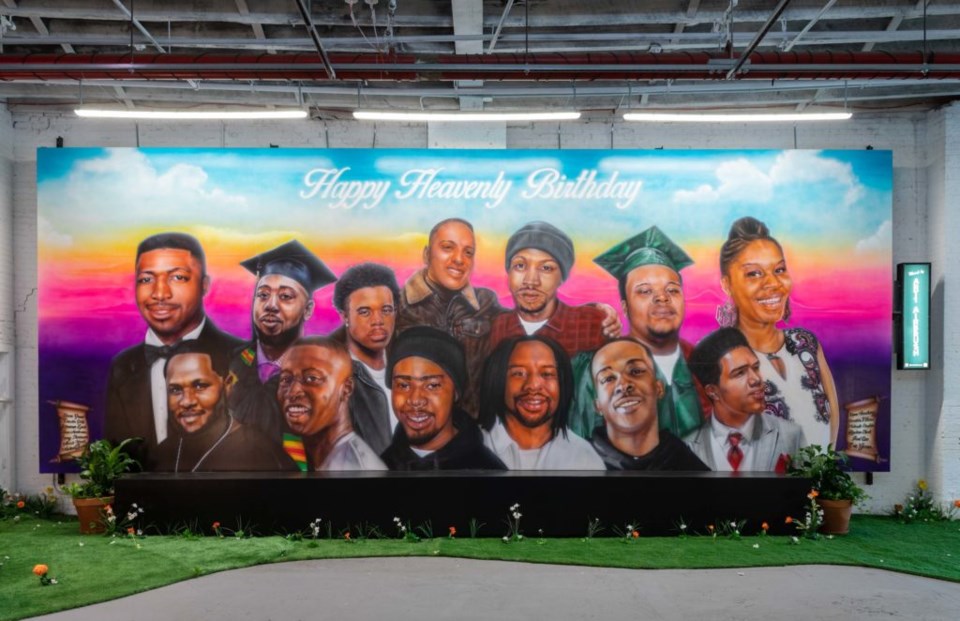 Jazz and live music was also a big part of daily life for many of the families, Draber said. One of the celebrants, Sandra Bland, played trombone, and the exhibition features a trombone in the living room area.
The jazz series kicks off with a solo performance by Brooklyn-based woodwind musician Lathan Hardy, and future weeks will feature trios and jam sessions.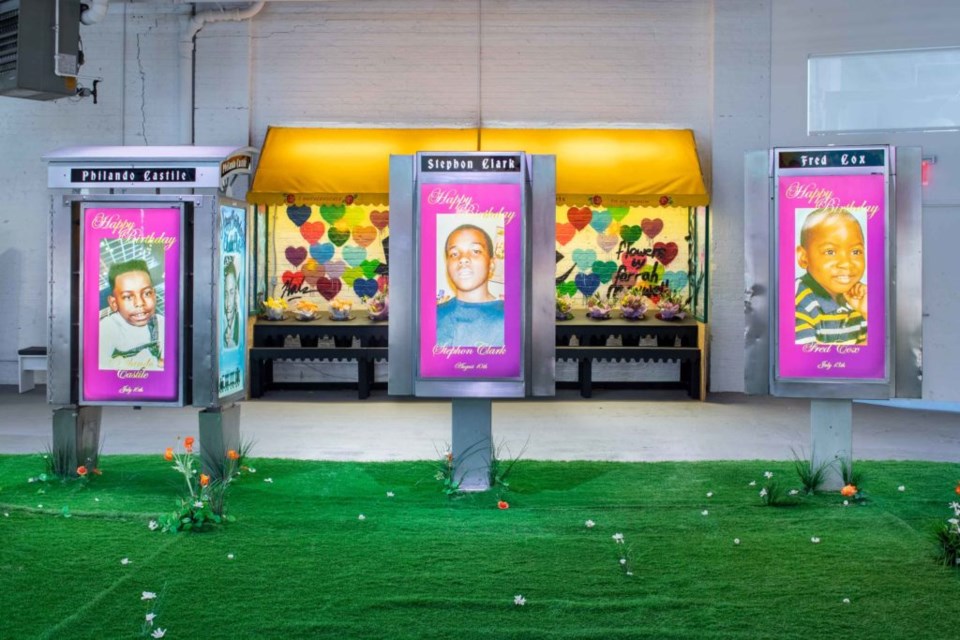 "The jam sessions are also about freedom and liberation and reimagining this alternate space where Black and Brown people are safe," Draber said.
Family members of the 12 "celebrants" will be coming to some of the performances, and the non-profit hopes it will be a healing experience, too.
"Trauma lives in the body, it's very visceral, and music kind of opens us up and can reform neuropathways," Draber said. "We want to highlight many different ways of healing."
Ornithology Jazz Club and Gotham Yardbird Sanctuary are curating Stoop Sessions numbers two - five. To sign up for any of the free jazz sessions, click here.