Help is near for undocumented workers in Brooklyn, but the details are still being worked out.
Starting in early August, undocumented workers in New York can start their applications for an aid payment of $15,600 or $3,200, minus tax.
Scroll down for details on how to apply.
The payments will be coming from the state of New York, under the $2.1 billion Fund for Excluded Workers. The Fund for Excluded Workers was passed by lawmakers in April.
It was created to allow undocumented people who were not eligible for unemployment insurance due to immigration status to "finally" get some aid, Assemblymember Rodneyse Bichotte Hermelyn told BK Reader.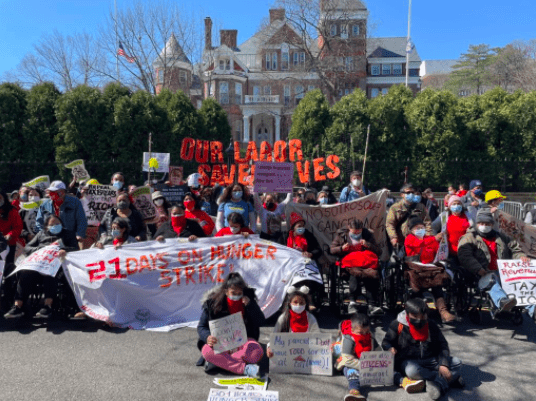 There are about 275,000 undocumented immigrants in New York, and at least 164,000 in Brooklyn.
"I hope that every eligible person in Brooklyn and beyond applies when it launches," Hermelyn said. "Undocumented individuals kept our city running during the pandemic, and those that lost income desperately need this aid to support their families and help recover their loses."
Make the Road Fund Excluded Workers Campaign Coordinator Bianca Guerrero said the organization had been pushing the state to "meet workers where they are."
Workers who can provide written proof of income from before the pandemic — like paystubs or tax returns — are eligible for $15,600. But those who cannot will only be able to get $3,200.
"Domestic worker, street vendors, construction workers who work solely in cash and off the books don't have the formal proof of employment that white collar workers might have," Guerrero said.
While the bar to apply is high, the amounts undocumented workers are getting are much less than others got in unemployment or stimulus checks.
"There is no way a $3,200 emergency relief payment can make up for a whole year of tragedy and pandemic unemployment, of struggling to put food on the table, keep up the WiFi for the kids, pay for the death of family members."
While Make the Road is still pushing the state to make the application process even easier, Guerrero wants to encourage all to apply. The organization is also asking the state to make in-person application help in multiple languages and locations.
When can I apply?
Hermelyn said the $2.1 billion fund application opens on August 1. The Department of Labor has not confirmed that date, but said applications will open early August.
Who is eligible?
You could be eligible if you:
Lived in New York before March 27, 2020, and still live here
Didn't get unemployment insurance
Earned less than $26,208 from April 2020 to April 2021
Lost income between Feb. 23, 2020 and April 1, 2021
If you became responsible for most of the household income due to death or disability of the main income earner in the house
How much will I get?
You will either get $15,600 or $3,200, minus taxes. The amount you get will depend on what documents you can provide.
The Department of Labor hasn't said yet how much tax will come out of each payment.
Can more than one person in a household apply?
Yes. The application is individual. Every working person in the home who might be eligible can apply.
What documents do I need?
Proof of identity through your passport, ID cards, or other official documents like marriage or divorce licenses.
Show proof that you lived in New York before March 27, 2020 and that you live in New York now.
Proof through letters, pay stubs, W2, tax return, wage notice or other documentation that you were working before the pandemic
If you provide 1, 2, and 3, you may be eligible for $15,600 minus taxes.
If you can't do 1, 2, and 3, you may still be eligible for $3,200 minus taxes if you can show proof of your identity, proof that you live in New York and some sort of work documents that the Department of Labor hasn't announced yet.
Will my identity be kept private from organizations like ICE?
Your documents will only be used to prove your identity, that you live in New York, and information about your work history, the Department of Labor says.
It says it will not share them with anyone unless required by law.
Make the Road is confident workers' information won't be shared with any other authority, Guerrero said. The Department of Labor cannot share the information internally, either, to its unemployment insurance bureau or anyone else.
"We want to be really clear about that, we don't want fear or misinformation to discourage people from applying."
Someone offered to help me apply. Can I trust them?
You should only apply for these benefits from the official Department of Labor website and get help only from trusted organizations.
If a person tries to charge you money or collect your personal information to help you apply, do not give them anything.
How can I get the payment?
We don't know yet. The state is deciding whether it will be through direct deposit, cash card, check, or some other payment method.
Where do I apply?
Apply at this link from August 1.
I need more help.
There is a webinar this Thursday, July 29, at 6:30pm to teach people how to prepare for the application. Register for the webinar here.
The webinar will be available in English, Haitian Creole, Urdu and Spanish.
The New York City Mayor's Office of Immigrant Affairs, Make the Road New York, New York Communities for Change, Council of Peoples Organization and the Haitian American Caucus are hosting the webinar.
More information in multiple languages is available here.