Good news for the Yale grads living in Brooklyn: Williamsburg is the new New Haven!
That's because Lala's Apizza, a pizzeria inspired by old-school New Haven apizza joints near the Yale campus, just opened on the rooftop of Grimm Artisanal Ales at 990 Metropolitan Ave.
New Haven-style pizza, known as "apizza," is famous for its oblong, charred, thin crust and limited use of melting cheeses.
"Lala" is Lauren Grimm's old childhood nickname. She and co-owner Joe Grimm chose to call their pizzeria Lala's, in reference to other New Haven apizza joints, which often have two-syllable, possessive names, like Pepe's or Sally's.
While the name is Lauren's, the apizza angle comes from Joe. After growing up in rural Georgia, his first real experience eating decent pizza came during his time at college in New Haven.
"We decided when we were going to open up our own pizza spot that it should be building on that New Haven tradition," Joe said. "But we don't call it New Haven style exactly, just because we want to give ourselves permission to change it and express our own take."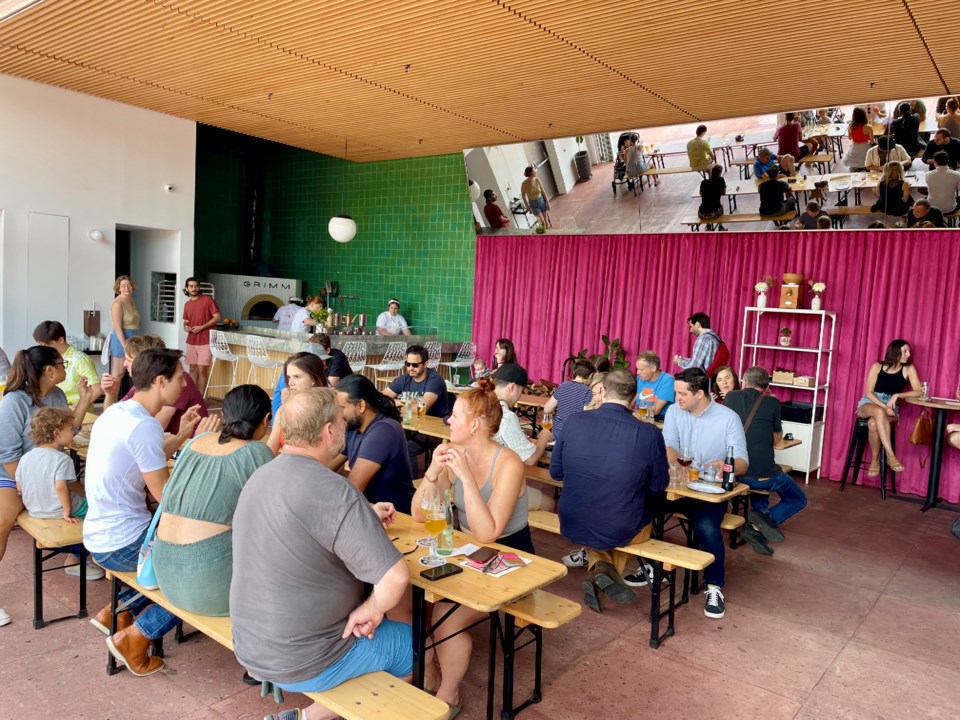 In fact, Lauren said, this new Brooklyn-style pie comes from two distinct pizza bloodlines: It's a mix between New Haven style and pizza tonda Romana, a thin-crust pizza style from Rome.
This hybrid pizza is cooked New Haven-style in a coal oven, but it's rolled out with a rolling pin so that it's thin and individual-sized, which isn't typical of New Haven pies. There are two basic pies on the menu, a red and a white, and add-ons like egg yolk drizzle, serrano chiles and summer squash. Four specialty pies are currently available, including a fantastic "cozy pie" topped with mashed potatoes, fermented tomatoes and mozzarella.
These pizzas have more in common with the beer brewed downstairs than meets the eye: The sourdough starter the Grimms use was born from a culture used to make sour beers, and the dough itself is made from malt flour ground in-house, an uncommon move in the world of breadmaking.
"Brewers have access to so many different types of grain that bakers don't," Lauren said. "There's so many amazing flavors that come from the hundreds of different kinds of malts that we use in our beer."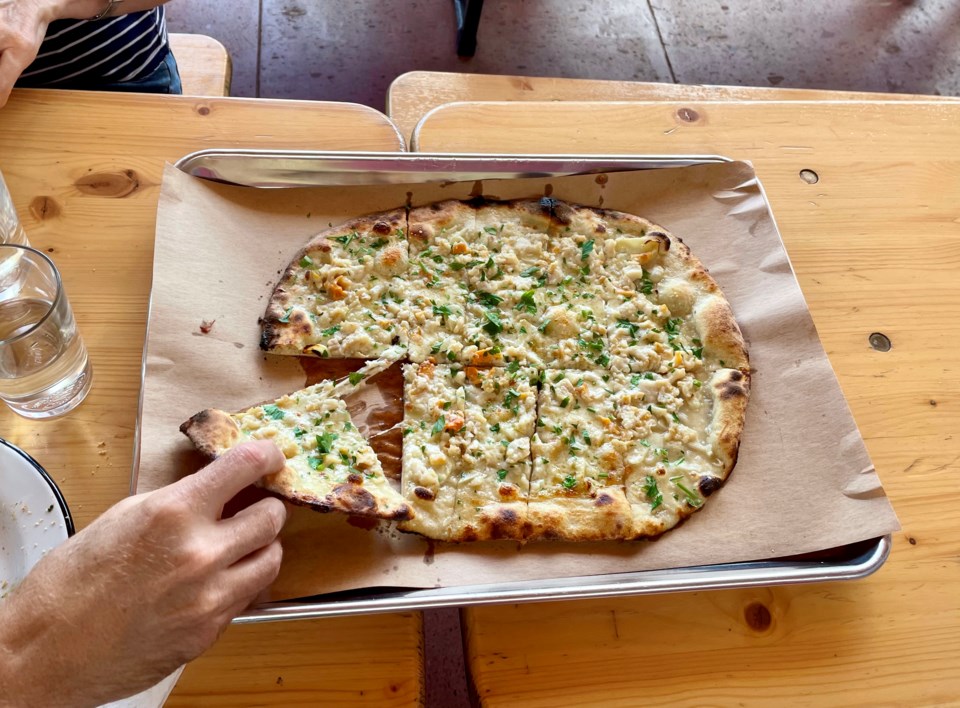 The rest of Lala's menu is scattered with more fermented goods, from a pickle plate made using lacto-fermentation to a gelatin dessert made with one of the brewery's natural wines.
Lala's opened on July 21 to an unexpected crowd.
"We thought that we prepared dough for two days, but it turned out it was more like three hours' worth of dough," Joe said. "I had to make a run to Costco to buy like 20 pounds of Pecorino."
Before opening, the Grimms wrote an apizza manifesto, which Joe described as "a set of rules guiding the aesthetics of the pizza."
In the document, they decreed that some add-ons, like mashed potatoes, will always stay on the menu.
"Somebody who is a fan of New Haven pizza should always be able to come into the restaurant and make their favorite traditional New Haven pie," Joe said.
Lala's is open Fridays and Saturdays from 5:00pm-10:00pm and Sundays from 12:00pm-5:00pm.