Two years after a 50-foot wall of former President Donald J. Trump's lies was put on public display in Bushwick, the artist behind it has created a new wall ahead of the 2022 midterm elections: "The Wall of Liars and Deniers."
The new wall on Grattan Street displays more than one thousand false statements made by 300 midterm candidates for office, ex-Trump administration officials, right-wing media and others who promoted the "big lie" that the 2020 election was rigged.
Photographer Phil Buehler said he had to do something after being driven up the metaphorical wall by Republicans continuing to promote the lie that the election was rigged and seeing friends and family members on Facebook buying into it.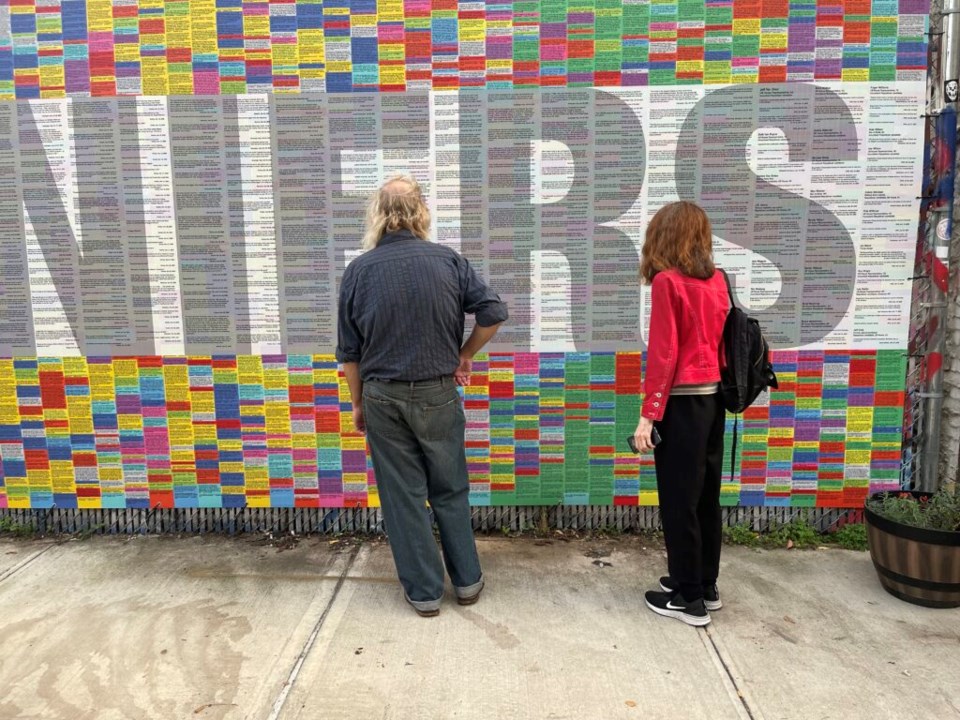 "I was like, 'OK, you know what? Now you've really convinced me that something needs to be done.'"
At the start of October, Buehler began the process of compiling the false statements he wanted displayed on the wall. In 2020, he was able to use a fact-checked Washington Post database of Trump's lies and misleading claims. This year, he had to compile the data himself in an Excel document, from dozens of different news sources and reports.
"It probably took five or six long days, weekends and nights, compiling this," Buehler said. He said the wall simply presents the mistruths in a visual medium.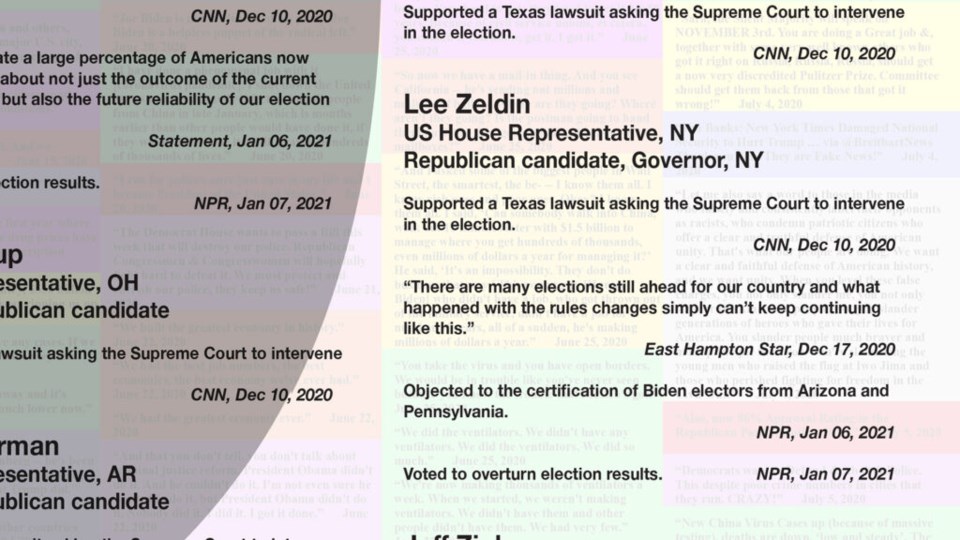 "I didn't make up any words on the page," he said of the "lies and denials," which are sourced and dated in the mural. "If you wanna check it, you can go check."
Buehler said it was important for him to do the wall again, two years post-Trump, because his legacy of lies remained.
"This is a really, really important midterm," he said.
"There are probably 250 Republican candidates running for office that are saying Biden isn't the elected president, or who reject it or deny it, and if they get into office it will get worse."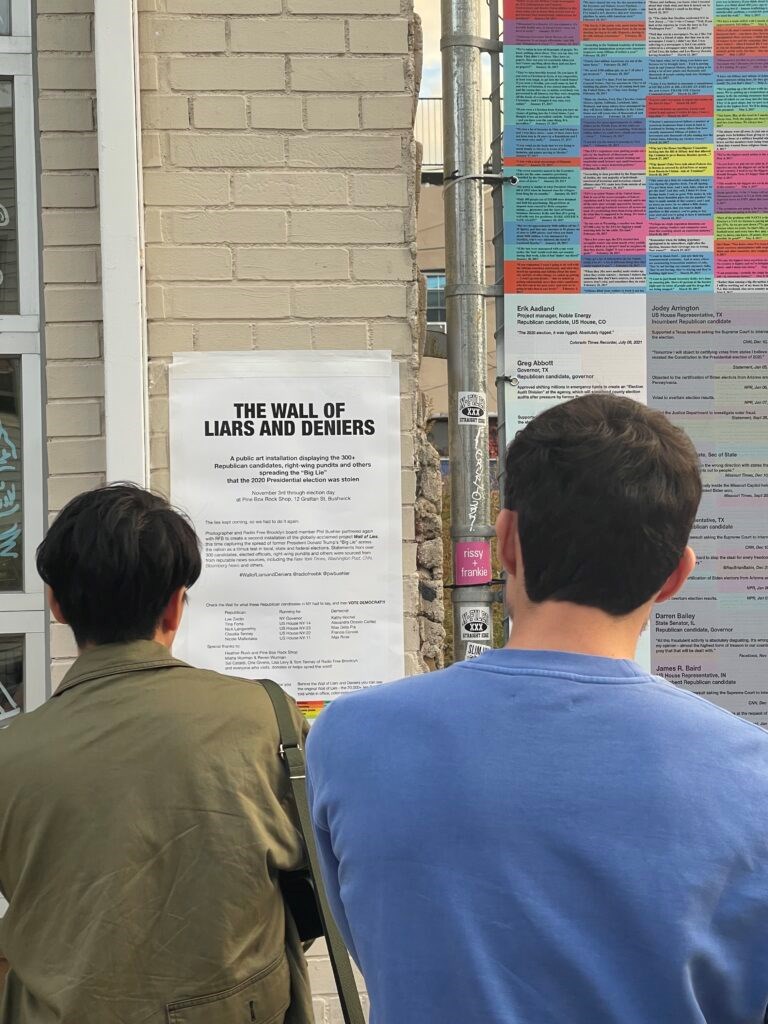 Marvin Alejandro, from the Philippines, walked past the wall on Sunday and told BK Reader he was surprised at the level of propaganda in this country.
"This sort of misinformation is effective in developing countries, and you would expect this to happen in third-world countries where a lot of the citizens are not well educated. It's easier for people to give them wrong information and use it to influence them to vote against certain candidates during elections," he said.
"But in the U.S. it's surprising this happens. It's a more powerful country, a lot of people are well educated."
Alejandro Carrera, who is from Spain, said he was surprised to see the media feeding misinformation, too. He added that he thought it was effective as a public art piece because it helps people see the problem's magnitude.
"You get snippets every day, but you come here and see that it's from all states and people at all levels of government," Carrera said.
Amy Hill visited the wall on Sunday before her planned trip to the polls on Tuesday. She said she felt people were aware of the mistruths being spread about the 2020 election results, but added "when you see it all together it does make an impact, everything all at once."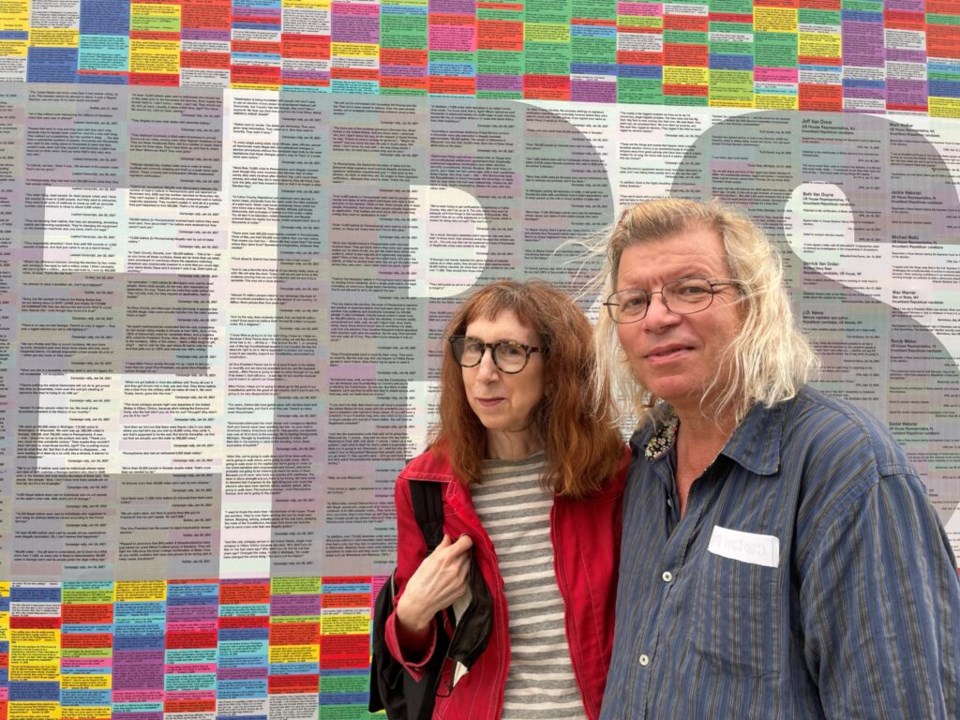 While Hill feared "The Wall of Liars and Deniers" might be "preaching to the choir" in progressive Bushwick, fellow observer Ron Richter said there were still people who lived in the area who did not have progressive views.
He said he was stopped recently by a man in the neighborhood who wanted to talk about the need to "do something" about the Black Lives Matter movement, and how he liked Florida Republican Ron DeSantis.
"I was totally surprised; he's in 'hipsterville,' and it seems like this very progressive neighborhood, but there's still people who live around here who are like ... you know."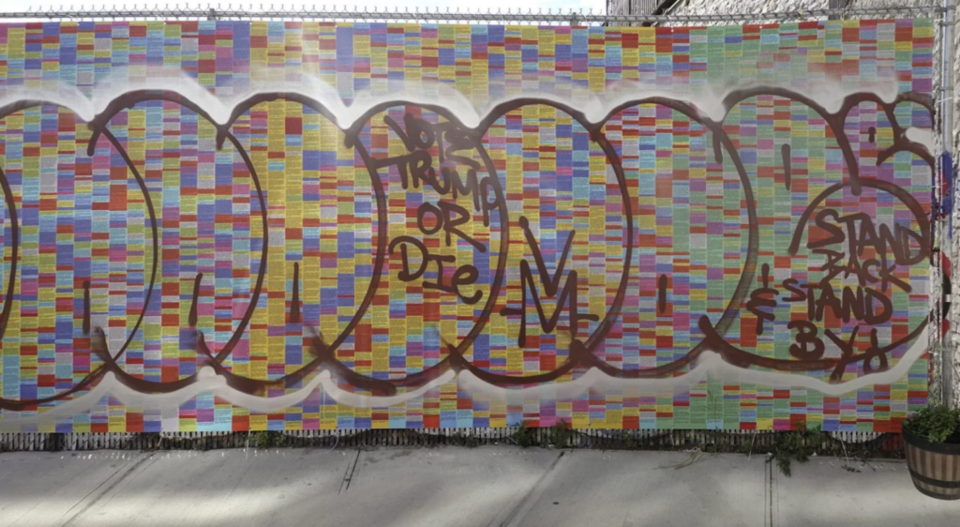 This wall of lies follows the "2020 Wall of Lies" from Buehler and Tom Tenney, the executive director of non-profit Internet radio station Radio Free Brooklyn.
That 50-ft by 10-ft outdoor mural displayed more than 20,000 false or misleading claims told by the president during his term in office, ahead of the Biden v. Trump election. The Trump lies sit underneath the "lies and denials" in the new mural.
Four days after the mural went up in 2020, it was vandalized overnight with the statements 'Vote Trump or Die' and 'Stand Back and Stand By.'
After the vandalism, the creators set up a GoFundMe page to print another wall to replace the one that was defaced. The fundraiser quickly raised enough money to print an even bigger wall, and it was placed in Manhattan.
Election Day is Tuesday, Nov. 8. Click here for our full midterm election guide for Brooklyn voters.