A turreted mansion at 670 Bushwick Ave. is the latest historic building at the center of an ongoing battle to preserve what is left of gentrifying Bushwick, with longterm residents and local leaders slamming the Landmarks Preservation Commission for "dragging its feet" and allowing the rapid erasure of the neighborhood's unique character.
At a morning rally at the landmarked Lipsius-Cook Mansion on Wednesday, July 19, The Bushwick Historic Preservation Association and Historic Districts Council joined a group of longtime Bushwick residents, demanding the Landmarks Preservation Commission acts urgently to save the building from "demolition by neglect."
The term is used to describe a situation in which a property owner intentionally allows a historic property to suffer deterioration to the point where demolition may become necessary. While the mansion was landmarked in 2013, the building has been neglected since, residents said.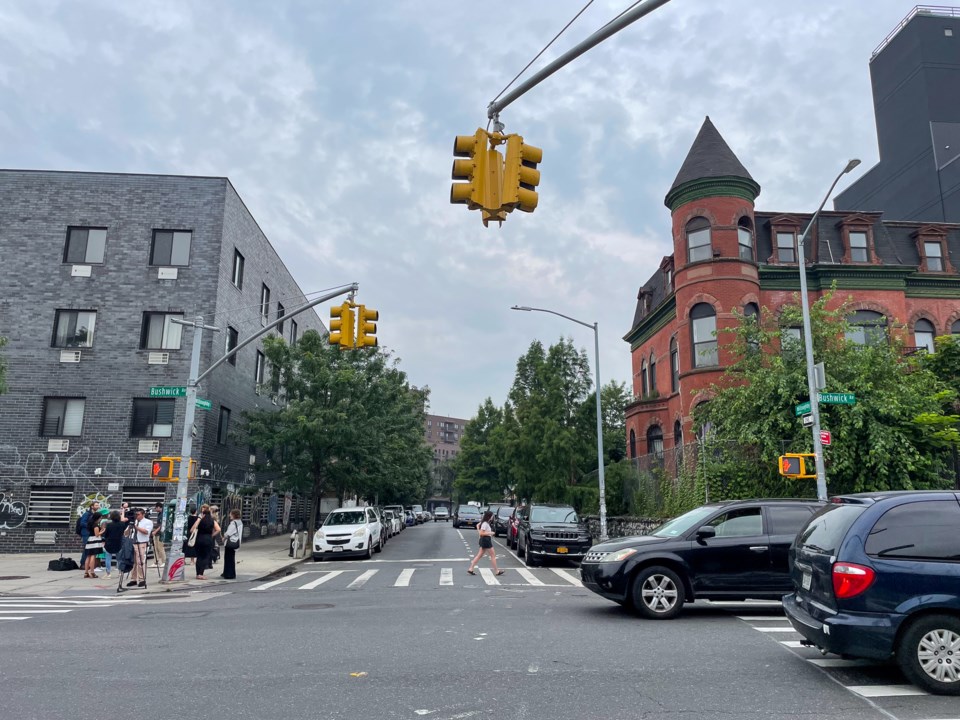 The community began alerting LPC about the poor conditions, including cracks in the facade, begining in January 2021, Bushwick Historic Preservation Association Co-Founder Dina Alfano said. No action was taken until residents started calling in 311 complaints in Feb. 2022, which led to violations issued — including four active violations for Landmarks issues, according to NYC Department of Buildings records.
"The LPC must treat the deteriorating conditions at the building behind us with a sense of urgency before it is too late," Alfano said.
She pointed to the 2020 demolition of a similarly-neglected mansion at 1001 Bushwick Ave., Lindemann House, which neighbors fought to preserve, and lost. She said the mansion was a "prime target" for developers due to its large lot size, a vulnerability the Lipsius-Cook mansion shares.
"For years the Bushwick community has watched in dismay and frustration as Bushwick Avenue's legacy has been gifted away due to intense development pressures, aided by a Landmarks Preservation Commission who has consistently dragged [its] feet in responding to the community's requests."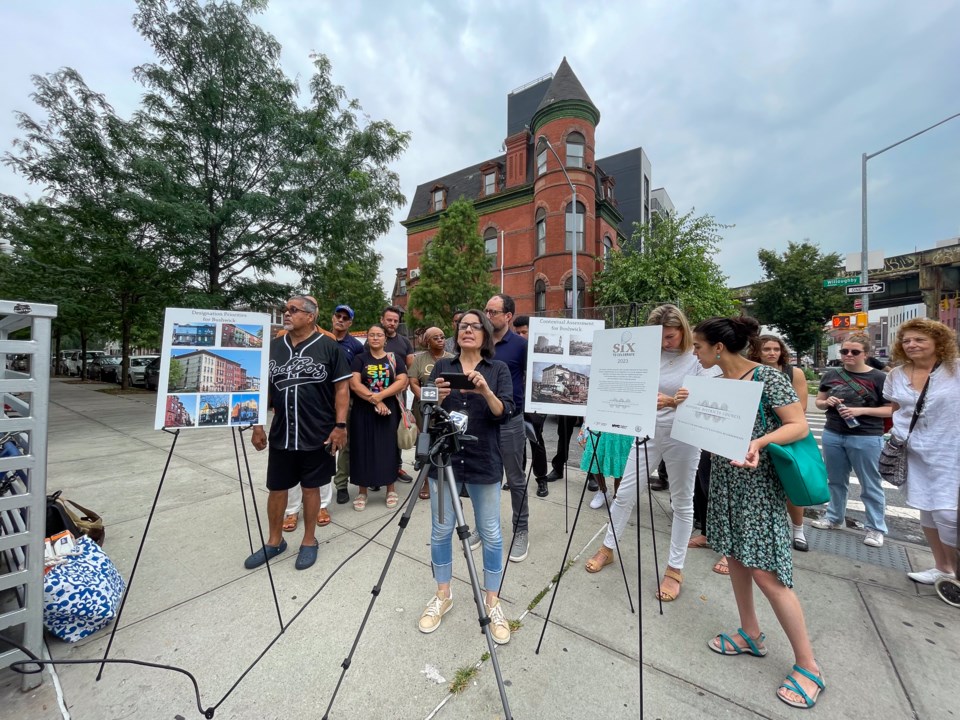 The mansion is at the heart of a long battle to see Bushwick's unique and historic buildings preserved in a rapidly gentrifying neighborhood. In the last two months, Bushwick preservationists have received multiple refusal letters from LPC to consider three properties on Bushwick Avenue for landmark status.
These properties are The Ulmer Townhouses at 683 – 691 Bushwick Ave., Mayor's Row at 945 - 965 Bushwick Ave. and the mansion at 751 Bushwick Ave. In the letters, sighted by BK Reader, the LPC said the buildings did not have the "architectural significance that rises to the level" of individual landmarks.
Those at the rally fiercely opposed that view, saying the LPC was ignoring how few historic buildings remained through Bushwick's unique history of community trauma, citing the 1977 Blackout, arson fires, mass demolition, City disinvestment and gentrification.
What was still standing was cherished by the community, even if it did not meet LPC's stringent, discretionary standards, they said.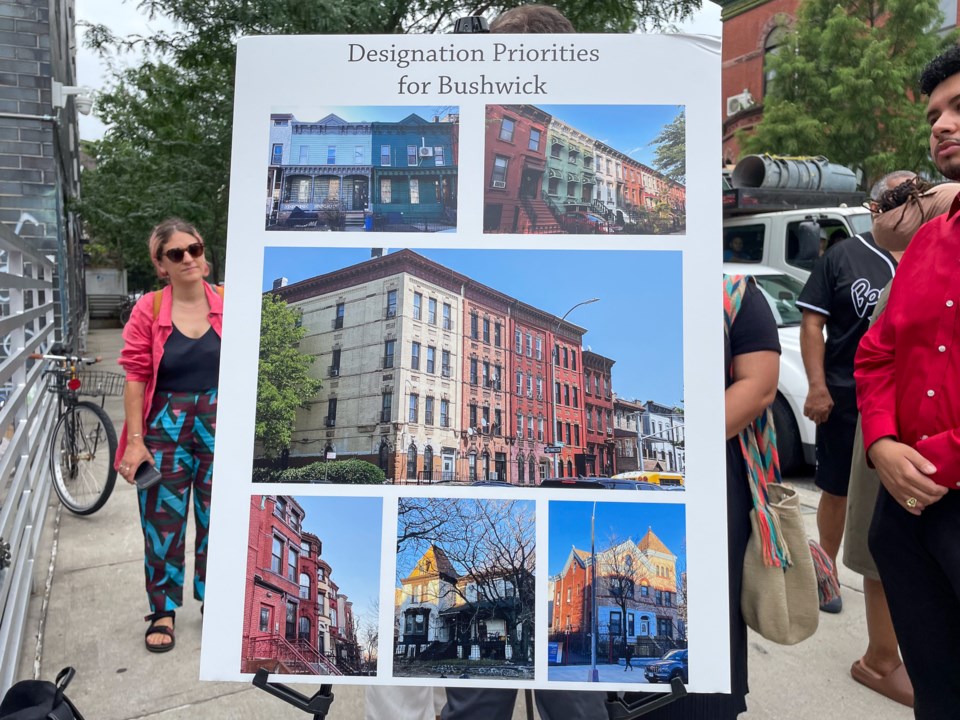 "We reject their logically flawed and categorically unjust position that surviving historical resources in Bushwick should face the exact same level of scrutiny applied to and withstood by historically wealthier and historically whiter neighborhoods, when their histories could not possibly be more divergent," Alfano said. "Bushwick was set apart by what it alone was forced to endure."
Local council members Sandy Nurse and Jennifer Gutiérrez attended the rally to share their support for residents, many of whom also shared their decades of experience living in the neighborhood, and their desire for its character to be preserved.
"If LPC wants to live up to its agency title of being preservationist, then preserve!" Gutiérrez said. "Work with a community that has for many years shown more than signs of enthusiasm. They've literally organized during a pandemic to bring attention to the reality that there is erasure happening in Bushwick and it's because the City is letting it happen."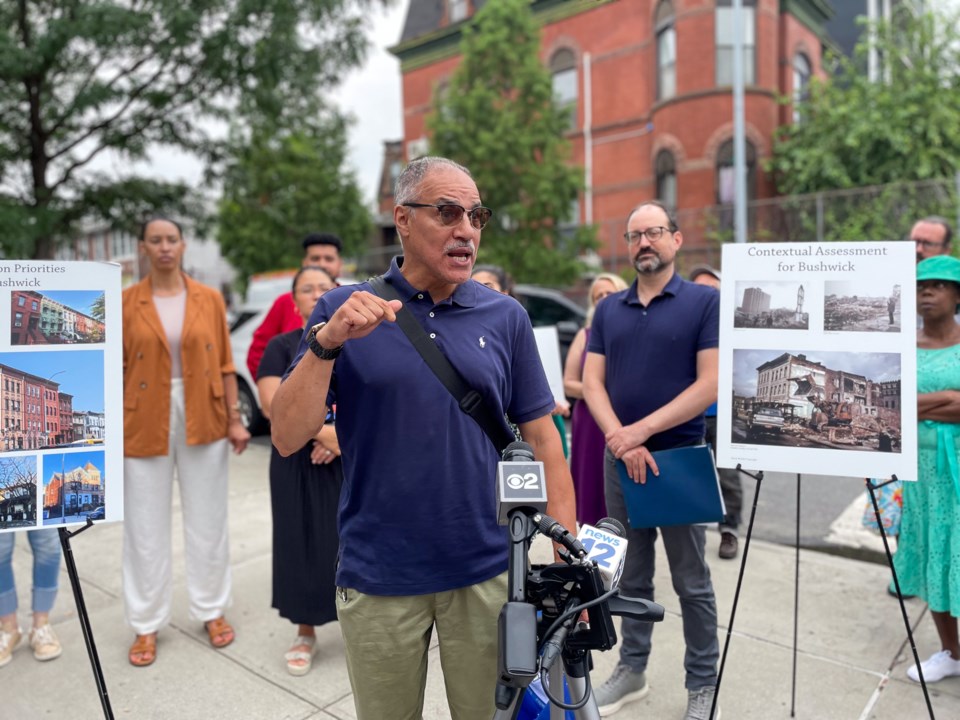 Residents at the rally have requested an urgent meeting with the LPC.
In response to the community's concerns and request for a meeting, LPC spokesperson Courtney Clark Metakis said the commission was "aware of the condition of the Lipsius-Cook Mansion, continues to take enforcement actions and has been in contact with the owner to discuss next steps to address the situation."
The spokesperson added that, in May, the LPC designated the first historic district in Bushwick: the Linden Street Historic District. It said this designation was "advancing LPC's equity goals to prioritize designations in areas that are not as well represented by designations."
"The district contains some of the most strikingly artistic row houses in Brooklyn and is truly meritorious for its significant architecture, high integrity, and strong sense of place.
"LPC will continue to study the neighborhood for preservation opportunities," Metakis said.