Since Jackie Bluu was eight years old, writing has been a coping tool for the painful things she saw and experienced -- from childhood sexual abuse to being uprooted from her home, and the tragic death of a baby brother.
Now, just days away from her 30th birthday, the author has released a book of poems that details her mental health journey in all its ups and downs, with the hope that someone who might need help sees they are not alone.
"I thought it was a perfect time to get it out there and to share how childhood and sexual trauma affect your adult life. I really want to bring that to light, and be a voice for it and help anyone dealing with the same issues," she said.
My Dear Melancholia is a collection of 15 poems that speak honestly about dealing with depression, anxiety and post traumatic stress disorder, and the ever-winding road to healing. The book is powerfully illustrated by artist Leslyn Ambert.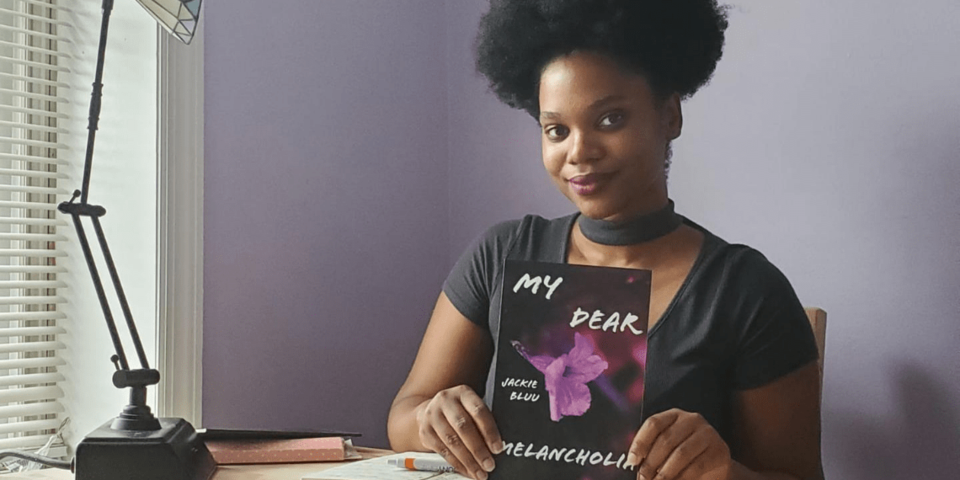 The Williamsburg-based poet started the volume last year as she began seeing a therapist seriously for the first time and writing about her mental health journey.
"In My Dear Melancholia you can see the fluctuation within the poems. There are some days where I'm like, everything sucks, and other days I'm like, no -- I can do this," she said.
Born in Haiti, Bluu moved to New York as a 10-year-old to live with her mother after her father died. Her latest book follows Bluu's essay Beast Man and chapbook Facing the Beast, both of which address the sexual abuse she suffered as a child while living with her mother's husband, and her subsequent battle with depression.
Opening up like that wasn't easy, she said. "I was really nervous about it, because it was really graphic. I talked a lot about suicide and the sexual abuse, things that I've been holding inside for so long."
Bluu also lost her 7-year-old brother when she was 17. The trauma of that loss is explored in her poetry through meditations on the forms of the soul and spirit, and life after death.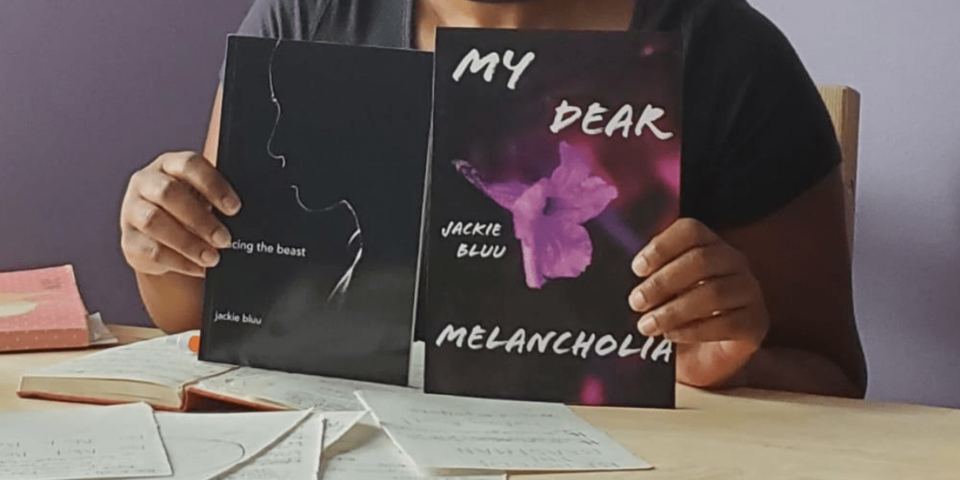 Without the help of her mental health supporters, Bluu said she wouldn't be here today. This time last year, the 29-year-old was thinking about taking her own life. But with the care of her therapist, she was able to get the help she desperately needed at that time.
Through her mental health journey, she's learned that there is no quick-fix, and she wants others to know this is OK.
"I want others dealing with depression and anxiety and PTSD to not feel so pissed at themselves for not getting better," she said. Bluu said it's better not to fight the sadness, and instead to sit in it and accept it, knowing that tomorrow is a new day. "That pain is always going to be there, but we can learn to manifest it into something else."
These days, Bluu surrounds herself with words. She's a full-time book publicist at Columbia University Press, and works on weekends as the editor of FishFood, a literary and arts zine.
She also makes candles, does embroidery, plays the ukulele and enjoys aromatherapy. "And of course poetry, always writing." You can buy her books here.
If you or anyone you know needs help, call the National Suicide Prevention Lifeline on 1-800-273-TALK (8255). The lifeline is a 24-hour, toll-free, confidential suicide prevention hotline available to anyone in suicidal crisis or emotional distress.