Brooklyn Congressmembers Yvette D. Clarke, Hakeem Jeffries and Nydia Velazquez held a press conference on Friday, warning New Yorkers to remain vigilant in the face of the Trump Administration's threats to immigrant communities.
The lawmakers, who were joined by fellow New York Congressmembers Adriano Espaillat and Gregory Meeks, New York Attorney General Tish James and Public Advocate Jumaane Williams, reminded the public that every New Yorker, regardless of immigration status, has rights and protections, and called for unity in standing up against Trump.
"We are here today to stand up for immigrant communities all across New York State, urging them to remain vigiliant and to understand their rights," said Jeffries. "Donald Trump is the Birther-in-Chief who has been peddling xenophobic poison like a drug dealer peddles dope on the street. We are reassuring our immigrant communities that we stand shoulder to shoulder, pushing back against his unnecessary, unconscionable and un-American deportation regime."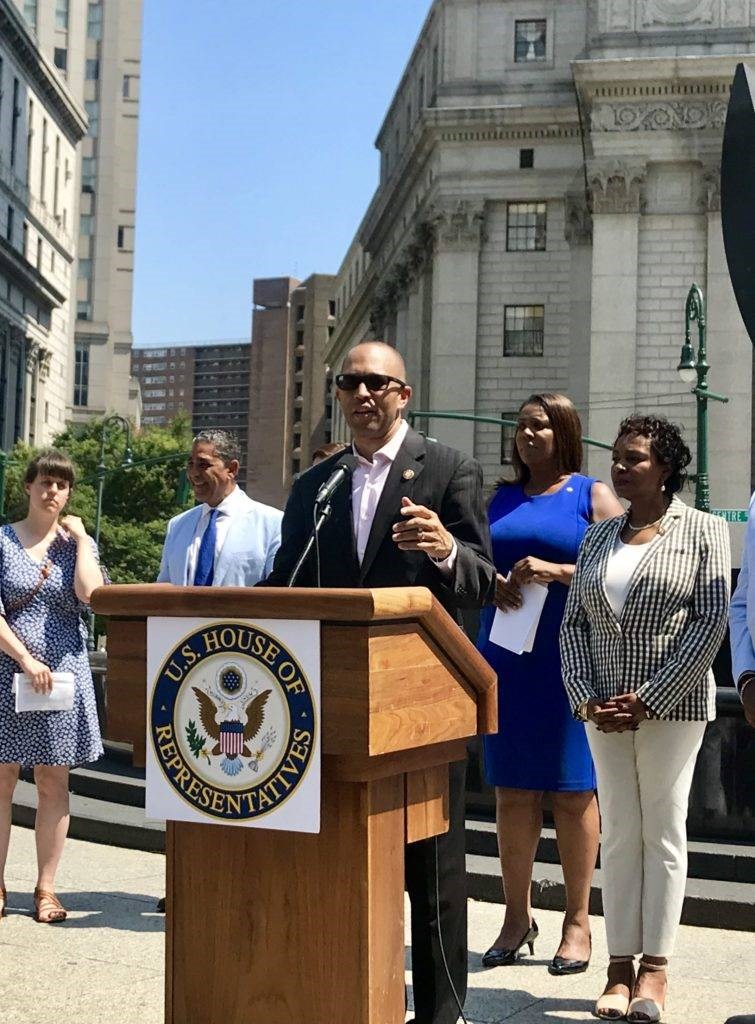 Since the Trump Administration revealed plans to deport more than 2,000 immigrant families in the ten largest U.S. cities, there have been reports of six unsuccessful arrest attempts in Sunset Park, Bay Ridge, Midwood, Harlem, Washington Heights and Far Rockaway, officials said.
Brooklyn alone is home to nearly 950,000 foreign-born residents—nearly 40 percent of the borough's population; it is estimated that close to 190,000 of them are undocumented.
"The New York metro area has the biggest population of undocumented immigrants in the country," said Clarke. "They pay taxes and make a positive contribution to our economy. Our Bigot-in-Chief and his lackeys in his administration initiated these ICE raids to terrorize and intimidate valued members of our community. I appeal to all New Yorkers, particularly those of us who do have franchise in America, that we stand in unity to support our immigrant families."
Officials emphasized that New Yorkers don't need to open their doors without a search warrant signed by a judge; that they have the right to remain silent and request a lawyer; and that there are resources available to them, including the mayor's office, the attorney general and advocate groups.
James said that her office is looking into whether legal action can be taken against the Trump Administration over the raids.
"His efforts are not working because we are coordinated," she said. "My office is carefully monitoring the situation, and I ensure you that we are assessing our legal options as we go forward. We have strong executive orders in the State of New York to prevent federal authorities using state resources and facilities to further immigration enforcement. I will not hesitate to use those executive orders and other laws to ensure that individuals are protected."
Meanwhile, Clarke told BK Reader that the Dream and Promise Act, legislation she sponsored to give Dreamers and immigrants who fled natural disasters and violent conflicts a pathway to permanent legal status, has passed the house. She also introduced legislation to establish a 9/11-style commission to investigate the treatment of migrants at the immigrant detention facilities at the Southern border; the bill will be on the House floor this week, she said.
"It is important that we get to the bottom of the dysfunction of the Department of Homeland Security," said Clarke. "The way immigrants seeking asylum have been treated has shocked the sensibilities of all Americans. And we need to get to the bottom of this."