PK Kersey showed up to a high school in Canarsie on Monday looking sharp in a striped navy Hugo Boss suit and brown leather oxfords. The look was important to his message:
"Coming in the suit gives you the upper hand," he told the seven High School for Medical Professions students who were gathered to hear him talk about job preparedness.
Afterward, Kersey would teach them how to properly knot a tie and take their measurements for new, free suits.
This year marks a decade of visits like these for Kersey, who co-founded the nonprofit That Suits You with his brother Jamael Thompson in 2013. The organization provides free professional attire and career workshops to men and boys. Kersey estimates that the nonprofit has served more than 25,000 people in its lifetime.
An East New York native, Kersey's mission was originally inspired by a career at the Department of Motor Vehicles. When he interviewed for the position, he wore a suit given to him by his pastor, but after 24 years on the job, he realized something.
"A lot of [interviewees] that look like me — Black and brown men — are not being hired because of two main things: They're not dressing properly for the interview, and they're not being prepared for the interview."
Kersey told the students that story on Monday, along with having them guess his age (52), how long he's been married (30 years), his net worth and the cost of a pair of Jordans, compared to the value of buying stock in the company.
"How can you add as much value to yourself as possible?" he asked. "We have to think about 'How I can not just be the consumer, but how can I get the benefit out of what I'm doing; or [become] the owner or the recipient?'"
After his speech, as Kersey measured a classmate's arm length, one student told his friend he used to wear clip-ons.
"Nah, no more clip-ons!" Kersey said.
Kersey has met a lot of high schoolers. In the span of his organization's life, he's been able to follow some of their successes. A student he connected with a suit in high school just graduated from college and has gone on to work for the Gentlemen's Factory.
"To see how it has touched so many people's lives; helped them get jobs; helped them feel good about themselves and to see the smile on those students' faces, that is what really gets me," Kersey said. "Because I know the challenge it can be, being a young Black male."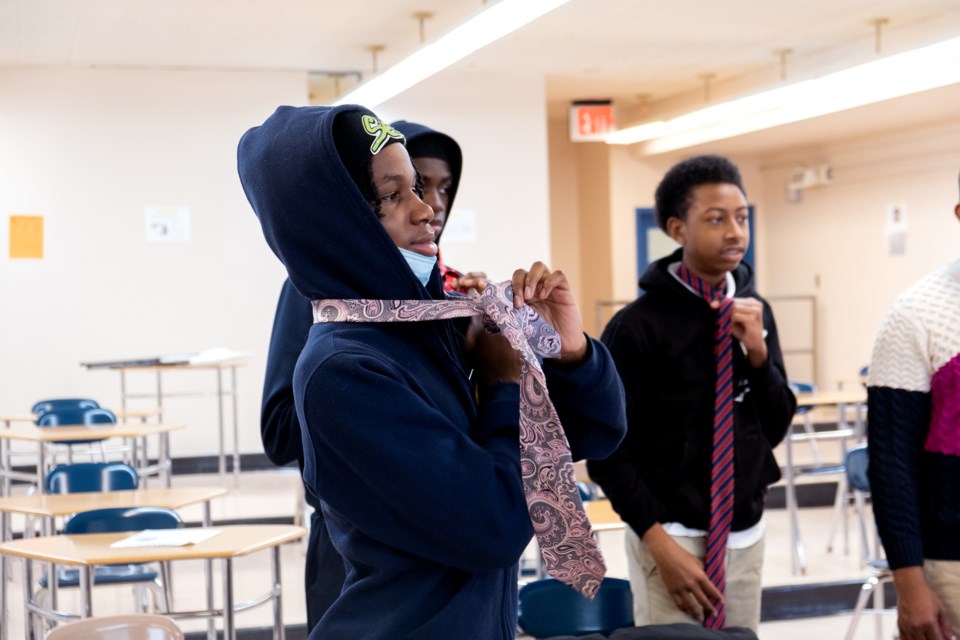 The organization has grown over the years to include a broader population of people and more resources, including a workshop like the one he delivered to the students. While That Suits You originally served men who are or were previously incarcerated, it now also serves homeless men, students at all grade levels and women. Some of the businesses listed among its current and previous partners are the Gentlemen's Factory, Banana Republic, the CUNY school system, Major League Baseball and job training programs such as STRIVE.
Over the last 10 years, Kersey has also become a published author, penning two books on dressing for success and a recent anthology called "Still, I Thrive!"
Kersey and Thompson also published a children's book in 2021 called "That Suits You, Kid!" about a boy looking for a suit to attend a formal event.
As Kersey walked down the hallway to leave the school, a tote bag of measuring tape and extra ties over his shoulder, he considered the part of his speech where he said life is all about adding value to yourself. How can that be true when his mission is philanthropic?
"This is something that gives me value — giving back to other people," he said. "Fulfilling my purpose is part of helping other people see value in themselves. So that in itself adds value to me."