A community-focused photo lab and darkroom is laying roots under a Bed-Stuy flower shop, and for Dominic Ming—who started the business out of his grandma's East Flatbush home with just a bike, a passion, and a helpful connection at Parsons— it feels like good things keep being placed in his path.
Take, for example, the story of how he managed to find the perfect location for Pink Folder Film House in the basement of the Black-owned floristry business Brooklyn Blooms on Fulton Street.
It was 2020 and Ming was walking with his camera when he saw a woman carrying a bouquet, wheeling a bike. He asked to take her photo, developed it, thought, "that turned out nice," and then thought nothing more of it.
Fast forward to 2021 and Ming was looking to move Pink Folder Film House out of his home and into a business location. After a few disappointments and dead ends, he spotted Brooklyn Blooms and paid it a visit.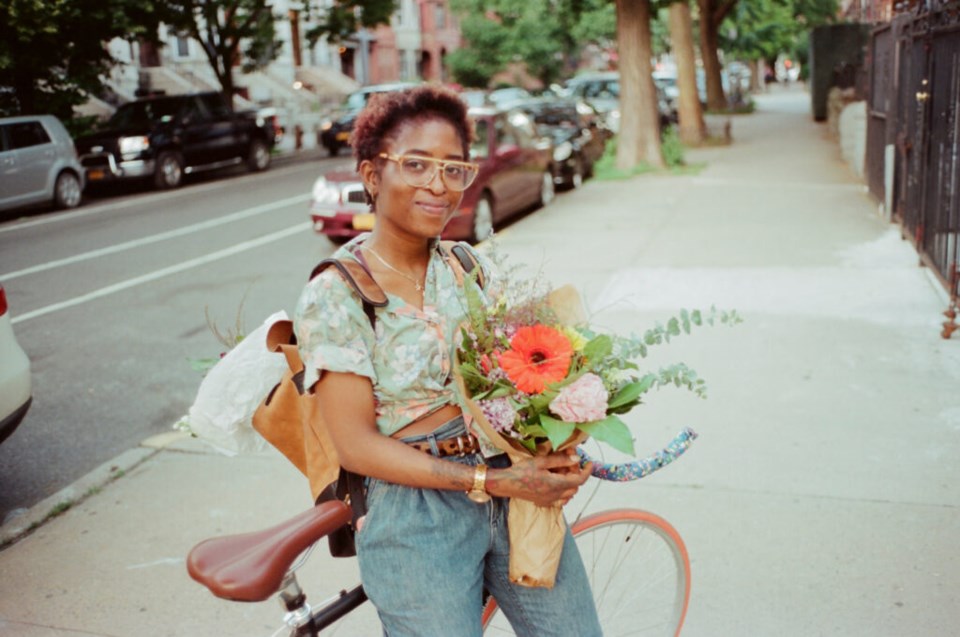 To his surprise, the owner—LaParis Phillips—was the same woman he had taken a photo of the year before. Not only that, she was opening a new location for Brooklyn Blooms on Fulton Street with the perfect basement. Plus, she'd already envisioned a photo space there to do shoots of her arrangements.
After talking business, Ming said he told Phillips they'd met before when he took her photograph in the street earlier that summer. "She was like, 'Yeah, I know," Ming laughed.
Pink Folder Film House opened its basement location in March 2021. The lab offers high quality film processing, scanning, printing and editing. It also sells film.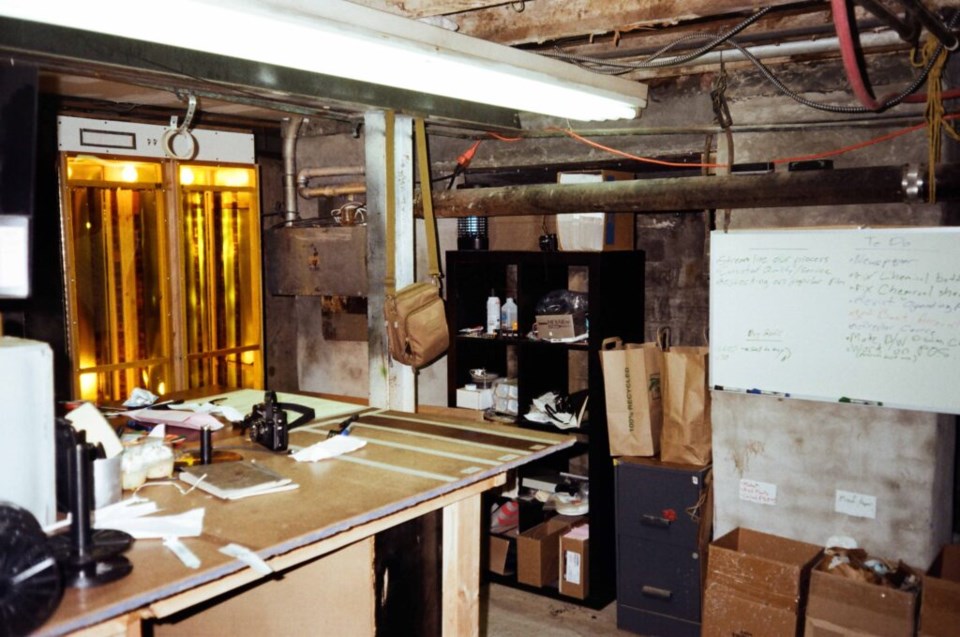 In September 2022, Ming also opened a "pay what you like" community darkroom in the lab, where chemicals, space and machines are provided. Darkroom lessons and workshops are also offered.
Ming is intentional about making the darkroom and lab a place where Black people feel comfortable, and he makes that clear in his marketing.
"My mission is to help people, period. But obviously Black people, specifically," he said.
Some regulars had expressed feeling more comfortable at Pink Folder Film House than they had in predominantly-white photography spaces, where they had to code-switch, Ming added. Through the lab and the darkroom, he was building a community of people who can work alongside each other, feel comfortable, and share ideas.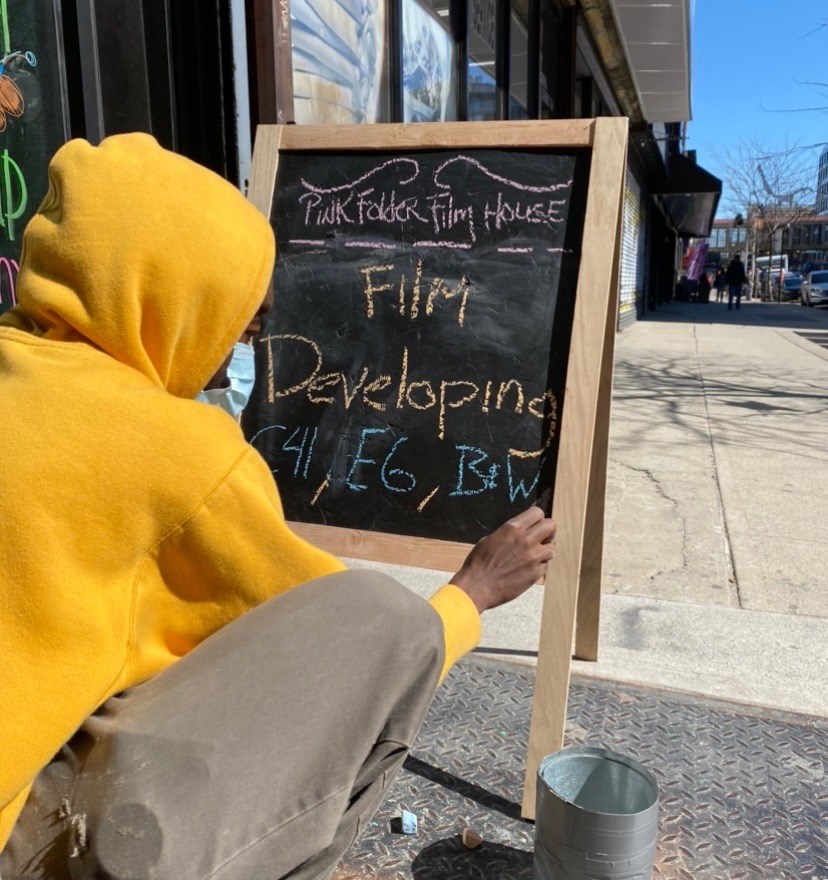 "No one is ever rude. I'm the rudest person here," he joked.
Ming was born in Brownsville and raised in East Flatbush. He attended FIT in about 2014, where he discovered a love for film photography and the analog process. At first, Ming—a skater—was into skate photography, portraiture. Then he started thinking about other things he could do in photography.
In 2017, Ming had the idea to start Pink Folder Film House out of his grandmother's home in East Flatbush, where they both lived. At first, he ran the business picking up and dropping off customers' rolls of film on his bike. He would process black-and-white rolls at home, color rolls through Kubus Photo Service in Greenpoint.
Every couple of days the young entrepreneur would go to Parsons Design School, where he gained access with an alumni ID card acquired through a woman he was dating named Suhyun.
There, he was able to scan his customers' rolls on the university's high quality Imacon scanner.
"If a new lab opens up and it's some guy in his bedroom, you're not about to give him your film unless you really want to support Black business," Ming said. "But because we had the scanner, a good scanner, people were like, 'oh we'll use your services.'"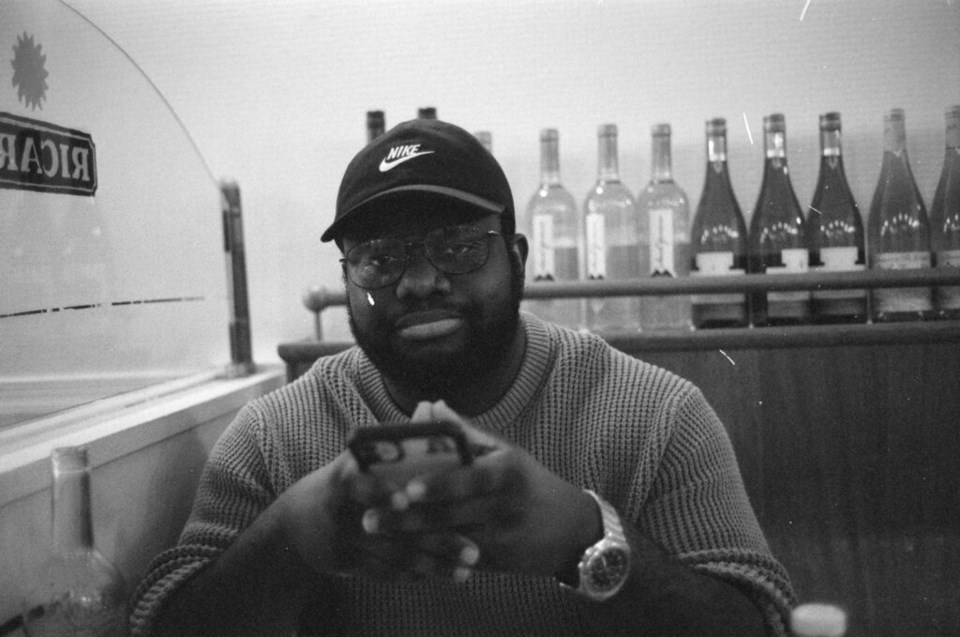 By 2019, Ming had decided to invest more in the business. He teamed up with two friends, including current business partner Sig Yurie, and they used their savings to purchase much of their own machinery.
The business continued to grow and, during the pandemic, Ming decided it was time to get a brick-and-mortar location for Pink Folder Film House. The first hurdle was realizing how much rent for commercial spaces in Brooklyn cost. But motivation can come in strange places.
"One day I watched Eat, Pray, Love and I was like, white people just be chilling," he laughed. "I was like, 'Oh I've gotta do it, I need to get up and find a spot. Let me put my clothes on.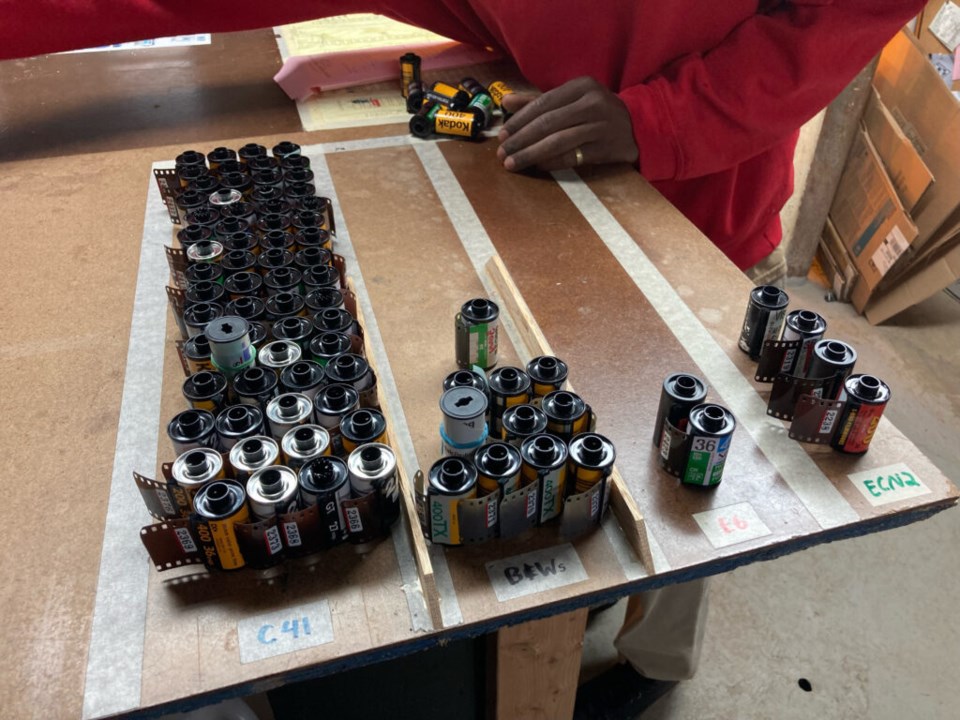 "I put on my boots, like, 'Sad-mode deactivated: it's time to get in the streets.'"
In the winter of early 2021, Ming would lace up his boots each day and walk from East Flatbush to Bed-Stuy, block by block, looking for locations. After that, he'd go home and make calls to the businesses he saw.
It was through this hard work that he found Brooklyn Blooms. The photo of Phillips was a sign that everything was on track.
Since then, things have kept flowing. Ming and his friends fundraised more than $23,000 and were able to buy a new scanner for the business. The business has also benefitted from pandemic-era government funds like the stimulus and unemployment checks (which Ming refers to as "reparations").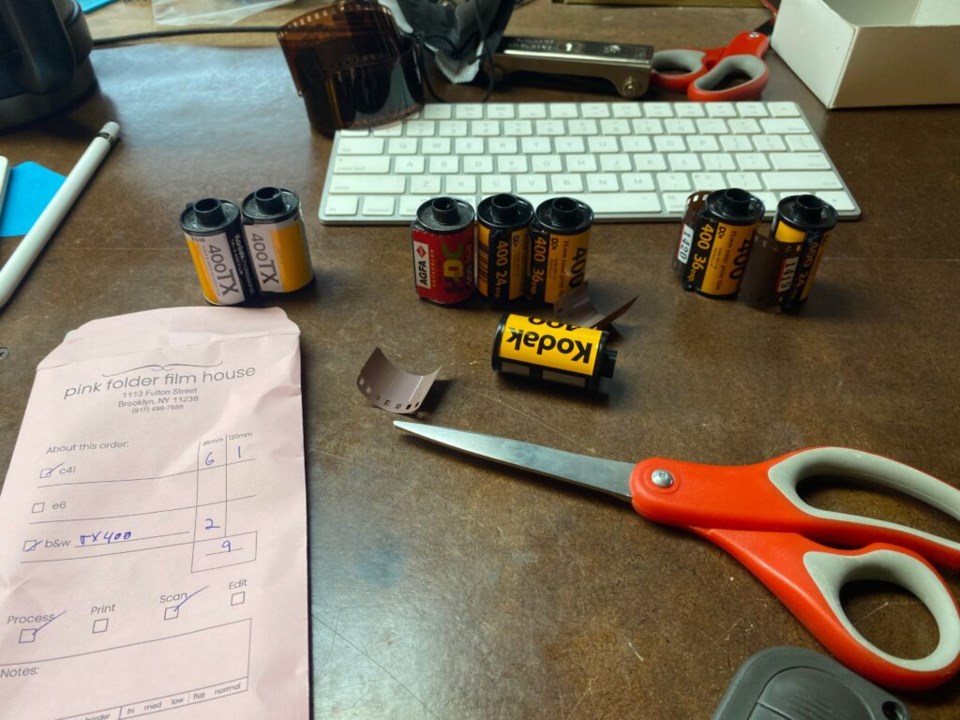 "The GoFundMe was incredible. I did not expect it," he said. "I knew I wanted to do good things for people, and for people to trust some random ass guy was incredible."
In the future, Ming hopes to keep going with the flow to provide a great service for Brooklyn photographers, and keep building relationships.
"I just like the connections I make with people. Those who come, I'm really grateful they have use of the space, and we can really talk about stuff."