In 2020, when the COVID-19 lockdown forced New York City's restaurants to close, the small-business owners of these establishments found themselves in a state of uncertainty and limbo that quickly turned into an emergency.
The restaurant industry operates on thin margins, so even a single slow day can have a significant impact. Sure enough, within days of the announcement, the number of indoor diners across the city dropped to zero, resulting in massive layoffs and vanishing revenues.
Beside applying for governmental and city grants, struggling restaurants turned to crowdfunding platforms, which are websites that allow individuals or organizations to raise funds for a project or cause by soliciting small contributions from a large number of community stakeholders. Through these platforms, thousands of restaurants across the country began asking their patrons for help.
In fact, a 2021 study shows that more than 400 restaurants in New York State, most of them in New York City, opened a crowdfunding campaign with hopes of garnering financial support– mostly to continue paying their employees until things got better or work their way out of mounting debts from ongoing rent.
Did it work? Well, after conducting interviews with Brooklyn restaurateurs and combing through dozens of local crowdfunding pages, BK Reader has learned that the answers are varied, far from inclusive, clear-cut or straightforward as one might hope or expect.
Entering The World That is COVID-19
March 2020 was a month not to be forgotten for restaurateurs in New York City. To be fair, it was an unforgettable month for the United States: A highly contractible and deadly disease called Covid-19, first recorded in Wuhan, China, was making waves across the country. By March 11, the same day the World Health Organization (WHO) declared the virus outbreak a pandemic, New York City recorded 51 cases. The number then jumped to almost 1,300 in the week of March 18; by the next week, it was over 16,000.
The city saw its first deaths in the month of March too, prompting event cancellations en masse. On March 12, the state, headed by Governor Andrew Cuomo, required restaurants to reduce capacity. Schools were shut down on March 15. And one day later, the governor announced a state-mandated shutdown for indoor dining, limiting the city eateries to only take-out and delivery.
Cuomo signed The 'New York State on PAUSE' Executive Order on March 20, which closed all nonessential businesses—meaning anything but essentials like grocery and healthcare—and directed a 90-day eviction moratorium for commercial tenants that would get extended throughout the pandemic.
Nightmares struck restaurants. Especially those in Brooklyn.


Brooklyn Restaurants Turn to The Lifeline That is GoFundMe
Before the pandemic, Brooklyn, a borough of 2.6 million residents, had begun building a reputation as a veritable food destination, and the restaurant scene was booming. From a wide variety of ethnic cuisines, to the best hole-in-the-wall takeouts, to fine dining, residents, tourists and foodies alike were sure to find an eatery with a menu to satisfy any palate.
For a bowl of hearty gumbo soup or a dozen shucked oysters on half shells, you had Lowerline at Sterling Place in Crown Heights. For a mix of international cuisine that ultimately brings comfort, Cheryl's Global Soul, a 2-minute walk from Prospect Park, was the place to go.
Amarachi in Dumbo served Afro–Caribbean flavors; Park Slope's Coconana offers distinct and authentic Vietnamese coffees and banh mis; and Brooklyn Moon, described as a "part of the 'DNA' of what Fort Greene is today," has served Brooklynites Southern soul food for more than 28 years. Any cuisine one wishes to try could be found in this borough.
During the pandemic months and continuing until today, the aforementioned restaurants are just some amongst scores of others in Brooklyn that turned to GoFundMe—a crowd-funding platform—for financial support.
Brooklyn Moon, a cafe-turned-restaurant, quietly celebrated its 28th year on Fulton Street this past January. However, unfortunately, its owner, Michael Thompson, is unsure the store will see its 29th year. His GoFundMe was started in January 2023 with a goal of $200,000.
"[Covid impacted my business] extremely. Extremely," Thompson said. "We used to open from 11:30 in the morning to 10:30 at night, serving lunch, dinner and brunch on the weekend. Money wasn't a challenge back then. Everything works itself out."
"Now," he continued, "I'm constantly juggling and prioritizing, and it gets to the point where I can only pay one bill." It turns out, when businesses were rushing to apply for loans and governmental support, Thompson, the son of a nurse, had another priority in mind: supporting frontline workers.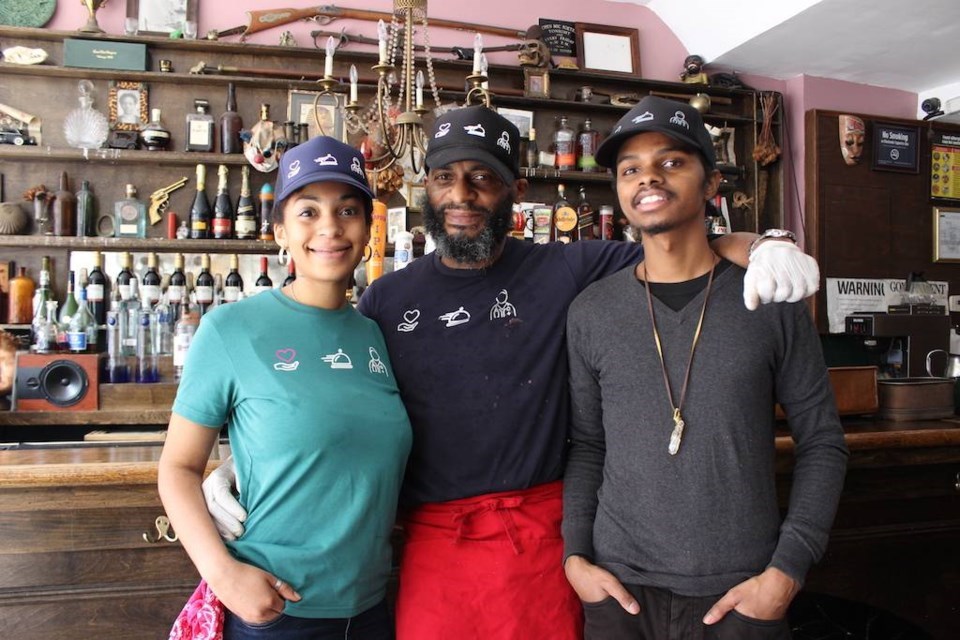 A coalition called Brooklyn for Life, founded by Thompson and Vito Randazzo, owner of Graziella's in Fort Greene, worked to provide meals to doctors and nurses—the very ones who were battered physically and mentally during the pandemic. Brooklyn For Life also had a GoFundMe organized by actor Jeffrey Wright, and later got the support from then Borough President Eric Adams. The crowdfunding raised over $400,000 for more than sixty restaurants, allowing the two restaurants to contribute 170,000 meal kits to hospitals, EMS and police stations.
"I was running around, cooking, delivering food. I didn't have time to look for money," said the Brooklyn Moon owner. As his GoFundMe slowly inches forward, having only reached a little under than $6,000 of its goal, Thompson's energy dwindles.
"For the lack of expression: It's not fun anymore. As you see where things are going, with the food prices and shortages and what have you, the reduction in business … I'm doing it for the spirit of it at this point."


Crowdsourcing, Evolving and Bouncing Back
On the one-way Union Street of Gowanus lies a small tea house, obscured by the big truck container. It seems that the area is going through some major reconstruction. The shop, serving Japanese tea-infused sake and dishes like yuzu turmeric chicken and grilled eel, is owned by Fumio Tashiro a.k.a BombSun, a musician turned restaurateur.
His restaurant, Mirror in The Woods, succeeded in its crowdfunding efforts. And throughout the journey of battling to stay open during pandemic time, Mirror has found for itself a new persona.
"We opened in 2017, and at that time, it was a different space, only a tea house with musical artists performing at night," Tashiro said softly during our interview. "There weren't any signs. People would come to our space through word of mouth. When the last band that performed before we had to close to the space, a hundred people were packed in here."
The "Here" I visited, according to Tashiro, was now a completely different environment. It was hard, though not impossible, to imagine the quaint tea house as a place that used to be a crowded secret music hall. There are only three tables, six total seats, and visitors are now required to take off their shoes before dining in.
"We knew we had to shut down immediately," Tashiro recalled at the start of Covid. "And suddenly, we had no customers. No people [were] walking outside, and we didn't know how to survive."
He and his wife, Miho Morita, very quickly had to come up with ideas on changing the business model: "We started doing take out," he said. "We had to create a menu (there wasn't a menu back then), and turned this into a cafe and a restaurant too."
And they had to make signs, or in another word, make himself and his shop known to the world. He recalled a time when he had to build the shed for outdoor dining by asking for wood at the nearby construction site, and carrying the planks back one by one. If there's one thing that Tashiro is proud of, it's the self-made space he and his wife created. "Everything in here is handmade."
That period also marked the first time that Tashiro went to GoFundMe. Organized first in May 2020, the campaign was not a success story. He only managed to raise a little less than half of his goal then.
In one GoFundMe study, conducted in January 2020, it was found that the amount of followers and shares a GoFundMe campaign receives on social media has a direct influence on the campaign's outcome.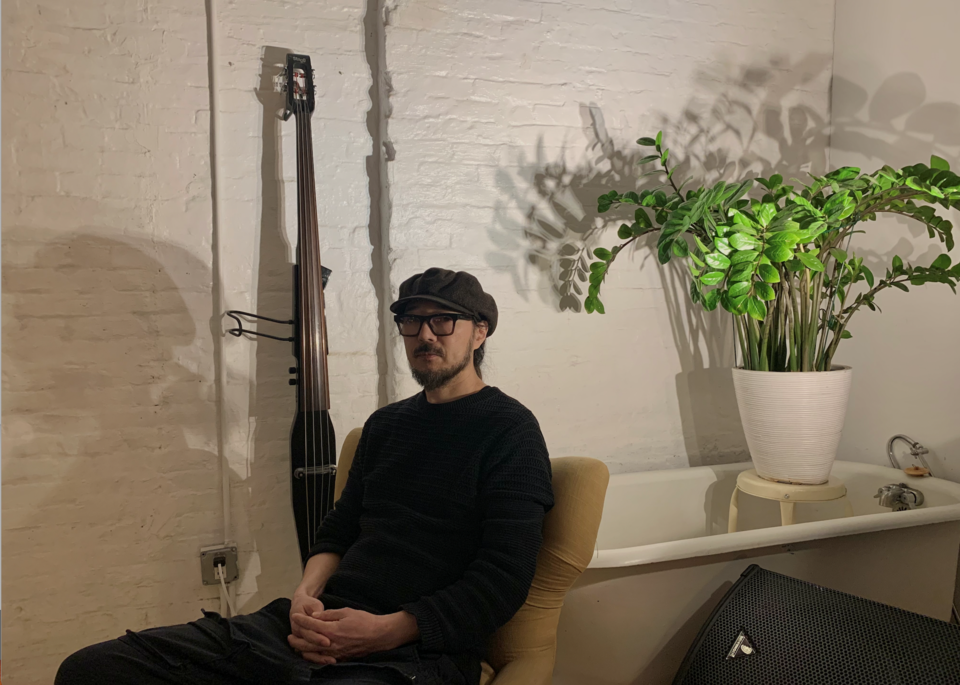 The same held true for Tashiro. He pointed out that his second crowdfunding campaign was a success, after it was shared in Park Slope Together (a community Facebook page) by two different people. He said the engagement on the posts is really the reason behind him meeting his campaign goal.
Tashiro also received funds from the Paycheck Protection Program (PPP), the SBA-backed loan that helps businesses keep their workforce employed during the COVID-19 which helped him pay rent and buy supplies. Not to mention, he added, his landlord was very accommodating and understanding of the circumstances.
"Our landlord is very nice. He is the reason we could survive and stay here until today," Tashiro said. "He is also an artist, so he understands our struggle."
When asked if he plans to go back to the musical, crowd-gathering days now that pandemic has sufficiently waned, Tashiro said, "I like the quietness better."
His place has now turned into a home for a different kind of gathering, one of smaller parties and quieter voices. Tashiro smiled and said business has been busy.
The long list of reservations on his website signals it will stay that way for some time.

---
Part 2 of this series delves into additional restaurants in Brooklyn that relied on crowdfunding, and explore how outcomes were influenced by variables such as landlord relations and government support.
---
This story was produced as part of the Small Business Reporting
Fellowship

, organized by the Center for Community Media and funded by the NYC Mayor's Office of Media and Entertainment.