The WNBA season is set to kick off on May 19, and the excitement is already building for the staff and players of the New York Liberty.
On Thursday, March 23, the Brooklyn Nets showed solidarity with its sister team by hosting a Women's Impact Night — its second this month — with a pregame panel discussion, during Women's History Month.
"WNBA: Past, Present & Future" huddled together WNBA executives, women CEOs and entrepreneurs, along with past, present and future WNBA players around their vision for moving the league forward in the season to come.
The panel discussion was moderated by HighlightHER Founder Ari Chambers and featured NY Liberty Center Stefanie "Stef" Dolson; NY Liberty CEO, Keia Clarke; Esther Wallace, founder of Playa Society; and WNBA Player Relations and Development Manager and former NY Liberty Player, Taj McWilliams-Franklin.
The panelists talked about the evolution of the women's basketball industry and the New York Liberty — a team they've all witnessed move from the Prudential Center in New Jersey, to Madison Square Garden, to Westchester to its current home at Barclays Center.
Seeing the changes and gathering the strength and courage to push on when the waters are murky had become par for the course for everyone involved with the Liberty through the years.
According to McWilliams-Franklin, fighting through those challenges not only helps develop better players, but it also becomes one of the many reasons that women athletes end up in leadership roles and CEO positions:
"The perseverance, the hard work, working through difficulties, building self-esteem… basketball really helps you become more of who you were meant to be," McWilliams-Franklin said.
"I believe the statistic is that 56% of all CEOs that are women played sports. And so those skills are transferable, no matter what sport you play — it doesn't have to be just basketball. It can be soccer, track and field, gymnastics, cheerleading, it brings out the best qualities you need to be an executive."
"I didn't choose this; this chose me," Wallace said of her athletic wear business, Playa Society.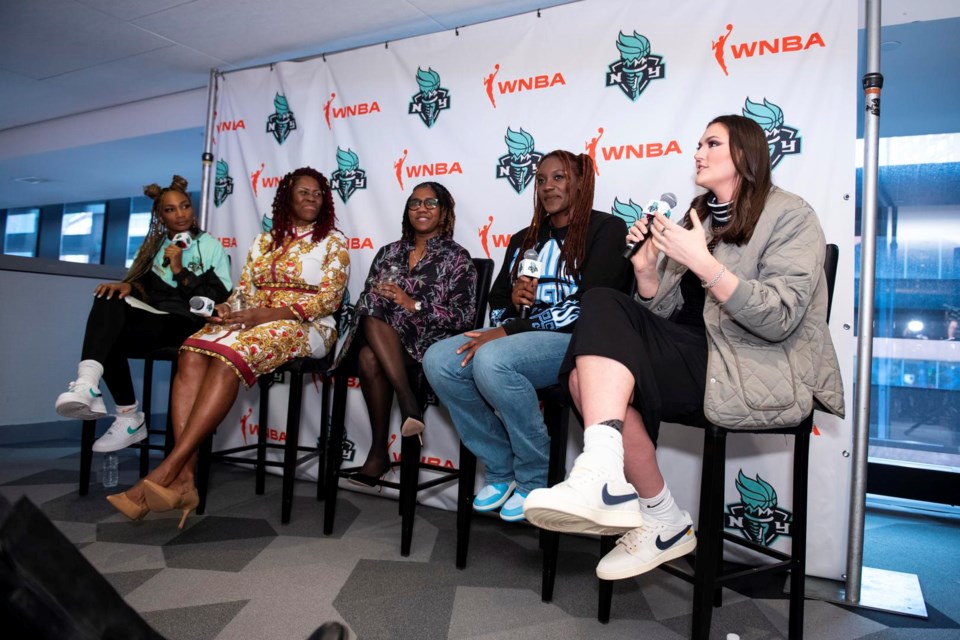 As a former Division I basketball player, Wallace, 32, said she faced microaggressions and second-class treatment in her professional career following college, even though she only played for one year in England.
She launched Playa Society in 2018 initially to promote representation for women in sports, starting with her trademark "Female Athlete" t-shirt. Through the years, the business has grown into a design platform for storytelling for women athletes and their fans.
"I did not want to play basketball. I wanted to go to fashion design school and design red carpet looks. I almost missed that opportunity to get on the basketball court and find that passion I had for basketball and develop those skills that would put me in a position and prepare me to be this CEO. Imagine missing out on that opportunity."
From activism to pure athleticism, Clarke said that the type of fans players hope to fill the seats with are those who respect the contributions of women as true competitors and natural leaders: "If you care about women doing excellent things every single day; if you care about the elite athlete; if you care about an entertaining experience in New York City in the heart of Brooklyn, then this is where you should be," she said.
"That's the blocking and tackling we're doing every day. The rising tide, the brands and the corporate partners that are locking arms with us and saying, 'This thing is cool, and it matters. And so, I'm going to put my money where my mouth is.' I think that's what's changing the game."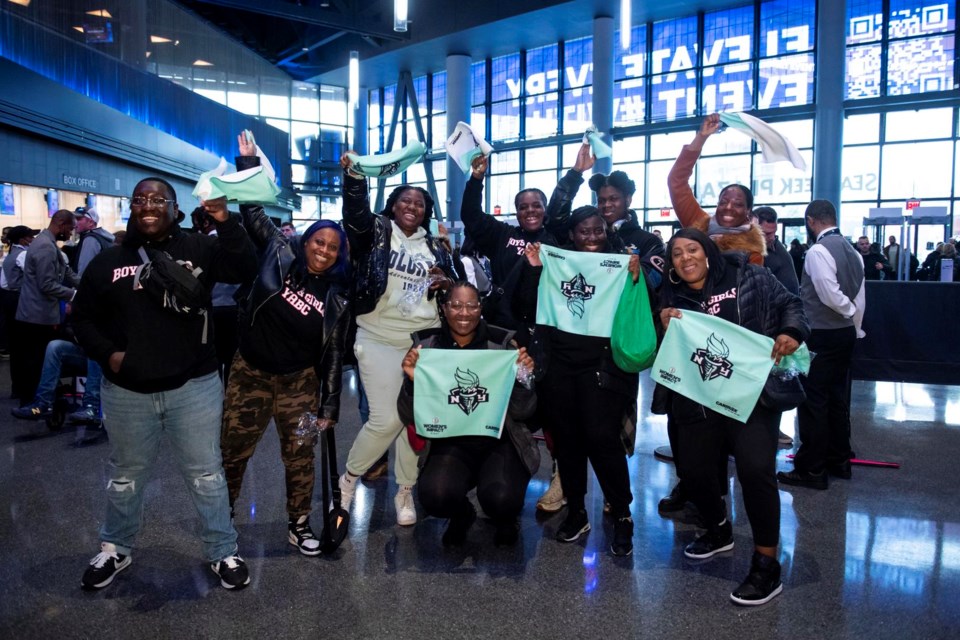 The optimism among the players and panelists was palatable. Showing up time and time again with consistency, no matter what, proved to be the winning strategy, they agreed.
"Showing up every day, showing up for my teammates, I think what's gotten me this far is being consistent," Dolson said. "Playing basketball for so long, you never want to lose. The organization has done such a great job in bringing in the right pieces, and there's been more buzz around the league…
"People should just come out and watch us great athletes playing. And, we're going to win!"