On Wednesday, March 22nd, The Brooklyn Nets, New York Liberty, and BSE Global had a press conference to announce a new partnership with New York City Public Schools to expand their community-based youth basketball clinics citywide.
Through the new partnership, the Nets and Liberty will provide free basketball clinics to public elementary and middle schools throughout Brooklyn.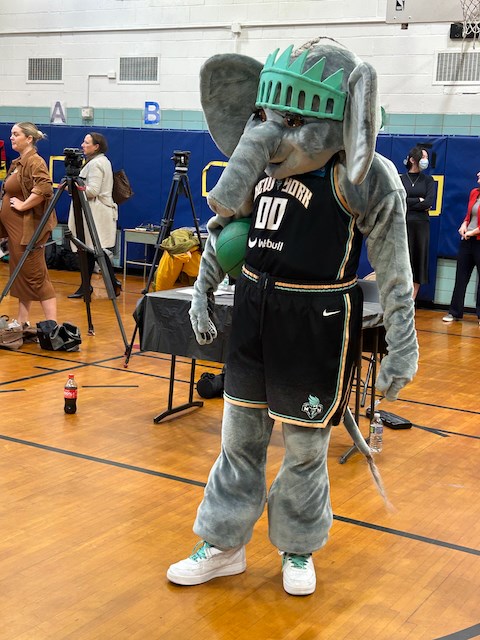 Brooklyn Nets player Cam Johnson, New York Liberty center Jonquel Jones, Nets coach Jacque Vaughn along with other team coaches and representatives were on hand with the Department Of Education were on hand to announce the initiative in the school gym at P.S. 001 The Bergen School, in Sunset Park, Brooklyn.
Each week, the Nets and Liberty will host 20 clinics at various schools during gym periods. Prior to the announced expansion, the Nets and Liberty were previously hosting after-school clinics in Brooklyn on an individual school basis.
The clinics will be managed by youth basketball coaches from the two respective organizations and will teach students about the fundamentals of the sport, in addition to important leadership and life skills.
"We have a unique opportunity to make a positive impact on young individuals as our clinic programs not only teach basketball fundamentals but are also designed to provide critical life and leadership skills off the court and in the classroom," said Sam Zussman, CEO of BSE Global, parent company of the Brooklyn Nets and New York Liberty.
It was the setting for an enthusiastic introduction to the partnership, where New York City Schools Chancellor David Banks led off the press conference by talking about his love of basketball and delivered a touching remembrance of NY Knicks great Willis Reed, who recently passed away.
Zussman also spoke about the initiative being a continuation of his previous work at IMG academy, where he helped students develop into good people and not just good athletes: "We really look forward to deepening our relationship with NYC public schools and share our unwavering commitment to serving this community and its residents," he said.
Cam Johnson, who recently joined the team via a trade with the Phoenix Suns, spoke about the positive impact that basketball had on his life growing up and how it taught him life lessons.
Jonquel Jones, New York Liberty player and former MVP of the WNBA said that showing up and participating in the basketball clinic was important because, "If you can see it you can believe it, and it makes the kids' dreams feel a little bit closer."
Coach Jacque Vaughn said that the initiative is "who the Brooklyn Nets want to be as an organization by pouring themselves into the community."
Brooklyn School District 15 Superintendent Rafael Alvarez, said "he wanted to give access to kids who saw basketball as their way out to look at the sport as a way to other opportunities."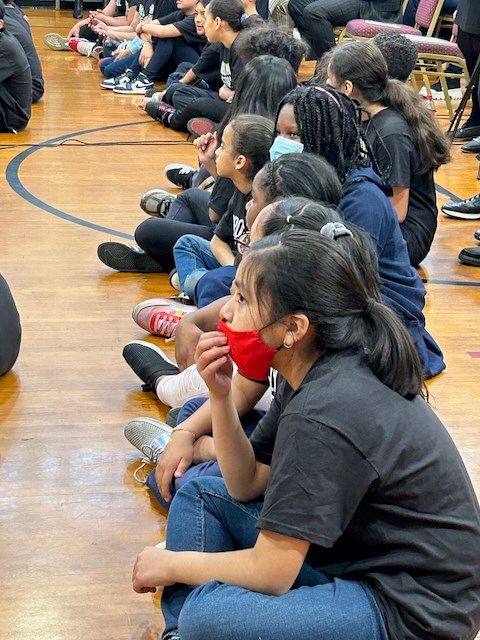 The first clinic took place immediately after the press conference, where instructors like Roneeka Hodges, New York Liberty Assistant Coach taught the kids basic basketball skills like dribbling with your head up and led them through a series of jumping exercises including burpees. For this school year, all elementary and middle schools in Brooklyn will have a chance to participate in the program, with the program reaching approximately 50,000 youth by the end of 2023.
The kids at P.S. 001 were super excited about the clinic and eagerly took part in the drills, even if they weren't overly skilled with a basketball in their hands. It was an opportunity to feel seen and heard by sports stars and a reason to keep striving for their goals with champions and world-class athletes taking time out of their day to support and nurture their futures.
"Innovative partnerships that support students on a journey to becoming well-rounded citizens are a vital part of any effective school system," said Chancellor Banks.
"It is an honor to work alongside BSE Global to help foster leadership skills and a lifetime of healthy habits, and inspire students to put the values that they develop to great use off the court."