When Bed-Stuy's B.T. Williams walked into streetwear store Clockwork in SoHo this past Thursday, he had to take a moment.
Up on the wall in the store was a fresh new mural of his late uncle, the acclaimed actor Michael K. Williams, who passed away Sept. 6.
B.T, who curates memorial murals himself, had come to see it for the first time.
"You captured him â€" for real. I'm looking at this trying not to cry. Like goddamn. It's breathtaking," he told muralist Carl J. Gabriel and the Clockwork staff.
It's been almost one month since Michael K. Williams â€" the 5-time Emmy award nominated actor and Brooklyn hometown hero â€" was found dead in his Williamsburg home.
Now, his family is still grappling with the loss of the man they say made their family better, and never stopped working to make Brooklyn better, too.
"It's absolutely a nightmare that I can't wake up from," B.T. says. "But something I'm more conscious of over the last couple weeks is making sure I'm being as impactful to other people's survival and sanity in this time as possible.
"I get that from my uncle Mike, and I'll never lose it, because he lived by it. He was showing us that and teaching us that. And that's what a celebrity is supposed to do, in my opinion."
The kindness
On Thursday, speaking in front of the unmistakable gaze of Williams â€" beloved by many as Omar of The Wire â€" B.T. reflected on what made the man so extraordinary.
There was the time Michael K. Williams invited a homeless man out for dinner to an upscale Williamsburg sushi restaurant, paid for everything and then gave the man his watch.
As B.T. remembers it, they were walking down the street when the man stopped his uncle with the common question: "Hey man, don't I know you from somewhere?"
Williams played along, joking with the much older gentleman that yes, they'd gone to school together, and didn't he remember?
One thing led to another, and the next thing the man was invited with them to Fushimi, and told to order enough that he'd had some to take away after he'd eaten. When the man complimented his watch, Williams took it off his wrist and gave it to him.
"I was like yo, Unc, calm down," B.T. laughs. "But he was like, 'This is nothing, this is trinkets.' That's how he really felt about it.
"He said, 'I love inspiring people, but I love helping people more'."
B.T. also laughs remembering the time Williams was completely oblivious to having caused a three-car crash on Nostrand and Atlantic, because a woman driving behind their bike fitness convoy was so excited to see him.
He said the celebrated actor would always stop to take a selfie with fans, have a laugh â€" even talk to your mom on the phone, if you asked.
"Even people who just meet him call him Uncle, because he's like an uncle to anyone he comes across, he's that kind of spirit, that kind of nurturing."
A special bond
B.T grew up with Williams in his life since the age of about 10, after his grandfather married Michael K.'s mother. The pair had a tight bond, fortified through their love of film, and Michael's encouragement of B.T.'s writing.
"We would just watch movies and break down the mechanics and the science of how to write a script, the cinematography, how to put a story out in a way that's important and touching and can connect.," B.T. said.
B.T. trained as a welder, but it was his uncle Mike who encouraged him to express himself. He'd been writing since he was age 12, but it wasn't until he showed Michael one of his books that he realized he had stories worth telling.
"He was the first one to say, 'I believe in you, this is great, you need to hone your skills and go to the next level. And from there I went to the New York Film Academy. It was the best thing that ever happened to me."
Throughout the years, B.T. had the opportunity to work with Michael K. on many of the productions he booked, either on the crew or in the behind-the-scenes team. Over the past five years, Michael was in touch every morning with words of encouragement.
"Every morning he would text or call, 'Yo, good morning, neph, time to get up, time to take over the world."
A hometown hero
Michael K. Williams grew up in East Flatbush's Vanderveer Estates and built a career from backup dancing for artists like George Michael and Madonna, to being spotted by and starring alongside Tupac Shakur, to roles in The Sopranos, Boardwalk Empire, The Night Of and When We Rise.
Despite his acting accolades, B.T. says his humanitarian work was more important to him than the recognition for his craft.
He was the American Civil Liberties Union's ambassador for ending mass incarceration, and was passionate about ending long-term sentences for juvenile incarceration. He also championed reentry and rehabilitation services post prison and addiction, and supporting mothers and children in shelters with the resources they needed to thrive.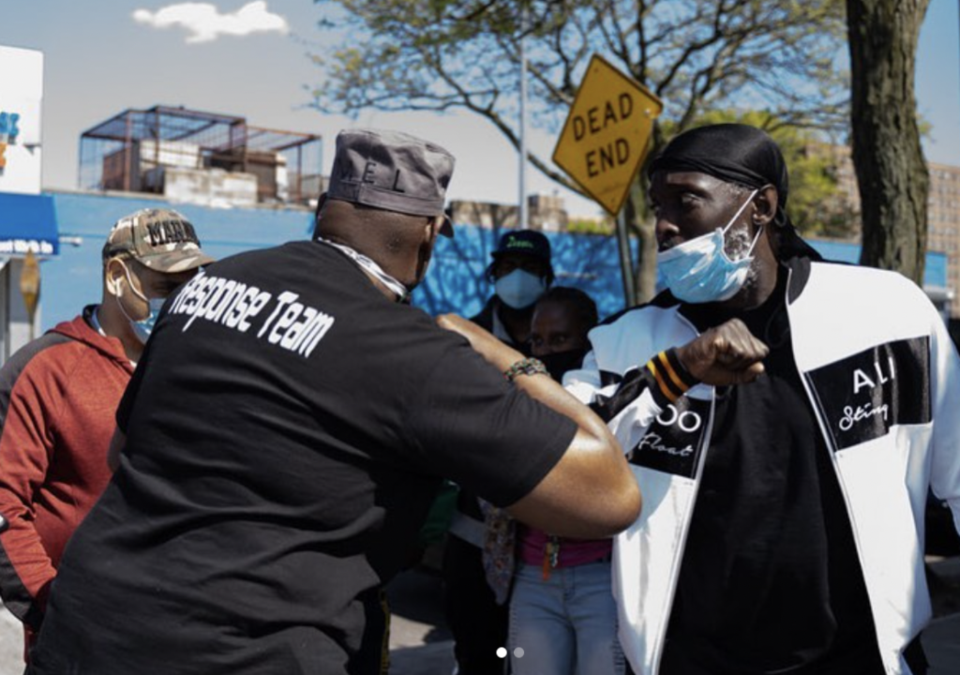 Williams was one of the founders of We Build the Block, a community-led organization to be part of the conversation on public safety.
Throughout this year and last, Williams and the organization was busy in Brooklyn with community events at his old housing complex â€" now Flatbush Gardens â€" and in Crown Heights, Brownsville and East New York.
"You don't see a lot of people at his status come back to the community and do food drives and do COVID drives," B.T. said.
"That's what I want people to know about him: he was a humanitarian. And he taught me so much about being humble and having humility with your fellow man."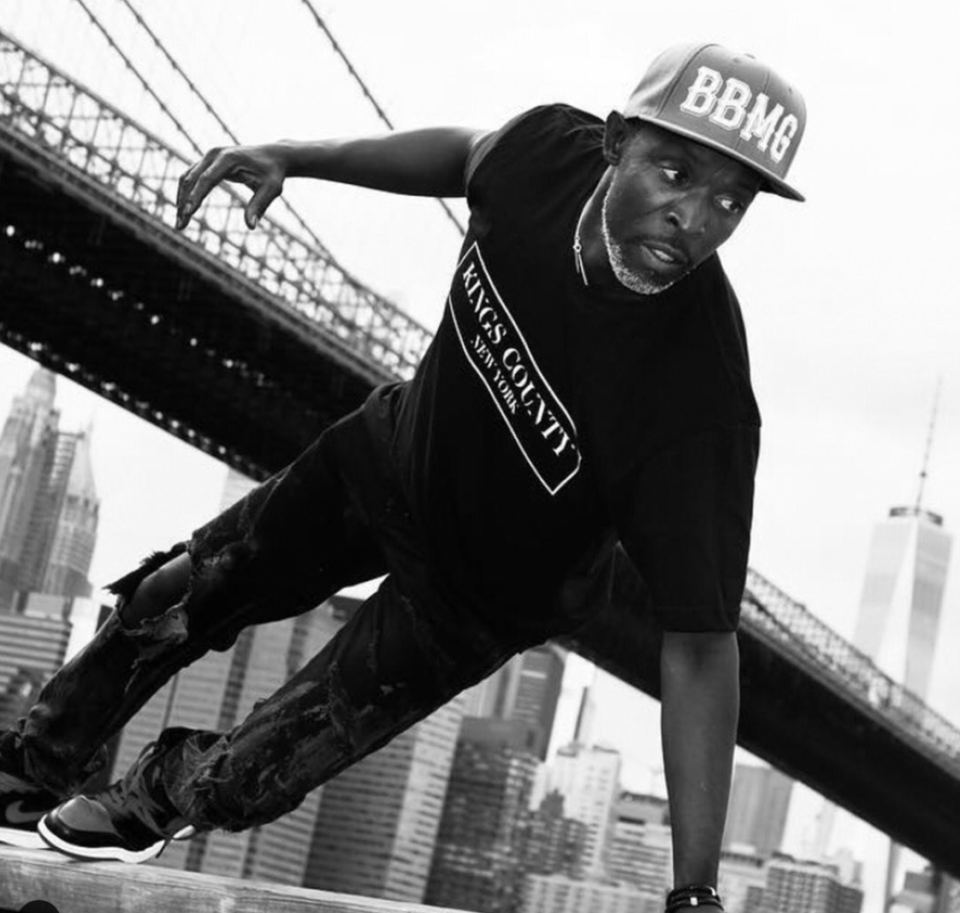 A tribute in Manhattan
At Thursday's showing of the new mural at the Manhattan streetwear store Clockwork, the sales staff remembered how the Hollywood star made them feel when he walked in, too.
"It was his energy," salesperson Tye La Flare recalled.
"Every time he came we tried to give him something for free. But he said, 'Na, I gotta support my little brothers.' He said it with the biggest smile and then he smacked the sh*t out of my hand," La Flare laughed.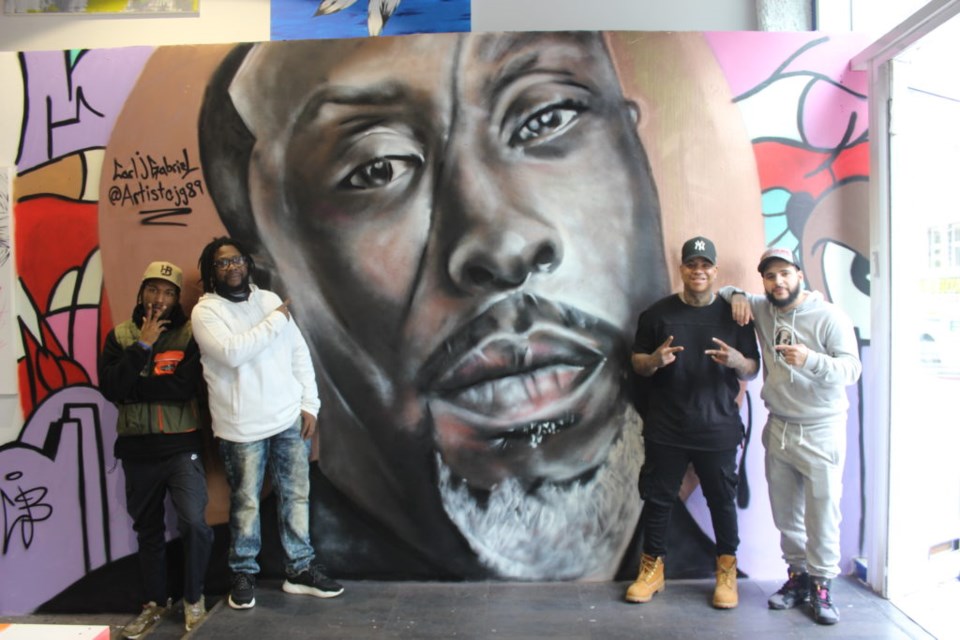 The mural, which was completed earlier this week, was commissioned by the store's owners Marcos Pinto and Kerven Estrella. Gabriel offered to do the wall for free after hearing Pinto speak about Williams, who was a regular at his store.
"I got to know the feeling of how the coworkers and everyone felt about him coming in, and just he love and appreciation he gave to them. Sometimes you just do it for the love and passion."
Seeing the mural for the first time was emotional, B.T. said.
"I wasnt expecting to feel it like this. You can feel the energy in it, especially because this is a place he used to be in and out of a lot.
"He just loved to connect with people."