Whether recording a roots band jamming on the streets of Bed-Stuy, gypsy punk on a rooftop or Latin ska on a deck in Bushwick, New York not-for-profit Urbano Street has always met underground music wherever it lives.
So when the pandemic hit and people were forced inside, the organization did just that -- organizing to visit musicians at their homes to record and raise awareness and money through sharing their stories online.
It's all part of Urbano Street's mission to support the city's independent music scene by producing free, high-quality audiovisual recordings for artists, that artists can then take and use to reach people and secure new gigs, radio and festival opportunities, co-founder Diana Hernandez said.
"It's expensive to get high-quality media. That's what we do."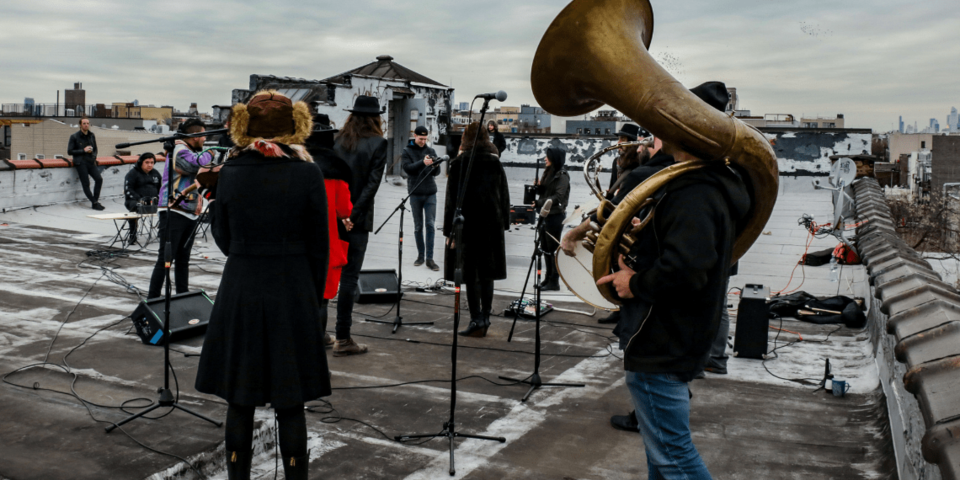 Urbano Street is run by two Colombian immigrants and music-lovers Hernandez and Lucho Parra.
Hernandez came to the project in 2018 after spending much of her working life in corporate environments in the tech industry. While still working a day job in tech, she brings her business skills to Urbano Street, and a passion for keeping artists' concepts pure.
Authenticity is imperative, with many of the recordings made on the streets of New York -- incorporating trains rumbling by, trash piles and onlookers.
The idea is "professional, but not perfect," Hernandez said. "Everything we post is very raw, like the streets."
At home with the underground
Since May, Urbano Street has been documenting artists at their homes -- whether singing out a bedroom window, mixing music in a communal courtyard, or playing drums street-side -- for the series U-Window.
With each video posted to Instagram, Urbano Street reminds its viewers that musicians are one of the most affected groups during the health crisis, including many immigrants and many who rely on jobs in the hospitality industry to survive.
And the reminder has paid off. After Colombian drummer Andres Fonseca, aka Drukas, was documented in July doing an improvised percussion piece outside his home in Flatbush he received a number of donations to help him keep making music in New York.
With typical Urbano Street-dedication to Brooklyn authenticity, Fonseca is framed in between a discarded mattress and a trash bag as he plays, and talks about the personal difficulties he's faced due to the pandemic.
"Everyone knew he was depending on music to survive, and a lot of people Venmoed him and donated to him," Hernandez said.
Price of recording
It can cost up to $3,500 for one high-quality audiovisual recording, which is out of reach for many independent artists.
"The problem when an artist is applying to play at a festival, or just a DIY venue in their neighborhood, they have to show quality of their performance live. Many times they just have content from their phones that someone recorded," Hernandez said.
Using a collaborative business model, Urbano Street creatives volunteer their time or trade their time for services they need to produce industry-standard recordings for selected artists.
"We record channel-by-channel and it still has that underground concept, but it's high-quality, so when a festival sees it they can see the quality of the band," Hernandez says.

And Urbano Street's eight U-Capture recordings filmed prior to the pandemic have produced results for the artists involved.
After gypsy punk band Bad Buka was captured by Urbano Street on a Bushwick rooftop, they were invited to play a series of shows across New York. After ska band Ensamble Calavera was recorded on a Brooklyn deck, they were added to a ska compilation in Mexico.
Yet another band found their new lead singer through the process. "Every band has its own story," Hernandez said.
The artists chosen so far have been either those influential and impactful in the DIY music scene, or emerging artists without the means to record themselves.
How to help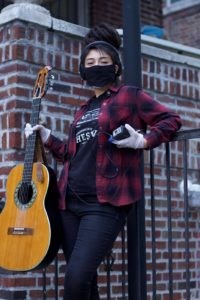 Before the pandemic, Urbano Street was ramping up its efforts, organizing a fundraising show for May they had hoped to make a monthly event.
However, the organization has recently launched a Patreon so music-lovers can support the underground music scene and its artists in a more permanent way.
Hernandez hopes readers might consider subscribing or donating what they can to keep independent musicians afloat through them.
"We want to be able to pay the crew members and the artists one day, and we're not going to be able to make that happen unless they subscribe to us and support the scene and music and street art," she said.
To check out Urbano Street's Patreon and donate to New York's independent music scene, click here.