On October 10, 2017, the United States suffered what was a previously unthinkable disgrace by failing to qualify for the 2018 FIFA World Cup.
They didn't miss the qualification because they had to play grand soccer nations like Germany, France or Brazil to qualify. The U.S. was up against Mexico, Costa Rica, Panama, Honduras, and Trinidad and Tobago. Relative to the talent the U.S. has access to, the qualification should have been an easy task.
Those six teams competed for three guaranteed spots, while the fourth-placed team goes into a continental playoff. Our team lost 2-1 to Trinidad and Tobago. And with both Honduras and Panama scoring unlikely victories, the U.S. fell out of contention for qualification.
So yes, the U.S. failed to qualify for a tournament that more than half of the teams move on to.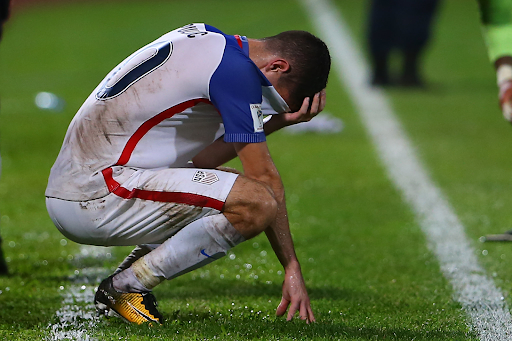 But why?
While there have been many discussions and theories surrounding the issue, unfortunately, there's no simple answer to that question.
One theory is that the U.S. doesn't put enough resources into soccer. This is false: The U.S.top domestic soccer league, the MLS, invests close to one billion dollars of revenue per season.
Another wildly circulating theory is that there are not enough people in America who play the sport. Up until recent years, that has been true. But between 1990 and 2000, the sport slowly and quietly gained momentum. Today, with over seven million soccer players between the age of six and 17, it has the highest youth participation of any sport in the United States, even compared to baseballl, which currently has five million youth players.
However, arguably the biggest issue, one I think does not get talked about enough, is that soccer isn't seen as an American sport. America doesn't play this game. For years, soccer in the U.S. has been stereotyped as a "less masculine" sport, one that is "just" for women and Europeans. We even have tried to make it "more American" by creating MLS franchises with their own, unique set of rules -- like the innovative penalty shootout, something no other international professional soccer league does.
This un-American, unmanly image has hindered the development of soccer in our country for decades.
And so has the game's lack of exposure to the broad public. Between 1968 and 1974, there wasn't a single televised professional soccer game in the United States, and the highest professional soccer league didn't launch until 1996.
The league's scarcity of American star power, with the country never producing a true world-class player, is not helping either; though that may change soon with the current national team's captain Christian Pulisic.
The lack of exposure affected the sport even on the youth level, which has caused the youth participation in soccer to take a considerable dip in recent years. Yes, soccer currently has the highest participation of youth players, but as the kids get older, they often stop playing the game and grow into other sports such as football, baseball and basketball.
The expenses of playing the sport are another issue stalling soccer's growth potential. The costs can go into the thousands if a child wants to play on a travel team and against quality, high-level competition.
Still, over the past decade, the sport has gained traction and popularity in America, with games from international top-level leagues being broadcasted on local channels like NBC and on cable channels such as BeIN sports. Also MLS games are regularly broadcasted on national television throughout the season.
But: If the United States really wants to turn around its national team, then it should look to emulate other national soccer federations that oversee perennial world cup contenders such as France, Germany and Spain.
That may mean swallowing a little bit of pride and admitting that the American way may not be the best way. But if that doesn't happen, then we may as well leave soccer to the Europeans.