With Albany state officials still up in arms about what to do with the already deteriorating Brooklyn-Queens Expressway, New York City Mayor Eric Adams and his administration is offering a glimpse of some changes it hopes to make without involvement from Albany, reports Streets Blog NYC.
The new renderings for the portions of the BQE south of Atlantic Avenue and north of Sands Street were released on March 21, in advance of the latest community workshop for residents of southern Brooklyn. The mock-ups are hopeful to say the least, suggesting that the NYC Department of Transportation envisions a near future where the BQE's status as a pollutant is quickly altered.
"The [BQE has] negatively impacted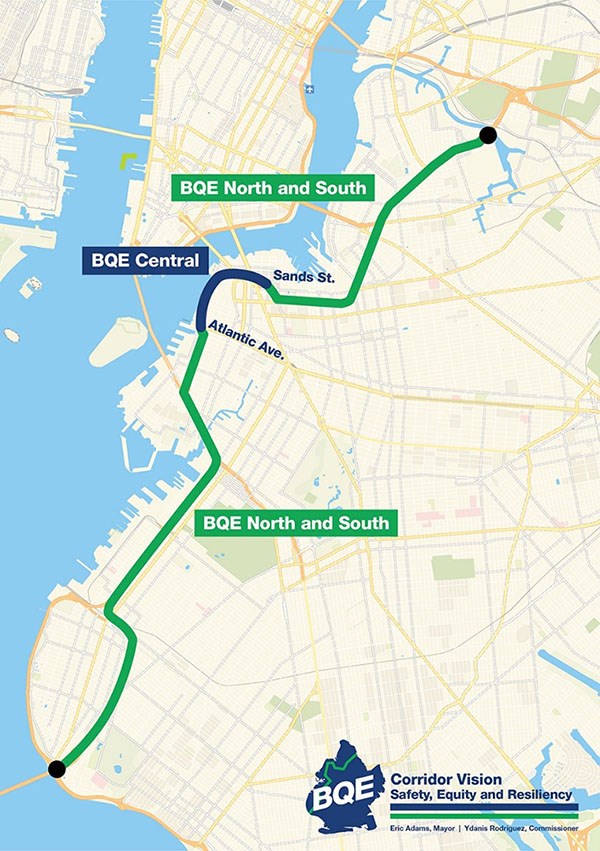 communities for generations, and we are committed to reversing its discriminatory effects," the DOT said in a statement.
Based on community feedback, DOT is introducing three new visions: Community Connector, Multi-Modal Connector and Green Connector.
The Community Connector would help to improve pedestrian crossings under and over the BQE, focusing on building spaces for new community amenities.
The Multi-Modal Connector expands options for multi-functional spaces under the highway and on its surrounding streets, and improves infrastructure for pedestrians and bus riders, bikes, freight, and electric vehicles.
Lastly, the Green Connector envisions new open spaces throughout the BQE corridor by consolidating the roadway under the viaduct structure to unlock new public space on either side of the structure.
While these renderings are intended to be initial concepts they all appear to be hopeful that the state-owned portion of the Brooklyn-Queens Expressway will remain the same as it is now for the foreseeable future.
And while the assumption is likely correct, given that the state DOT has said it has no plans to transform the areas that the city calls BQE South and BQE North, officials remain unsure.
Some improvements in BQE North and South will take place this year, though nothing as substantive as plazas or neighborhood connectors.
In a statement, the DOT said it would immediately start improving pedestrian ramps in many areas of Sunset Park and Williamsburg; develop "new freight and congestion management strategies, like creating neighborhood and commercial loading zones, and working with commercial partners to move freight off-hours"; and cleaning "target locations … under the viaducts along the corridor."
"Sharing these ideas for BQE North and South about what could be is a critical step towards giving the communities a vision of what the future includes, such as safer and more public space," said Deputy Mayor for Operations Meera Joshi.
"Together with our community, local and state partners, we are excited to get this critically important work underway."