On a recent afternoon in East New York, Terrance Burgess is doing his rounds of the streets.
He spots a young man he knows from childhood on Van Siclen Avenue, and scoops him up into a bear hug, promising to check in on him later. He knows the man is newly back in the community, and may need support.
Burgess is a violence interrupter for Man Up Inc., a multi-service organization providing job assistance, after-school programs, mediation, outreach, violence prevention and more in East New York and neighboring areas. His job is to know his community like the back of his hand -- and to find ways to prevent violence from happening, rather than coming in to arrest and punish when it does.
As calls to defund the police intensify, community organizations like Man Up Inc. are demonstrating alternatives to traditional policing. And for Burgess -- who Man Up Inc. helped get back on his feet after he was incarcerated at 17 -- it's personal. "I want to change people the way I changed, in my neighborhood."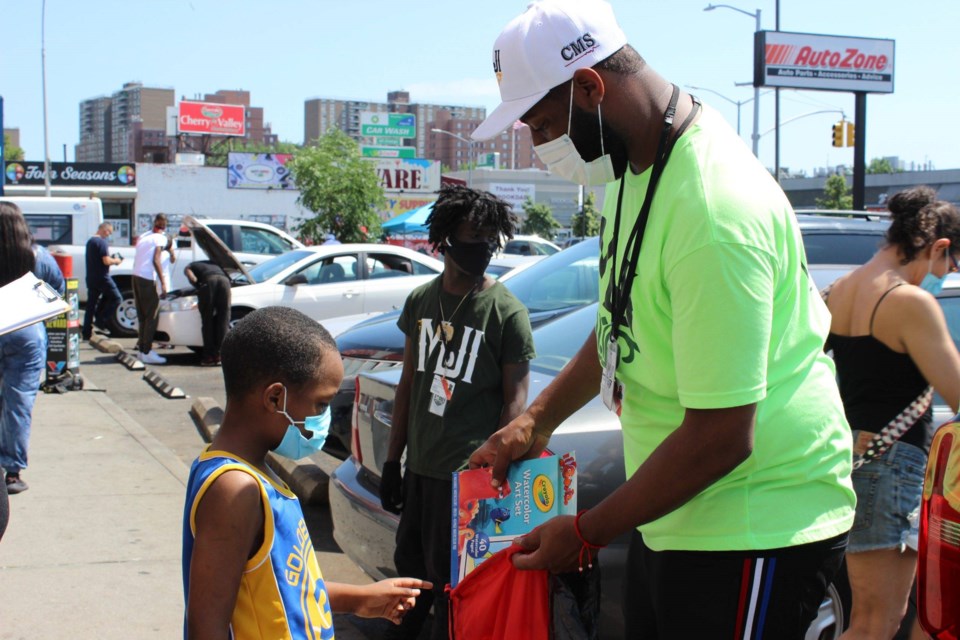 Wave of violence amid pandemic
Right now, the city's leaders are scrambling to find solutions to a spike in gun violence -- with shootings up from 394 to 634 compared to this time last year. The 41 shootings so far in East New York's 75th precinct are on par with the same period last year, according to NYPD data.
NYPD commissioner Dermot F. Shea points to bail reform, pandemic-required release of inmates and new police regulations as possible causes. But Man Up Inc. founder Andre T. Mitchell blames the loss of jobs and loved ones due to the pandemic, the tension of being cooped up inside -- often in NYCHA projects -- and seemingly endless episodes of police brutality.
"It becomes a catastrophic state of mind, that when we do go outside, we're kind of busting out of the seams," he said.
Plus, organizations have been unable to check in on people as they normally would. Burgess points to one at-risk teen he mentored who was going to school and participating in Man Up Inc. activities, until the pandemic hit. "And when COVID happened, not having personal contact, he slipped out of my hands and wound up getting into a shooting, allegedly, and now he's arrested."
Now the city is opening up again, Man Up Inc. can get back to on-the-ground outreach. This means people like Burgess working shifts to monitor their communities for tension, conducting daily on-the-spot mediations, approaching "high-risk" people or those just out of prison to set them on a positive path, and even visiting shooting victims in hospital to try to prevent retaliation.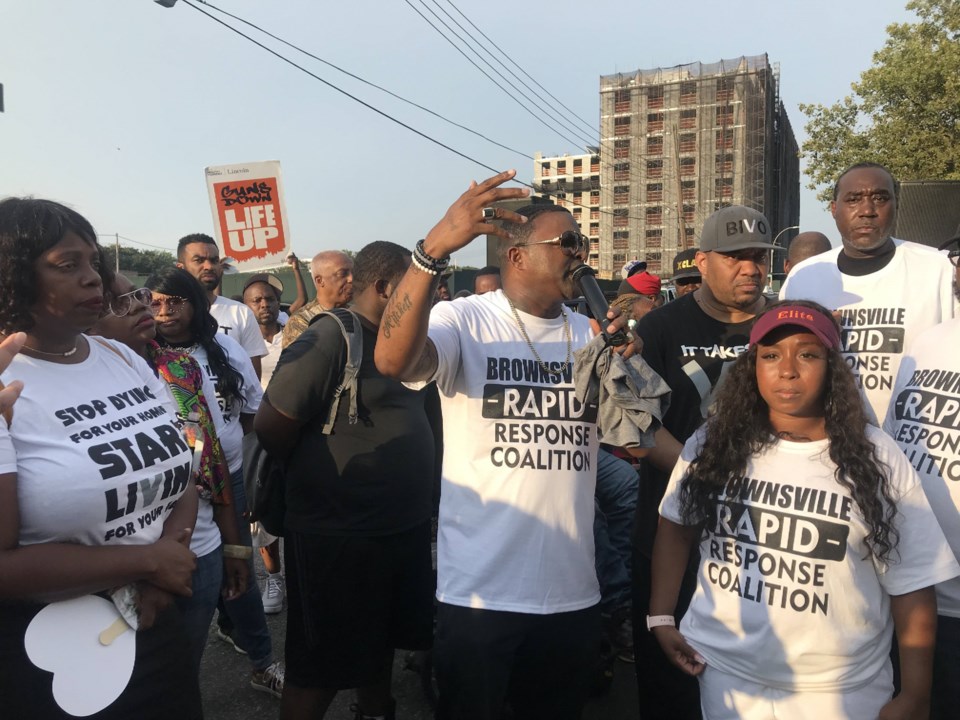 When cops fall back
Mitchell said he welcomes the opportunity for organizations like his to step up amid the defund the police movement.
East New York is a traditionally overpoliced neighborhood where cops have a history of harassing its predominantly Black residents. "That in itself creates and breeds a certain atmosphere, because it's almost like an occupied force in your community," Mitchell said.
East New York was "ground zero" for Stop-and-Frisk and even today is the city?s precinct facing the highest number of federal lawsuits by far. 
While police should still deal with high level offences, a bulk of NYPD funds should be diverted to local organizations, Mitchell said.
After recent pressures on the city, $1 billion was shifted from the NYPD?s $6 billion budget. In 2018, Man Up Inc. ran on a budget of $3.776 million in contributions and grants, according to latest tax filings.
These funds might go to people like Man Up Inc. site manager for the 81st precinct Shneaqua "Coco" Purvis, who recently defused a situation where a group of young people were caught on video stealing from a local business. Instead of calling the police, the business called Purvis, who was able to find the kids, tell their parents and return the goods without involving the cops.
"Instead of busting down their doors, raiding the house, taking everybody out on the street, putting them in jail or putting these kids through the system, police should just give us a call and we'll handle it."