Residents and elected leaders were calling out what they described as "decrepit," and "astounding" and "despicable" living conditions at the Flatbush Gardens housing complex on Thursday.
Scores of Flatbush Gardens residents made their voices heard outside the apartment complex's management office, braving the punishing afternoon heat to draw attention to their cause.
Residents of the massive, nearly 2,500-unit affordable housing property accuse manager Clipper Equity of gross mismanagement. They say the landlord has, among other things, has neglected to provide adequate repairs or security; has allowed rodent infestations; and overall has failed to address unsanitary conditions.
Marietta Small, longtime resident and president of the Flatbush Gardens Tenants Association, said management goes out of its way to make itself inaccessible to residents, encouraging tenants to submit complaints and service requests online only and making it nearly impossible to speak to someone in person.
"A lot of (the tenants) don't even have emails," Small said. "And they have nowhere to go. It's three hours per week that you can try to see someone. The line is sometimes two blocks long and most of the tenants don't get to see anyone."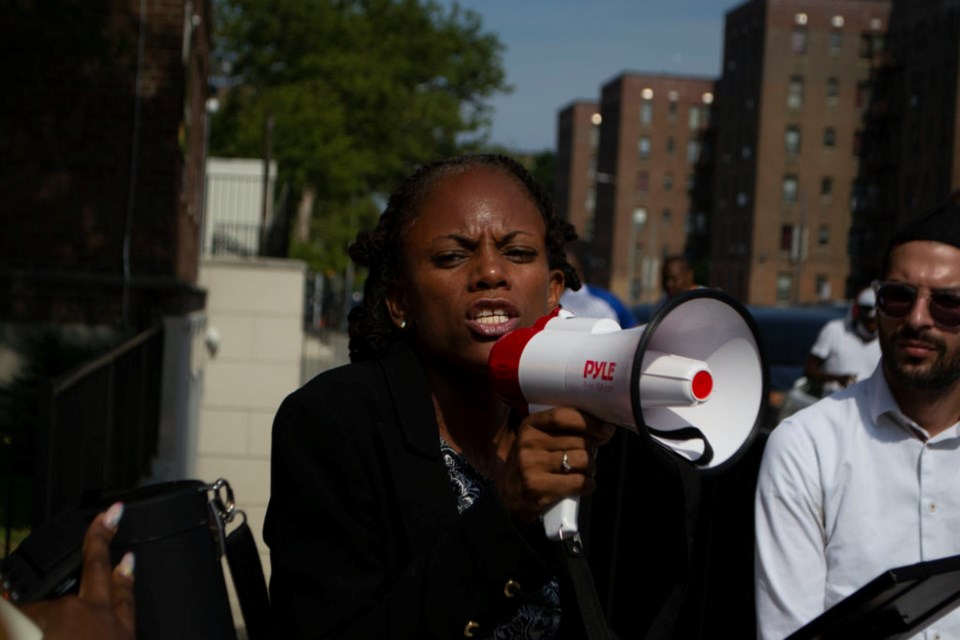 Elected officials present at the rally included New York City Councilmember Farah Louis, Assemblymember Monique Chandler-Waterman and State Senator Kevin Parker.
"You are doing the right thing by being out here," Louis said to the approximately 100 residents present. "You are fighting for your families, you are fighting for yourselves, you are fighting for your community—do not worry about the sun, do not worry about the temperature."
Louis did not mince words in lambasting the real estate investment trust that owns Flatbush Gardens.
"The cases of decrepit housing conditions that come into my office are astounding and despicable," Louis said, describing some of the cases she's encountered: "Rodent-infested, caved-in ceilings, broken pipes, mold-- just to name a few of what people here endure."
"While you are paying your rent, they are living lavishly somewhere else," she said. "So, either they fix it up, or they are going to lose the money they have been making on your backs, your family's backs, black and brown people that live here."
Louis also called out one Clipper Equity leader by name: "Isabella Benjamin, vice president of operations for Clipper Equity Management, who goes home to a cushy place day after day, (a place) that's safe, that's clean. Meanwhile our residents are living with rodents for months."
Neither Benjamin nor Clipper Equity responded to requests for comment from BK Reader.
"You have a voice, we are your might, as elected officials we've got to bully, we've got to make sure we support you," Chandler-Waterman said. "We are standing with you and it's not just talk, it's action."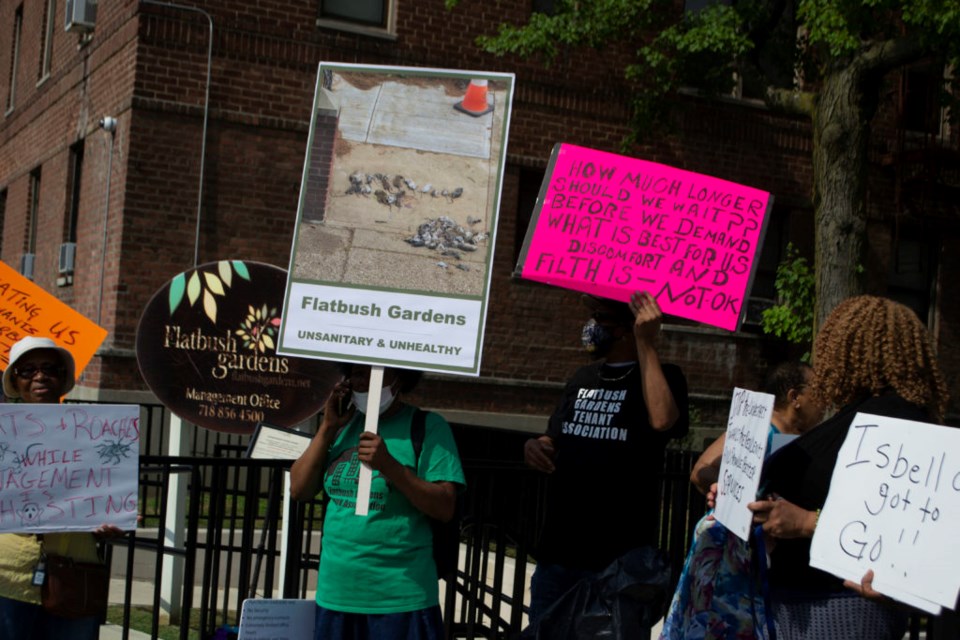 Debbie Louis, who said she has been helping to organize Flatbush Gardens tenants for the past year, urged her fellow residents to keep up the fight.
"This is what organizing looks like," she said of the crowd of residents gathered on the Flatbush street corner for the rally. "Do not be discouraged. Change is not gonna come overnight. They're not gonna fix the apartments today. They're not gonna fix it tomorrow. But if we keep showing up, it will be fixed. If we keep applying the pressure, things will be changed. Keep applying the pressure, because that's when we see the change."