Professor Jen Gaboury was teaching a class at Hunter College during a recent summer when suddenly some water started dripping from the ceiling tiles.
Then, a tile fell and hit one of her students, followed by water that spilled all over the student's dress.
"I panicked," Gaboury said. "What stuck with me is that the student didn't react at all. The look on her face said, 'This is what I deserve,' or 'I'm not surprised.'"
Gaboury's story was just one shared on Sunday by City University of New York staff and students gathered to call for more investment in the state's university system.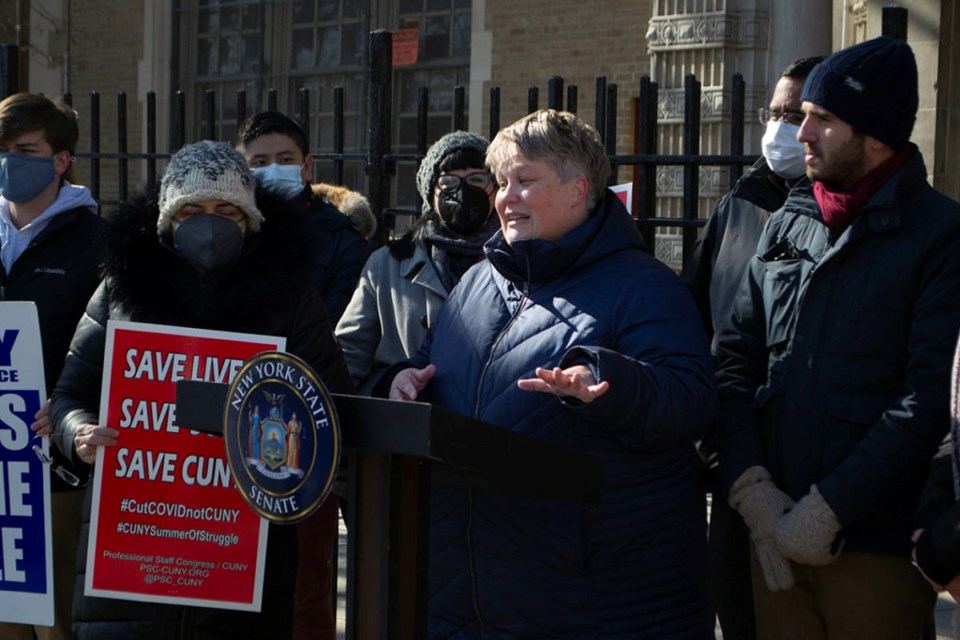 Organized by State Senator Andrew Gounardes, the rally outside the High School of Telecommunication Arts and Technology in Bay Ridge attracted more than one dozen CUNY community members who demanded the state pass legislation called A New Deal for CUNY that would significantly increase investment in the system and would make tuition at CUNY free for all New Yorkers.
"Everybody deserves really strong public education, from preschool to graduate school, and we do not have strong public education at CUNY," Gaboury told the crowd. "We need to invest in CUNY."
Edward Sanchez, a Bay Ridge resident and student at Baruch College, had another story about dilapidated infrastructure. "The status of the elevators among the students is a joke. If you're getting stuck in the elevator, it's considered the Baruch experience," Sanchez said.
"And as funny as that sounds, it shouldn't be the Baruch experience. It shouldn't be at all."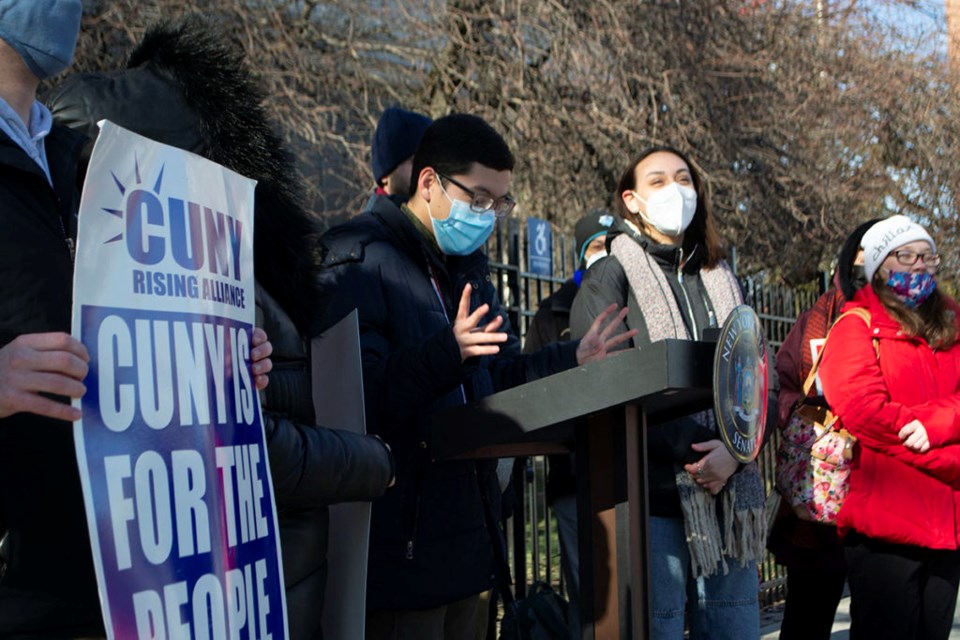 Gounardes, who is the senate sponsor of A New Deal for CUNY, said those conditions would not be acceptable anywhere else, and he questioned why CUNY students should have to put up with them.
"We wouldn't accept that at Columbia or at NYU or any other private institution. Why should that just be the default, OK option at a public institution?"
The New Deal for CUNY
A New Deal for CUNY is a nearly $2 billion, five-year framework that would enact free tuition for undergraduate students within two years, set minimum faculty-to-student ratios, require pay parity for adjunct faculty and repair much of CUNY's infrastructure. It would also allow CUNY to hire 171 new mental health counselors and 372 academic advisors, as well as more than 1,000 faculty staff, in part to address racial disparities in student access to full-time faculty.
The provision for free tuition would be a return to CUNY's historic status — the university system was tuition-free for most students from its founding until the policy was scrapped in 1976 amid a fiscal crisis.
"What we know is that for far too long, a decade plus, the City University of New York has been defunded," Gounardes, a Hunter College graduate, said, adding per-student funding had dropped nearly 20% over the past decade.
"Where CUNY was once the crown jewel of our public higher urban education, now it is teetering. We are here calling to reverse that trend."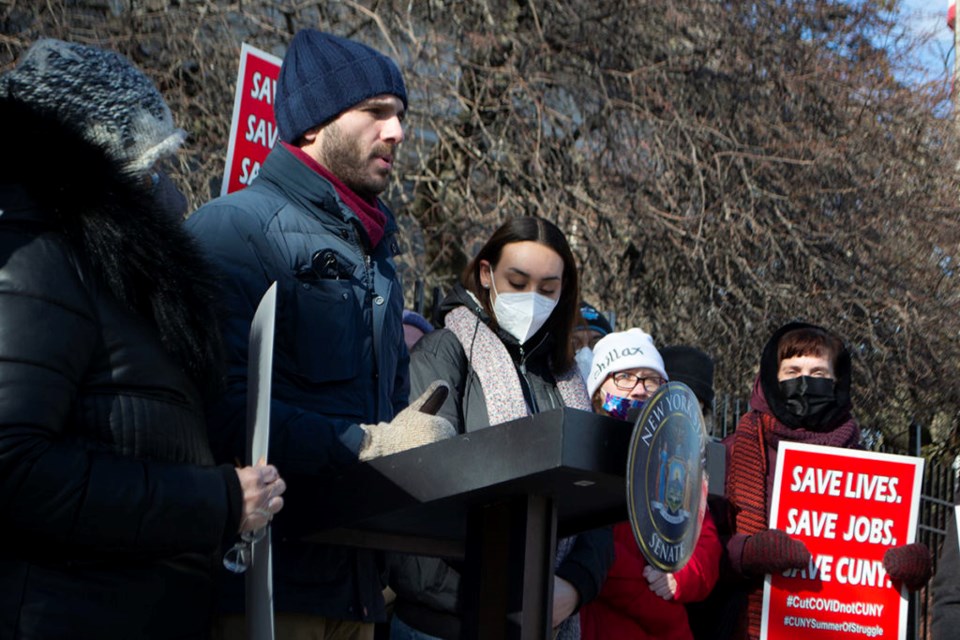 Governor Kathy Hochul's recent executive budget proposed an additional $1.5 billion in investment for CUNY as well as the State University of New York system over the next five years. However, Gounardes said that amount was not nearly sufficient, and he was hoping to build a "groundswell of public support and really drive significant investment into CUNY."
"CUNY is the single biggest economic engine in the City of New York.
"It takes students from working class backgrounds to middle class backgrounds. It is the bedrock upon which New York's economic engine thrives and without a strong CUNY system you simply don't have New York City."
For Daniel Flores, a University Student Senate delegate at Baruch College, investment in CUNY was fundamental to helping other students achieve as he had.
"The New Deal for CUNY means that students like me, the son of an immigrant bus driver and construction worker from Puerto Rico, can receive a higher education and fulfill the American dream that each one of us is entitled to."
Faculty and students aren't the only members of the CUNY community advocating for better funding, either.
"As an anchor institution in the borough that is repeatedly recognized for helping students ascend the socioeconomic ladder, Brooklyn College supports investments in CUNY that enhance access to higher education," said a Brooklyn College representative in a statement to BK Reader.
The determination of CUNY funding for the upcoming fiscal year will be made by April 1.