The four-day National Black Writers Conference, hosted by the Center for Black Literature, in March was a groundbreaking success with an unprecedented number of high-profile writers, including Image Award winners, NYT best-sellers and poet laureates, including EDWIDGE DANTICAT, JELANI COBB, TRACY K. SMITH, MARC LAMONT HILL, MARITA GOLDEN, IBRAM X. KENDI, NIKKY FINNEY and KAREN HUNTER, just to name a few!
The virtual event sparked several important conversations rarely discussed in this sort of intimate setting surrounding black literature and social justice. So, CBL will keep the momentum going with a rebroadcast for those who missed it the first time, and an opportunity for those who were present in March to continue the conversation.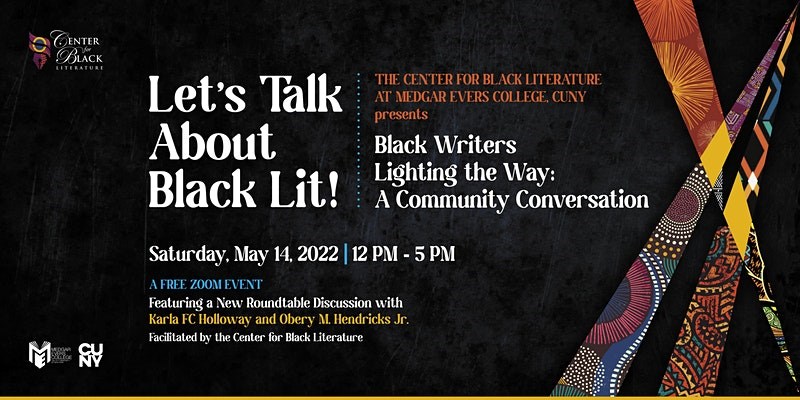 On Saturday (MAY 14), CBL will present a FREE virtual (Zoom) rebroadcast of key highlights of the conference, followed by a live roundtable discussion, featuring Karla FC Holloway, a professor of English and Law at Duke University; and social activist Obery M. Hendricks Jr., who is a visiting research scholar at Columbia University.
May 14 Schedule
12:00 pm - 4:00 pm ET - The 16th National Black Writers Conference Highlights and Live Interactive Community Conversations will be facilitated by the Center for Black Literature team: Dr. Brenda M. Greene, Clarence V. Reynolds, Amber Magruder, and April R. Silver.
4:00 pm - 5:00 pm ET - A Live Roundtable Discussion with Karla FC Holloway (pictured below, top) and Obery M. Hendricks Jr. (pictured below, bottom).
For more information and to register, go here.