Governor Andrew M. Cuomo announced on Wednesday the opening of Woodhull Residence, a $29 million affordable and supportive housing development that provides 89 affordable apartments on a former parking lot of NYC Health + Hospital's Woodhull Hospital.
"This new residence will provide increased access to high-quality affordable housing opportunities for some of our most vulnerable New Yorkers," Governor Cuomo said. "These 89 new homes, paired with services and easy access to health care, will give residents a safe and supportive place to call home and help them thrive."
All 89 studio units will have their own kitchenettes and bathrooms. Fifty-four will be set aside for supportive housing—for patients of NYC Health + Hospitals/Woodhull who have behavioral health issues, are eligible for medical discharge, but do not have permanent housing to which to be released. The other 35 units will be available to individuals whose income is at or below 60 percent of the area median income.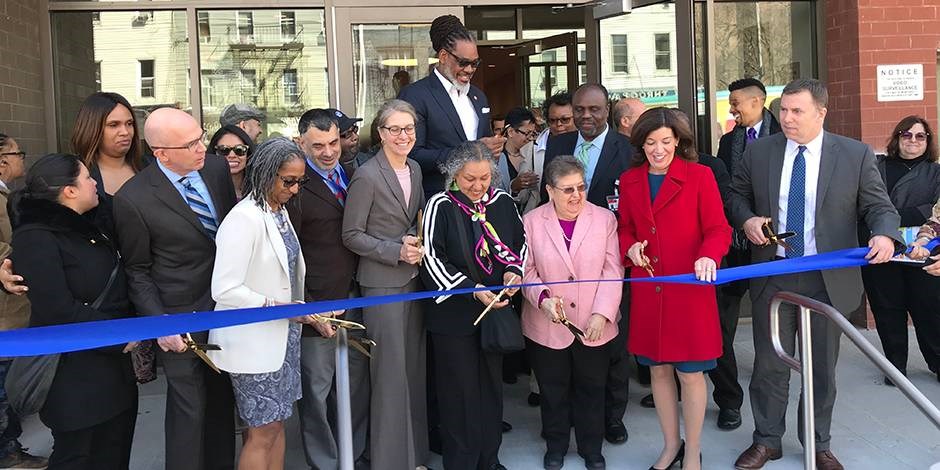 "Housing is critical for one's stability, and this project will help 89 residents and their families in achieving stability, security and independence," said Gregory Calliste, executive director of Woodhull Hospital.
Building amenities include a community room and computer lab on the first floor, on-site case management services and 24-hour security along with energy efficient heating and cooling equipment. Nonprofit organization Comunilife is the developer and will provide on-site social services.
"Upon identifying a hospital need, the planners embraced this as an opportunity to create a solution that speaks to the needs and desires of the entire community," said Assemblymember Tremaine Wright. "The Woodhull Residence is a testament to the solutions we can achieve when we aspire for healthy and complete communities."