Two weeks after it was revealed that four Brooklyn neighborhoods were the most dangerous places to be a pedestrian in 2021, NYC Mayor Eric Adams has announced a plan to upgrade 1,000 intersections across the city.
East New York, East Flatbush, Bedford-Stuyvesant, Williamsburg and Jamaica, Queens, were shown to be the neighborhoods with the highest crash numbers in 2021, according to City data supplied by the City and compiled by StreetsBlog.
On Wednesday, Mayor Adams and Department of Transport Commissioner Ydanis Rodriguez appeared at a Brooklyn intersection to announce the new, citywide safety initiative dubbed 'Stop. Let them Cross.'
According to the plan, the city will seek to redesign 1,000 intersections across the five boroughs and ramp up police enforcement of failure-to-yield violations. The mayor said 79% of pedestrian injuries happen at intersections.
The plan comes with a new rule that requires drivers and cyclists to stop, rather than simply yield, to pedestrians who are crossing at intersections without traffic lights or stop signs.
"Our goal is to be clear: people must learn the rules of the road, or get off the road," Mayor Adams said.
The city has not yet revealed which intersections will be upgraded, but said it is looking at those already identified as dangerous.
This may mean upgrades for many intersections in Brooklyn that have already proven to be dangerous or even cause fatalities. Some of the intersections with the most crashes and fatalities can be viewed on this map, with hotspots seen on Atlantic Avenue, Broadway, Ralph Avenue and many more.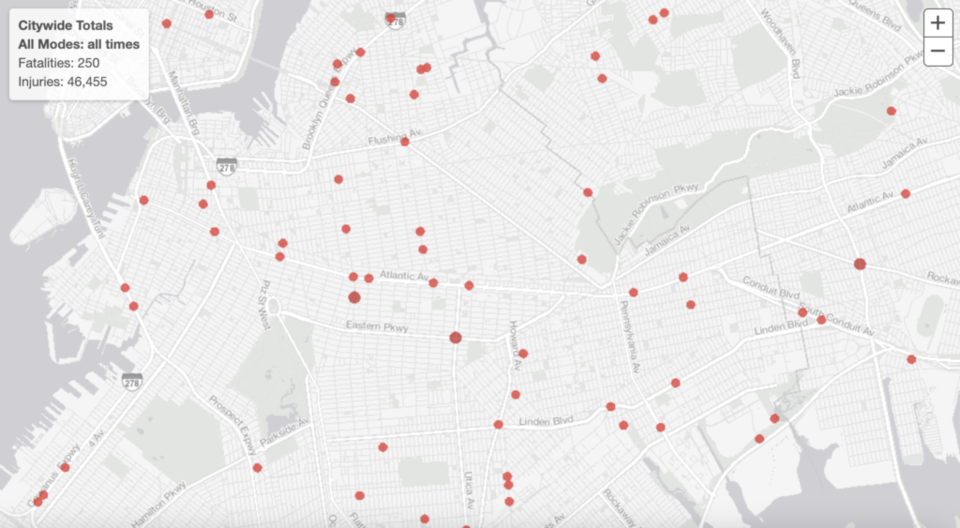 In 2021, 120 pedestrians, 19 cyclists, 63 motor vehicle occupants and 64 moped, motorcycle or scooter riders were killed in New York City.
It's the highest number of fatalities in NYC since 2013, despite Mayor Bill de Blasio's 'Vision Zero' initiative, launched in 2014 to reduce the city's traffic fatalities.
Last year in East New York, 3,101 crashes were reported, with 1,566 people injured or killed, including three pedestrians who lost their lives.
One of the deaths was that of Brooklyn man Jose Ramos, 56. Ramos was walking home on Essex Street when a sedan traveling westbound on Atlantic Avenue crashed into him, causing his death, police said.
East Flatbush reported 2,418 crashes, with 1,381 people injured or killed in 2021.
Bed-Stuy was close behind, with 2,414 crashes and 1,174 total injuries and fatalities. Williamsburg saw 2,326 total crashes.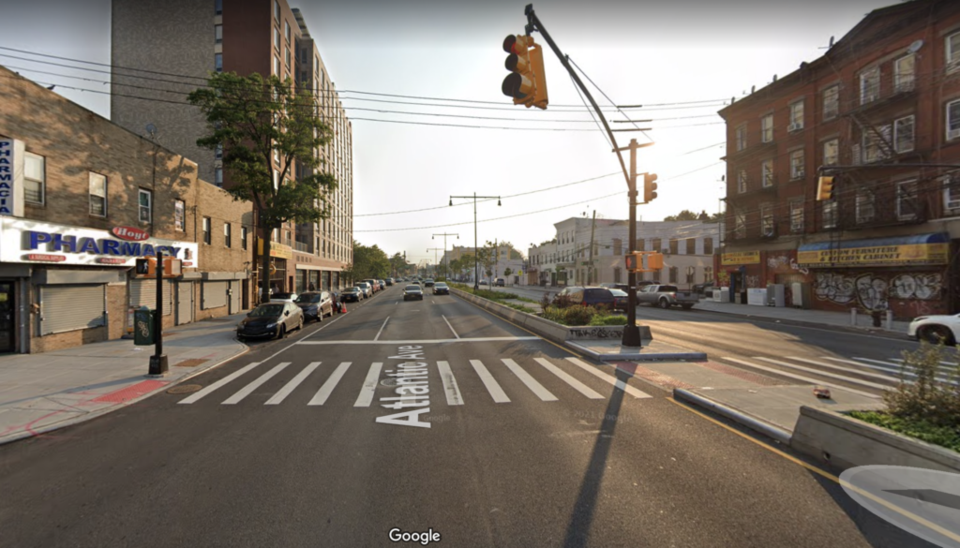 The practical improvements to the intersections will include turn signal traffic lights and "head-start" signals allowing pedestrians to cross before vehicles can turn.
The Department of Transport will also install 100 raised crosswalks that work as speed bumps where people cross and add 100 new bike parking corrals. The plan also includes a plan to install "turn calming" infrastructure to 100 intersections. This slows down turning drivers by adding physical elements that make turns more deliberate.
The new stop rule at non-signaled intersections went into effect Wednesday. The penalty for breaching it is a $50 fine.