Overall, crime is down in Brownsville, but up in Brooklyn as a whole.
There has been a 2.9% decrease in crime reported to Brownsville's 73rd Precinct during the week March 28 through April 3, compared to the same period last year.
There have been 34 incidents reported, including six robberies and 12 felony assualts. During the same two-week period last year, there were 35 incidents reported.
There has been one murders and six rapes reported this year in the neighborhood, compared to two murders and 14 rapes by this time last year.
Looking at the 28-day cycle, there has been a 17.1% increase in incident reports this year on last.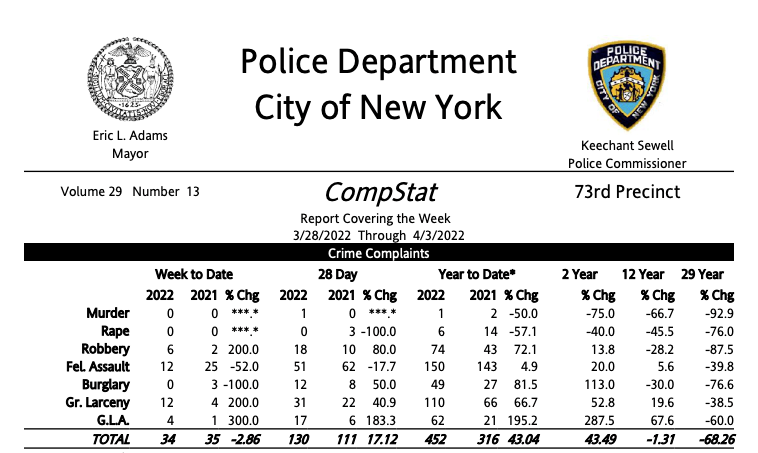 The most common incident reported this year is felony assault, with 150 reports in the neighborhood, seven more than during the same period last year.
On March 31, officers from the 73rd Precinct tweeted the photo of a two guns and multiple rounds of ammunition that they recovered from the neighborhood after executing a search warrant.
Across Brooklyn:
Across the borough, crime reports are up 37.4% in Brooklyn North and 49.5% in Brooklyn South compared to the same time last year. There have been 583 incidents reported between March 28 and April 3, according to NYPD's CompStat, including one murder and five rapes in Brooklyn South and one murder and two rapes in Brooklyn North. There were 86 robberies and 119 felony assaults reported across Brooklyn.
In the headlines:
Family of the 12-year-old boy Kade Lewin, who was shot and killed in a hail of gunfire in Brooklyn last week, pleaded with the public to help police find the perpetrators Monday. The mom of the victim, Suzette, spoke through tears as she asked anyone with information on her child's slaying to come forward. "Please come forward. Please, please somebody say something. I'm asking for justice for Kade, please," Lewin told reporters during a press conference with Mayor Eric Adams and officials on April 4. Kade was eating dinner in a car with his aunt Jenna Ellis, 20, and an 8-year-old girl at E. 56th Street and Linden Boulevard in East Flatbush on March 31, when people in two dark-colored sedans nearby exchanged gunfire, according to police.
New York Attorney General Letitia James has sued Brooklyn-based real estate law firm Balsamo, and its partners Robert Rosenblatt and Edward Hall, for allegedly taking advantage of tenants through deceptive rent collection, evictions without cause, and more. James announced on Wednesday that she had filed the lawsuit against Balsamo, Rosenblatt & Hall, P.C., A. Balsamo & Rosenblatt, P.C. ( known as Balsamo), and Rosenblatt and Hall, accusing them of not conducting any meaningful reviews of non-payment eviction cases before filing litigation. She said their actions had resulted in the distribution of deceptive rent collection letters, unnecessary legal actions against tenants and improper evictions without cause.
Two people were hurt at a popular Brooklyn nightclub when a suspected arsonist threw a lit match on a floor doused with flammable liquid, sending shockwaves through a neighborhood known for its nightlife, according to authorities and witnesses. The arsonist poured a bottle of flammable liquid on the floor of the Willoughby Street nightclub Rash about 9:20 p.m. on Sunday nigght, then lit a match and fled, according to police. A group of staff who narrowly escaped the flames waited outside for more than an hour as about 60 firefighters put out the blaze, according to the FDNY and witness Keaton Slansky.
Four intruders held two men at gunpoint and stole $200,000 from their Brooklyn apartment this week, cops said. The victims, 41 and 32, were inside their apartment at East 21st Street and Church Avenue in Flatbush around 5:25 p.m. Sunday when two of the crooks barged in through the unlocked door and displayed guns, police said late Tuesday. The two other suspects then entered and started pilfering some cash, cops said.