Overall, crime is up in Brownsville, and in Brooklyn as a whole.
There has been an 18.2% increase in crime reported to Brownsville's 73rd Precinct during the week November 29 to December 5, compared to the same period last year.
There have been 39 incidents reported, including five robberies, 15 felony assaults and two reports of burglary. During the same two-week period last year, there were 33 incidents reported.
There has been 17 murders and 23 rapes reported this year in the neighborhood, compared to 25 murders and 28 rapes by this time last year.
Looking at the 28-day cycle, there has been a 19.2% increase in incident reports this year on last.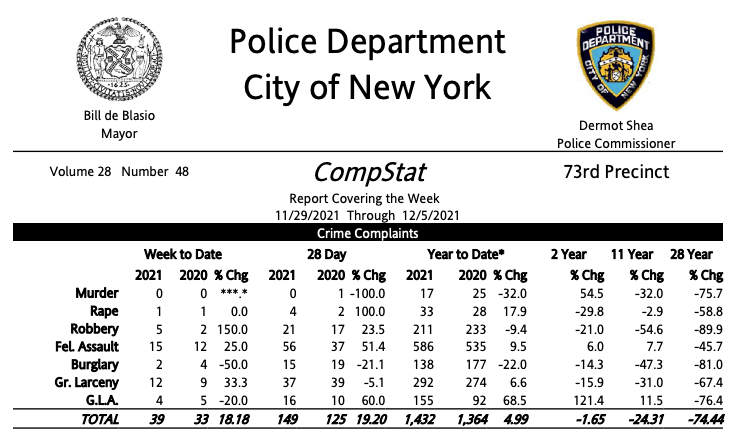 The most common incident reported this year is felony assault, with 586 reports in the neighborhood, 51 more than during the same period last year.
On December 9, the 73rd Precinct tweeted a photo of a man wanted for forcibly touching a woman at the Livonia and Sarotoga #3 subway station. Officers are calling on the public for help identifying the man.
Across Brooklyn:
Across the borough, there have been 637 incidents reported between November 29 to December 5, according to NYPD's CompStat, including two murder in Brooklyn South. There were 9 rapes, 94 robberies and 105 felony assaults reported across Brooklyn.
In the headlines:
A 28-year-old man was killed and two other men were wounded Thursday when a gunman sprayed bullets at a group of people outside a Jamaican restaurant in Canarsie, Brooklyn, police said. A second man also died in a shooting in Williamsburg, said cops. In the Canarsie incident, Aaron Vincent was struck once in the throat and found lying unresponsive on the sidewalk by police outside Nicky's Jamaican Cuisine at E. 80th St. and Flatlands Ave. An unidentified 32-year-old man was struck in the right arm and an unidentified 38-year-old man was hit in the right foot, cops said.
A Brooklyn teacher was left with a serious head injury after a driver struck her while she was crossing the street and didn't stop. Police are searching for the driver of a black Nissan sedan that ran down 67-year-old Dorothy Gargano at the corner of Union Street and Classon Avenue in Crown Heights just after noon on Tuesday. Video released by the NYPD shows Gargano attempting to cross the street when a car turns the corner and strikes her. The beloved Brooklyn teacher who neighbors described as a kind and sweet person was thrown into the air and on top of the vehicle, and the driver just kept going.
The family of 18-year-old Zayid Muthana says he is recovering in the hospital after being shot in the head last weekend at their deli in Brooklyn. His family says the surgery to remove the bullet from his head was successful and doctors expect he will make a full recovery. The 18-year-old was shot around 6 p.m. on Nov. 27 working at M&M Grocery on Nostrand Avenue in East Flatbush.
A suspect has been revealed in the double stabbing that left a woman dead and a man hospitalized in Bed-Stuy, according to police. Police released photos late last week of the man they say stabbed 32-year-old Lizseh Casserly and a 36-year-old man after a dispute near Herkimer Place and Perry Place on Nov. 27, according to police. The stabbing, which unfolded after a dispute around 2:30 a.m., left Casserly with fatal stab wounds in the chest and neck, police said. She was pronounced dead at the hospital.