1. Alternate Side Parking regulations will be reinstated citywide as of Mon, Feb 24 to facilitate ongoing snow removal and street cleaning.
2. Hope you enjoyed the balmy weather over the past few days, because it will end beginning this week. Temperatures will drop and then hover in the low 30s through most of the week.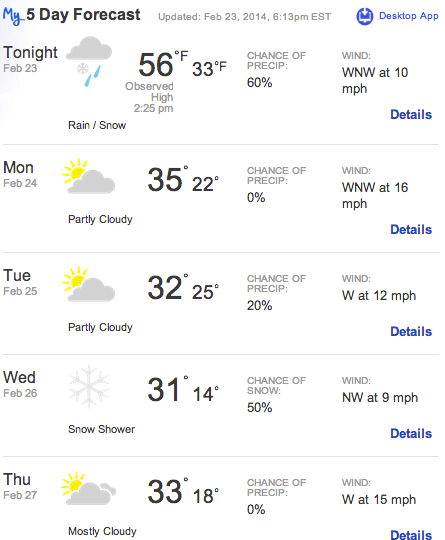 3. On Monday, Feb. 24, 2014: Brooklyn Borough President Eric Adams invites you to the 2014 celebration of Black History Month Honoring the Weeksville Heritage Center and featuring the Brooklyn Historical Society's exhibition "Brooklyn Abolitionist in Pursuit of Freedom. Brooklyn Historical Society, 128 Pierrepont St, Bklyn, 6:00pm. RSVP at 718-802 - 4875.
4. On Monday, Feb. 24, 2014: NYC Comptroller Scott Stringer invites you to the Trailblazers Program & Award Ceremony in Honor of African American History Month, Long Island University Kumble Theatre - One University Plaza (Flatbush Ave (between Dekalb & Willoughby Aves). 6:00pm - 8:00pm. To RSVP email events@comptroller.nyc.gov or (212) 669 - 4466.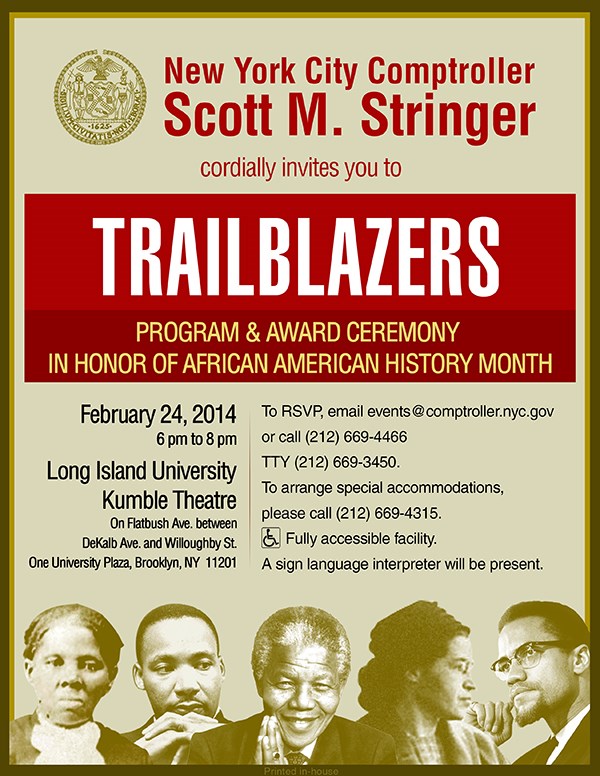 5. Monday, Feb. 24, 2014: Community Board 2 will hold its Monthly Executive Meeting at Long Island University, Metcalfe Hall, Flatbush and DeKalb Aves, Brooklyn 11201, 6:00pm.
6. On Monday, February 24, at 7:30pm, Bedford Stuyvesant Restoration and Greenlight Bookstore present a book signing and discussion by Joe Brewster and Michèle Stephenson, the authors and documentarians of "Promises Kept: Raising Black Boys to Succeed in School and in Life." The event is free and open to the public. Books will be sold at a special discount.. Bedford Stuyvesant Restoration Corporation is located at 1368 Fulton Street (at Marcy Avenue) in Brooklyn. For more information call 718-246-0200 or email info@greenlightbookstore.com.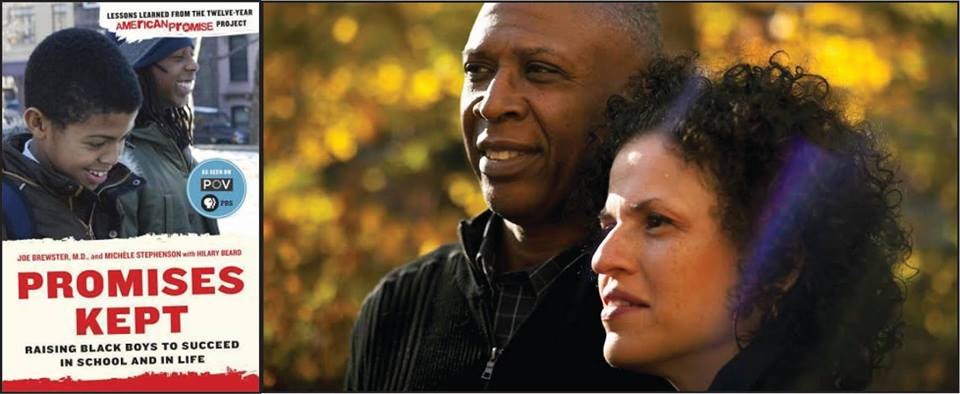 7. On Tuesday, Feb. 25, a Panel Discussion: "Making The Department of Education Work for You and Your Child" will be held at Ingersoll Community Center, 177 Myrtle Ave (corner of Prince St), Bklyn, 11201. 5:30pm - 7:30pm. Panelist include Oma Holloway, Chair of Education Committee CB3, Sharese Bailey PS 11 Parent and former Kindergarten teacher, Pam Wheaton, Managing Editor of Inside Schools.
8. On Wednesday, February 26, at 6:30pm, District Leader Renee Collymore will host a Town Hall Meeting on Public Safety for the 57th Assembly District at Pratt Institute (Higgins Hall), located at 1 St. James Place (Corner of Lafayette of Ave). Special Guests are Chief Philip Banks 1 Police Plaza, Assistant Chief Gerald Nelson 1 Police Plaza, Commanding Officer Scott Henderson 88th Pct, Cap't Maximo Tolentino 84th Pct, Commanding Officer Michael LiPetri 79th Pct, James Caldwell 77th Pct Council President, Dominique Bryant Former Fort Greene NYCHA Tenant Ass'n President, Hilda Cohen & Make Brooklyn Safer will also join us to discuss traffic safety issues.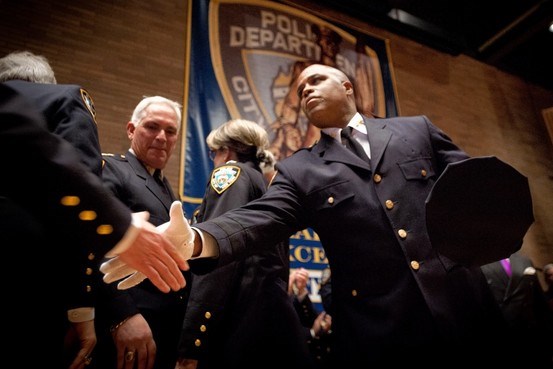 9. Thursday, Feb. 27, 2014: Community Board 8 will hold its General Meeting at CNR Center Light Healthcare Center, 727 Classon Ave (b/t Park and Prospect Place), Bklyn, 7:00pm