A $10 million grant is allowing New York City to take substantial steps toward an all-electric vehicle fleet.
"With this $10 million investment, the movement from vehicles that guzzle fossil fuel and pollute our air to electric vehicles that put our environment first just got a huge boost," said Brooklyn Borough President Antonio Reynoso.
City officials announced the federal grant funding from the U.S. Department of Transportation's Congestion Mitigation and Air Quality Improvement Program on Jan. 4.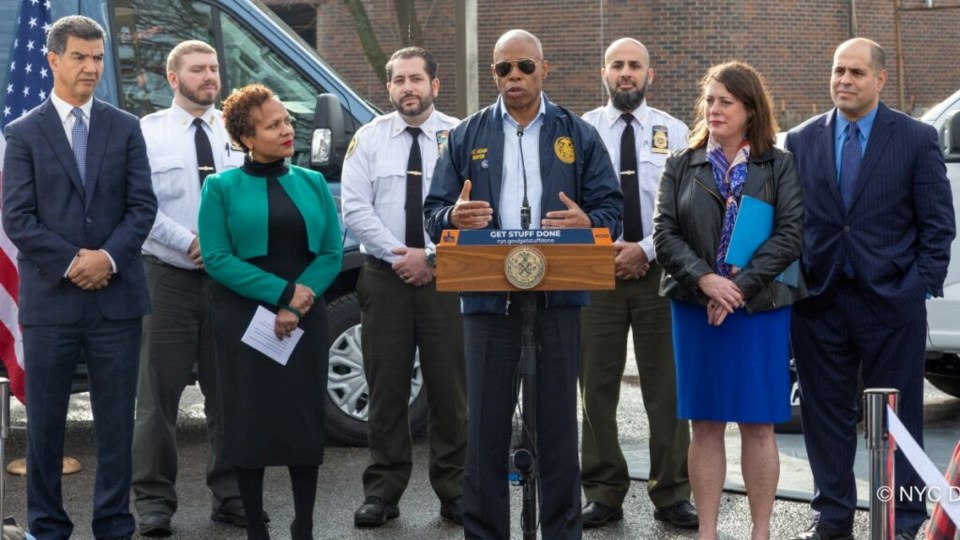 "Thanks to this funding, the city will be able to replace nearly 1,000 municipal vehicles — including a large proportion of the department of transportation's fleet — with greener alternatives," said DOT commissioner Ydanis Rodriguez.
The funding will allow the city to replace 925 fossil fuel-powered fleet vehicles with electric vehicles and install 315 new EV charging stations.
"We are already ahead of schedule in transitioning city vehicles away from fossil fuels, and this new grant will allow us to take nearly 1,000 fossil-fuel vehicles off our roads, helping us reduce carbon emissions, make our air cleaner, and save on fuel costs," said NYC mayor Eric Adams.
The new vehicle fleet to expected to include:
382 Chevrolet Bolts
360 Ford E-Transit vans
150 Ford F-150 E-Lightning pick-up trucks
25 plug-in hybrid street sweepers for NYC Department of Sanitation
"When New Yorkers see cars, trucks, and vans with the 'NYC' logo on the side, they can rest assured that those vehicles are contributing to a greener city," Adams said.
DOT will administer the funding, which will see NYC Department of Citywide Administrative Services receive $6.2 million. The remainder will go to the DSNY.
"We are laying the groundwork for an all-electric fleet of the future that will support critical citywide operations while benefiting the environment," said DCAS commissioner Dawn Pinnock.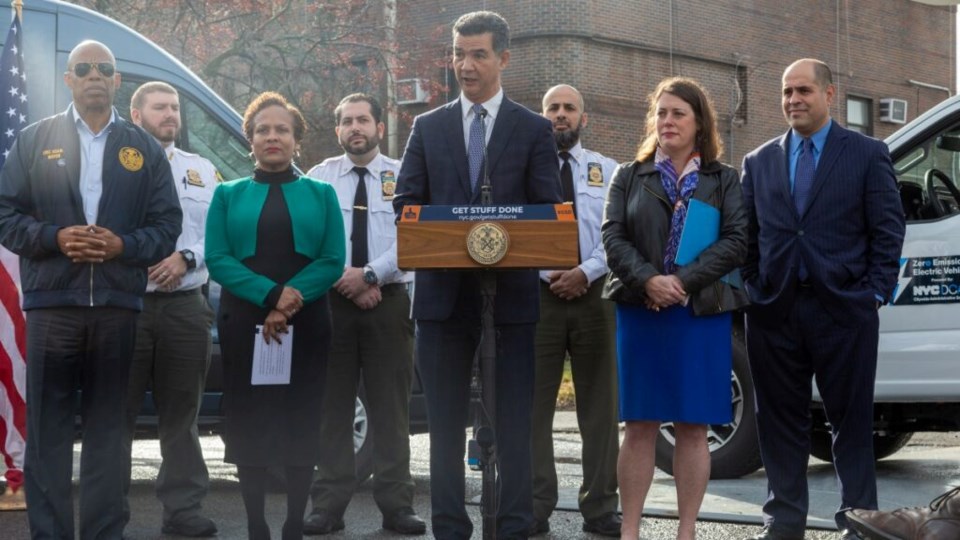 Current fleet
In total, the city operates over 6,000 pick-up trucks and vans. The city's administration aims to acquire an all-electric light- and medium-duty fleet by 2035.
"Through this funding from the U.S. Department of Transportation, we are poised to make a significant transition for our light- and medium-duty fleet. This is a critical next step for our agency as we lead the charge in government fleet operations," Pinnock said.
The 2035 goal comes after the city reached a similar milestone, three years ahead of schedule. An earlier goal of transitioning 4,000 city fleet vehicles to electric by 2025 was reached in September 2022.
The city's electric fleet currently includes a wide range of vehicles. These are generally active in law enforcement departments and include 200 Ford Mustang Mach Es and 850 GM Bolts.
As for the city's EV charging network, it currently operates more than 1,300 charging ports, the most in the state.
Today's funding supports the purchase of 315 additional units. The city is aiming to deploy a total of 600 new charging stations in the next 18 months.
Future fleet
The DCAS has already ordered the first three electric buses for the NYC Department of Correction. It anticipates operating over 5,000 EVs by June 2023. 
The department is also working on EV contracts for box and garbage trucks for the NYC Department of Parks and Recreation. 
With the funding, DSNY will purchase its first seven new all-electric trucks. The department previously ran a pilot assessment of the units and will now test the operation of these trucks citywide.
Today's funding will also support the first order of plug-in hybrids. The city intends to assess the efficiency of both plug-in and all-electric sweepers.
"We need to continue this momentum, reducing reliance on private vehicles for city work on top of the work underway for our city fleet. I look forward to the day when every vehicle out there — from cars to vans, trucks, and specialized vehicles like city sweepers — represents our commitment to a sustainable and healthy New York City," Reynoso added.
For more information, click here.